'Andre The Giant' Trailer: A New Documentary Examines The Famed Wrestler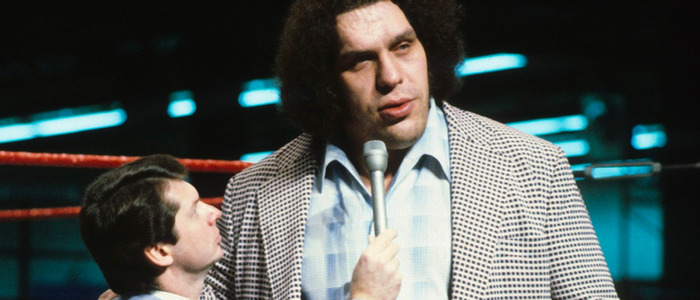 The larger-than-life story of wrestler Andre the Giant gets the bio-doc treatment with HBO's Andre the Giant. The new documentary from executive producer Bill Simmons chronicles the life and career of the late wrestler. Watch a new Andre the Giant trailer below.
André Roussimoff grew to be about 6 foot 11 inches during his life (though sometimes billed as 7 ft 4 in), and he put his massive height to good use becoming famous wrestler and sometimes actor Andre the Giant. Health problems plagued Roussimoff for most of his adult life, and he died of congestive heart failure in 1993, at the age of 46. Now, Andre the Giant's life is chronicled in the new HBO documentary Andre the Giant. Featuring interviews with Hulk Hogan, Robin Wright, Billy Crystal, Arnold Schwarzenegger and more, the doc provides an up-close-and-personal look at the late wrestler. And now there's a new trailer for the film.
Andre The Giant Trailer
Here are some fun facts about Mr. The Giant:
During an interview with David Letterman, Andre bragged that he could drink " 119 beers in a single session." Wrestler Mike Graham later claimed he saw Andre consume 156 beers in one night.
When Andre the Giant was a kid, famed playwright Samuel Beckett used to give him rides to school.
 William Goldman, who wrote the book and the screenplay for The Princess Bride, created Fezzik specifically for Andre.
I don't know if these details will be featured in the new doc, but the bottom line is, Andre the Giant lead a memorable life. Andre began exhibiting signs of gigantism in his early 20s. He started training to become a wrestler at age 17, before joining World Wrestling Entertainment in 1973. He quickly became a superstar, and a frequent rival of Hulk Hogan. Here's a vintage newspaper clip of Andre talking about the Hulkster.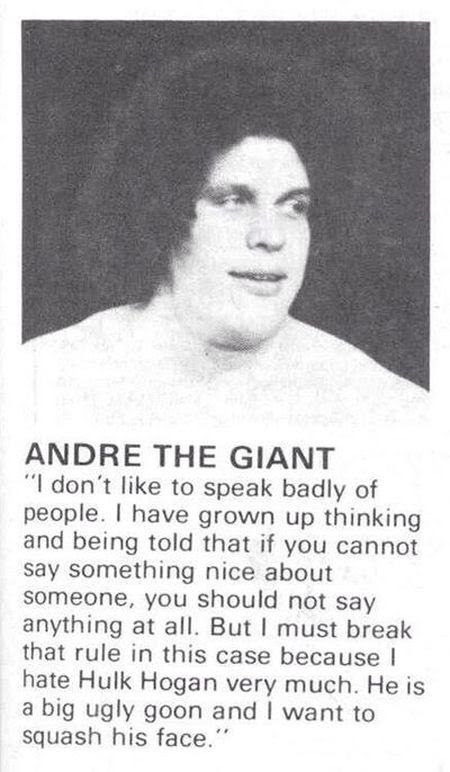 "He is a big ugly goon and I want to squash his face." Andre the Giant was a poet, folks.
"Everyone who ever crossed paths with him has an Andre story — and usually four or five," says Andre the Giant executive producer Bill Simmons. "I'm delighted to join forces with [director] Jason Hehir and WWE so we can capture Andre's amazing story once and for all."
Andre the Giant airs on HBO April 10, 2018.
From HBO Sports, WWE, and the Bill Simmons Media Group comes Andre The Giant, a documentary examining the life and career of one of the most beloved legends in WWE history. The ambitious, wide-ranging film explores Andre's upbringing in France, his celebrated WWE career and his forays into the entertainment world.