Dwayne Johnson Rejects Vin Diesel's Invitation To Rejoin The Fast & Furious Family: 'No Chance'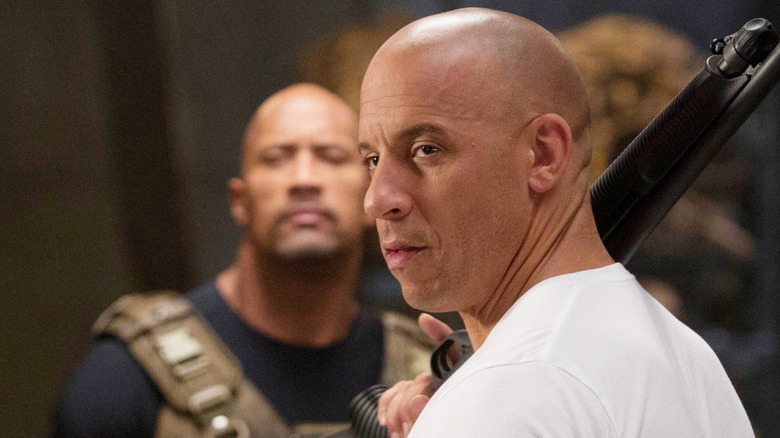 Universal
The epic tale that is former "Fast & Furious" co-stars Vin Diesel and Dwayne Johnson's personal beef has taken some shocking twists and turns this year. (Seriously, I wouldn't be surprised if Ryan Murphy is secretly making plans to revive "Feud" just so he can bring the Candy Ass saga to life on the screen.) For a while, all was quiet on the Fast Feud front, with Diesel and The Rock having seemingly buried the hatchet after clashing during production on 2017's "The Fate of the Furious" and even taking to complimenting one another on social media.
Earlier this year, however, Diesel chose chaos by declaring to the world that his and Johnson's behind-the-scenes conflict was all part of his grand scheme to get a better performance out of his muscle-bound "brother." In response, Johnson said he "laughed hard" after reading Diesel's comments (in which he name-dropped, of all things, Italian arthouse legend Federico Fellini) and reaffirmed that he won't be back for the last two main entries in The Fast Saga.
Not to be so easily undone, Diesel took to Instagram in November, calling upon Johnson to "rise to the occasion and fulfill your destiny" by reprising his role as Luke Hobbs in the two-part finale that is "Fast & Furious 10." Now, after weeks of the world waiting on pins and needles for Johnson to reply, The Rock has revealed his answer in an interview with CNN, and it basically amounts to a polite but firm "No, thank you."
You Don't Turn Your Back on (Fast) Family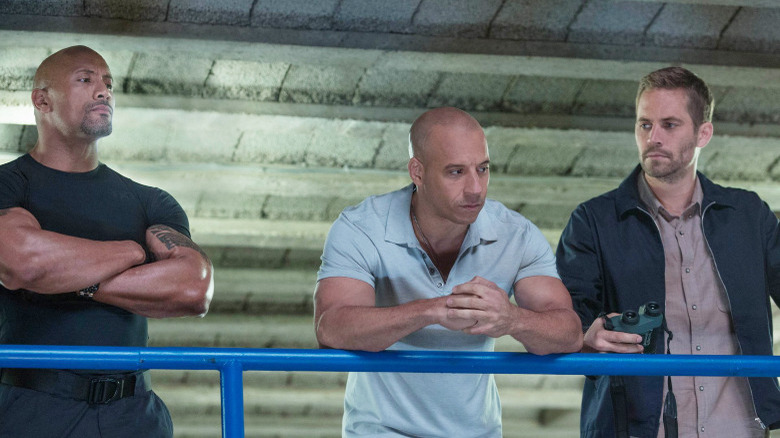 Universal
Elaborating on the matter, Johnson expressed his distaste for the way Diesel tried to pull him back into the "Fast & Furious" fray by claiming that his kids refer to The Rock as "Uncle Dwayne," before adding that his appeal is his way of trying to "fulfill my promise to Pablo" (Diesel's nickname for the late Paul Walker). As Johnson put it:
"I told [Diesel] directly that I would not be returning to the franchise. I was firm yet cordial with my words and said that I would always be supportive of the cast and always root for the franchise to be successful, but that there was no chance I would return. Vin's recent public post was an example of his manipulation. I didn't like that he brought up his children in the post, as well as Paul Walker's death. Leave them out of it. We had spoken months ago about this and came to a clear understanding."
Having said that, Johnson clarified that he bears no ill will toward the rest of his Fast Family and hopes all goes well with their next (final?) outing with the franchise:
"My goal all along was to end my amazing journey with this incredible franchise with gratitude and grace. It's unfortunate that this public dialogue has muddied the waters. Regardless, I'm confident in the 'Fast' universe and its ability to consistently deliver for the audience... I truly wish my former co-stars and crew members the best of luck and success in the next chapter."
Honestly, this Diesel and Johnson feud is more unpredictable and weirder than anything that's happened in the most recent "Fast & Furious" movies, which is saying something given that the series' heroes went into outer space in "F9." As deliciously outlandish and soapy as these films have become over the years, it just goes to show: life truly is stranger than fiction, more often than not.
"Fast & Furious 10" (Part 1) was recently pushed back six weeks and will now open in theaters on May 19, 2023, with Johnson still planning to reprise his role as Luke Hobbs in a "Hobbs & Shaw" sequel down the line.