Vin Diesel Asks Dwayne Johnson To Return To Fast And Furious In The Weirdest Way Possible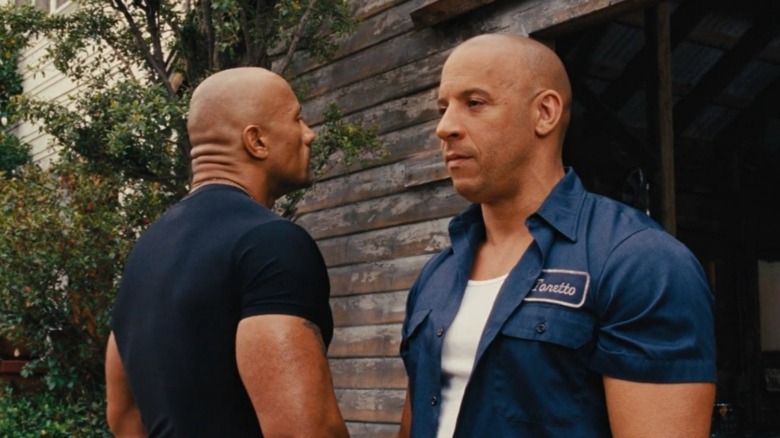 Universal Pictures
Family: Can't live with 'em and can't live without 'em, am I right?
The "Fast & Furious" spin-off "Hobbs and Shaw" used a needle-drop of War's "Why Can't We Be Friends" as the focal point of its marketing. How quaint! That little clashing of egos simply pales in comparison to the ongoing real-life drama between former co-stars Vin Diesel and Dwayne "The Rock" Johnson. Whether you believe it's a carefully-calculated PR campaign (which, having lasted this long, would almost have to be considered worth all the nonsense) or simply yet another timeless example of Hollywood stars finding themselves unable to play nice with one another, this rivalry stretches back at least to the production of "The Fate of the Furious." The Rock fired the opening volley in this protracted war, referring to certain unnamed male co-stars as "candy asses" in a since-deleted Instagram post with heavy implications. Hilariously enough, Johnson recently circled back to that viral post with some regret, but went on to claim that it was almost "...as if every single crew member found their way to me and either quietly thanked me or sent me a note" for calling out Diesel so publicly.
Possibly in response to this latest attempt to reignite their simmering cold war, Vin Diesel then took to Instagram over the weekend to send out one of the most bizarrely passive aggressive posts you'll ever see from one popular actor to another. Check out the details below, because you really need to see this for yourself to believe it.
Shots Fired?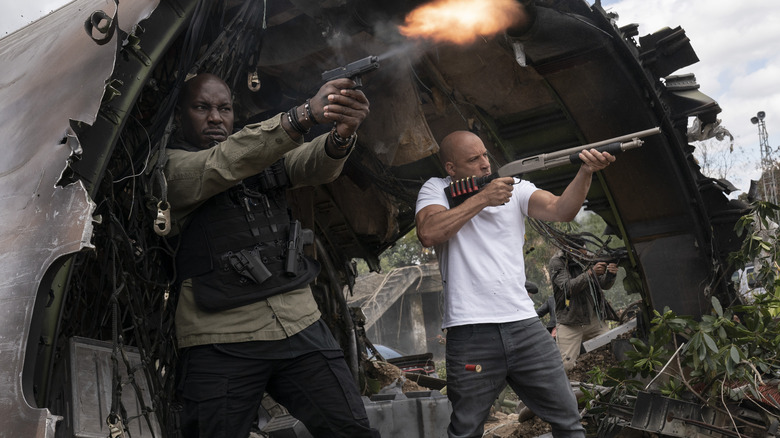 Universal Pictures
As entertaining as the "Fast & Furious" franchise is, I wouldn't blame anyone who thought that the Vin Diesel/Dwayne Johnson feud has officially become more entertaining than the actual movies themselves. This never-ending saga has run the gamut of incredibly petty antics, such as that time Diesel tried to take credit for Johnson's acting or earlier this year when Johnson went on record to say that he was walking away from the franchise. It's that last update that Diesel appears to be referring to in a new Instagram post that is (ostensibly, at least) meant to woo the fiery actor back to reprise his role as Luke Hobbs for the next installment of the "Fast & Furious." As Diesel very melodramatically puts it:
"My little brother Dwayne... the time has come. The world awaits the finale of 'Fast 10.' As you know, my children refer to you as Uncle Dwayne in my house. There is not a holiday that goes by that they and you don't send well wishes... but the time has come. Legacy awaits. I told you years ago that I was going to fulfill my promise to Pablo. I swore that we would reach and manifest the best 'Fast' in the finale that is '10'! I say this out of love... but you must show up, do not leave the franchise idle you have a very important role to play. Hobbs can't be played by no other. I hope that you rise to the occasion and fulfill your destiny."
I don't know about you, but I think it's incredible to imagine that this is just how Diesel talks all the time. Obviously, if the main goal here is to reconcile with Johnson, I'm not sure how well calling him "little brother" and leaving this somewhat patronizing message for the world to see will go over. Confusingly enough, however, Diesel keeps referring to the tenth film as the "finale" in this post, despite previously indicating that there would be at least two more "Fast & Furious" movies before concluding the main franchise. We're assuming that plans haven't radically changed based on some heat-of-the-moment Instagram post, but we'll keep you posted either way. Dwayne Johnson's destiny, after all, hangs in the balance here!