The 'Fast 8' Feud Between Dwayne Johnson And Vin Diesel May Be An Act For WrestleMania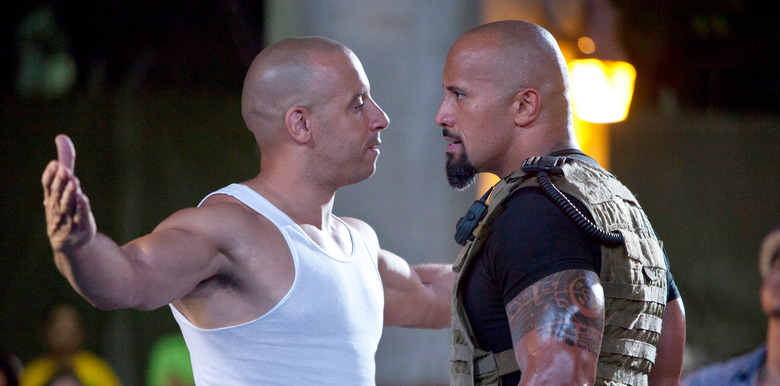 Dwayne Johnson was revealed to be the highest paid actor in Hollywood today, making $64.5 million a year. However, more people are still interested in the feud that was revealed to be taking place between Dwayne Johnson and Vin Diesel on the set of Fast 8.
For those who don't know, not long before production wrapped on the sequel, Dwayne Johnson took to Instagram to call some of his male co-stars "candy-asses" who don't conduct themselves professionally. Not long after, it was revealed that Vin Diesel was the more specific subject of this post because he was delaying shooting just so he could chill out in his trailer. Since then, details about the tension on set having to be regulated by Universal executive vice president Mark Sourian have made this feud quite a fascinating topic of conversation.
However, it turns out that this feud may all just be some kind of promotional stunt leading to an eventual confrontation at WrestleMania 33 next spring, which happens just before Fast 8 hits theaters. Find out more after the jump.
According to "an insider" who spoke to Life & Style (seriously), this whole Dwayne Johnson and Vin Diesel feud is nothing but a huge prank. Here's what the magazine says:
"They are playing a huge prank, and it's all for publicity. The Rock convinced Vin to amp up the drama between them so they could turn it into a WWE match to help promote the April 2017 release of Fast 8."
This makes perfect sense for multiple reasons. First, let's just take a moment to acknowledge how out of character the confrontational Instagram post by Dwayne Johnson was. Part of the reason the story became so big was because Johnson typically uses his Instagram for positivity and motivation, and he usually doesn't get caught up in stupid drama, especially when it comes to cast members that he's become extremely close with since joining the Fast and Furious family in Fast Five.
Plus, when you think about it, his candy-ass remark really feels like nothing more than the kind of taunting he used to do inside the wrestling ring when he was best known as The Rock and was always curious as to whether or not we could smell what he's cooking.
Surely it's no coincidence that WrestleMania 33 will be happening on April 2 with the release of Fast 8 planned for April 17. Seeing Dwayne Johnson and Vin Diesel face off in the wrestling ring is the kind of marketing that will not only benefit Fast 8, but also WrestleMania. Even people who don't care about wrestling would absolutely want to see Johnson take on Diesel.
Since this was likely meant to be a long con leading into next spring, we're bound to get more tidbits about the feud in the coming months, and even though we're presumably in on the joke now, hopefully it'll still be fun to watch.