Dwayne Johnson Will Return For 'Fast And Furious 9' After Squashing Beef With Vin Diesel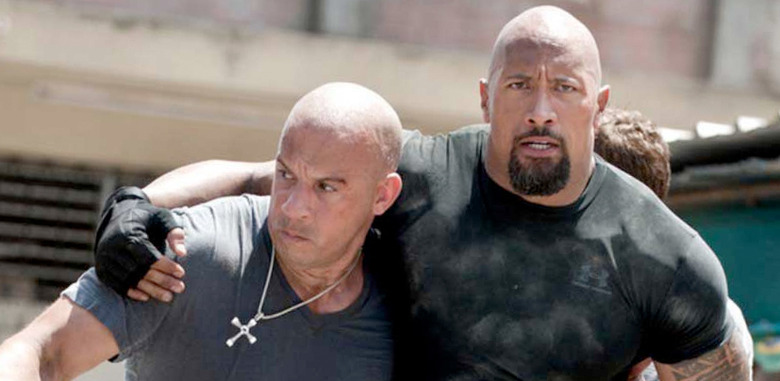 Late last summer, there was word that a feud had sparked between Dwayne Johnson and Vin Diesel on the set of The Fate of the Furious. Supposedly, Johnson didn't think that Diesel was conducting himself professionally, frequently delaying production simply because he was still relaxing in his trailer.
At the same time, there was another rumor saying that the feud was nothing more that a publicity stunt that would come to a head at Wrestlemania 33. However, that clearly didn't come to fruition, and recent word of Vin Diesel axing a Fate of the Furious credits scene with Dwayne Johnson and Jason Statham only lent further credence to the existence of the feud.
Thankfully, it sounds like Johnson and Diesel have ended their feud so that they can both return for Fast and Furious 9 and not have to worry about any bad blood still brewing between them. Find out more about the resolution of the Vin Diesel and Dwayne Johnson feud below.
Under normal circumstances, this kind of subject matter would be too gossipy for us, but since the feud seems to have had an impact on the production of the movie, it became an important topic of discussion. TMZ has the latest update on the feud, explaining that the real source of the dispute was due to "real estate." In show business terms, that means how much an actor gets to shine in a given movie. They say that includes "who gets the best action scenes, who gets the hottest girl, who shows off their body more, and who gets the most face time"
Supposedly Vin Diesel and Dwayne Johnson were arguing about real estate, but the latter ended up giving into Vin Diesel because it's his film franchise. Though Dwayne Johnson certainly helped reinvigorate the franchise in Fast Five, Vin Diesel has been there since the beginning. And since he's #1 on the call sheet, he deserves to have the most real estate.
Since the incident, Diesel and Johnson have met in private on a few occasions to bury the hatchet, and now they are both "1000% in" for the next installment of the franchise. Fast and Furious 9 will hit theaters on April 19, 2019, and presumably Diesel and Johnson will also both be back for Fast and Furious 10, which has already been scheduled for April 2, 2021. For the fans' sake, we're hoping Diesel and Johnson can keep their cool and the former won't see the need to take out the latter's character before what is meant to be "one last trilogy to end the saga."