New Morbius Featurette Teases A Multiverse Connection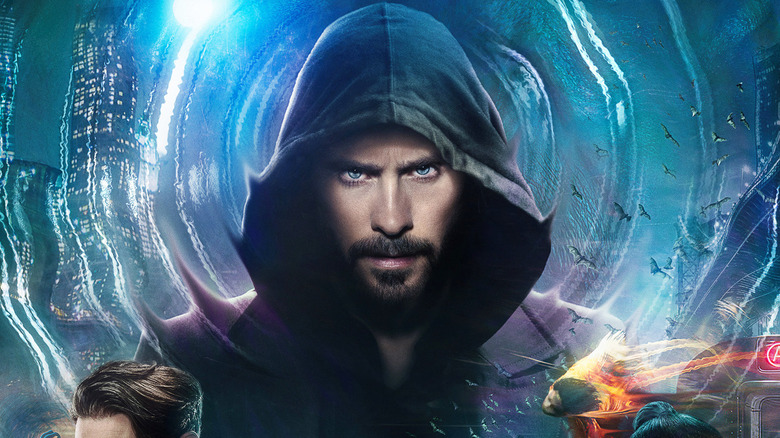 Sony Pictures
As far as "Spider-Man" antihero movies go, "Morbius" is a much harder sell than "Venom." Despite having made his debut in the "Amazing Spider-Man" comic books in the 1970s, the titular character's not a household name outside of the hardcore comics-reading crowd and has yet to appear on the big screen (though he almost made a cameo in 1998's "Blade"). Throw in Film Twitter's anti-fave Jared Leto as its star and a somewhat confusing premise (there's a reason the movie's marketing hasn't played up the idea of Morbius being a "living vampire"), and it's far from a recipe for disaster, but it's not exactly one for surefire success either.
Lucky for Sony, it has the Marvel multiverse to fall back on. 2021's "Spider-Man: No Way Home" technically brought Tom Holland's web-slinger and Tom Hardy's Eddie Brock together in a movie for the first time, assuming you count a post-credits scene where the latter hangs out at a bar alone. The trailers for "Morbius" likewise show Leto's Dr. Morbius coming face-to-face with Michael Keaton as what seems to be a variant of Adrian Toomes, AKA Vulture, from "Spider-Man: Homecoming," and Venom is referenced on several occasions. That trend continues with the movie's new featurette, in which Leto hypes Michael Morbius as being part of a "much larger universe."
Watch the Morbius featurette
"The multiverse has officially opened, and there's all kinds of opportunities for villains to meet up," says Leto in the latest "Morbius" featurette. It's no surprise to see Sony leaning even harder on using the multiverse aspect to sell the movie, coming on the heels of "No Way Home" and its record-smashing run at the box office. Last year's "Venom: Let There Be Carnage" was similarly one of the biggest box office hits of the pandemic era thus far, so what better way to encourage people to give "Morbius" a shot than to play up the idea of the living vampire coming face-to-face with Eddie Brock and his symbiote counterpart?
Sony isn't waiting to see if "Morbius" is a success before getting the ball rolling on other Spider-Man antihero or villain movies. Besides the already-in-the-works "Venom 3," the studio has "A Most Violent Year" and "Triple Frontier" director J.C. Chandor calling the shots on a "Kraven the Hunter" film starring Aaron Taylor-Johnson as the titular big-game hunter opposite a rapidly-growing cast that includes Russell Crowe and Christopher Abbott as the villainous Foreigner. There's also a "Madame Web" movie in the pipeline, with Dakota Johnson starring in the title role opposite "Euphoria" alum Sydney Sweeney. S.J. Clarkson ("Jessica Jones") is directing that film based on a script penned by "Morbius" writers Matt Sazama and Burk Sharpless, so one merely hopes these movies are even half as weird and wild as they read on-paper.
"Morbius" will finally make its way into theaters on April 1, 2022.