Morbius Final Trailer: A New Marvel Legend (Finally) Arrives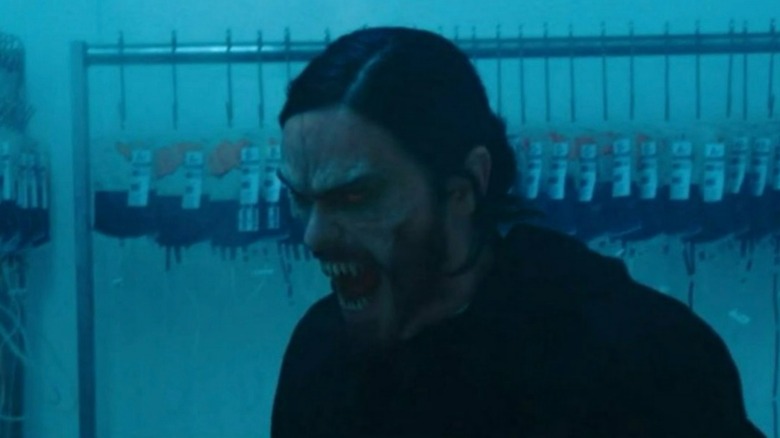 Sony Pictures
A desperate, brooding, well-intentioned man has a rough encounter with some bats, jumps a little off the deep end, and goes to some questionable lengths to fight anyone who gets in his way. Sound vaguely familiar? This week marks the height of Bat-fever with a certain pointy-eared superhero stalwart about to hit the big screen once again, but Sony Pictures is clearly looking to get in on that action with one last major tease of that other bat-themed comic book movie slated to release in the coming weeks. "Morbius" has languished in a state of flux for quite some time now, undergoing a seemingly nonstop series of delays — even as recently as last month! — as a result of the ongoing pandemic.
But perhaps emboldened by the overwhelming success of "Spider-Man: No Way Home," Sony has doubled down on their efforts to build out their so-called "Sony's Spider-Man Universe," which began with "Venom" and its sequel, will continue at some point with the in-development "Kraven," and promises to deliver a much darker tone with the upcoming movie about Doctor Michael Morbius turning into a superpowered, bloodthirsty vampire after a treatment of a rare disease gone horribly wrong. Is he a hero? A villain? This final trailer for "Morbius" puts that question at the center of the action, teasing the character's decision to embrace his fate once and for all. Check it out below!
Morbius final trailer
Well, at least we don't have to endure that extremely tired "I am Venom" tag at the end of the last and overplayed trailer anymore, right? Granted, that has nothing on the original trailer that recently hit its two year anniversary earlier in 2022, but maybe someday we'll look back and laugh at the collective cabin fever we all suffered while waiting for "Morbius" to finally release in theaters. That day is closer than ever, as this latest and final full-length trailer reminds us.
"Morbius" stars Jared Leto as the eponymous doctor with an insatiable taste for blood, directed by Daniel Espinosa ("Safe House," "Life") from a script by the writing duo of Matt Sazama and Burk Sharpless ("Dracula Untold," "Gods of Egypt," "Power Rangers," "Lost in Space"). The vampire movie marks new ground for Sony's comic book franchise, as shown most recently with a featurette delving into the "lore of Morbius," with the character having started off as a Spider-Man villain before ultimately evolving into something more closely resembling an antihero. That question of morality and deciding whether to embrace the monster within the man is given ample screen time in this final trailer, as the studio undoubtedly hopes to tap into some of the darker appeal that defines more popular and well-known (and similarly bat-obsessed) superhero characters like, well, Batman.
It remains to be seen how this gamble will pay off, but at this point everyone can probably agree that they just want this movie to release already. That'll finally happen as "Morbius" flies its way into theaters on April 1, 2022.