The 12 Best War Movies On Netflix Right Now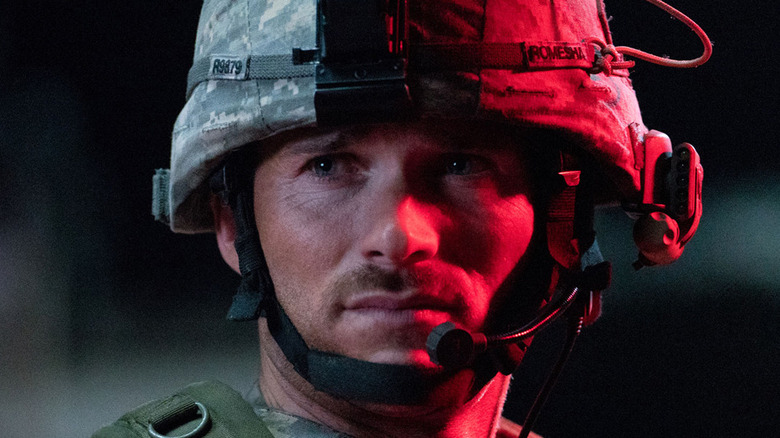 Screen Media Films
While war films are commonly thought of as grand, sweeping epics, the genre is far from uniform. War films can be about conflicts that are both historical or fictitious, and can incorporate elements of science fiction, fantasy, horror, action, and even comedy. Some films focus on soldiers in the heat of conflict, but there are many types of wartime heroes: spies, civilians, outside observers, and historical figures.
Many great war films are praised for their realism, as they spotlight combatants' real experiences. However, sometimes a satirical approach adds different insights. Many war films meditate on the justifications behind the conflicts they depict, and the effect that ceaseless violence has on those on the front lines.
Netflix has one of the broadest libraries of any streaming service, and it features many great war films. In addition to beloved classics, Netflix has plenty of underseen gems that are due for reevaluation. The company has also produced original war films featuring notable stars and fantastic production design. It can be overwhelming scrolling through Netflix's options, but these are the best war films on the service right now.
Operation Finale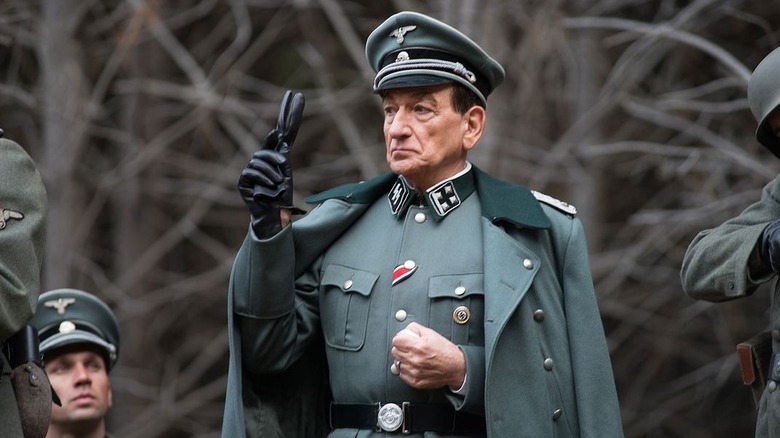 MGM
World War II films have been popular since the early days of cinema. Acclaimed classics like "Saving Private Ryan" and "The Thin Red Line" explore the devastating conflict through key battles, but the period of time following the war's conclusion, when the world adjusted to the devastation and wrestled with the reality of the Holocaust, is just as fascinating. 
"Operation Finale" tells the true story of the Jewish spies who tracked down one of Hitler's chief lieutenants. Adolf Eichmann (Ben Kingsley) was the architect behind Hitler's "Final Solution," but following his leader's defeat, he avoided justice by escaping to Argentina. When his whereabouts are discovered by Mossad agents, special agent Peter Malkin (Oscar Isaac) is tasked with infiltrating Eichmann's home and taking him hostage. Malkin wants nothing more than to kill Eichmann himself, but he's been ordered to keep the Nazi alive so he can stand trial before a world stage. Malkin's push to execute Eichmann causes friction with his co-agent, Dr. Hanna Elian (Melanie Laurent), who believes that Malkin cares more about starting new conflicts than ending them.
The film spotlights Jewish trauma and the complexities of justice. Malkin must weigh his personal desires with the necessities of his people, and Isaac gives a nuanced performance when Malkin discovers that Eichmann is not what he expected. Kingsley is absolutely terrifying, as Eichmann is in complete denial about his own evil. "Operation Finale" is an exciting spy thriller that piles on the emotions as each new clue is discovered.
Green Zone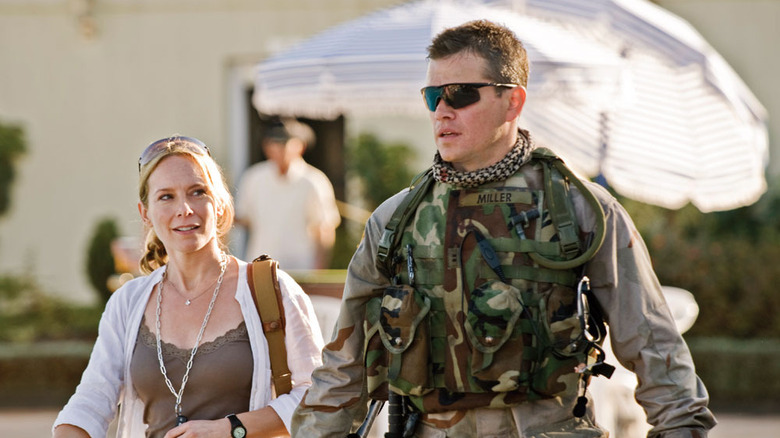 Universal Pictures
Matt Damon and director Paul Greengrass worked together brilliantly on "The Bourne Supremacy" and "The Bourne Ultimatum," and with "Green Zone" they reunited to make another gritty, high-adrenaline story. Taking the same realism they brought the spy franchise to an adaptation of Rajiv Chandrasekaran's non-fiction book "Imperial Life in the Emerald City" by journalist, "Green Zone" explores the complexity of the Iraq War through the perspective of a staunch patriot who becomes a whistleblower.
American Chief Warrant Officer Roy Miller (Damon) leads an investigation in Baghdad, searching for weapons of mass destruction. Although he's told his mission is critical to the war effort, barriers appear in his path when he's fed misleading information. Discovering that the U.S. military has been releasing false information to both the American public and the soldiers, Miller raises his concerns to the Department of Defense coordinator Clark Poundstone (Greg Kinnear), who blocks his search.
Although the Iraq War has been covered in countless films and documentaries, exploring the conflict through the lens of an action movie makes the themes more palatable. Damon is excellent as a conflicted veteran; he's infuriated that he's lost friends and squad mates based on false intel, and he's determined to expose the conspiracy. Greengrass's intimate cinematography and the incorporation of real news footage heightens the tension as Miller's anxiety grows.
A Private War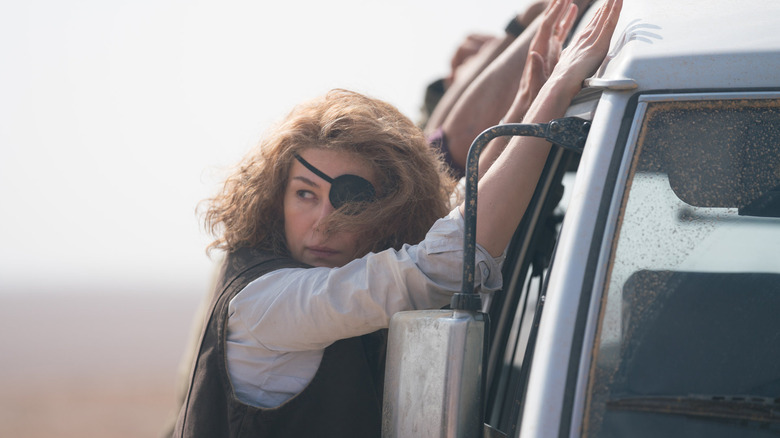 Aviron Pictures
Although she had been delivering excellent performances since the early 2000s, Rosamund Pike's terrifying turn in David Fincher's "Gone Girl" earned her the most critical acclaim of her career. Pike continues to pick interesting projects that show her range, and her turn in "A Private War" is a transformative performance that's completely different from Amy Dunne from "Gone Girl." The biographical film stars Pike as war correspondent Marie Colvin, who traveled overseas to report on ongoing war efforts for "The Sunday Times."
As she was a journalist and not a soldier, Colvin had the freedom to explore emerging conflicts without being restricted by government orders. She was able to spotlight underground resistance movements that her readership was unaware of. This freedom puts her in frequent danger, and Pike explores Colvin's struggles to recover from both physical injuries and severe PTSD. The stress of her career disrupts Colvin's private life, and Stanley Tucci delivers a sympathetic performance as Colvin's lover, Tony Shaw. Although some had dismissed his acting abilities because of the "Fifty Shades of Grey" films, Jamie Dornan gives one of his best performances as Colvin's longtime photographer, Paul Conroy.
Although "A Private War" was the first narrative film from director Matthew Heineman, he had worked extensively in documentaries, resulting in a very realistic looking film. Although the tragic ending makes it a difficult watch, "A Private War" is inspirational, and shows the importance of both Colvin's work and the legacy she left behind..
War Dogs
Warner Brothers
Todd Phillips started his career by making raunchy comedies like "The Hangover" and "Old School," so it was a surprise when he earned critical acclaim with his gritty take on "Joker." However, Phillips had previously shown an interest in dark material through his satirical crime thriller "War Dogs." Based on a true story, the film features the eccentric humor Phillips is known for, but takes a realistic turn once the characters face the consequences of their destructive actions.
David Packouz (Miles Teller) is barely able to support his girlfriend Iz (Ana de Armas) and their newborn son, but he finds a surprising financial opportunity after reuniting with his childhood friend Efraim Diveroli (Jonah Hill). Efraim convinces David to join his smuggling operation, shipping munitions to rebel groups in Afghanistan. The two quickly become wealthy. However, David grows uneasy as he witnesses the lives lost as a result of his activities, and slowly becomes trapped in his new profession. The two friends' lives are also threatened by arms dealer Henry Girard (Bradley Cooper).
Hill plays with his inherent charisma to create an incredibly unlikeable character, while Teller captures David's conflicted emotions quite well; although he's more aware than Efraim, he continues to ship weapons even after learning his partner's secrets. Phillips has cited Martin Scorsese classics like "Taxi Driver" and "The King of Comedy" as influences on "Joker," and the fast-paced, dark humor of "War Dogs" is reminiscent of "Goodfellas" and "The Wolf of Wall Street."
Beasts of No Nation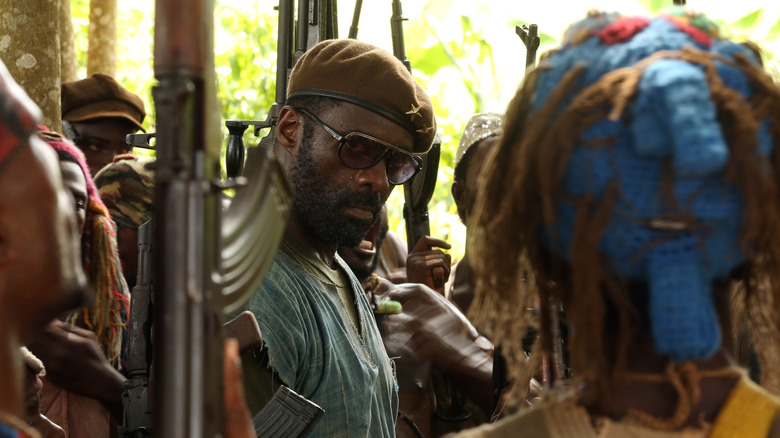 Netflix
These days, Netflix distributes hundreds of original films every year and works alongside A-list filmmakers and stars to create an entire slate of exclusive programming, but in 2015 the studio side of the company was just starting out. Although Netflix had earned critical praise for the drama series "House of Cards," its first exclusive film, "Beasts of No Nation," proved that it could also create powerful films. Directed by "True Detective" creator Cary Joji Funkunagua, "Beasts of No Nation" is a gripping exploration of the life of a child soldier.
Agu's (Abraham Attah) family in West Africa is ripped apart by a civil war, and the young child is recruited by a ruthless Commandant (Idris Elba) to join his militia. The Commandant relies on children to wage his wars, and becomes their twisted father figure. Agu's horrific experiences killing boys his own age is shown in vivid detail.
The incredible performance by Attah shows Agu's stagnated development, as he grows to fear his own violent impulses. Elba is terrifying as a monstrous figure who only opens up to Agu with the hopes that the boy will take his place. "Beasts of No Nation" is very difficult to watch, but its unflinching perspective is necessary because of how important the subject material really is.
Outlaw King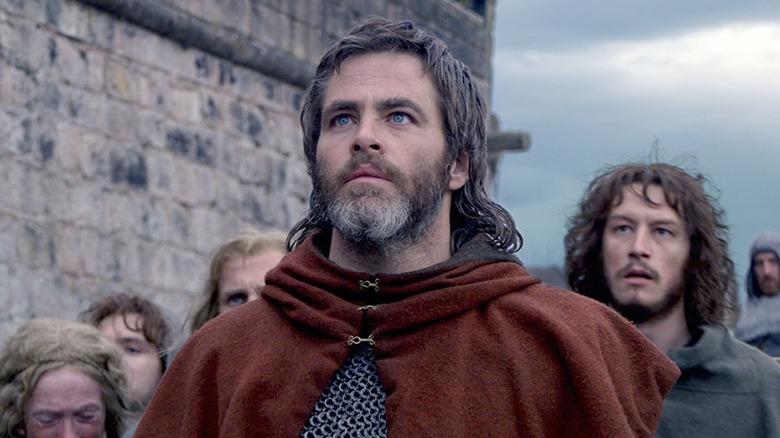 Netflix
The historical epic "Outlaw King" debuted at the Toronto International Film Festival in 2018 and was met with poor reviews, with critics complaining about its laborious pacing. Unsatisfied with the reaction, director David Mackenzie decided to re-edit the film and cut 20 minutes of footage in order to make the story more streamlined and exciting. The revisions paid off, as the new cut of "Outlaw King" is a relentless war thriller that serves as a semi-sequel to "Braveheart."
Chris Pine stars as the Scottish nobleman Robert the Bruce, who leads a rebel nation against the English crown after the execution of William Wallace. Knowing that his forces stand little chance against the British army in open combat, Bruce decides to take back his homeland castle by castle, enlisting a loyal following of guerilla lieutenants, including Lord James Douglas (Aaron Taylor-Johnson). The cruel King Edward (Stephen Dillane) becomes infuriated that Bruce is circumnavigating his forces, and ramps up the stakes by torturing his captives.
Action sequences come frequently in "Outlaw King," as Bruce's forces are constantly on the run. Pine embodies the spirit of a good leader who is only spurned into conflict after the death of his close friend, and the intimate relationship with his wife Elizabeth de Burgh (Florence Pugh) gives him moments of solace between battles.
The King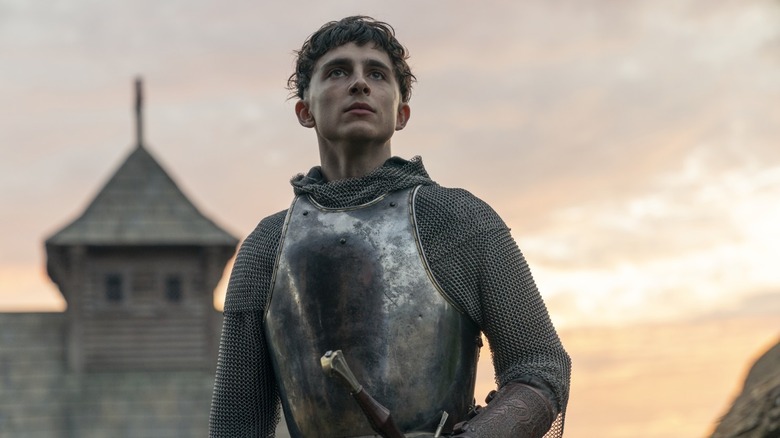 Netflix
Adaptation of Shakespeare's plays starring Prince Hal, aka King Henry V, emphasize different elements of the original stories; Netflix's "The King" focuses on the twisted coming-of-age story that unfolds during an international conflict. Timothee Chalamet stars as King Henry V, who ascends to the throne following the death of his father (Ben Mendelsohn) and brother Thomas (Dean-Charles Chapman). After an assassin disrupts Hal's coronation, the novice prince launches a campaign against the Dauphin of France (Robert Pattinson).
While Hal has an aptitude for war, he's naïve about the political influences that control his strategies. Hal's mentor, Sir John Falstaff (Joel Edgerton), protects him during key conflicts, but the deceitful Chief Justice Sir William Gascoigne (Sean Harris) does everything he can to prolong the war. Chalamet captures the eagerness of a young warrior and delivers stirring calls to arms, and physically transforms for the hectic action sequences. Pattinson is very entertaining as the eccentric Dauphin, who mocks Hal's youthfulness and inspires his rage.
Director David Michod delivers epic action sequences with grizzly blood and dirt smeared across the soldiers' faces. A haunting score by Nicholas Brittell gives the final moments an eerie quality. While it simplifies Shakespeare's story, "The King" works excellently as a medieval wartime saga.
Da 5 Bloods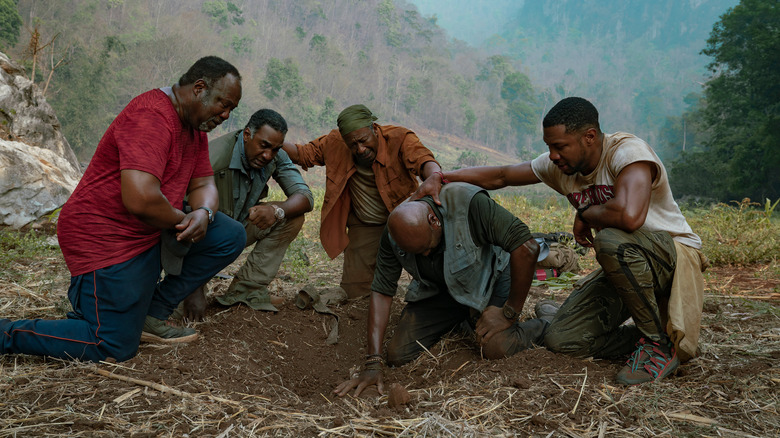 Netflix
The original script for "Da 5 Bloods," written by Danny Bilson and Paul De Meo, followed the lasting trauma felt by former squad mates from the Vietnam War, who reunite to search for the body of a fallen comrade. Buried alongside their lost friend is a hidden treasure. Spike Lee and his "BlacKkKlanman" co-writer Kevin Willmont decided to rewrite the story to play up the added pressure that African-American soldiers faced. Lee was inspired by "The Treasure of the Sierra Madre" to tell a complex story about the corrupting influence of buried treasure.
Paul (Delroy Lindo), Otis (Clarke Peters), Eddie (Norm Lewis), and Melvin (Isaiah Whitlock Jr.) haven't seen each other since the '60s, and enjoy reminiscing as they return to Vietnam. Paul has grown hateful in his older years, and he's infuriated when his son David (Jonathan Majors) unexpectedly joins them. For his part, David seeks to change his father's heart, but Paul is still devastated by the loss of squad captain Stormin' Norman (Chadwick Boseman). Boseman's passing makes the film's tragic flashback sequences even more powerful.
Lee incorporates historical footage and flashbacks shot in 1.33:1 format on 16 mm film to emulate news footage. The 156-minute runtime does not feel lengthy, as "Da 5 Bloods" takes time to show each character coping individually with their past actions. While a work of fiction, "Da 5 Bloods" was inspired by real accounts from Black soldiers who faced discrimination.
Sand Castle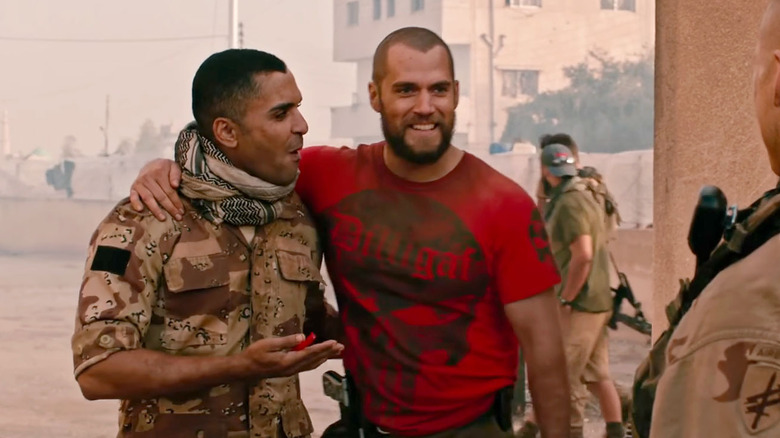 Netflix
One of the most underrated Netflix original films, "Sand Castle" focuses on the doomed American intervention in Iraq, where soldiers struggled to make a difference. While generally cast as likeable characters, Nicholas Hoult delivers an unconventional performance as rifleman Private Matt Ocre, who enlisted shortly after the 9/11 attacks. Although initially idealistic about his ability to bring peace overseas, Ocre has grown cynical and seeks to escape his duty. He's even willing to injure himself, hoping to be honorably discharged.
Henry Cavill is also cast against type as the repulsive special forces Captain Syverson. Syverson is a battlefield veteran, but he's disillusioned with his mission to build a sustainable water source in the Iraqi capital Baqubah. Syverson is infuriated by the communication barriers he faces, and dispatches his men into dangerous missions simply to find excitement. Cavill's physical dominance is utilized well in a subversive villainous role.
The slow pacing of "Sand Castle" allows the viewer to experience the same frustrations that the soldiers do, and when action does come it's shocking and intimate. "Sand Castle" captures the futility the soldiers feel as, like sand castles, all of their progress is washed away.
Mudbound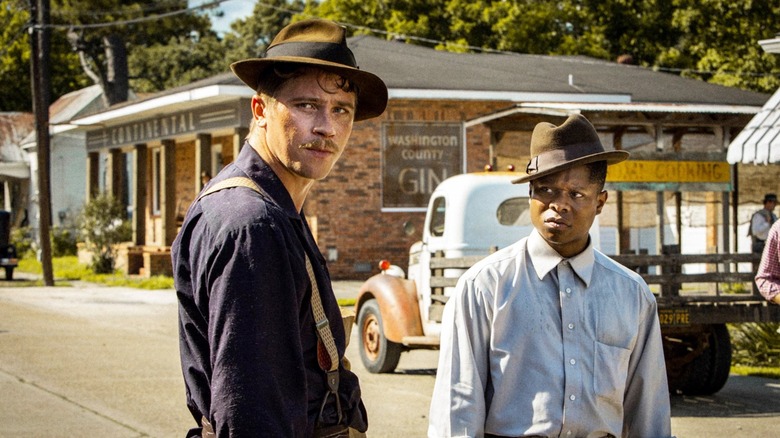 Netflix
Netflix eventually earned Best Picture nominations for many of its films, but early on the distributor faced a backlash for releasing films simultaneously on streaming and in theaters. Acquired from the 2017 Sundance Film Festival, "Mudbound" scored three Academy Award nominations, but wasn't recognized in the Best Picture lineup. It's a shame, as the historical drama is among the best films about racial prejudice in recent memory.
"Mudbound" follows two families in the years preceding and following World War II. Brothers Henry (Jason Clarke) and Jamie McAllan (Garret Hedlund) struggle to support their family ranch in Mississippi once their ailing father Pappy (Jonathan Banks) retires. So, the McAllan clan enlists the help of the neighboring Hap Jackson (Rob Morgan), his wife Florence (Mary J. Blige), and their son Ronsel (Jason Mitchell). Jamie and Ronsel bond after they both return from fighting in Europe, each struggling with PTSD, but Pappy's involvement with the Klu Klux Klan threatens to upend the new friendship.
Admittedly, the racism can be hard to watch. While not violent, Henry feels that the black family owes him support, even after Hap is injured and unable to walk. The sequences in which Pappy tortures Ronsel are brutal, particularly after seeing his growing friendship with Jamie. Writer-director Dee Rees reimagines the era with vivid historical detail, especially in the flashbacks to Jamie and Ronsel in conflict.
War Machine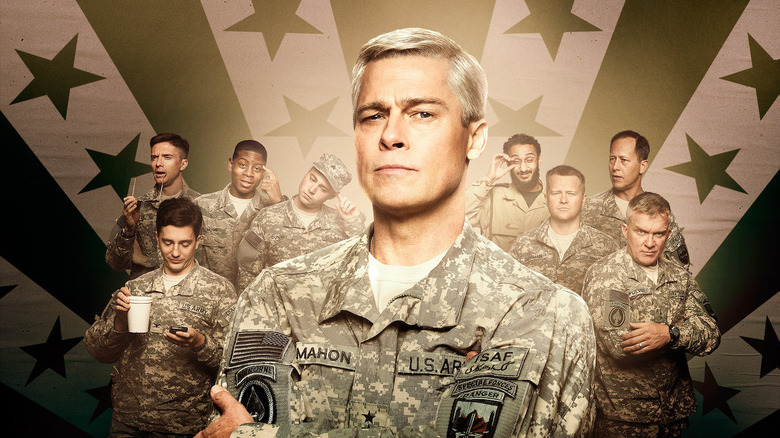 Netflix
Writer-director David Michod generally favors gritty crime thrillers like "The Rover" and "Animal Kingdom," but one of his best films is a satirical take on the Bush era. Similar to Adam McKay's work on "The Big Short" and "Vice," the wackier comedic side of "War Machine" spotlights a story that is equally hilarious and informative. Although the names are changed, "War Machine" was inspired by the tenure of long standing American General Stanley McChrystal.
Brad Pitt stars as the fictionalized General Glen McMahon, who, despite his experience in Iraq, is overwhelmed when tasked with finding a solution to the conflict in Afghanistan. McMahon knows war, but he's naïve about the country's complexity and the corruption at the heart of the U.S. military-industrial complex. Pitt utilizes awkward physical comedy without making McMahon a complete buffoon; he is a product of a failing system. McMahon at least has good intentions, and the ironic ending sees him replaced by another General (Russell Crowe) who will ultimately suffer the same fate.
McMahon is often the scapegoat for public embarrassments, and the voiceover by journalist Sean Cullen (Scoot McNairy) shows how aware — or unaware — the public is about what's really going on. Cullen's cynical skepticism adds sharp humor to the film, but there are more emotional elements, too, like when McMahon bonds with the men under his command, played memorably by Emory Cohen, RY Cyler, Anthony Hayes, Will Poulter, and Lakeith Stanfield.
The Pianist
Studio Canal
One of the most gripping films about the Holocaust ever made, "The Pianist" follows the massacre of the Jewish people from its early stages to the end of World War II. Rather than a comprehensive history of events, "The Pianist" focuses on one brilliant artist who develops his abilities while his family is ripped apart. Adrien Brody rightfully became the youngest recipient ever of the Academy Award for Best Actor for his moving portrayal of Władysław Szpilman.
Szpilman's family is delighted as his music plays over radio, giving hope to their community as the Nazi invasion of Poland commences in 1939. Watching as his family is torn apart during the occupation, Szpilman is forced to use his musical abilities to distinguish himself when he's captured. Biding his time, Szpilman is passed between German captors as he searches for a way home. Brody does a great job capturing Szpilman's guilt; he sees himself as a survivor, and not a hero. While he's happy that his music can offer some solace to those that are struggling, he knows it's an advantage others do not have.
The sequences of Szpilman performing are heartbreakingly beautiful, offering brief glimpses of hope. Holocaust survivor Roman Polanski lost his own family to the concentration camps, and used his own experiences to recreate some of the historical details. Polanski won the Academy Award for Best Director for this deeply personal work.