The 15 Best Gregory Peck Movies, Ranked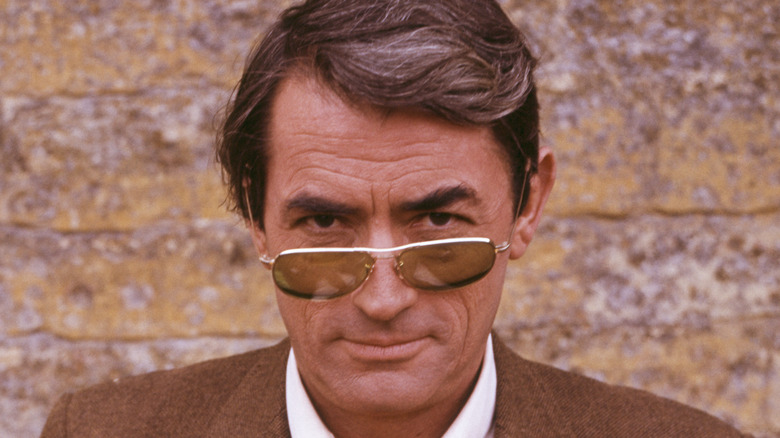 Hulton Archive/Getty Images
Less sexualized than Gary Cooper and less filled with warm-hearted optimism than James Stewart, Gregory Peck nonetheless found a place for himself in classical Hollywood with a stoic (if occasionally muted), comfortingly authoritative presence. His career began in the early 1940s, when he found quick success as a leading man, and developed throughout the 1950s and 1960s when he took on the role that most people identify him with to this day: Atticus Finch in "To Kill a Mockingbird." Beyond that, he continued making appearances in film and television until 2000, just a few short years before his death in 2003 at the age of 87. 
Although he's occasionally overlooked in favor of the more overtly charismatic leading men of his day, Gregory Peck has an incredibly impressive filmography that could go toe-to-toe against any other actor from the classic Hollywood era. He even has the awards to prove it, with one competitive Oscar to his name, as well as the Jean Hersholt Humanitarian Award, the Presidential Medal of Freedom from Lyndon B. Johnson, and the National Medal of Arts awarded to him by Bill Clinton. Here are the 15 best Gregory Peck movies, ranked.
15. The Keys of the Kingdom (1944)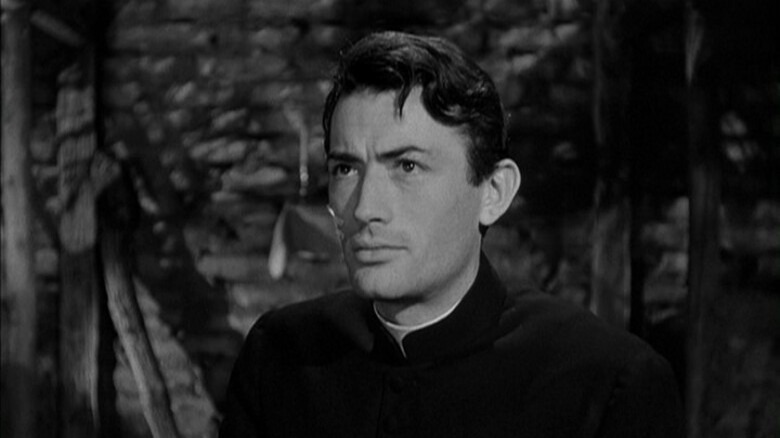 20th Century Fox
Based on the novel of the same name, "The Keys of the Kingdom" tells the story of a priest's life from his childhood in Scotland to his efforts to evangelize in China. Gregory Peck's performance is simple but emotionally evocative, allowing the humility and earnest nature of his Father Francis Chisholm to shine through. This was the first film that Peck received an Academy Award nomination for, although he lost out to Ray Milland's performance in "The Lost Weekend." 
It is perhaps a movie that doesn't have the same resonance nearly 80 years later, as too much damage has been done to the Catholic Church's reputation for modern viewers to embrace the concept of an evangelizing priest in quite the same way. Peck's performance holds up nonetheless, and firmly cemented him as one of the best in the business when it came to playing characters with extreme moral fortitude.
14. The Guns of Navarone (1961)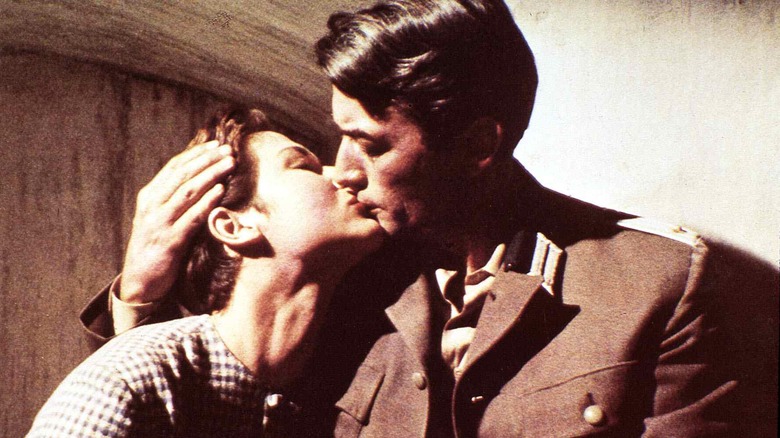 Columbia Pictures/Getty Images
By the time "The Guns of Navarone" came out in 1961, Gregory Peck was far from a novice in the genre of wartime epics. The story of an Allied light infantry unit tasked with reducing to rubble a German stronghold off the coast of Greece is one of his best, however. He plays Captain Keith Mallory, one of the men recruited for this mission, who would pose as Greek fishermen in order to infiltrate and overwhelm the German forces. 
Nearly 20 years after the end of World War II, a new era of nostalgia had blossomed, with a rash of films in the early 1960s that would accompany "The Guns of Navarone." Whereas many of these other films focused on specific battles, this one embraces the adventurous aspects of its characters' exploits, creating what Arthur Ryel-Lindsey of Slant Magazine called a "straightforward blood-and-guts caper, which echoes the impossible bank heist movie more than it does a war story."
13. Captain Horatio Hornblower (1951)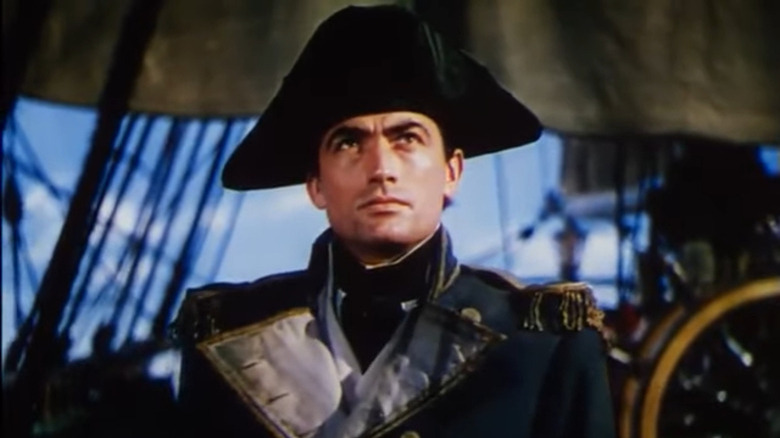 Warner Bros. Pictures
During a brief foray into the world of swashbuckling, Gregory Peck played the title hero in "Captain Horatio Hornblower," bringing to life the fictional Navy officer from C.S. Forester's classic novels. The film is set against a backdrop of the Napoleonic Wars when the Navy was of paramount importance to maintaining Britain's position of power around the world. Hornblower is tasked with delivering arms to prop up a Central American dictator so that he can more effectively operate as a thorn in the eye of French-allied Spain. (Ah, international politics.) 
With Peck's stoic and intelligent leadership on camera, "Captain Horatio Hornblower" was a big hit at the box office, and although critics admitted that it didn't necessarily break new ground in the genre, it was generally considered to be a success. Bosley Crowther of the New York Times perhaps summed it up best when he wrote, "It may be conventional action, routine in pattern and obviously contrived, with less flavor [of the books] in it than of the workshops of Hollywood. However, it should please those mateys who like the boom of the cannon and the swish of the swords."
12. The Yearling (1946)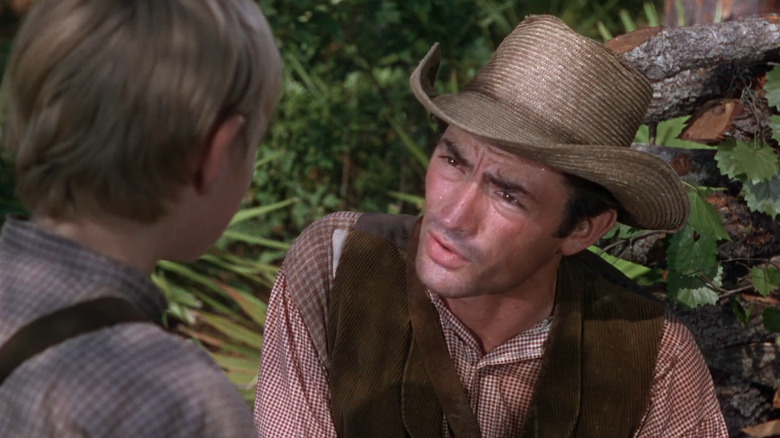 MGM
For some reason — maybe it's the post-World War II malaise, maybe people just weren't getting enough hugs — there was a huge trend of weepy animal dramas during the late 1940s and 1950s. About 10 years before the release of "Old Yeller," Gregory Peck starred in "The Yearling," the prototypical "boy comes of age through having to kill a beloved pet" story. 
It revolves around a young boy named Jody, whose parents are haunted by the premature death of his siblings. His father (Gregory Peck) is warm and loving, but his mother (Jane Wyman) is terrified of becoming too attached to her sole remaining child. Jody befriends a young orphaned deer, and the two are inseparable until (predictably) tragedy strikes. This tearjerker proved to be immensely popular, earning eight Oscar nominations, including ones for best picture, best director (Clarence Brown), and well-deserved acting nods for both Peck and Wyman.
11. Twelve O'Clock High (1949)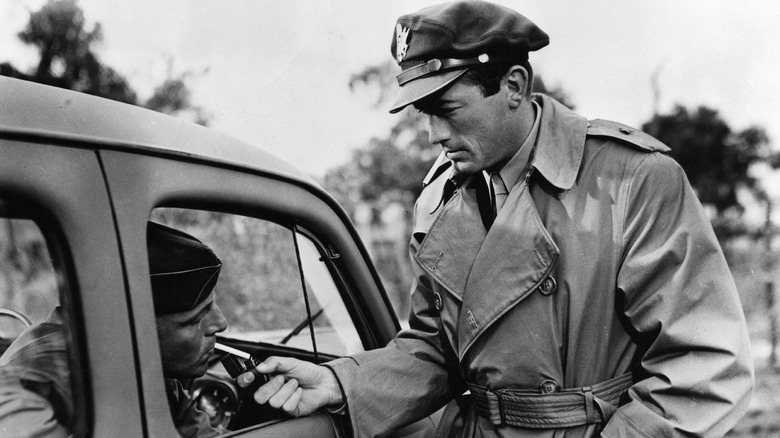 20th Century Fox/Getty Images
Released just a few short years after the end of World War II, "Twelve O'Clock High" is an action-packed war picture highlighting the exploits of a group of Allied pilots embarking on a series of bombing raids against Nazi Germany. Gregory Peck gets a meaty role to challenge himself with playing Brigadier General Frank Savage, who takes charge of the outfit with steely-eyed determination only to suffer from war fatigue and mental health issues the longer the war drags on. 
Utilizing actual combat footage and basing many of its characters on stories from actual veterans, "Twelve O'Clock High" has developed a reputation for authenticity, reflecting the lived experiences of Allied pilots during the war. Gregory Peck was rewarded for his strong performance as a high-level officer grappling with the pressure of protecting the men serving under him with a best actor Academy Award nomination, his fourth career nod in just five years.
10. The Man in the Gray Flannel Suit (1956)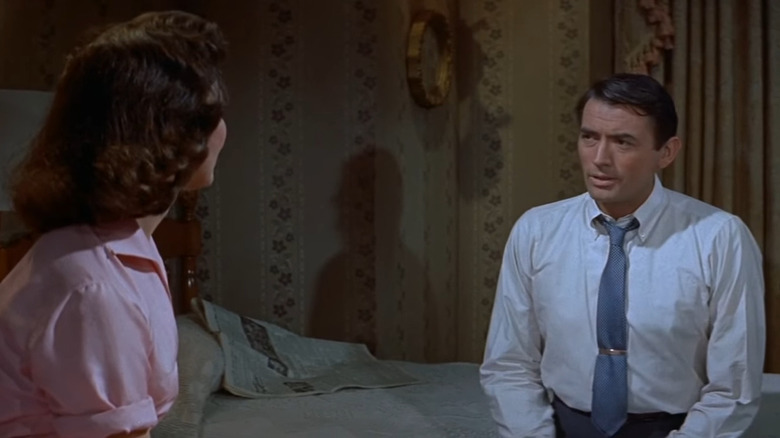 20th Century Fox
"The Man in the Gray Flannel Suit" may not be the first film to showcase a white-collar worker utterly disillusioned by the American rat race, but it is one of the most memorable. Gregory Peck plays Tom Rath, a World War II veteran who now works a soul-sucking job in public relations, perpetually hounded by his wife to climb the corporate ladder as fast as he can. It's a long film — possibly too long, with its intimate family drama running at an intimidating two-and-a-half hours — but its commentary about the American workplace is captivating, especially in a 1950s landscape that prioritized conformity and productivity amidst the identical white picket fences of suburbia. 
The fact that Peck's wholesome screen presence never quite reached the high-wattage matinee idol power of Cary Grant or Gary Cooper works in his favor here. He lends a touch of the everyman to his portrayal of an anonymous middle-management type lost in a sea of (as the film's name suggests) gray flannel suits.
9. Night People (1954)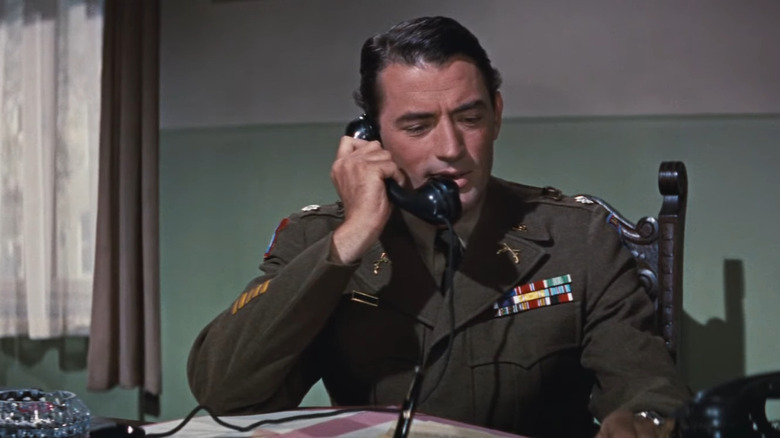 20th Century Fox
Although there was very little controversy attached to Gregory Peck throughout his career, the filming of "Night People" was widely considered to be contentious. There were rumors of conflict between Peck and his director Nunnally Johnson, with the actor reportedly channeling his anger into his performance as an eccentric lieutenant colonel. If there were issues on set, though, it's difficult to see evidence of it on screen. 
This story of American military personnel stationed in Berlin after the end of World War II was well-reviewed, with Variety referring to it as a "topnotch, exciting cloak-and-dagger thriller." Peck's role here is more multi-faceted than normal, as he attempts to parse through endless intrigues to rescue an American soldier who has been kidnapped by Russian forces. Milton Luban of the Hollywood Reporter praises Peck's performance, writing, "Peck is at his very best here, tough almost to the point of fanaticism, yet kindly and understanding when called for."
8. The Omen (1976)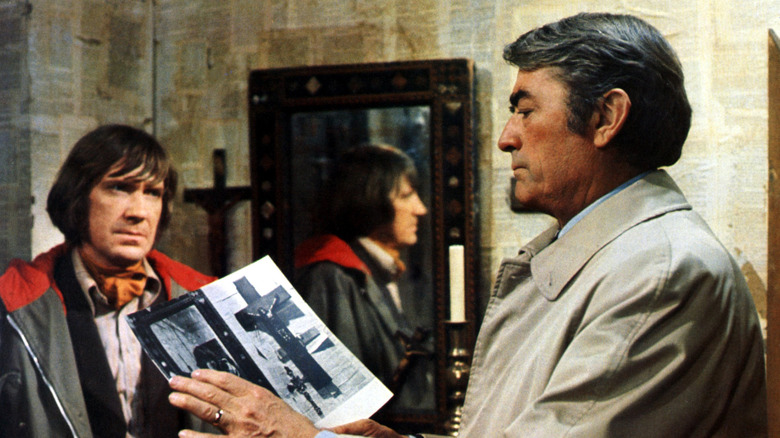 20th Century Fox/Getty
Look, there are probably a lot of parents out there who think that their child is literally the spawn of Satan, but the ones in "The Omen" are actually correct. Gregory Peck plays American diplomat Robert Thorn who is living abroad with his wife when she gives birth to a much-anticipated child. When the baby dies, he is convinced by a priest to take an orphaned baby in its place. 
From the very beginning, their son Damien is different. Strange, violent things happen around him, and although Thorn has strong paternal instincts, he starts to think that young Damien might be ... well, evil. Peck turns his image as a loving and supportive father on its head, playing the familiar archetype in a way that makes you buy into both the love he has for his son, but also the fear and revulsion as Damien's true identity as the Antichrist Jr. becomes more evident.
7. How the West Was Won (1962)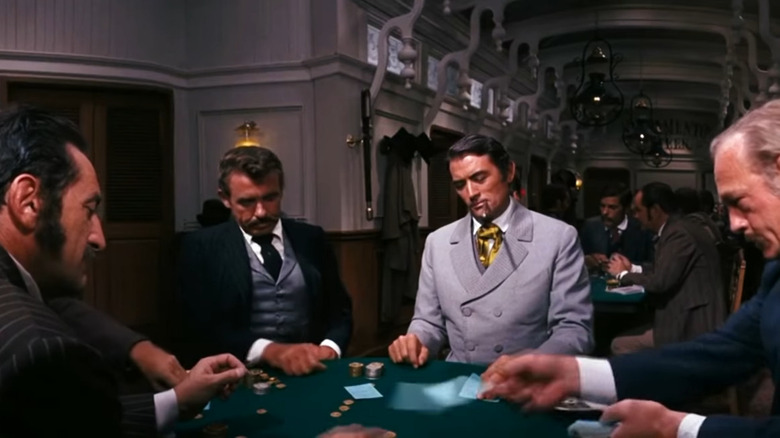 MGM
There is perhaps no genre that Gregory Peck returned to as frequently throughout his career as the Western. In 1962 he starred as professional gambler extraordinaire Cleve Van Valen in "How the West Was Won." Featuring a sprawling ensemble cast and a narrative that takes place over the course of several decades, "How the West Was Won" is as much a historical epic as it is a traditional Western. 
It was a massive financial success, becoming the second highest-grossing film of the year, and was nominated for eight Oscars, eventually winning three. Made during the last golden years for the American Western, it encapsulates all the best qualities of the genre as well as a few of its most notable excesses. Although the praise surrounding "How the West Was Won" has more to do with its ambitious scale than any sense of nuance, it nonetheless remains a towering achievement.
6. Designing Woman (1957)
MGM
A lot of Gregory Peck's films have what you might call big ideas, and "Designing Woman" is no exception. This slight and frequently overlooked romantic comedy casts a critical eye on modern masculinity, challenging traditional gender expectations in a fiery relationship between two young working professionals with lives and hobbies of their own. Peck plays a sportswriter who ends up married to an unconventional fashion designer (Lauren Bacall) after a whirlwind romance. 
"Designing Woman" features probably Peck's most successful on-screen romantic pairing with Bacall (although to be fair, who wouldn't?) and they play off each other with great chemistry. If any of Peck's films were to be considered underrated, this would probably be it, since "Designing Woman" was a box office disappointment, although it did earn an Academy Award for its screenplay and holds up remarkably well. Director Vincente Minnelli's visual flair gives it a playfulness that makes the 1950s romantic comedy feel almost modern.
5. Gentleman's Agreement (1947)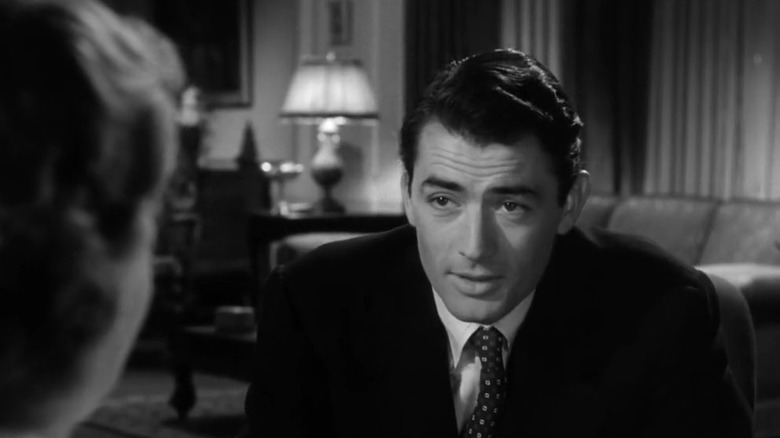 20th Century Fox
"Gentleman's Agreement" is one of the classic social issue films of the 1940s, and while it's far from subtle the direction of Elia Kazan lends a level of craftsmanship that allows it to punch above its weight. Gregory Peck stars as a journalist who decides that his next big expose will be on antisemitism. To accomplish this, he makes a slight but racially significant change to his last name, passing himself off as Jewish. In doing so, he gains a new appreciation for the level of discrimination — often under the radar — that was faced by Jewish Americans even in the immediate aftermath of World War II. 
It also casts a critical eye on the sort of outwardly liberal and "tolerant" person, who knows how to say all the right things but harbors their own prejudices below the surface. His girlfriend who knows the truth about his ethnicity begs him to tell her family before they go to Connecticut for a visit, clearly signaling that it would be much easier for her if people didn't think he was Jewish. "Gentleman's Agreement" gets its heart from John Garfield's remarkable performance as Peck's close Jewish friend. Born to Russian Jewish immigrants in New York City, Garfield believed in the film's importance so much that he took on a much smaller supporting role to be a part of it.
4. Cape Fear (1962)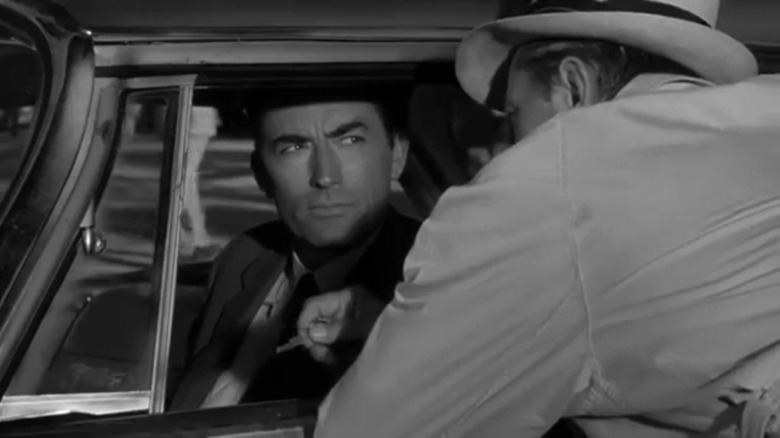 Universal Pictures
One of Gregory Peck's more chilling outings, "Cape Fear" sees him star opposite Robert Mitchum: One a criminal prosecutor and family man, the other a serial rapist vowing revenge against the man who put him behind bars. Over the course of the film they match wits against one another as Peck's Sam Bowden desperately tries to protect his wife and daughter from the sadistic machinations of one of cinema's most exciting villains. Although Mitchum gets the flashier role, Peck puts in an equally impressive performance as a good man driven to unthinkable lengths. 
The subject matter in "Cape Fear" was disturbing for its time, with Bosley Crowther of the New York Times offering a brief warning to viewers: "Don't take the children." He goes on to reluctantly praise the film, writing, "Everything is sharp and direct. Menace quivers in the picture like a sneaky electrical charge." Although the 1991 Martin Scorsese remake with Robert De Niro and Nick Nolte often overshadows its predecessor, the original "Cape Fear" has a power all its own, and Scorsese made sure to honor the contributions of Peck and Mitchum by giving them cameos in his version. 
3. Spellbound (1945)
United Artists/Getty
Although Gregory Peck and Alfred Hitchcock were two of the biggest names in Hollywood throughout the mid-20th century, they only worked together twice. Once in "The Paradine Case," where a London lawyer falls in love with the murderess he's defending, and more famously in "Spellbound." Peck is paired up with Ingrid Bergman at the peak of her fame, and they make an unbeatable combination. She is a psychoanalyst at a psychiatric institution, while he is the new head doctor who has just arrived to run the place ... or at least that's what he says.
"Spellbound" is a twisty psychological thriller that had audiences utterly captivated. It gives Peck the opportunity to play against type, with his usually reliable even-keeled screen presence tinged with instability. "Spellbound" became one of Hitchcock's most successful films, both at the box office and amongst critics. It was nominated for six Oscars, including best picture and best director, eventually winning for its musical score.
2. Roman Holiday (1953)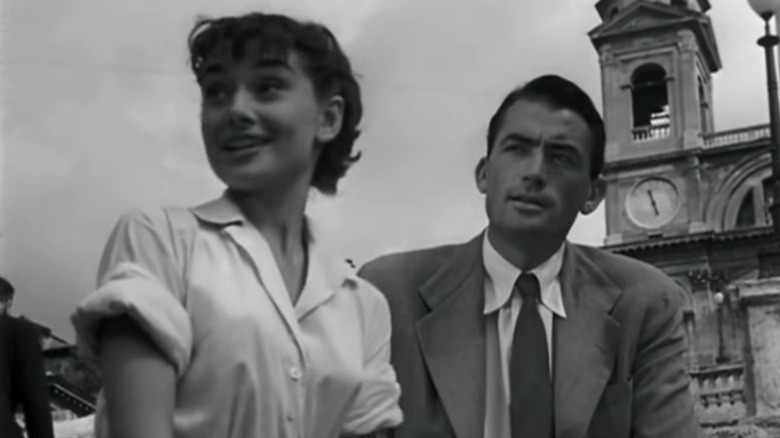 Paramount Pictures
Although "Roman Holiday" is one of Gregory Peck's most famous films, make no mistake: this is Audrey Hepburn's baby, and Peck's just along for the ride. Hepburn is effervescent as a young princess who feels stifled by the constant and oppressive supervision that accompanies her royal responsibilities. She can do nothing and go nowhere without an entourage, and her life is scheduled down to the minute. So she runs away to blow off some steam and ends up getting mixed up with a handsome American journalist (Peck). Together, they take in the sights of Rome together (the film is as much an ad for Italian tourism as anything else), and their camaraderie blossoms into something more. 
"Roman Holiday" performed well at the Oscars, receiving 10 nominations and winning statues for Audrey Hepburn and Dalton Trumbo for best actress and best story, respectively. Interestingly enough, Gregory Peck was snubbed, receiving not so much as a nomination for his charming performance.
1. To Kill a Mockingbird (1962)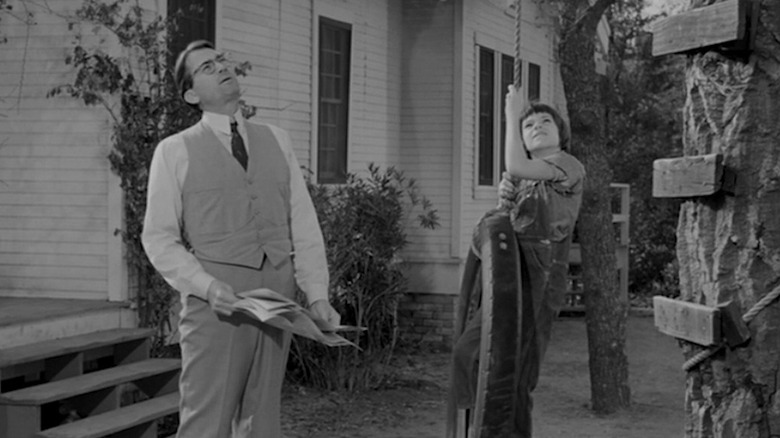 Universal Pictures
Throughout Gregory Peck's career he always had a stable, trustworthy presence, but his performance in "To Kill A Mockingbird" would cement his reputation as America's Dad in the 1960s. He plays Atticus Finch, the morally upright father of the young protagonist Scout, who seems to have a comforting answer for every troublesome thought that could dare enter her head. In a town embroiled in racial tensions as a Black man stands accused of raping a white woman, Atticus defends him in court, steadfast in his belief that every man deserves a fair trial. 
Atticus Finch is nothing less than the moral conscience of the town, and for his efforts in bringing to life one of the most towering literary characters of the 20th century, Gregory Peck was awarded his first and only competitive Oscar. It was a role that would define Peck's career, and he reflected in a 1997 interview, "The movie is my little pipeline to an entirely other generation."