Netflix Buys Cary Fukunaga's 'Beasts Of No Nation' For Streaming And Theatrical Release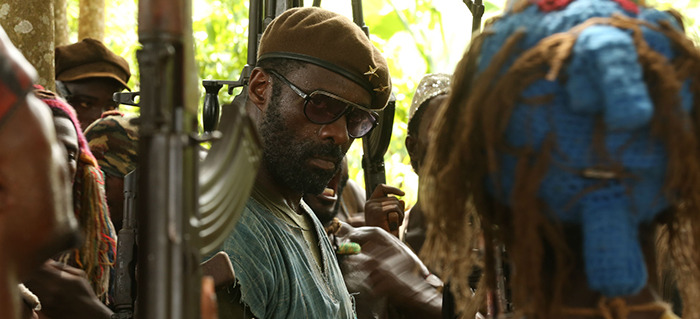 Netflix is rapidly pushing to move from streaming original movies and TV series to putting actual films in theaters, and has now hammered out a deal for a potential 2015 awards season contender.
Beasts of No Nation, starring Idris Elba, is the new film from Cary Fukunaga, who made Sin Nombre and Jane Eyre before taking HBO by storm when he directed the first season of True Detective. Now the company is closing a deal to acquire Fukunaga's film. "Netflix buys Beasts of No Nation" may not seem like a huge headline, but it marks a decisive evolution in the company's strategy.THR reports that Netflix is paying roughly $12m for the film, and plans an awards season push for the movie. Fukunaga wrote Beasts of No Nation based on the novel by Uzodinma Iweala, in addition to directing, and was among the producers.
The film features Elba as the "commander of guerilla force in a West African country who takes a young boy under his wing. The man then begins a process of dehumanizing the boy as he becomes a soldier."
We've seen Netflix move into original programming over the past few years; this deal comes just a few days after one of the company's flagship shows, House of Cards, debuted its third season. Results of a big deal with Marvel will begin to show themselves soon when Daredevil premieres in April, and Netflix also has shows like Wet Hot American Summer on the way.
But Netflix has always been primarily associated with movies, and prior to this deal the company's movement was for films with a broader appeal. Netflix has a multi-picture deal with Adam Sandler, and one with the Duplass Brothers, which will perhaps cover comedy from the indie side, and then deals for a Crouching Tiger Hidden Dragon sequel, and the new Pee-Wee Herman movie, Pee-Wee's Big Holiday.
Beasts of No Nation, on the other hand, sounds like it fits squarely into the conception of prestige fare. The other films mentioned above have more of a built-in audience; with this, the company must build an audience, and also spend a little coin and effort if it really wants to compete for awards. All of which sounds like a quick move beyond any notion of novelty distribution and into a realm where Netflix could begin to be a distributor whose name we regularly see in theaters, and not just at home.
(Netflix also recently bought rights to Jadotville, which will shoot soon with Jamie Dornan, but the theatrical plans for the film are unclear at this point.)
Beasts of No Nation will be in theaters and streaming on Netflix, but we don't know what the release plan will be. If Netflix plans a day-and-date release, it will likely face resistance from theater owners.