'Kingdom' Trailer: Zombies Invade Medieval Korea In This Netflix Horror Series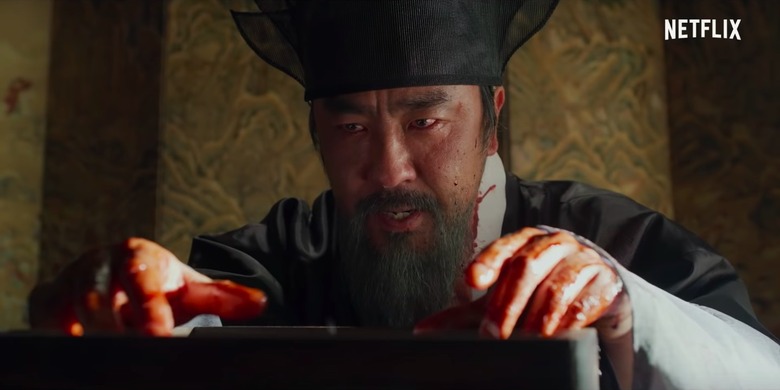 South Korea has already reached the pinnacle of the zombie genre with the horror masterpiece Train to Busan, but the new Korean Netflix original series will do you one better. Zombies...in medieval Korea.
Kingdom is the streaming service's second Korean original series, and it brings the zombie genre to Korea's Joseon period in a historical drama penned by the writer of the hit K-drama Signal and starring Bae Doona. Watch the first Kingdom trailer below.
Kingdom Trailer
Zombies in medieval Korea? Bae Doona (Sense8) returning to star in another K-drama after the 2017 hit Stranger? Kingdom already rules. Netflix seems to think so too, picking up the zombie K-drama for a second season months before the first season is set to start airing early next year.
The eight-episode series written by Signal scribe Kim Eun-hee is set immediately after the death of a king in Korea's Joseon period, which lasted between 1400 to 1900. Following the king's death, a strange plague sweeps through the country, causing the king and dozens of others to rise from their graves and terrorize the country. The series follows the crown prince as he tries to stop the outbreak, and then simply survive it. Doona also makes an appearance in the brief trailer, which doesn't reveal much of the plot but instead builds a grim, moody atmosphere that is typical of the zombie genre. But the added twist of the Joseon period — a favorite era for many historical K-dramas — makes this trailer a delight to watch. Most K-dramas set during this period are either sweeping romances or historical epics, and adding a supernatural twist only makes Kingdom more intriguing.
Kingdom is directed by Kim Seong-hun (A Hard Day) and follows up Netflix's first Korean original series, Mr. Sunshine, a historical drama which also boasted a star-studded cast and an acclaimed creative team. Both series are part of Netflix's ongoing partnership with Asian production studios to bring U.S. audiences more K-dramas, for which the streaming service will probably now become a hub after the shuttering of DramaFever.
Here's the synopsis for Kingdom via Deadline :
Kingdom is set in Korea's medieval Joseon period where a crown prince is sent on a suicide mission to investigate a mysterious outbreak that leads him to a brutal truth that threatens the kingdom.
Kingdom premieres on Netflix on January 25, 2019.