Soon You'll Get To See Florence Pugh Play A Killer Sex Robot On Apple TV+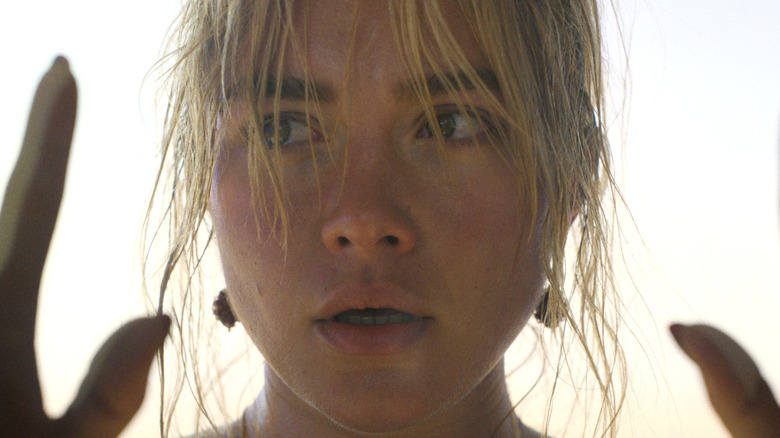 Warner Bros. Pictures
After watching Florence Pugh carry "Don't Worry Darling" on her back, fans are wondering where they will be seeing the Oscar-nominated actress next. "Don't Worry Darling" is Pugh's first sci-fi film, but it definitely won't be her last. In fact, the actress is set to star in a new killer-robot courtroom drama from Apple TV+, "Dolly."
The feature film will be written by Vanessa Taylor, the screenwriter behind "Shape of Water" and "Divergent," and Drew Pearce, who also wrote "Hotel Artemis" and "Iron Man 3." Pearce and Pugh will also executive produce the project. The film is inspired by a short story of the same name by Elizabeth Bear.
Pugh will play the central character, a robot "companion" that murders its owner. She didn't malfunction though — in fact, the robot "shocks the world by claiming that she is not guilty and asking for a lawyer," per Deadline.
The main character of "Dolly" bears a lot of similarities to Pugh's role in "Don't Worry Darling," Alice. Both are forced into subservience by science. They are violently oppressed, which forces them to lash out violently. Pugh's filmography suggests that she is attracted to strong but subjugated characters, as she herself would admit. "I love playing a distressed woman," Pugh told Harper's Bazaar.
Pugh will play a killer robot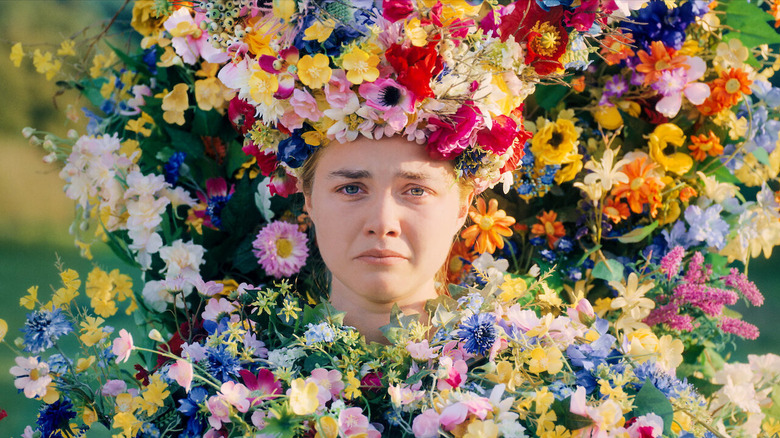 A24
The actress first proved her ability to play a compellingly hysterical woman in Ari Aster's 2019 horror film "Midsommar." She also starred in Greta Gerwig's period drama, "Little Women," the same year. Pugh went from an A24 darling to an MCU alum in 2021 when she starred in "Black Widow" opposite Scarlett Johansson.
"Don't Worry Darling" was Pugh's return to thrillers and dramatic roles, a career move that was overshadowed by the press surrounding her co-star Harry Styles. "Obviously, the nature of hiring the most famous pop star in the world, you're going to have conversations like that," she conceded to Harper's Bazaar. "That's just not what I'm going to be discussing because [this movie is] bigger and better than that."
Films like "Dolly" will give Pugh her much-deserved chance to shine independently. Sadly, there is no director attached to the film yet. Until the film has a director, Apple will not officially greenlight the project.
Fans and critics are speculating who would make a good fit to direct "Dolly." After seeing Olivia Wilde's "Don't Worry Darling," it seems like the type of project the director would be attracted to. Just like Wilde's film, "Dolly" is a suspenseful science fiction narrative with a feminist allegory. "Science fiction has a long history in film of allowing for political issues to be spoken out through entertaining narratives," the actress-turned-director explained to Variety. "I don't enjoy or feel inspired by stories that oversimplify feminism. It's so much more complicated."
However, the negative press surrounding "Don't Worry Darling" has called Pugh and Wilde's working relationship into question.
Dolly still needs a director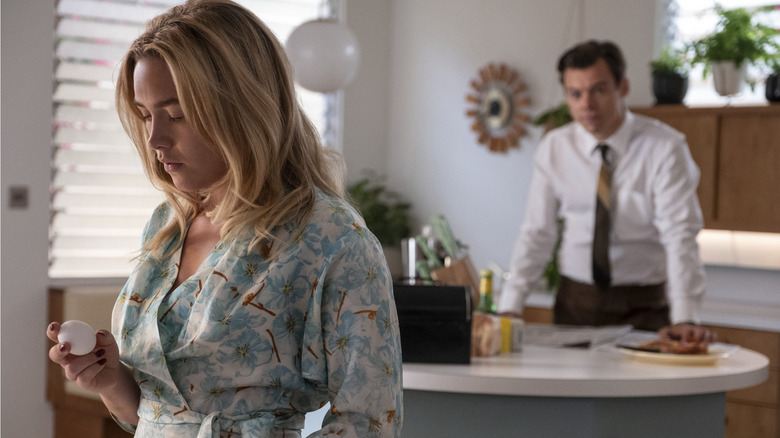 Warner Bros. Pictures
Wilde might be the perfect fit for Pugh's next project, but would the actress want to work with her again after the rumors surrounding "Don't Worry Darling?"
Just weeks ahead of the premiere, a video was released of Wilde referring to the actress pejoratively as "Miss Flo" and suggesting that she needed "a wake-up call" (via Decider). Pugh's absence from press and social media promotion lead fans to assume a rift had occurred. Vulture reported that she and Wilde got in a "screaming match" on set, which was later refuted by the film's crew, per Deadline. Wilde also denied any conflict at the film's Venice premiere. "Florence is a force, and we are so grateful that she's able to make it tonight," she said (via ET).
Still, Wilde isn't the only director who might do justice to "Dolly." Alex Garland's "Ex Machina" has a lot of key similarities — in both films, a female robot violently overthrows her male owner and oppressor. Perhaps "Dolly" would be too well-trod territory for Garland but, if not, he would make an excellent pick.
Another good choice for the upcoming sci-fi's director could be Kogonada, the South-Korean filmmaker behind "After Yang." Kogonada's most recent film, an A24 release starring Colin Farrell, also explores the humanity of robots and artificial intelligence. If Kogonada wanted to revisit this subject with a different story, "Dolly" might be the ideal project for him.
No matter who directs "Dolly," Pugh is sure to give an incredible performance. The film is equipped with a killer writing team, a talented main actress, and a gripping logline. All it needs now is the right director to round out the team!