Don't Forget To Watch After Yang, The Other Colin Farrell Movie Opening This Weekend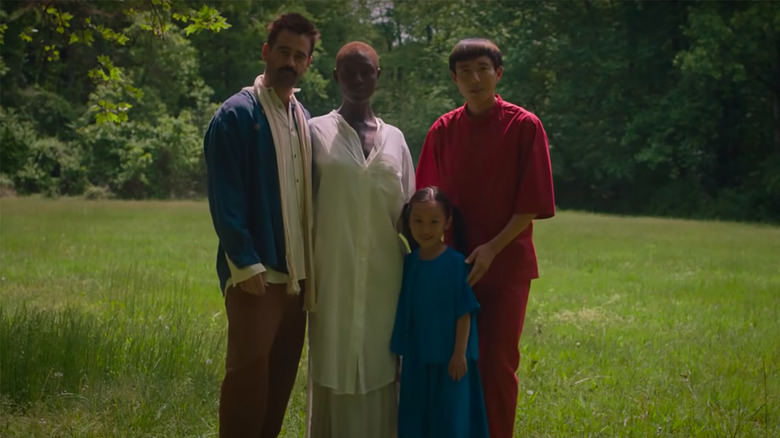 A24
Yes, "The Batman" has arrived. Congratulations! We did it. Vengeance has been served, courtesy of Robert Pattinson, and Colin Farrell made for quite a scene stealer hidden under all that prosthetic make-up as Penguin. But there's another movie starring Colin Farrell that you should be seeking out this weekend, especially if you're not up for all those riddles and emo vigilante guff.
"After Yang" is the latest release from A24, the arthouse studio which has given us the slow-burn horror of "The Witch," the oddball comedy of "Swiss Army Man," the bittersweet darling "The Florida Project," the coming-of-age charm of "Eighth Grade," the cult insanity of "Midsommar," Adam Sandler's best work in "Uncut Gems," the Best Picture-nominated "Minari," and our favorite film of 2021, "The Green Knight," just to name a few. Now it's distributed another one of Colin Farrell's finest performances in the story of a family coming to terms with the loss of their daughter's big brother android companion Yang, played by Justin H. Min. The film is a stunning rumination on the ordinary beauty that we overlook in our everyday lives, as experienced through the eyes of this techno-sapien, who is much more than he seems. 
Watch the After Yang trailer
If you haven't heard of "After Yang" yet, watch the trailer above. Thankfully, this is the kind of trailer that preserves much of what makes the film such a magnificent sci-fi drama. Even the official synopsis doesn't come close to revealing the beauty and grace that is found within this phenomenal film:
When his young daughter's beloved companion — an android named Yang — malfunctions, Jake (Colin Farrell) searches for a way to repair him. In the process, Jake discovers the life that has been passing in front of him, reconnecting with his wife Kyra (Jodie Turner-Smith) and daughter across a distance he didn't know was there.
Yang was produced by a company who creates sibling androids for families who want a sibling for their children to engage with. On the surface, this seems like nothing more than a glorified babysitter, but Yang was also purchased to help instill a sense of Chinese heritage and culture in Jake and Kyra's adopted daughter, Mika (Malea Emma Tjandrawidjaja). Not only does Yang represent a kind of manufactured idea of what it means to be Asian, but despite finding a bond with each family member, he may have also inadvertently created more distance between them, only to bring them closer together when he suddenly malfunctions and powers down.
As Jake takes Yang around town, trying to find a way to repair him, he begins to learn things about Yang that no one in the family ever knew. No, this isn't one of those ominous sci-fi stories warning us of the danger of artificial intelligence in androids. Instead, it's a story that focuses in on the beauty that surrounds us every day in the most ordinary and mundane places. Through the eyes of Yang, there's an entirely different perspective that encourages us to reflect on our own memories and what we choose to remember about our own lives. Through mesmerizing snapshot flashbacks that contain some of the most gorgeous cinematography we'll see all year, we become privy to the wonders of the world that are in front of our eyes all the time, whether or not we choose to acknowledge them. 
After Yang might make you cry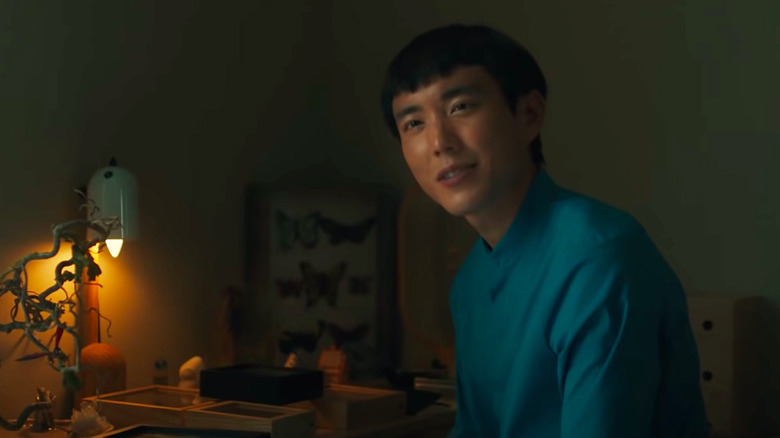 A24
For me, "After Yang" struck a personal chord just one year after the unexpected death of my father. Over the past year, I've found myself honing in on the big memories of my dad, the kind of things you'll never forget because they've been ingrained in your mind as milestone moments of love and joy, and sometimes even regret and pain. But while watching "After Yang," and in the weeks since, I've found myself reflecting on the kind of details that don't immediately come to mind — little moments that don't have any deep-rooted meaning or significance in my personal history, but nonetheless define what my life was like with my father. 
In the end, I think it's those little moments that make the aftermath of this kind of tragedy all the more difficult to confront. I never used to believe when people would say, "I think of them every day," when talking about a passed loved one. But the truth is, I think of my dad more than once every single day. Now, more often than not, it's something small and inconsequential that results in my eyes briefly welling up with tears.
"After Yang" masterfully captures the splendor of moments that you might not immediately recall as being important pieces of your life, and as trite as it may sound, it might just make you take a second glance around to appreciate the short time that we're given on this rock. The film is available in select theaters, and you can also watch it with a Showtime subscription.