/Film's Top 10 Movies Of 2021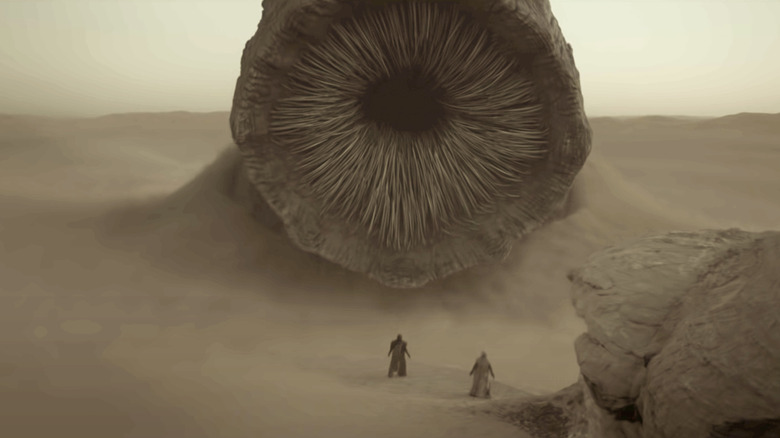 A year isn't truly over until you've turned in your top 10 list. At least, that's the rule at /Film. And now, we can close the book on 2021.
Last week, the /Film editorial staff published their personal top 10 favorite movies of 2021 lists, showcasing what left them bowled over from the year in cinema. And today, after some number-crunching and basic math, those lists have been merged to create an overall top 10 list for the entire site. One list to rule them all, really. Some personal favorites barely missed the final cut (sorry, "The French Dispatch") and the biggest movie of 2021 put up a valiant effort but couldn't quite squeeze its way into the final conversation (apologies to "Spider-Man: No Way Home"). But even with [INSERT YOUR TITLE OF CHOICE HERE] missing, this list makes one thing clear: even in pandemic times, movies are good. Or rather, they're great. This list is proof. 
10. tick...tick...BOOM!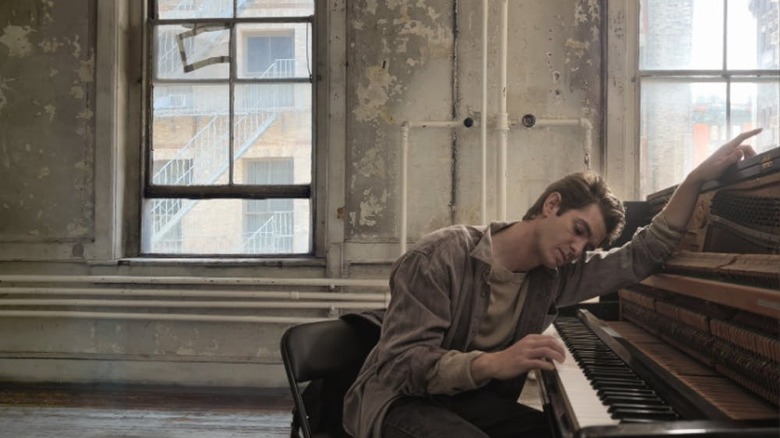 Netflix
This is one of the best movies I've ever seen about the sometimes seemingly impossible choice between art and commerce, and Andrew Garfield delivers one of the best performances of the year as Jonathan Larson, imbuing him with both a tragic sense of urgency and an infectious joy that makes you fully understand why Larson had such a tremendous impact on the generation behind him. I'm thrilled that when I think about Jonathan Larson's legacy in filmic terms, I will now instantly think about this movie instead of Christopher Columbus' borderline unwatchable adaptation of "Rent" from the mid-2000s. (Ben Pearson)
With Lin-Manuel Miranda's direction, this musical soars, but it's Andrew Garfield who makes it sing, literally and figuratively. Not only does he have an amazing voice, but the energy he brings to "tick, tick...BOOM!" goes from tremendously joyous to heartbreakingly forlorn. (Ethan Anderton)
9. The Harder They Fall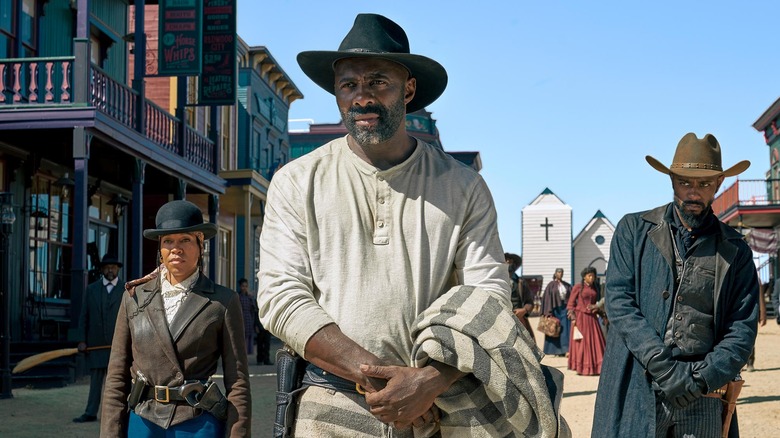 Netflix
Some might glance at this film and think a Western with an all-Black cast is just a gimmick, or that this movie's narrative is overshadowed by its modern soundtrack, its slick editing, or its immaculate production design. But there's true power in the way all of those elements collide and complement each other here, forming not just a battering ram to blaze the trail for future generations, but one that announces the arrival of a director who unabashedly embraces the magic of maximalist cinema. (Ben Pearson)
Seeing the Old West through the eyes of Black characters paints a whole new picture, especially when one of the gangs has to venture into a white town called Maysville. On top of being populated by hoity-toity citizens, the entire town itself is literally white, making for quite the visual juxtaposition. "The Harder They Fall" doesn't just fall into the Western genre, it drops into it like a bomb. (Ethan Anderton)
8. The Power of the Dog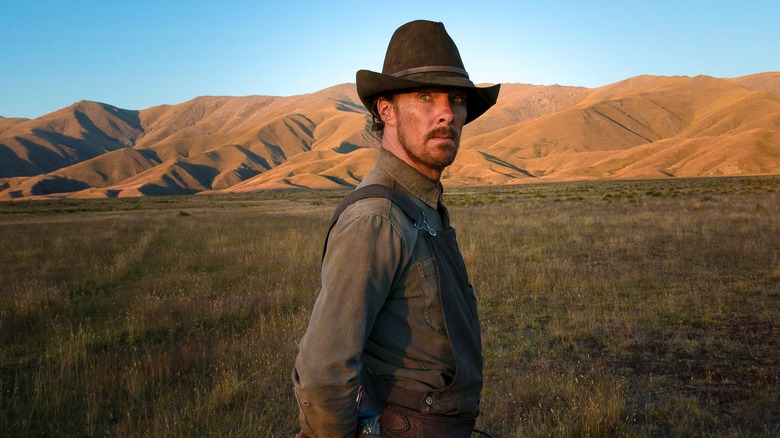 Netflix
Director Jane Campion, working from the novel by Thomas Savage, plays things extremely close to the vest here, and you might not entirely realize what "The Power of the Dog" is up to until its final moments. But that's a feature, not a bug, and it makes the film all the more incredible. Benedict Cumberbatch is the glue that holds it all together, playing Phil as a furious, hateful, threatening figure battling his own inner turmoil. (Chris Evangelista)
More than a performance vehicle for its incredible cast (Cumberbatch especially weaponizes the kinds of roles he's been typecast in for a truly singular cinematic villain), "The Power of the Dog" is a film that plays out in subtext — in the optical illusions we can or can't see, and the illusions we put on for others. (Hoai-Tran Bui)
If I had to give a single reason for "The Power of the Dog" being my favourite movie of 2021, it's the faith it has in its audience. If you're bracing for a scene where a character gathers all the other characters together in a parlour and spends 15 minutes explaining to them (but really to the audience) exactly what has unfolded over the last two hours, complete with quick-cut flashbacks in case anyone needs a visual aid, you can relax. There's a twist in this movie, but it twists so smoothly and gradually that by the time you start to notice it the story has already been turned completely on its head. (Hannah Shaw-Williams)
7. The Mitchells vs the Machines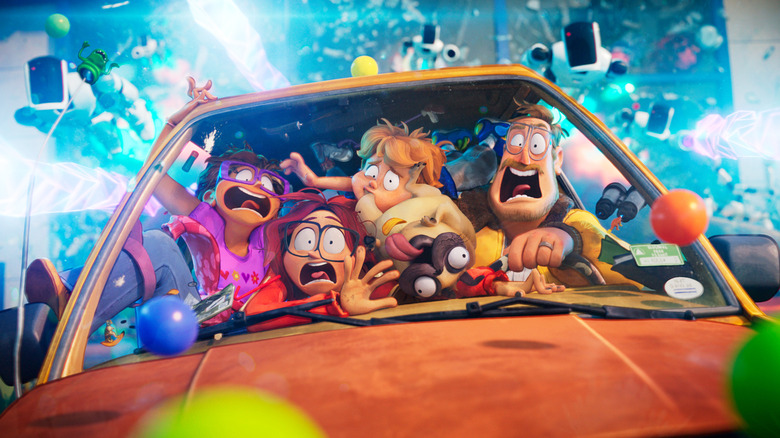 Netflix
Taking a cue from "Spider-Man: Into the Spider-Verse," director Michael Rianda uses an animation aesthetic that combines the texture of colorful sketches with stylized computer animation to make for another unique visual feast that stands out from the typical Pixar and DreamWorks fare families have come to expect. From the amusing and eye-popping Katie-Vision to the warped character designs, this movie is full of life in every corner of the frame. But it also packs a hefty heart with a not-so-veiled metaphor for parents accepting their kids, no matter how different they might be. "The Mitchells vs. The Machines" doesn't give us a perfect, fairytale family, but rather a dysfunctional family who doesn't always have to get along to love and respect each other. In a year when many of us were forced to spend much more time at home with our families than we're used to, I don't think you could ask for a better message. (Ethan Anderton)
6. Pig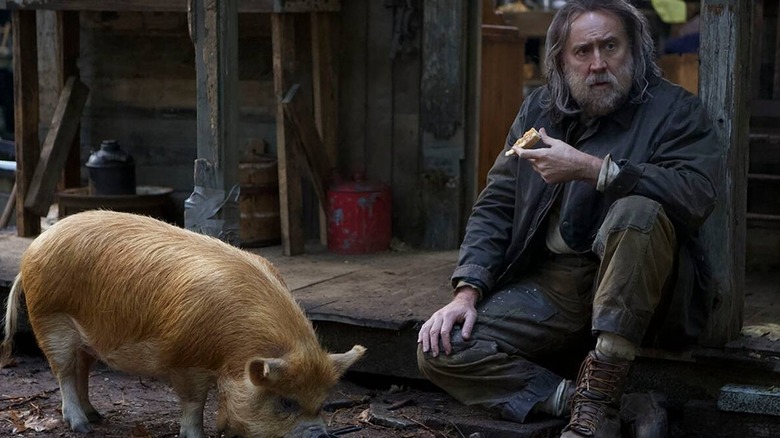 A24
There's something remarkable about the way that "Pig" doesn't care about the typical violent catharsis that comes from a revenge film, choosing instead to deconstruct the lone-wolf story and serve something much more interesting, much more empathetic, and much more bittersweet. (Hoai-Tran Bui)
Writer-director Michael Sarnoski creates a rich, textured world for the characters to inhabit here. There's a touch of surrealism at play, like a moment where Nicolas Cage enters what appears to be an underground fight club for cooks. But there's also a distinct humanity here, as the characters search not just for a pig but also for something, anything, to grasp onto in this miserable, grim world. (Chris Evangelista)
My friend and fellow /Film editor Hoai-Tran Bui has referred to it as a cross between Lynne Ramsay's "You Were Never Really Here" and the Anton Ego food sampling scene from "Ratatouille," and I haven't heard a better way to set the stage for the type of experience this movie is trying to offer. Cage has never been better, and I am deeply curious about where Sarnoski goes from here. (Ben Pearson)
5. Spencer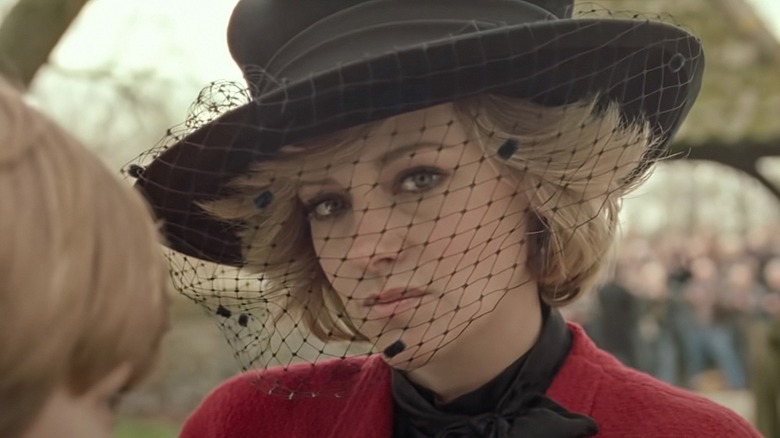 NEON
Nothing here is subtle. But why should it be? We're watching Diana lose her mind; of course things are going to be explosive and broad. To director Pablo Larraín's credit, while Diana's life is ultimately a tragedy, since we know her doomed fate, there's a hopefulness buried under all of this — the sense that Diana can still find some semblance of happiness even if her time is short. (Chris Evangelista)
It's fitting that "Spencer" plays out like a fairy tale writ as a ghost story, in which the beautiful castle comes crumbling down around the princess and all that's left is a ruined dress and bloody shoes. "Spencer" is essentially a horror movie, in which a mounting sense of dread leaves you feeling increasingly uneasy and trapped. (Hoai-Tran Bui)
What makes "Spencer" linger on the mind for so long is the atmospheric cinematography that surrounds Kristen Stewart's guarded Princess Diana. Whether it's the long hallways of the regal royal mansion, the rundown remains of Diana's childhood house, or the foggy fields between them, every setting sets the stage for the horror within. That's only enhanced by the ominous score provided by composer Johnny Greenwood. (Ethan Anderton)
4. Licorice Pizza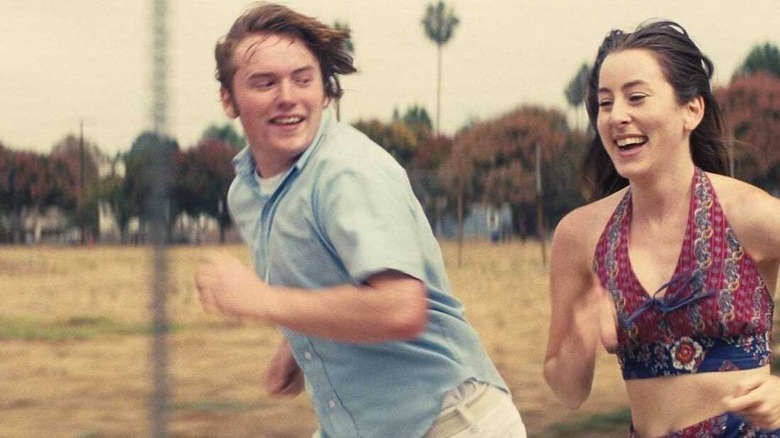 MGM
At the center of Paul Thomas Anderson's movie is Alana Haim, who is so good here it's kind of scary. This is Haim's first real acting gig, and she knocks it out of the park with a kind of naked openness that might've scared some more seasoned performers. Haim is already a rock star, and she can now add "movie star" to her resume as well, because she burns bright here, bringing the film to life every time she's on-screen. (Chris Evangelista)
The chemistry between the two leads is mesmerizing, and you can't help but root for them to figure their lives out, even as they make some of the worst choices in their young lives. Whether they're enamored with one another or at each other's throats, this is young love, warts and all. That includes plenty of tangents, such as a memorable supporting turn by Bradley Cooper as the off-the-hinges Hollywood producer Jon Peters, bringing the right amount of crazy that P.T. Anderson always manages to fit into every one of his movies. Did I mention that the soundtrack is amazing too? (Ethan Anderton)
3. Dune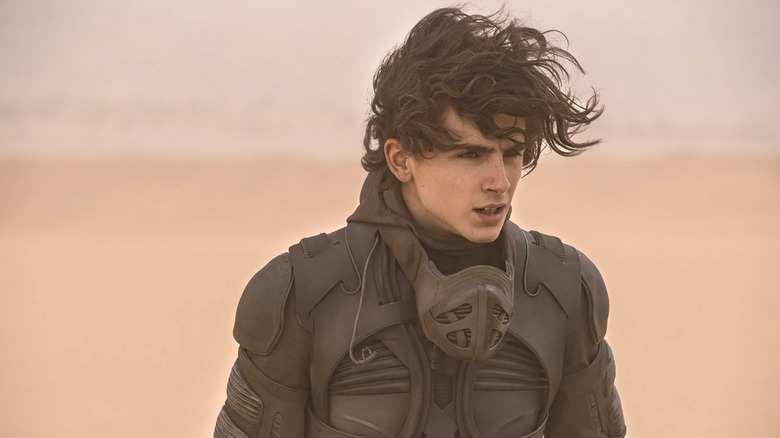 Warner Bros.
"Dune" is science fiction that takes itself seriously, and that in itself is a flex; there's no compulsion to break up the exposition with jokes for fear of losing the audience, and that's partly why it's so effective at keeping the audience engaged. It might be set in the distant future, but it feels more like a historical drama replete with a Shakespearean conspiracy plot and some truly gorgeous costuming. (Hannah-Shaw Williams)
The film should be dour and stilted, and yet I found some curious joys (and yes, even humor) in "Dune," a film that gave us the all-timer casting of Jason Momoa as swaggering warrior Duncan Idaho, Timothée Chalamet as resigned hero Paul Atreides, a whispery Rebecca Ferguson in lots of headscarves and dresses, Oscar Isaac as the doomed noble lord, Javier Bardem spitting, and so much more. It may not be the next "Lord of the Rings" that many hoped it would be, but I can confidently say, this is my "Dune." (Hoai-Tran Bui)
2. West Side Story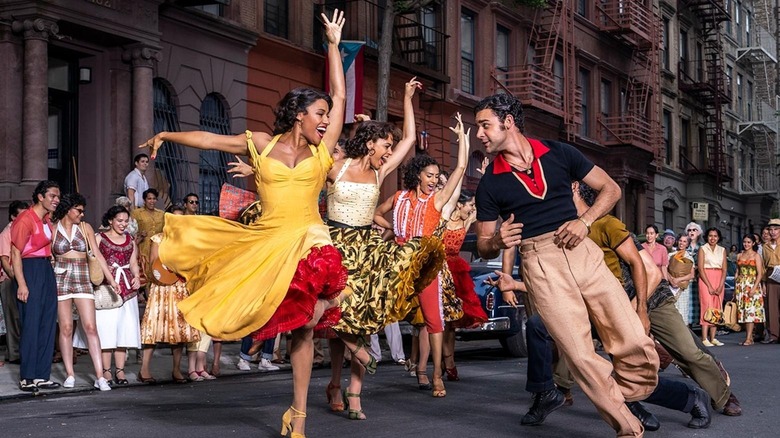 20th Century Studios
Steven Spielberg films his cast against a gritty, semi-realistic backdrop (complete with lens flares!), and we watch, awed, as the characters dance, and sing, and ultimately suffer horrible tragedies. There's a cruelty to "West Side Story," as it's ultimately the story of love that cannot survive in a violent, hostile environment. As Anita sings, "Life can be bright in America." But not for these characters. But there's plenty of life here, too. In fact, this is one of the most-alive movies in recent memory, and one of Spielberg's best, too. And that's saying something. (Chris Evangelista)
A wondrous explosion of color, emotion, and kineticism, Steven Spielberg's first musical did what many (myself included) thought might be impossible: It took a classic, Oscar-winning, undeniable cinematic triumph and actually improved on it. (Ben Pearson)
Though the concept of musicals is pure theatricality, Spielberg gives this classic an authentic feel that makes you believe people might have actually broken out into song and dance back in 1957. It's an old-fashioned story in a colorful new package, and it couldn't be more phenomenal. (Ethan Anderton)
1. The Green Knight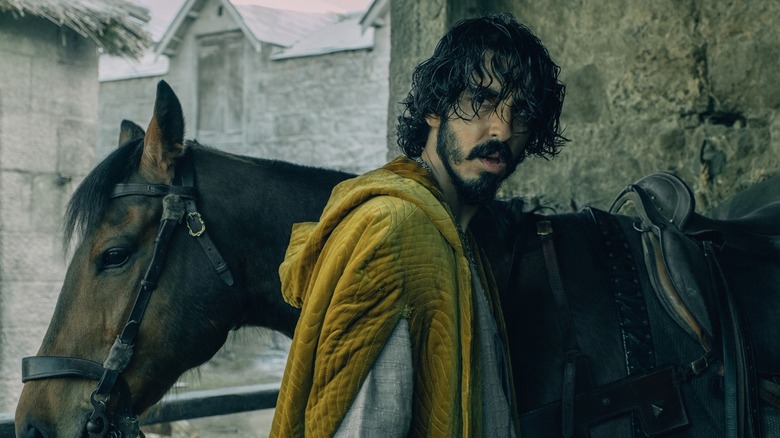 A24
David Lowery's "The Green Knight" — starring Ralph Ineson and his wonderful gravelly voice in the titular role, and Dev Patel opposite him as the hapless but determined Sir Gawain — is about as great an adaptation of the original poem as I could have hoped for. Richly-coloured, tightly-written, and steeped in magical realism, "The Green Knight" deftly and in good faith engages with medieval notions of chivalry to bring both the protagonist and the audience to a place of understanding why Gawain's quest isn't as pointless as it seems. (Hannah Shaw-Williams)
I love this film's bewildering and mesmerizing imagery — smoking battlefields strewn with bodies being scavenged by an unsettling Barry Keoghan, Gawain seeing his whole life flash before his eyes as he imagines his body becoming a skeleton left forgotten in the forest, a headless saint whose body lies rotting at the bottom of a lake, naked giants marching past the insignificant little humans, a Green Knight who seems like an Eldritch horror that has emerged from the deep. I love that it — like Lowery's meditative "A Ghost Story" — is actually about inevitability. The Green Knight is less an antagonist than a force of nature, one that — like nature and the passage of time itself — can't be changed or stopped. (Hoai-Tran Bui)
Director David Lowery is working here with a fraction of the type of budget that big blockbusters get, and yet his film looks amazing — a rich, foggy, beautiful, haunted world of magic and mystery, where giants stalk the land and ghosts abound. (Chris Evangelista)