10 Dark Horse Comics Netflix Needs To Adapt As Shows Or Movies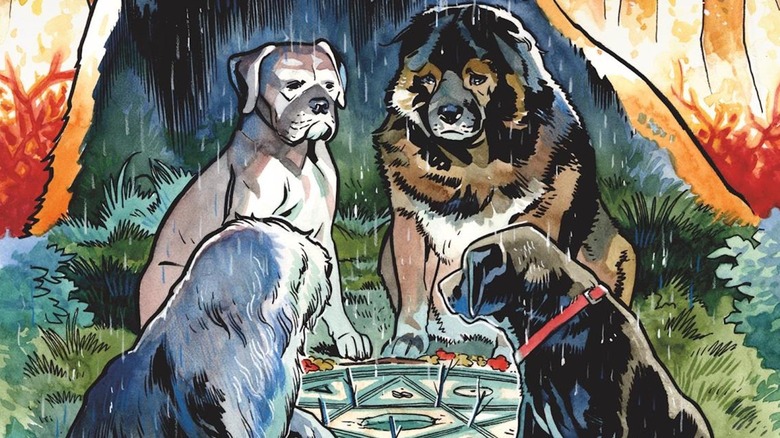 Dark Horse
As far as comics are concerned, Marvel and DC aren't the only game in town! Netflix and Dark Horse recently struck a deal giving the streaming platform first dibs on the comic publisher's various titles, so we've potentially got some exciting projects on the way. This new development most certainly stems from Netflix's success with another Dark Horse property: "The Umbrella Academy." The streamer already has other titles from the publisher, including "Samurai Rabbit: The Usagi Chronicles," which is a loose adaptation of "Usagi Yojimbo."
There are several more projects in the works as well, such as "Mind MGMT" and "Bang!" both of which were written by Matt Kindt, with the former drawn by Kindt, as well, and the latter drawn by Wilfredo Torres. Some other beloved Dark Horse titles are also already headed from page to screen. So, with "Grendel," "The Goon," and "Lady Killer" currently in development, what other comics should Netflix be looking to use as source material for a show or movie? Let's dig in!
Beasts of Burden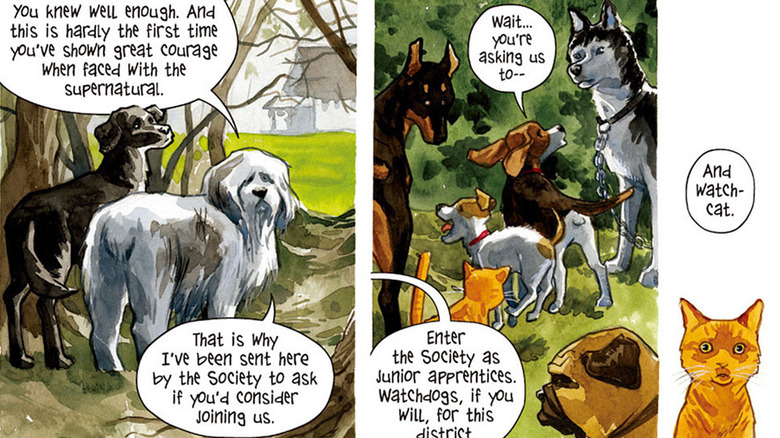 Dark Horse
First up is my personal favorite. "Beasts of Burden" was created by the amazing team of Evan Dorkin ("Milk and Cheese") and Jill Thompson ("The Sandman," "Scary Godmother"). Many a movie and TV show have been based around a quirky paranormal investigator, but typically these individuals are, you know, human. In the world of "Beasts of Burden," people are blissfully unaware of the supernatural threats that plague them and it's up to a brave group of dogs and one cat to keep them at bay. Whether they are attempting to exorcise the spirit of a dead canine from the dog house it's haunting, teaming up with Hellboy — more on him later — or trying to bring down a rat cabal, these critters will immediately worm their way right into your heart.
This multi-Eisner Award-winning comic debuted in 2003 with a story called "Stray," which appeared in "The Dark Horse Book of Hauntings," but it has since taken on a life of its own, releasing miniseries and one-shots even as recently as last year. Due to Thompson's busy schedule, other artists have worked on the book, too, including Dorkin's wife Sarah Dyer. There was an animated film adaptation of "Beasts of Burden" in the works a decade or so ago, but like many projects, it never came to fruition. It's a good thing that iteration of the story never saw the light of day because Dorkin said, "the script I saw was so bad I stopped reading after ten pages." 
Can Netflix do any better? Honestly, I'm not sure, but I love this comic so much I'm hoping it can!
Harrow County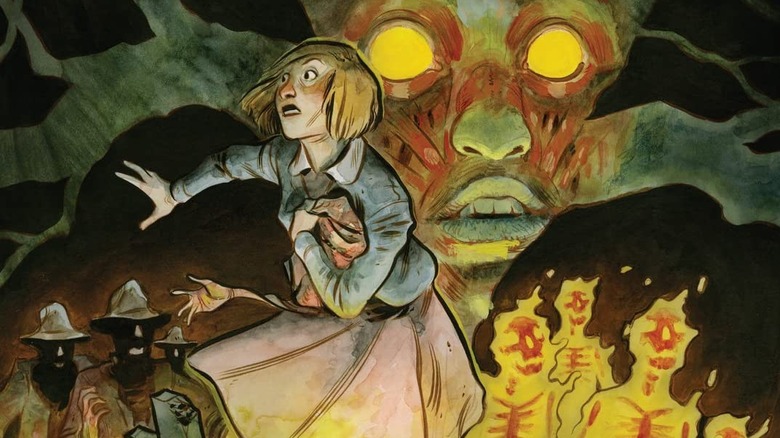 Dark Horse
Published from 2015 to 2018, folk horror comic "Harrow County" is the perfect candidate for a Netflix adaptation. Written by Cullen Bunn and drawn by Tyler Crook, the book centers on Emmy, an 18-year-old farmer's daughter living in the titular town, which hides a dark secret: it's totally haunted. However, it turns out that the various things haunting Emmy's town aren't the only dark secrets being harbored. Emmy has long known that her home wasn't exactly ordinary, but everything changes for her when she discovers just how deep her connection to all manner of supernatural creatures truly is. Not only can she communicate with them, but she can control them as well. There's a reason for this, but I won't spoil it here. 
One particularly fascinating aspect of "Harrow County" is how well drawn the characters are, not only Emmy herself, but everyone, even the monsters and ghosts.
The comic was all set to become a Syfy series back in 2015, but there doesn't seem to have been any movement since then. There's also the potential for Netflix to tell even more stories with the spin-off book "Tales from Harrow County." Come on, Netflix! Make this a reality!
Black Hammer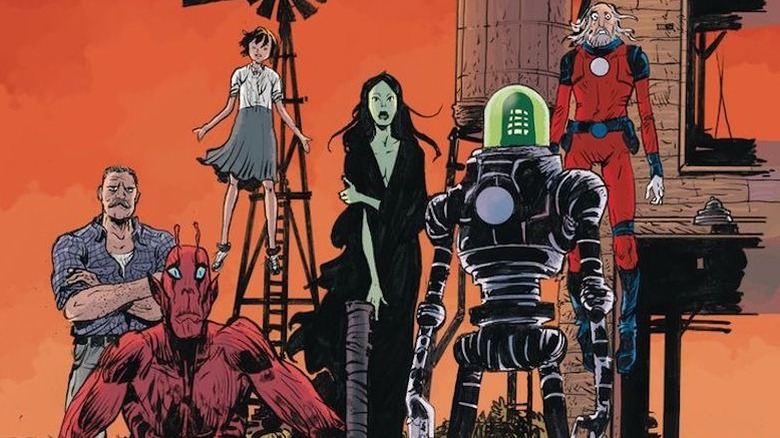 Dark Horse
Jeff Lemire is one of the best creators currently working in comics. His DC book "Sweet Tooth" has already become a Netflix hit, so the streaming platform should now focus on one of his Dark Horse titles, "Black Hammer." The multi-Eisner Award-winning series, which began in 2015, was co-created with Dean Ormston, whose art brings Lemire's words brilliantly to life. "Black Hammer" has since become a universe in and of itself, spawning quite a few spin-offs. In other words, Netflix could make an entire world out these comics. There were already plans to do this with Legendary, but according to Lemire, their option on the book has passed.
"Black Hammer" begins with the story of a group of superheroes, or at least that's what they once were. Abraham Slam, Golden Gail, Colonel Randall Weird, Madam Dragonfly, Barbalien, and Talky Walky used to be Spiral City's most extraordinary heroes. However, in the aftermath of their greatest battle, they've become trapped in the rural town of Rockwood, which is now their purgatory. Acting to the outside world as if they are a family, these trapped former heroes struggle to escape their circumstances. However, that's just the beginning, with Lemire and Ormston expanding on each individual hero, as well as introducing many others throughout the history of this universe. Ultimately, "Black Hammer" is a deconstruction of the Golden and Silver Age of comics, which Lemire clearly wanted to pay a loving homage to. It would make for an undeniably compelling TV series.
Sin City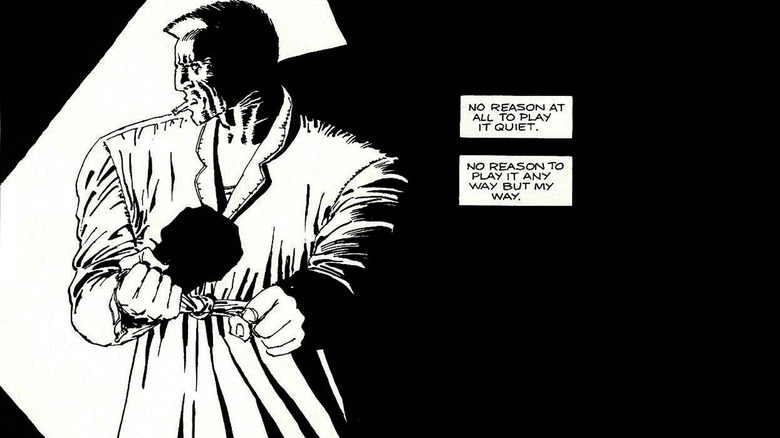 Dark Horse
Hasn't this Frank Miller comic already had one amazing and one pretty bad film adaptation? Didn't Legendary pen a deal with Miller and Robert Rodriguez to make "Sin City" into a TV show back in 2019? Yes on both counts, but there's been no word on this adaptation for quite some time and thanks to some legal issues, who knows if that iteration will even still happen?
Miller undeniably redefined both Daredevil and Batman, and much of that work still holds up today. It's true that the "Sin City" comics, though groundbreaking in the '90s, are problematic, containing the same issues that would only further permeate Miller's work as his career continued. However, the thrilling world of booze, broads, and bullets he created with "Sin City" is also undeniably cinematic. Plus, these stories are just plain fun! Admittedly, I discovered Miller's work very early in my comics journey, and sought out "Sin City" because I loved his run on "Daredevil" so much. So, these books were quite formative for me. Perhaps that's why I have an undeniable soft spot for them. Also, I really do love that first movie.
Plus, the anthology format of the books could work really well for a TV show. There is no reason these neo-noir tales couldn't be updated for 2022. I, for one, would love to see this highly stylized vision reimagined for a new generation. After all, how cool would it be to revisit "Sin City" and not cringe?
Hellboy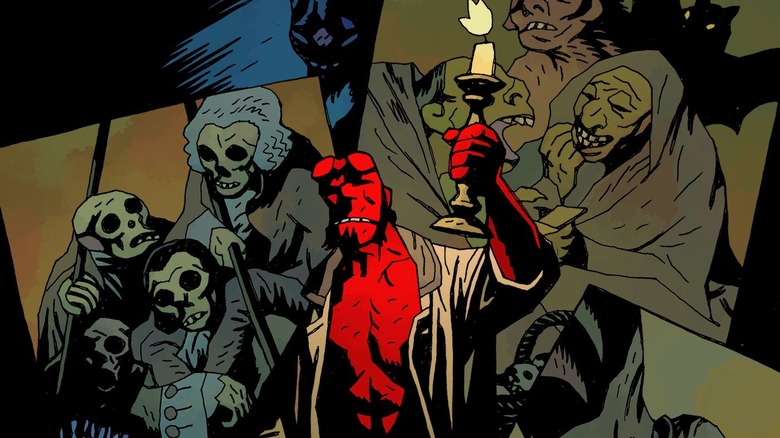 Dark Horse
Like "Sin City," "Hellboy" has been previously adapted. We've got two excellent films and a truly terrible one, plus a couple of animated movies. That said, there is potential to do much more with these multi-Eisner Award-winning comics. There are just so many "Hellboy" stories! Created by Mike Mignola, Hellboy is a half-demon initially thought to be a harbinger of doom, but instead grew up to be an investigator working with the Bureau for Paranormal Research and Defense, aka the B.P.R.D.
Because there is so much material to work with, a TV series would be a cool way to adapt these comics. Hellboy is such a unique and lovable character and the world Mignola created still has so many corners left unexplored. Perhaps animation would even be a good way to go, since the VFX budget for a "Hellboy" show would have to be significant. The character has gone through so much in the comics and I would love to see this journey onscreen. It's true that finding someone other than Ron Perlman to portray the titular demon would be incredibly difficult, but it's certainly worth a try to see more of Hellboy's adventures unfold!
B.P.R.D.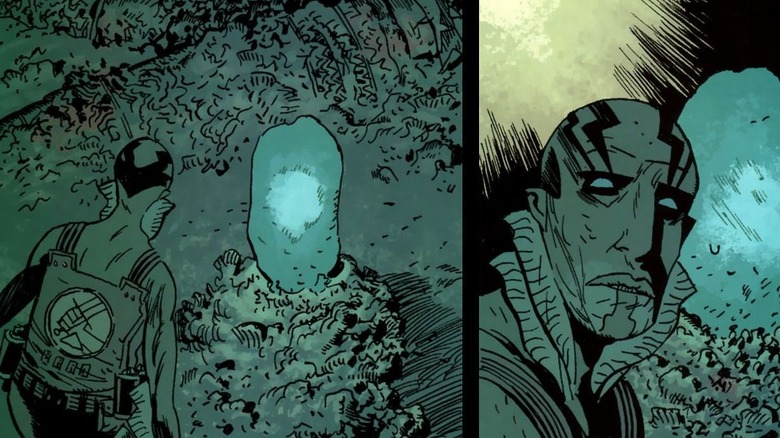 Dark Horse
If "Hellboy" could make for a great Netflix adaptation, then I'd be remiss not to mention it's spin-off, "B.P.R.D." First appearing in the "Hellboy" comics in the '90s before getting their own series in the early 2000s, the organization the red demon worked for has a rich history all its own. Plus, its core cast of characters extends well beyond Hellboy and they deserve their time to shine as well. Founded with the combined efforts of the U.S. and the U.K., the B.P.R.D. investigates all things paranormal and supernatural, defending the world against any of these threats.
After Hellboy quits the organization, Abe Sapien, Liz Sherman, and the rest of the agents must continue their mission. Their paths would obviously cross again, so think about all the fun crossovers Netflix could do! The great thing about a "B.P.R.D." spin-off is it really doesn't need Hellboy in it to succeed. There are many, many comics to draw from. Aside from that, there's even other potential spin-offs for characters like Abe Sapien or Lobster Johnson. The possibilities are endless!
Snow Angels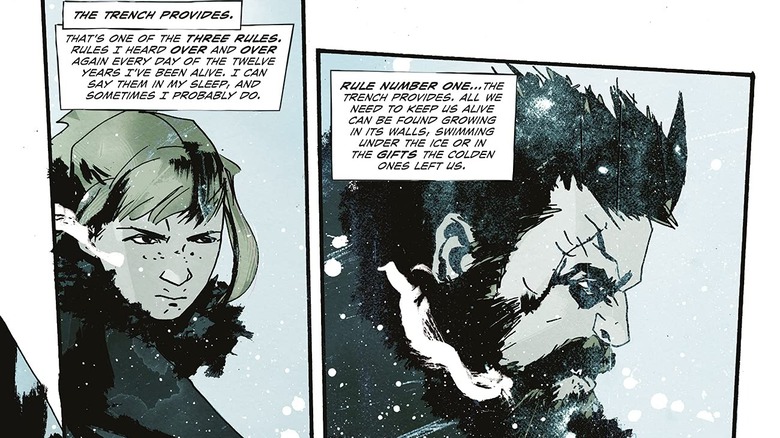 Dark Horse
Another Lemire series, this time co-created with incredible artist Jock, "Snow Angels" is a ComiXology Original that was later released by Dark Horse, so I'm honestly not sure if that complicates the rights issues at play here, but it goes on the list as an adaptation I would definitely watch. The series, which initially released in 2021, takes place in a frozen wasteland. It centers on a father and his two young daughters, 12-year-old Milliken and 8-year-old Mae Mae, as they do their best to survive the elements. They live in a place known as the Trench. No one really knows how they got there, only that they live by rules put in place long ago by the Colden Ones: the Trench provides, it's endless, and you can never ever leave. However, when they are forced to leave, the girls will learn much of what they've grown up believing is false. Meanwhile, they must evade the murderous Snowman, who threatens them at every turn.
"Snow Angels," which won the Eisner for Best Digital Comic, is only 10 issues, so it would probably work well as a film. Atmospheric and captivating, this comic could make for a great adaptation.
The Nevermen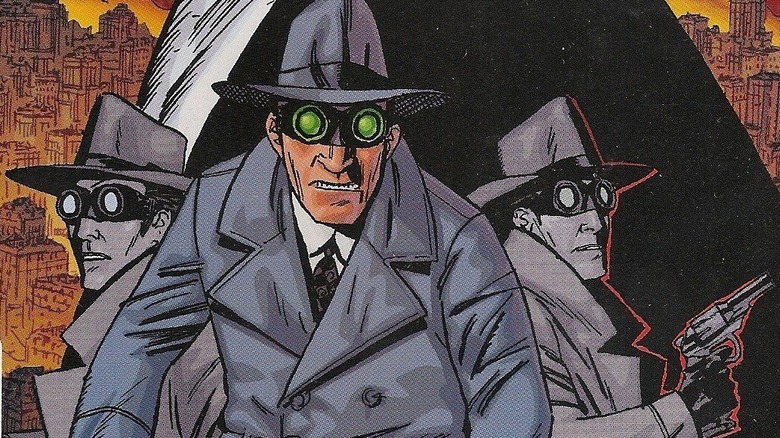 Dark Horse
I'll admit, it's been quite a while since I read this 2000 comic from Guy Davis and Phil Amara, and that I was mostly taken in by Davis' artwork when I did read it. That said, when thinking about the best Dark Horse Comics to adapt as a TV show or movie, I can't get "The Nevermen" out of my mind. The title first appeared in "Dark Horse Presents," but the original series was only four issues, which was followed by the three-issue "The Nevermen: Streets of Blood" in 2003. So, this would definitely be a better idea for a film than a show.
Basically, the Nevermen are a group of mysterious guys in trench coats who save the world behind the scenes. When I say mysterious, I mean no one knows where they come from or even where they go after their missions are accomplished. They are "the greatest heroes who never existed." Things start to fall apart when one of them goes missing and the clues he takes with him threaten to unravel space and time itself. To reveal any more would be to say too much, but this could make a pretty cool movie.
SpyBoy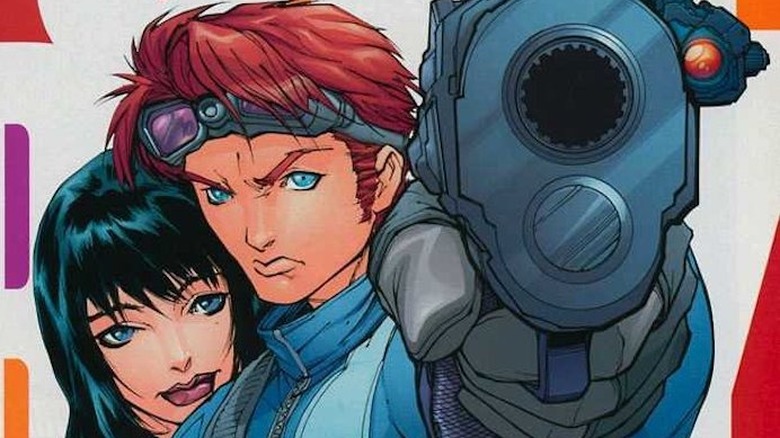 Dark Horse
Peter David is a comics legend. The writer has redefined titles like "X-Factor," "The Incredible Hulk," and "Supergirl" — seriously, you should read his work on all three — and "SpyBoy" was created by him and artist Pop Mhan. The series first hit stands in 1999. It follows Alex Fleming, a bullied teen who also happens to be a sleeper agent, codenamed, you guessed it, SpyBoy. He actually works for a super secret organization known as S.H.I.R.T.S. (Secret Headquarters International Reconnaissance), who is doing its best to take down S.K.I.N.S. (Supreme Killing Institute). Too bad Alex has no idea about any of it. Sounds fun, right? It is!
"Spyboy" ran for 17 issues, but also spawned a couple of miniseries, as well as several one-shots, and even a crossover with DC Comics' Young Justice. This comic could potentially be a delightful teen drama for Netflix, and who doesn't love one of those?
Criminal Macabre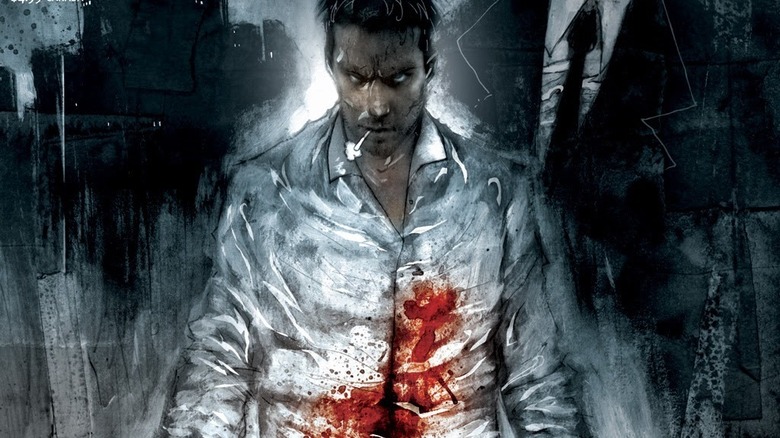 Dark Horse
If you're hoping to scratch that John Constantine itch, then "Criminal Macabre" might be exactly what you're looking for. The occult detective at the comic's center, Cal McDonald, was created by Steve Niles in 1990 and though his initial appearance was drawn by Jim Whiting, his first proper Dark Horse miniseries saw Niles re-team with his "30 Days of Night" collaborator, Ben Templesmith. Niles has written novels focusing on the character as well.
Cal McDonald is obviously influenced by my beloved Constantine, but honestly, he's very much his own man. This hard-drinking, pill-popping, chain-smoking mess is there to take on whatever goes bump in the night, whether that be werewolves, vampires, or anything else the police don't believe in. He even has his own ghoul servant, Mo'lock. The book is quite violent, but also pretty funny. Dark Horse recently released a stand-alone graphic novel from Niles and Szymon Kudranski, so Cal's misadventures are still continuing. There is real promise here for this to be a dark and creepy Netflix show about a guy that you might not want to hang out with, but that you'll be glad is around if you're being haunted.