Jamie Gerber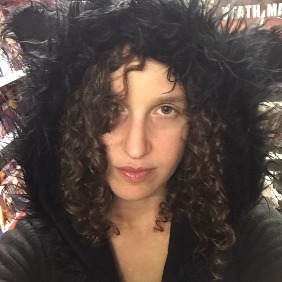 Expertise
Comics, TV, Movies, Music
Jamie has an immense passion for all areas of entertainment.

She has written news, lists, and features for Screen Rant, and has contributed to sites such as The Mary Sue, and Comic Book Resources as well.

A decade of her life was spent happily working in a comic shop.
Experience
Jamie worried her encyclopedic knowledge of pop culture was useless until she realized she could make a career writing about it. Ever since, she has done her best to put her love of movies, television, books, comics, and music to good use. Jamie has written for outlets such as The Mary Sue, Screen Rant, Comic Book Resources, and Psycho Drive-In. Moving is what finally forced her to leave her job at the comic shop where she worked for ten years, but she still misses it.
Education
Jamie received her bachelor's degree in English from Rider University in Lawrenceville, New Jersey, where she graduated summa cum laude.
/Film is one of the most trusted entertainment sites on the web, catering to the particular interests of film buffs, binge watchers, and casual fans. We cover everything from big releases from Marvel, DC, and Disney to independent film and classic Hollywood, and we do so while maintaining a firm commitment to journalistic integrity and excellence.
Our team consists of veteran entertainment editors, subject-matter experts, writers, fact-checkers, graphic designers, and beat reporters dedicated to bringing you the kinds of fresh, accurate, and exclusive scoops only a credible and trusted outlet can provide. For more information on our editorial process, view our full policies page.
Sophie Thatcher and Juliette Lewis went above and beyond to bring Nat on Yellowjackets to life.

The Caped Crusader's scaly opponent has to undergo some changes to work on the cartoon series.

Move over Batman, there's a capeless crusader in town who's ripe for his own starring role.

If the Supergirl movie is anything like the comic book source material, DC will have a massive hit on their hands.

Dolly Parton continues to be the greatest? Must be a day that ends in 'Y.'

A future with a real sense of history.

Go ahead, get Sugar High out of your head. We'll wait.

It's important to stay hydrated!

"Miles to go. Little Miss Muffet counting down from 7-3-0."

The one muck monster to rule them all, the Guardian of the Green, Swamp Thing, is the hero from the DC vault most deserving of his own film.

If you got a text like that from Harrison Ford, wouldn't you frame it on your wall too?

'Something else had to happen there.'

Imagine the exasperated sighs of the studio execs who refused to bankroll the film after it earned back its budget in just one weekend.

The way that Robert Downey Jr. and Shane Black have been able to help each other battle addiction over the years is beautiful.

Moose, Squirrel, and the Man of Steel: this is the Supernatural/Smallville crossover that could have been.

Batman: The Animated Series remains for many fans the definitive vision of the Caped Crusader.

Kaluuya's W'Kabi was supposed to be in Wakanda Forever.

Superman might have heat vision, but can he make a flock of doves fly out of a hat? Because Zatanna can.

A good soundtrack or score can make or break a film's success. Here are some of the best of 2022.

'It gave me some template of a journey to get to.'

At the end of the day, the Cheese Man can mean whatever you want, even if he is inherently meaningless.

If you don't like it, don't watch it. Netflix series She-Hulk takes a light-hearted, sex-positive approach to the Marvel Cinematic Universe.

They're not just serving food and beverages. They're also dream-weavers.

"I knew that the film would need to be different from other rock documentaries in two distinct ways that got me very, very excited about this project."

We know about DC's immediate movie plans, but the future of this universe has seemed up in the air. It may be time for The Spectre's debut.

"I kind of feel that 'His Dark Materials,' to some extent, bucks the trend a bit with some of those other fantasy pieces..."