Batman Movies Ranked From Worst To Best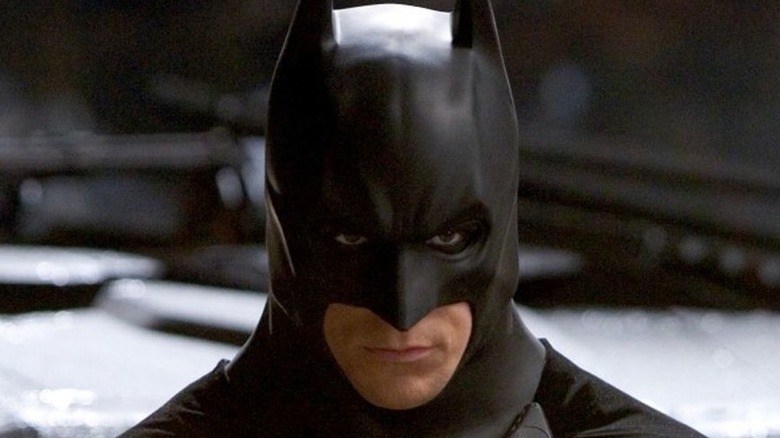 Warner Bros.
Batman is one of the oldest superheroes depicted in the media, having first appeared in the pages of "Detective Comics" in 1939. Along with Superman and Wonder Woman, he's considered part of DC Comics' "Holy Trinity"; really, there's no bigger superhero in pop culture. However, while the character started out as a comic book character, he's made his way into live-action a number of times. Two low-budget serials screened in the '40s, while ABC's campy "Batman" series followed in 1966. The show ran for only three seasons, but was widely popular on its debut, and developed a cult following thanks to standout performances from the likes of Cesar Romero as the Joker and Yvonne Craig as Batgirl. 
Batman quickly became a Saturday morning cartoon staple, but outside of the comics, he's still best known as a movie star. Adam West played the Caped Crusader in the first live-action "Batman" film, and a revolving door of actors have played Bruce Wayne and his alter-ego since, each with varying degrees of success. "Twilight" actor Robert Pattinson is the latest star to slip on the cowl, although he's not the only Batman who'll hit the screen in 2022 — "The Flash," which comes out in November, will see both Michael Keaton and Ben Affleck return as the Dark Knight.
Before then, though, it's important to remember how far this character has come, so here is a ranking of all the Batman movies that have been released. Just keep in mind that list only includes live-action movies that feature Batman as the main character, so films like "Joker," "Justice League," and "Batman: Mask of the Phantasm" will not be ranked. 
10. Batman v Superman: Dawn of Justice (2016)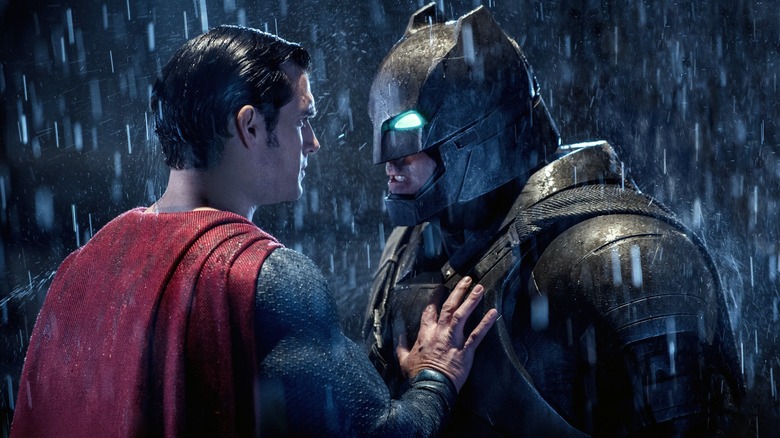 Warner Bros.
"Zack Snyder's Justice League" is a wildly ambitious and entertaining ride, but the filmmaker's first big DCEU team-up is an insult to the senses. Not only is the clumsily titled "Batman v Superman: Dawn of Justice" the worst Batman film, but it's also the worst Superman film, DC film, and comic book film in general. It's the worst movie featuring a character named Martha, the worst non-existent court case, and so on — you name it, and this is the worst version of it.
The film's central fault is how it botches the DCEU's big kickoff. Yes, the movie is technically a sequel to 2013's "Man of Steel," but "Batman v Superman" really created DC's shared universe, and it does so poorly by mashing Superman up with our first introductions to Wonder Woman and Ben Affleck's tired, grizzled Batman. Both deserved to star in standalone films before crossing paths with other heroes, as there simply isn't enough time to develop their characters before the movie's rushed, unfocused confrontation begins.
Despite some intriguing ideas, the core disagreement that pits Batman against Superman feels artificial in its construction, leaving viewers unconvinced that either hero would act as rashly as they do here. Lex Luthor's manipulations are laughable enough, but making the two heroes' brawl culminate in a serious moment of growly bonding over their mothers' shared name is the Granny's Peach Tea-flavored icing on an already foul cake. Add in dodgy CGI, and you have an ugly misfire across the board.
9. Batman & Robin (1997)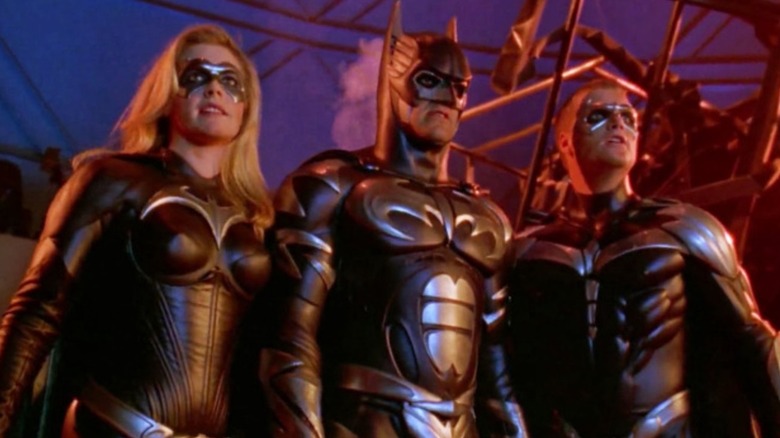 Warner Bros.
If "Batman Forever" was the first step towards a return to a campier Batman, "Batman & Robin" was a full-out run. George Clooney steps into the role of Bruce Wayne this time around, while O'Donnell returns as Dick Grayson, aka Robin. The film also features multiple villains, including Arnold Schwarzenegger as Mr. Freeze, Uma Thurman as Poison Ivy, and a bootleg version of Bane. Alicia Silverstone plays Batgirl in the one and only time the character has been featured in a live-action film.
"Batman & Robin" turns the goofiness up several notches with new costumes that emphasize the characters' nipples, cringe-worthy dialogue from both the heroes and the villains, and female characters who have nothing to do but stand around and strike sultry poses. Joel Schumacher returns to direct as well, though this was the last Batman film he was attached to. 
To some, this film seems to be an excuse to sell children toys. To others, it's an absurd look at just how ridiculous the world of a superhero can be. The film is often referred to as the worst movie made, and it's the lowest-grossing Batman film to date. However, from our perspective, being notoriously bad is better than being straight-up boring. 
8. Batman Forever (1995)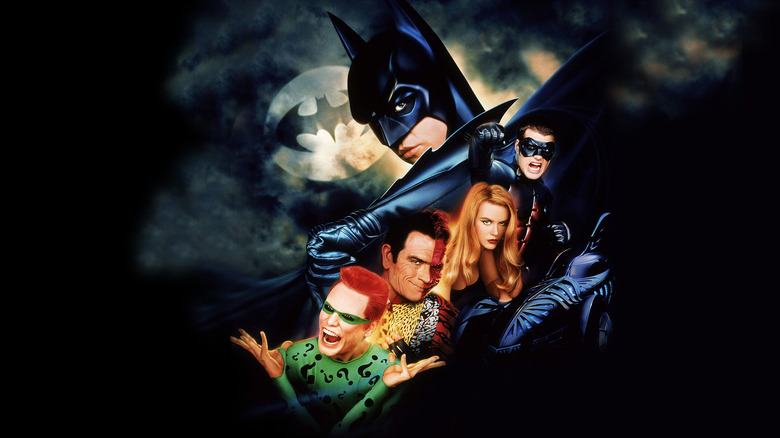 Warner Bros.
As a film that is more memorable for its supporting characters than its main protagonist, it deserves to be at the bottom of this list. "Batman Forever" (1995) was the third entry in Burton's original franchise, and saw Val Kilmer take over the role of Bruce Wayne from Michael Keaton. This was the first film in the series to feature a "lighter" tone, as the directing duties switched from Tim Burton, who has a dark aesthetic, to Joel Schumacher and his farcical debauchery. 
While the film performed decently at the box office, "Batman Forever" received mixed reviews from both audiences and critics. Jim Carrey and Tommy Lee Jones as the film's villains Riddler and Two-Face, respectively, garnered the most praise. However, poor CGI, a one-note performance by Kilmer, and the tonal departure from the previous two movies didn't sit well with fans. It also doesn't help that Kilmer has zero chemistry with co-star Nicole Kidman, who plays Bruce Wayne's love interest, Dr. Chase Meridian. 
The film isn't a total loss. At least it introduced Chris O'Donnell's Robin, complete with a backstory lifted directly from the source material. O'Donnell would be the only lead actor from the film to return to the franchise, reprising his role as Robin in 1997's "Batman & Robin." Still, there's little here that's worth recommending.
7. Batman (1966)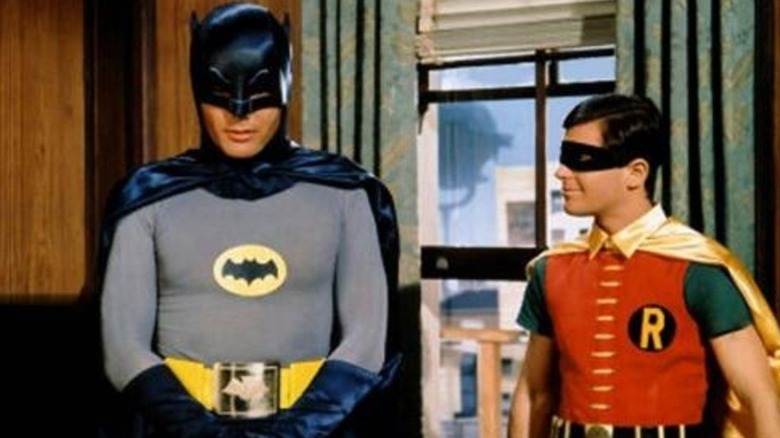 20th Century Fox
Fans of the OG "Batman" series no doubt love this feature film, which includes most of the television show's main cast. In their first feature-length movie, Batman (Adam West) and Robin (Burt Ward) work together to take down some of Gotham's most formidable foes, like the Joker (Cesar Romero), the Penguin (Burgess Meredith), and Catwoman (Lee Meriwether). The film was released following the end of the show's first season, hyping up the series and satiating the appetites of fans over the break. 
While the film is a lot of fun and full of goofy scenes, including the infamous shark attack on Batman, it's pretty much just more of the same stuff that we'd previously seen on the television show. There's no real plot and no real consequences for the villains, who would go on to appear in seasons two and three of the TV show, free of any repercussions from their actions in the movie. Also, Meriwether, who took over the role from Julie Newmar, is the least impressive on-screen Catwoman, which doesn't really help matters. 
The film performed moderately well at the box office, but gained more notoriety and a larger fanbase in subsequent years thanks to video rentals and the occasional rebroadcast on ABC. Despite the film's lack of continuity, its cast was brought back in 2013 as part of new comic book series based on the television show. In 2016, West and Ward played Bruce and Dick Grayson again in "Return of the Caped Crusaders," an animated movie based on an unproduced episode of the show.
6. The Dark Knight Rises (2012)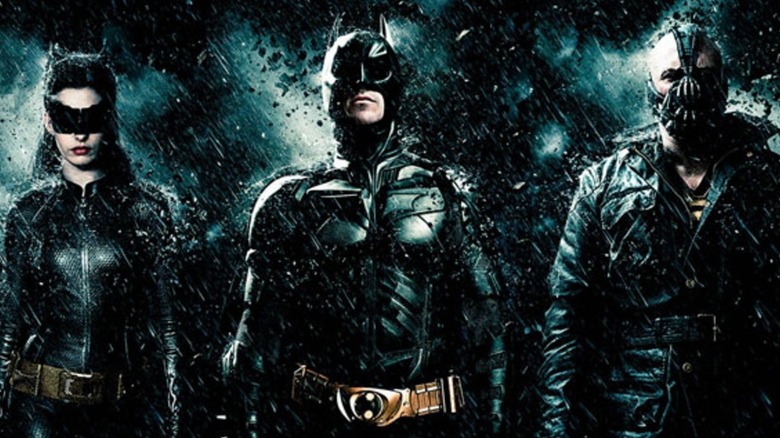 Warner Bros.
All good things must come to an end. "The Dark Knight Rises" is a satisfying conclusion to the Dark Knight trilogy, wrapping up existing storylines while leaving the fates of some characters open-ended. It helps that the film draws inspiration from a few comic book storylines, most notably 1993's "Knightfall," 1986's "The Dark Knight Returns," and 1999's "No Man's Land."
Bale returns for his final appearance as Batman, while Anne Hathaway joins him as Selina Kyle, in addition to Tom Hardy as Bane and Marion Cotillard as Talia al Ghul. "The Dark Knight Rises" received praise for its screenplay, action sequences, emotional depth, and various performances, including Hathaway's anti-hero take on Catwoman and Joseph Gordon-Levitt as a GCPD officer who may be Bruce Wayne's successor.
It's also worth mentioning that "The Dark Knight Rises" is one of the few entries in the franchise to garner multiple awards, including ones for cinematography and acting. The film received the prestigious AFI Movie of the Year Award in 2012, a Hollywood Film Award for Cotillard's performance, and a Saturn Award and Teen Choice Award for Hathaway's work in the film. 
5. The Batman (2022)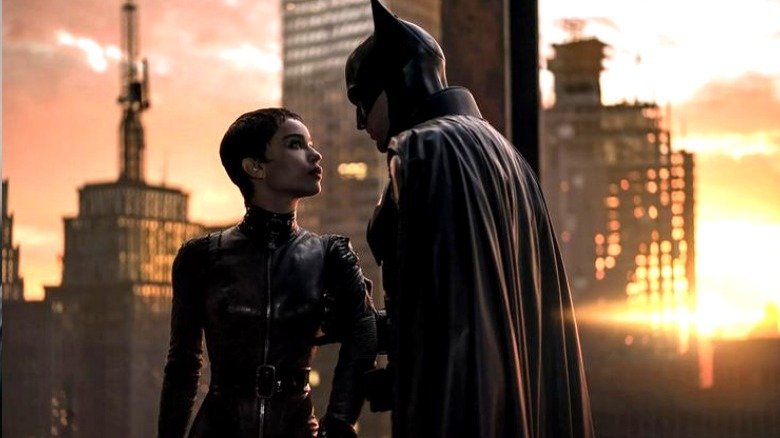 Warner Bros.
Evaluating brand new movies against older titles that have stood the test of time is risky, but I'm nothing if not a rebel, Dottie, so here it goes. While initially conceived as a vehicle for then-current Batman Ben Affleck to write, direct, and star in, "The Batman" shifted gears once Matt Reeves came onboard. The film is a procedural of sorts, pitting a young, still wet behind the ears Batman against a city riddled with corruption and villainy. Things only get worse once a mad serial killer decides to make Bruce his newest penpal. Reeves and his team give the movie a David Fincher-esque vibe through stylishly wet cinematography and a moody pace, but when the bursts of action hit, they carry a visceral, muscular energy (an aggressively good Batmobile sequence is a particular standout).
Robert Pattinson's take on the title role won't be to everyone's tastes, especially as the dividing line between his Batman and Bruce is nearly nonexistent, but he captures the rage and futility of a young hothead well. Reeves surrounds him with an immense pool of talent, resulting in memorable performances from Zoe Kravitz, John Turturro, and a fantastically creepy Paul Dano. He also reteams with composer Michael Giacchino for another emotionally thrilling score. Like "Batman Begins," "The Batman" feels like a film that's establishing a groundwork for bigger things to come, and I'm more than ready to see where the story goes next.
4. Batman Returns (1992)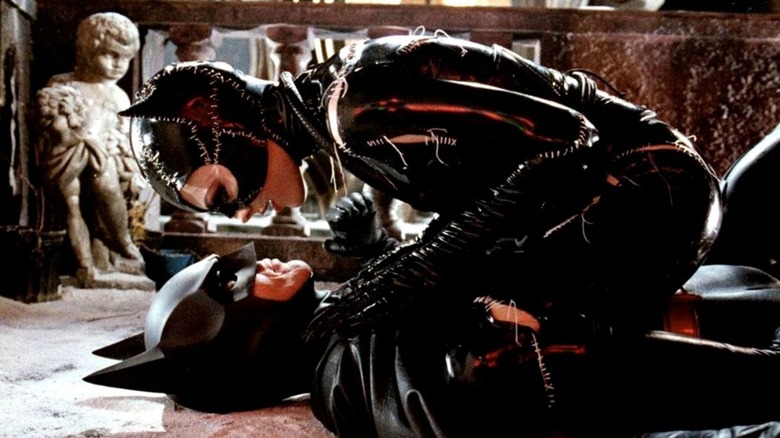 Warner Bros.
Following the huge box office success of "Batman" in 1989, Warner Bros. fast-tracked a second entry in the franchise. The resulting film, titled "Batman Returns," works on many different levels. One of the most layered entries on this list, "Batman Returns" centers on themes of family, identity, hope, and vengeance. Michael Keaton and Tim Burton return as the lead character and the director, respectively, for a sequel that also includes Michelle Pfeiffer as Catwoman, Danny DeVito as the Penguin, and Christopher Walken as Max Shreck. 
There's nothing quite like Burton's lush, gothic cinematography; you can always tell when he's at directing a film. In "Batman Returns," audiences are transported to Gotham City during the holiday season. Each scene is as opulent as the last, whether it's a shot of the Batcave or a swanky holiday party. The cast does a marvelous job as well. DeVito and Walken revel in playing the film's villains, while Pfeiffer's Catwoman may be her career-defining performance. Keaton and Pfeiffer have amazing chemistry, making fans root for them as a couple, which only makes their ultimate fate all the more tragic. 
The film was so successful that a Catwoman spin-off starring Pfeiffer was planned, but eventually landed in development hell. This may have been for the best; it eventually became Halle Berry's 2004 bomb "Catwoman," which was a huge disappointment both critically and financially. 
3. Batman Begins (2005)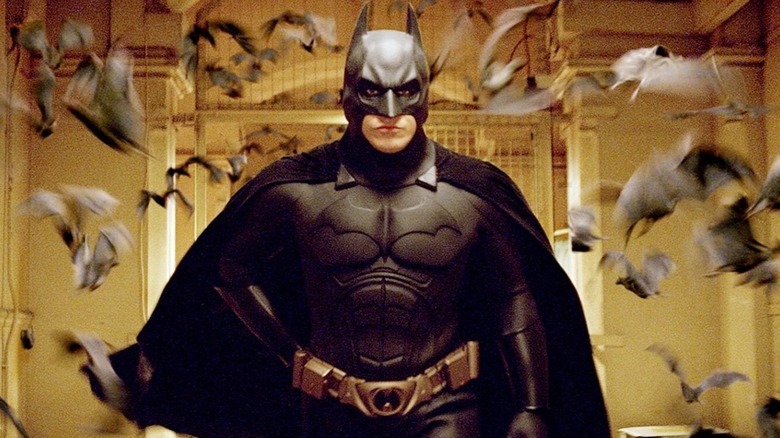 Warner Bros.
Eight years after "Batman & Robin" bombed at the box office, Warner Bros. resurrected the Batman franchise with the help of then-indie director Christopher Nolan ("Memento"). Nolan cast Christian Bale in the lead role and surrounded him with a talented supporting cast that included Michael Caine as Alfred Pennyworth, Gary Oldman as James Gordon, Katie Holmes as Rachel Dawes, Morgan Freeman as Lucius Fox, and Liam Neeson as Ra's al Ghul. The film is a return to the darker tone of the Keaton films, albeit with a bigger emphasis on realism, and revived the audience's emotional investment in the title character. 
"Batman Begins" was a critical and box office success, with many fans happy to see the franchise return to a grittier tone after the previous two installments. The film's "back to basics" method emphasized traditional stunt choreography and miniature effects over CGI, and it's all the better for it. Additional praise was given to Bale's performance, the emotional weight of the movie, the action sequences, and the score. 
Christian Bale would become the longest-running actor to play Batman, donning the cowl for three consecutive solo films, known together as "The Dark Knight Trilogy." He is widely regarded as the second-best Batman of the franchise, coming in only behind Michael Keaton. Many of the supporting cast members would continue to co-star alongside Bale, though Rachel Dawes was recast for the following film, "The Dark Knight."
2. The Dark Knight (2008)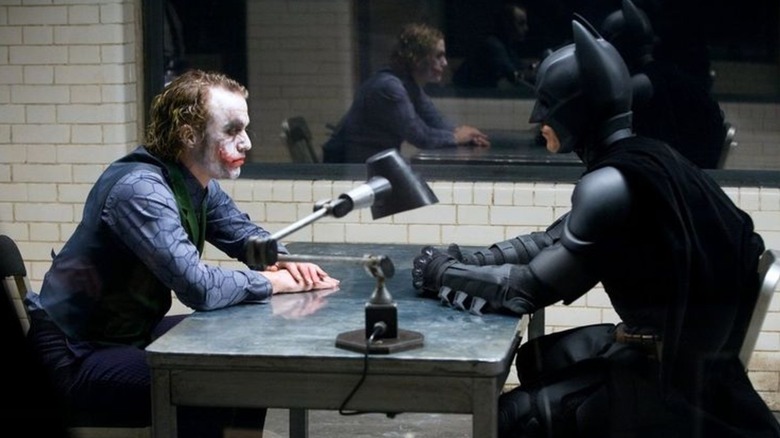 Warner Bros.
The success of "Batman Begins" reinvigorated the franchise, and Christopher Nolan upped the ante with the movie's sequel. "The Dark Knight" revived one of the biggest-ever rivalries in superhero comics, putting Christian Bale's Batman against Heath Ledger's Joker. Maggie Gyllenhaal steps in as Rachel Dawes, while Aaron Eckhart joins the troupe as Harvey Dent, who becomes the villainous Two-Face. 
There's not a weak link in this film at all. The cast is top notch, the stakes are high, and the pacing is on point, making "The Dark Knight" the most intense entry on this list. Ledger's turn as the Joker was a career-defining moment for the young actor, who tragically died eight months before the film was released. His work won him a posthumous Academy Award for best supporting actor. This film is one of the highest-grossing movies of all time, as well as the highest-grossing film of 2008.   
What's really special about "The Dark Knight," though, is the onscreen magic between Bale and Ledger, who lived and breathed their roles throughout the filming process. Ledger even commented on how hard it was for him to shut off his portrayal of the Joker off in order to go home and be with his family. 
1. Batman (1989)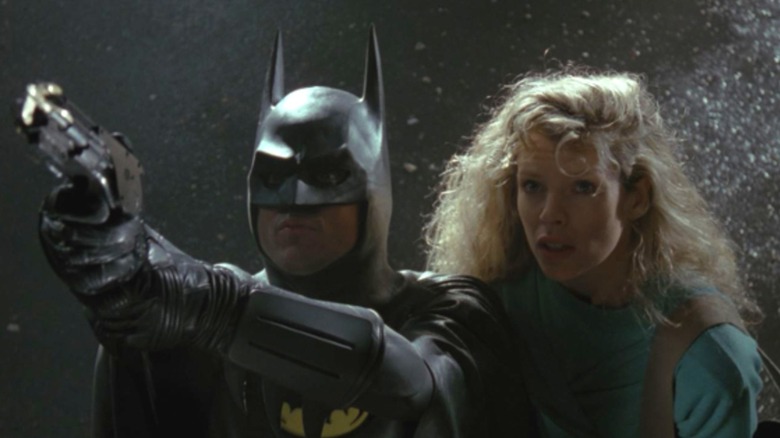 1989's "Batman" revolutionized the superhero film, reinvigorating a genre that had been in a lull since the days of Christopher Reeve's first few "Superman" movies. Michael Keaton, who up until then had been known as a comedic actor, was cast as Bruce Wayne, while Tim Burton signed on as a director, indicating that the character and his world — which includes Kim Basinger as reporter Vicki Vale, Pat Hingle as Commissioner Gordon, and Billy Dee Williams as Harvey Dent — were in good hands. As the city of Gotham and its various denizens were introduced, it felt like scenes had been lifted straight from the pages ofthe  comic books. And then, of course, there was the real draw: Jack Nicholson as Jack Napier, aka the Joker. 
"Batman" was made on a budget of $35 million and went on to gross over $400 million at the box office, making it the fifth highest-grossing film ever at the time of its release. The movie received multiple award nominations and inspired the equally successful "Batman: The Animated Series," which ultimately paved the way for the DC animated universe. 
Keaton and Nicholson steal the show, each one stepping into the role of hero and villain as if they were born to play these characters. Keaton is brooding and heroic as the Dark Knight, and Nicholson is appropriately creepy and intimidating as the Joker. The supporting cast does well on their own, too, with Basinger's Vicki Vale serving as the audience's point-of-view character. "Batman" set the bar for modern marketing in Hollywood and established superhero movies as the go-to source for big, blockbuster spectacle, an influence that can be felt on the silver screen to this day.