Why The Batman Director Matt Reeves Passed On Ben Affleck's 'James Bondian' Script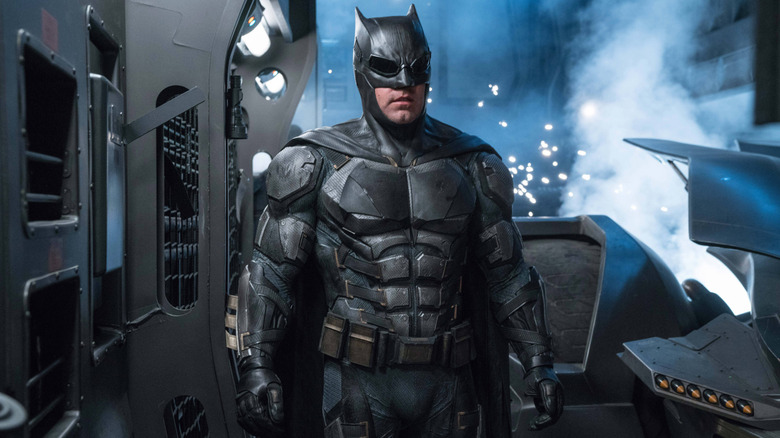 Warner Bros.
It's well-known that Ben Affleck was going to co-write, direct, and star in "The Batman" before he stepped away from the movie for a myriad of reasons (many of them personal). According to Joe Manganiello, who was originally lined up to reprise his "Justice League" role as the super-villain Slade Wilson, aka Deathstroke, in the film, Affleck's script had a lot of similarities to David Fincher's 1997 thriller "The Game." As the "Magic Mike" star put it, Affleck's "The Batman" would have seen Deathstroke dismantling Bruce Wayne's life piece by piece after learning his secret identity, "like a shark or a horror movie villain."
"The Batman" has changed dramatically since director Matt Reeves replaced Affleck at the helm, with the "Cloverfield" and "War for the Planet of the Apes" director having shifted the movie out of the main DC Extended Universe timeline and cast Robert Pattinson to play a younger version of Bruce Wayne who's only in his second year (or so) of being the Caped Crusader. In an interview with Esquire, Reeves offered his own two cents about the earlier script draft that Affleck had penned with Geoff Johns, stating:
"It was very action driven. It was very deeply connected to the DCEU, with other major characters from other movies and other comics popping up. I just knew that when I read it this particular script was not the way I'd want to do it."
Affleck's Take Was "Totally Valid," But Not For Reeves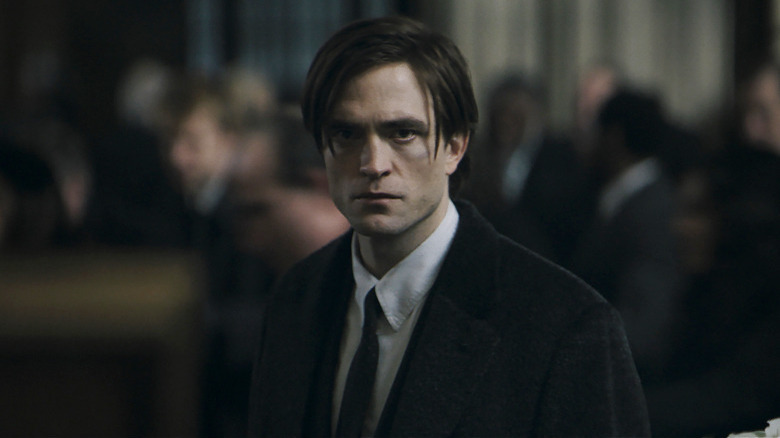 Warner Bros.
Reeves' comments align with the other details that Manganiello's let slip about Affleck's "Batman" script over the years, like how it would've introduced Barbara Gordon, aka Batgirl, to the DCEU ahead of her upcoming solo film. It's also no surprise to hear that Affleck's take was more "action driven," given that the majority of his directorial efforts to date ("The Town," "Argo," "Live By Night") have been thrillers of some variety. All the same, Reeves initially turned down the movie after telling Warner Bros. that while he felt Affleck's script was a "totally valid" take on the Batman franchise, it just wasn't for him:
"I told them that there have been so many great [Batman] movies, but if I were to do this, I'd have to make it personal, so that I understood what I was going to do with it, so that I know where to put the camera, so that I know what to tell the actors, so that I know what the story should be. This take, I told them, pointing at [Affleck's] script, is a totally valid and exciting take. It is almost James Bond-ian, but it wasn't something that I quite related to."
Because of this, and combined with the fact that he was still in post-production on "War for the Planet of the Apes," Reeves refrained from telling Warner Bros. too much about what he had in mind for "The Batman" at the time. "To my utter shock and surprise, they said, 'You know what, we really would like you to do this. And we will wait,'" he added.
As interesting as Affleck's take on "The Batman" sounds, Reeves' response is perfectly fair. Judging by its three-hour runtime, it seems he's crafted the movie as less of a thriller and more of a slow-burn mood piece with bursts of action, similar to his "Planet of the Apes" films (especially "War for the Planet of the Apes"). At the same time, Reeves' movie seems to have a Fincher-style vibe, with Paul Dano as Edward Nashton, aka Riddler, targeting Bruce Wayne and other powerful Gotham citizens rather than Deathstroke. So who knows: It's possible some of Affleck's vision may have rubbed off on Reeves' film after all.
"The Batman" opens in theaters on March 4, 2022.