William Shatner To Voice Two-Face In 'Batman: Return Of The Caped Crusaders' Sequel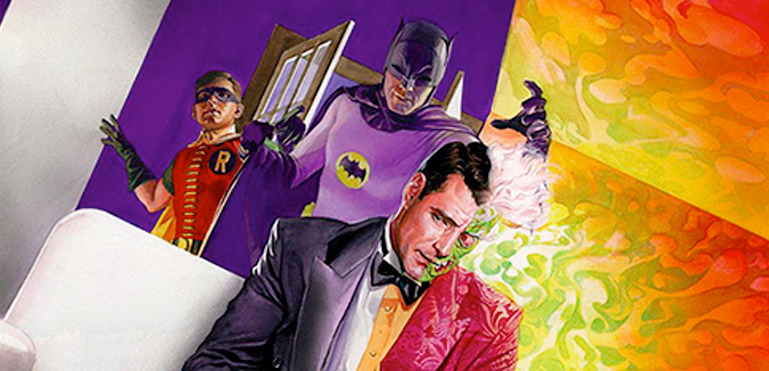 Next week will bring a revival of the 1966 Batman TV series to theaters in the form of the animated feature film Batman: Return of the Caped Crusaders. The film features Adam West and Burt Ward back as the voices of Batman and Robin, not to mention Julie Newmar as their adversary Catwoman. Since the original stars who played The Joker, The Riddler and The Penguin have since passed away, other voice talent has taken up those roles, but a big name has been cast to take on a different villain in the sequel.
William Shatner has been cast as the voice Harvey "Two-Face" Dent in the Batman: Return of the Caped Crusaders sequel, expected to arrives sometime in 2017. Find out more below.
Unlike the rest of the villains who are appearing in the first Batman: Return of the Caped Crusaders animated movie, Two-Face never actually appeared in the original 1966 television series. There was an episode written by Harlan Ellison which would have featured the villain, but it was never produced for air. However, fans became familiar with the episode that would have been because DC Entertainment turned the script into a comic book called Batman '66: The Lost Episode #1 (the cover of which you can see above).
The episode never made it to air not only because of Two-Face's gruesome nature, but also because Harlan Ellison clashed with ABC executives at the time, making them not too keen to turn his script into an episode of the show. However, as the comic book shows, this villain may not have fit in too well on the TV series anyway. Aside from his disfigured faced, he carried around a shotgun, which was a far cry from the various unnecessarily complex ways that the villains would normally try to thwart Batman and Robin.
Still, like the rest of the Batman '66 comics, it does allow this campy version of Batman and Robin to get caught up in some big scale action. The lost episode issue with Two-Face includes the Batcopter chasing Two-Face's boat to an abandoned island as well as a fight on a pirate ship.
Will these pieces of the story make it into the animated movie? That remains to be seen, but since we're all familiar with the work of William Shatner, we know he can bring the right level of campy acting to a character like Two-Face and fit right in with the old show's style.
Don't forget you can catch Batman: Return of the Caped Crusaders in theaters around the country at 2pm, 7:30pm and 10pm on Monday, October 10th thanks to Fathom Events. If you can't catch it then, it will be on Digital HD on Tuesday, October 11th and Blu-ray and DVD on November 1st.