Dark Horse's 'Black Hammer' Comic Series Being Adapted For Film And Television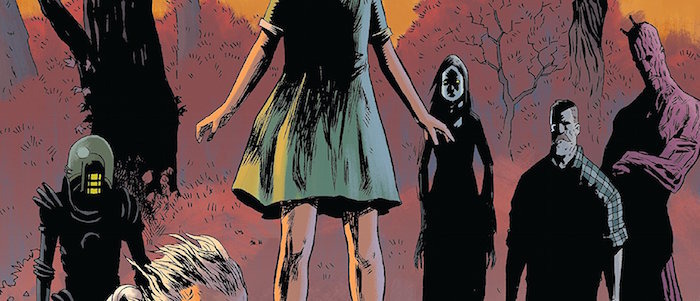 There are a handful of names whose presence on the cover of a comic book ensure that I will pick up that issue. One of them is writer Jeff Lemire. Now Black Hammer, one of his most popular series, is being transformed into a "multi-platform, interconnected universe" spanning film and television.
Black Hammer, created by Lemire and artist Dean Ormston, debuted in 2015 and found instant critical and commercial success. The series was nominated for eight Eisner Awards (AKA the Oscars for comic books) and won two, including Best New Series. Lemire and Ormston will serve as executive producers on whatever Legendary cooks up – it's unclear if this will be a television show or a movie first.
This is the part of the article where I tell you that I've read just about every comic Jeff Lemire has ever written and/or drawn, from the beautiful Essex County to his wild Animal Man run at DC Comics to his enthralling superhero work at Valiant to his breakthrough science fiction series Sweet Tooth. However, this is also the part of the article where I note that Black Hammer is the one major Lemire comic I haven't read, so I have to rely on Legendary's plot synopsis to tell you what it's all about:
Black Hammer is an epic multi-book saga of interweaving stories – both past and present – detailing the trials and tribulations of the heroes as well as the villains of Spiral City. It's a genre-bending series that pushes the limits of what a superhero story can be, while always creating deep metaphors for human experiences. In Black Hammer, the characters come first, and the super hero aspects become the canvas to tell their stories.
What I can tell you is that Black Hammer has consistently sold out at my friendly local comic shop and that the folks behind the cash register have stared at me in slack-jawed astonishment when I told them I had yet to check it out. Now that the series is being adapted for film and television, it certainly looks like I am out of excuses.
Black Hammer is one of several Jeff Lemire adaptations currently in the works. His surreal and moving graphic novel The Underwater Welder has attracted Ryan Gosling, who plans to direct. His robot rebellion epic Descender is being developed for television, as is Gideon Falls, a new horror series whose first issues have been genuinely skin-crawling in their creepiness. In other words, expect to see Jeff Lemire's name pop up a lot more in the coming years.