The Incredible Horror Comic 'Harrow County' Set To Bewitch Audiences At Syfy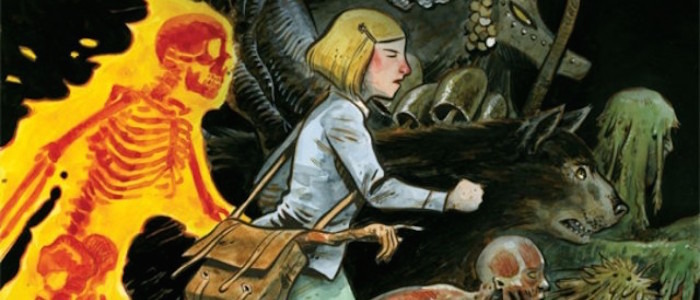 We may receive a commission on purchases made from links.
Superheroes may be ruling screens both big and small these days, but caped crusaders and masked avengers are playing second fiddle to the little guys at your local comic book shop. While Marvel and DC continue to churn out reliably entertaining work, it's the niche publishers like Image, Boom!, and Dark Horse that are delivering the real goods. While some truly great independent and creator-owned comics are making their way through film and television development right now, Syfy has acquired the rights to a series that deserves your complete and undivided attention.
That series is Harrow County and it is the best horror comic books being published in 2015. If it's half as good in 2016, it'll still be one of the most clever and spooky and oddly charming comics I've ever had the pleasure to read. Hit the jump for more details on the Harrow County TV series.
The news comes to us via Deadline, who report that Syfy has hired Rebecca Hirsch, a veteran of Leverage and 12 Monkeys, to pen the adaptation. The project, which is the first of several comic book adaptations that will result from a deal Universal and Dark Horse Comics hammered out back in July, is still in the earliest possible stages of development. As of right now, there's not much more to say.
Well, I can say that Harrow County is great. It earns those italics. Set in the American South in the early 20th century, the rural community created by writer Cullen Bunn and artist Tyler Crook feels comfortably familiar and totally unique. The world of Harrow County is literally haunted, home to all manner of things that go bump in the night. If you can speak about something in hushed whispers around a campfire, then that something calls this place home.
Our tour guide to this world is Emmy, the bright and friendly 18-year old daughter of a local farmer who discovers that she has an unusual connection with the ghosts, monsters, and creatures that inhabit the woods. It turns out that she's the reincarnation of a witch the townsfolk executed years previously and those same people want her dead. Again. To say much more would be saying too much – the literal witch hunt is simply the first story arc and it soon broadens into something far different and surprising and satisfying.
While Harrow County is gothic horror at its finest, it's the series' sense of homespun, southern folksiness that makes it so special. Once Emmy starts communicating with the literal monsters on her doorstep, Bunn and Cullen steer the series deep into fantasy territory. If you're the kind of horror fan who always has sympathy for the monsters, who always wanted to know what would happen if a character in a horror stopped to chat with a ghoul rather than run from it, this is the series for you.
I cannot recommend this series highly enough. Bunn, who also writes the equally pleasurable The Sixth Gun, has an ear for dialogue and an eye for character that rivals anyone else working in comics. Crook, who first got my attention with his work on Dark Horse's B.P.R.D., is a remarkable artist, finding humanity in the faces of monsters and crafting a world that looks like the halfway point between a fairy tale and a nightmare. Harrow County is the comic book equivalent of a glass of bourbon, an autumn chill, and a that tingle that goes down your back when you know you're being watched.
Congratulations on nabbing the rights to such a great comic, Syfy. Now don't blow it.