Why Laura Carmichael Couldn't Say No To Reprising Her Downton Abbey Role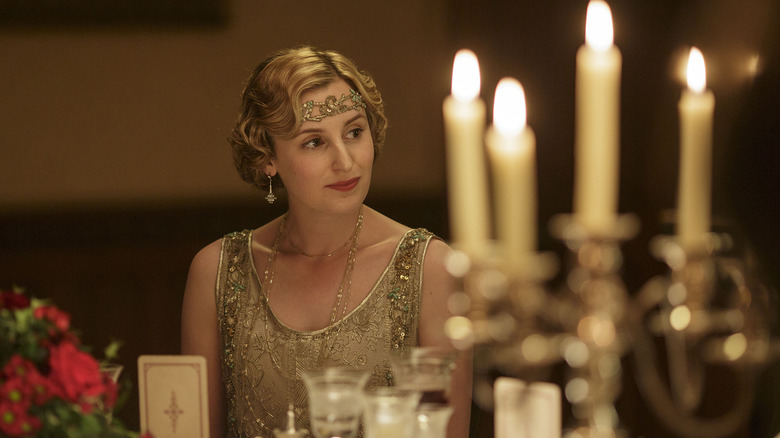 PBS
When you look at the sprawling ensemble that is "Downton Abbey," it can be easy to lose track of all of these characters, especially when you're having to alternate between the aristocratic Crawley family and their downstairs staff. But series creator/writer Julian Fellowes ("The Gilded Age") has done a great job of giving both clusters equal attention, as the show hops from one character's plotline to the next. Of course, the breadth of a television show with six seasons allows ample time to make sure no one gets lost in the shuffle.
As the PBS series made the transition to the big screen in 2019 with "Downton Abbey: The Motion Picture," and again this year with "Downton Abbey: A New Era," I wondered if Fellowes would be able to give as much attention to Maggie Smith's Dowager Countess, while also allowing characters like Rob James-Collier's Thomas Barrow enough wiggle room to make an impression. While some characters received more attention than others, I think both films give everyone a moment to shine.
Of course, the thrill of having all of these characters return is seeing this body of actors all in one room together again. When it came to reuniting the Crawleys, however, there was one actor in the high society bunch who really couldn't resist coming back.
Middle sister act: Back in the writing habit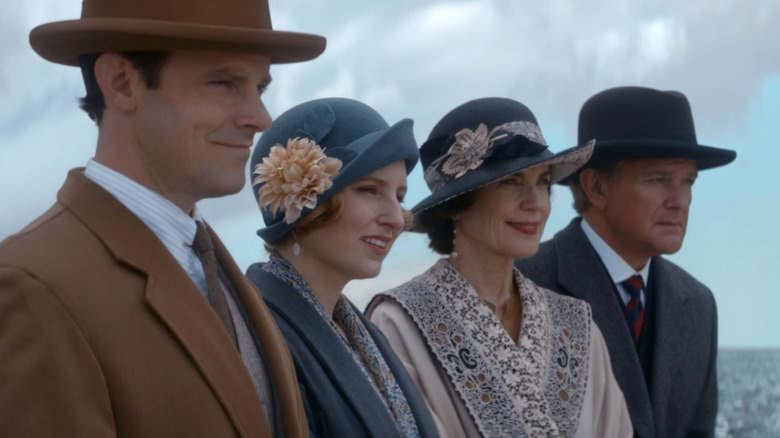 Universal Pictures
While speaking to Cinema Daily, Laura Carmichael spoke about how happy she was to be in the company of friends again. It makes sense, given that she's been working alongside this company of actors for over six seasons of television. But more than that, Carmichael was excited by what the script for "A New Era" had in store for Lady Edith:
"It's great to see that Edith's writing again, as her passion for journalism is back. Even though she had a baby, she still wants to work...It peaks her interest to write an article about how people are vacationing in the South of France, as it suddenly became the fashionable thing to do. So it was great to see her get back into that."
Although Lady Edith doesn't get nearly as much attention as Michelle Dockery's Lady Mary, it's clear that her role in "A New Era" shows just how far she's come in the Crawley hierarchy. The character started writing in the third season after Sir Anthony Strallan (Robert Bathurst) leaves her at the altar. Since then, she's gained a real affinity for journalism, effectively showing the family that she's more than the snobbish middle child.
Not only has Lady Edith developed her own prose, she also seems to have taken an interest in photography in "A New Era" as well. Considering her string of bad luck throughout the series, this feels like the character finally getting some catharsis.
Lady Edith is finally in a good place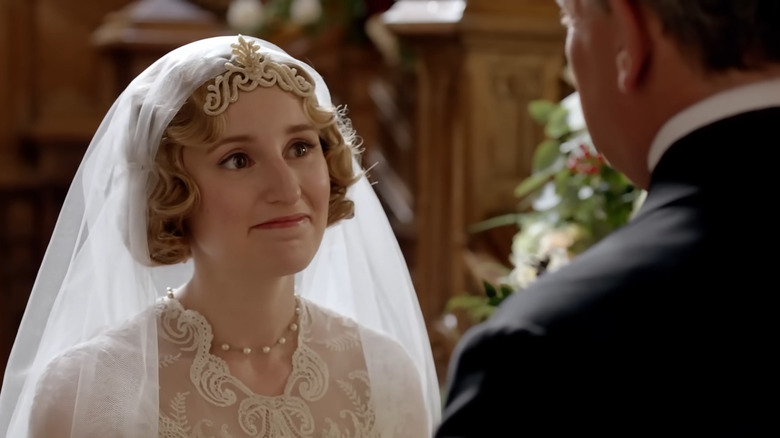 PBS/YouTube
It speaks to Carmichael's performance that she took the jealous middle child archetype and blossomed this character into her own. Lady Edith's future actually looks hopeful for the first time in ages. After all, her luck throughout the series has been less than fortunate.
In addition to being left at the altar, she's also been rejected by a number of suitors for marriage, including Matthew Crawley (Dan Stevens). The time she accidentally set her room on fire is just the tip of the iceberg. Remember when Lady Edith found love with her editor Michael Gregson (Charles Edwards) before he disappeared from her life?
It's not enough that Gregson was eventually found murdered at the hands of the Nazis, Lady Edith also ended up having to hide her pregnancy with Gregson's child out of fear that it would bring scandal upon the family (as if that ever stopped any of the Crawleys before). She then had to watch from afar as another family raised her in secret. That is, until the Crawleys accepted raising young Marigold as their own. "Downton Abbey" didn't exactly make it easy for Lady Edith to have an uncomplicated life.
Even her marriage to Bertie Pelham (Harry Hadden-Paton) came with its own set of complications. Given all that she's had to go through in the series' six seasons, it stands to chance that she finally gets to be happy. There are no concrete plans for a third "Downton Abbey" film, so Lady Edith's place is kind of up in the air. But for now, the character remains a trailblazer
"Downton Abbey: A New Era" is currently streaming on Peacock.