Downton Abbey: A New Era Director Simon Curtis Just Wants Thomas To Be Happy [Interview]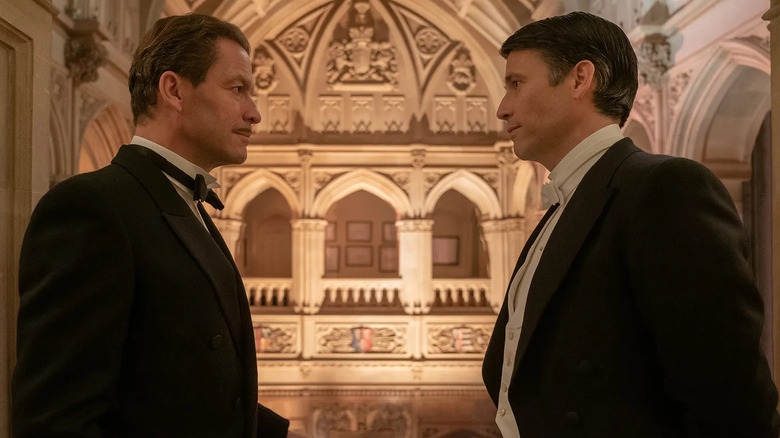 Focus Features
Where "Downton Abbey: The Motion Picture" felt like a welcome reunion among old friends in relatively the same roles that we last saw them, "Downton Abbey: A New Era" feels like a sense of progression for the aristocratic Crawley family and their downstairs workers, as the times, they are once again a-changing. As one half of the charming ensemble split up to investigate the Dowager's past in the south of France, movie stars, bright lights, and unforeseen production troubles await at Downton. I enjoyed the previous film quite a bit, but "A New Era" really plays up the escapist fantasy of the series, while allowing some of its more restrained characters a chance to have fun with all of the excitement going on inside the countryside estate.
Director Simon Curtis ("My Week With Marilyn") really brought a vibrant and emotional look to the world of "Downton Abbey" and these characters. With "Downton Abbey: A New Era" now available on Digital, and arriving soon to 4K, Blu-ray, and DVD (July 5), I got to speak with Curtis about silent movie stars, the culmination of Thomas' Queer journey, and the challenges of operating a dual film set. 
'The two biggest tasks were dubbing the silent film sometimes before we shot the silent film'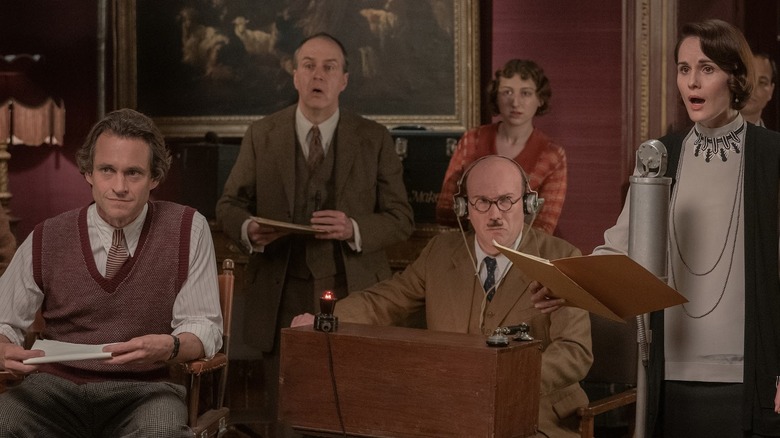 Focus Features
Considering you've already worked with operating a film set within a film set during "My Week with Marilyn," I was curious as to the challenges that came with shooting with the Downton crew.
Yeah. It was very helpful to have done a film within a film because it's a tricky business. In this case, the two biggest tasks were dubbing the silent film sometimes before we shot the silent film. That was tricky. The big set piece dinner, when the servants play the extras, was a very intricate scene that took several days. We were in a room smaller than this with all the cast in these exotic, extravagant costumes, the fake film crew, the real film crew, the family watching. You can imagine, it was quite claustrophobic.
Yeah, that whole room is just filled from wall to wall.
Correct. It's worsened by the fact that when the talking started, the cameras were so loud, they had to be in this big box. I thought we were doing well until he wheeled the box in. "Oh no, we can't fit that."
I know Hitchcock's "Blackmail" was used as the primary influence considering he had to turn everything around to satisfy the talkie audience. I was wondering if you had any other late silent era or early talkie films that you looked to as influences?
Well, I did look at quite a lot of the films from the '20s, and I had a wonderful day with Laura Haddock playing the silent movie star when we created that silent scene that Mary sees when she goes to the cinema. It was exciting to be playful with that.
It was also really cool to get a glimpse when you would go into the theater and they would have the band in front.
Yes. Live music. Also, I learned that when they were shooting silent films, they had a live pianist while that was going on. It was nice to have live music.
'I thought they both played that in a very subtle and clever way'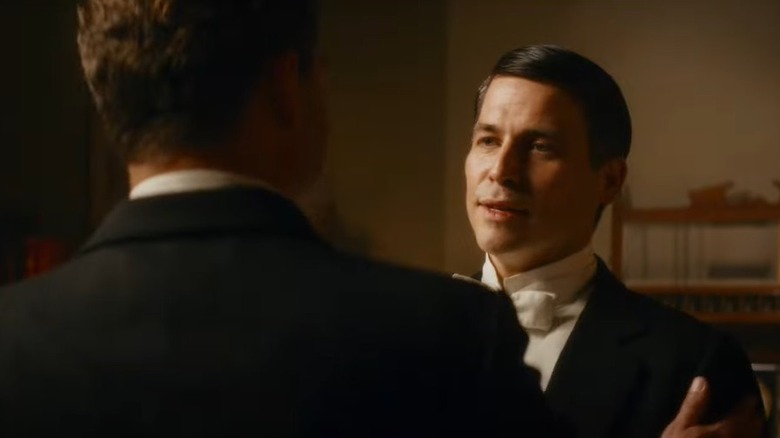 Focus Features
Seeing the Crawley's youngest children roaming around Downton just really goes to show how far all of these characters have come. How did it feel working with Julian [Fellowes] to kind of lead everyone into the new era?
What was good for me was that with the trip to France and the film crew coming in, there were these new influences in all the characters. We didn't have to adhere to a lot of the tough rules and regulations that a lot of the earlier episodes had been so controlled by. It was kind of liberating.
One of Downton's most interesting characters, for me, is Thomas Barrow. He's been through so much in the series and the first film, and here, given his personal journey, how did it feel to finally give him some catharsis?
I love that storyline, with Barrow and the film star from America, played by Dominic West. Obviously, because of the constraints at the time, their relationship had to be conducted in code, in a way. I thought they both played that in a very subtle and clever way. I love the sense that Barrow is going to escape this dusty English house and head off to live in Hancock Park in Los Angeles. I hope he has a very happy life.
Their chemistry is impeccable.
I'm glad you think so, because it felt like that on the day. It was a great day when I called up Rob, who plays Barrow, before we started, and he said, "Well, who's playing Guy?" I said, "Dominic West." I don't think I've ever heard an actor so happy.
I know he is based on a couple of film stars, I believe, right?
Not really.
No?
There were quite a few English stars. I think we said the Hollywood Raj is a bit later, but he's not impersonating any particular actor — it's an archetype.
'It's lovely that Laura's character, Myrna, has a redeeming final act'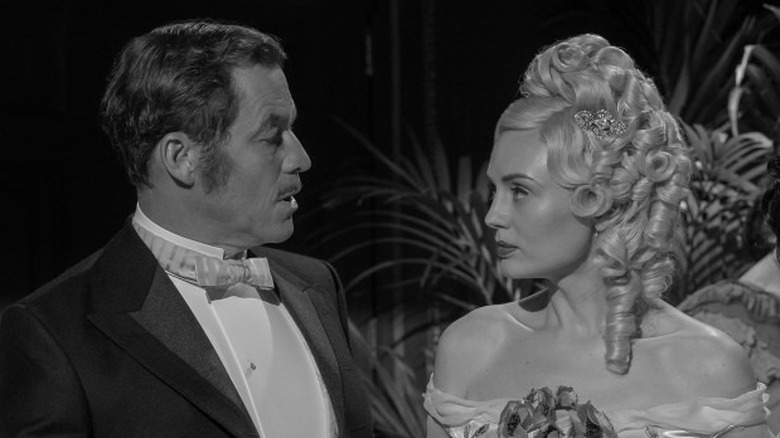 Focus Features
With Thomas and the Dowager in a new era, a lot of character stories are wrapping up from the series. There's a part where, if you wanted to, you could lead Downton here, but is there a possibility of a third film in development?
To be honest, I'm just the director they hire. So I'm the wrong person to ask. I'm sure there's an appetite for further stories in the Downton universe.
Lastly, I have to ask about Myrna. Laura Haddock is incredible. She has the perfect movie star entrance with the pan up from the shoes.
Yeah.
When I think of her character, I think of [Jean Hagen's] character from "Singin' in the Rain," who there's not much sympathy for. But here, you come to see another side of that type of role. How were you able to construct that character?
Well, I take my hat off to Julian Fellowes, because he manages to give all his characters a satisfying journey. It's lovely that Laura's character, Myrna, has a redeeming final act. She's so proud that she's learned the American accent.
Yes.
I hope she has a successful future as well.
She does. Her American accent is perfect.
No, but I mean the character. She's terrified that sound is going to ruin her career, but maybe she could be in Hollywood as well.
"Downton Abbey: A New Era" is on Digital now and hits 4K/Blu-ray/DVD on July 5, 2022.