Downton Abbey: A New Era Review: A Vibrant And Emotional Sequel That Brings Out The Best Of These Charming Characters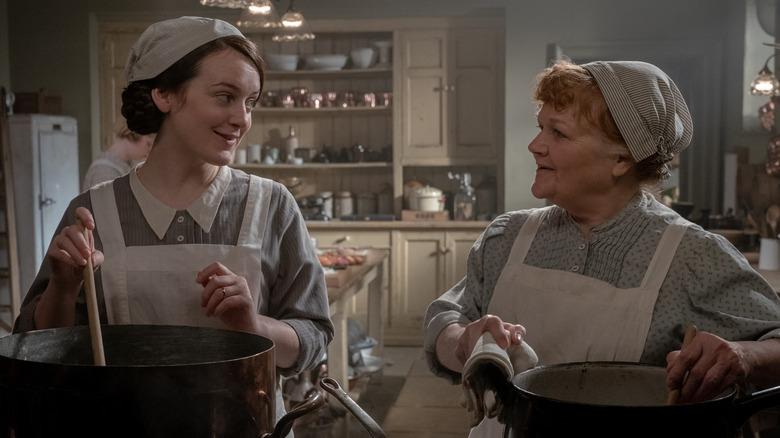 Focus Features
It didn't seem to matter that "Downton Abbey" had come to a close with its sixth and final season, because people wanted more of these characters. I hopped aboard the show right around its third season when it was airing on PBS' Masterpiece Theater in the US. About a month before the fourth season was about to premiere here, I attended an event put on by PBS in my college town where the place was packed from wall to wall with its most ardent fans, most of whom skewed older. I'd been aware of "Downton"'s success as a global phenomenon, but this was the first time I ever got to see how true to life it was. For a series so posh and proper, it was like they were throwing a party. It floored me seeing how excited they were, warm tea in hand, and put the extent of this series' popularity into context.
In order to succumb to the charm of "Downton Abbey," you have to recognize that this is a romanticized soap opera of its bygone era, rife with scandal, romance, and the grave importance of attending luncheons. It exists in a fantasy world of sorts where the autocratic Crawley family may snap or look down at their staff, but at the end of the day, maintain good relationships with them. You won't find any revolutionary critiques of its prejudices and elite power structures, but that doesn't mean it's not averse to the notion of it. Each season introduced a new obstacle to social norms to overcome such as the spirited Irish Republican radical Tom Branson (Allen Leech) joining the family, or footman turned butler Thomas Barrow (Rob James-Collier) nervously having to navigate his Queerness in an era where it could land him in prison.
Even though the series finale tried to leave these characters a good place to conclude their story, it was clear that the British period costume drama had more to offer. It's difficult to give closure to characters who have yet to experience the powerful demise of an antique system, and are also on the cusp of some pretty terrible world events, but series creator Julian Fellowes ("The Gilded Age") does his best with the series he's created. And while the luxuriously directed 2019 feature film certainly made some strides, it was pretty clear that "Downton Abbey" had enough footmen, butlers, and cooks to carry this delectable film franchise potential on a silver platter to the box office. I'm happy to report that "A New Era" features all of the pomp and circumstance you would come to expect from "Downton Abbey," and that the series' most fervent followers will find a lot to love in this eventful sequel.
Lights! Camera! Downton!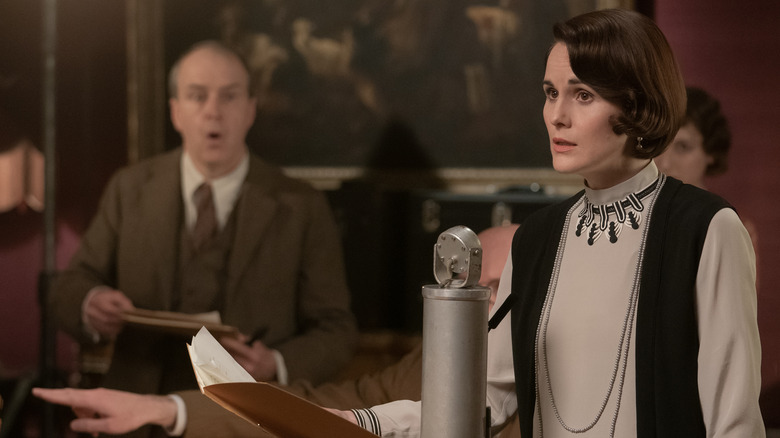 Focus Features
"A New Era" picks up two years after the previous film, with the 1930s just around the corner. Violet Crawley (Maggie Smith) receives word that she's inherited an extravagant villa in the south of France from an ex-lover, which prompts Lord Grantham (Hugh Bonneville), Cora (Elizabeth McGovern), and Lady Edith (Laura Carmichael), along with a portion of the house staff, to investigate the matter of the Dowager Countess' mysterious past. Back at Downton, meanwhile, Lady Mary (Michelle Dockery) attempts to navigate the British Lion Film Corp. shooting a silent feature, as the estate is overrun with movie stars and mountains of film equipment.
The bulk of "A New Era" alternates between the concurrent stories, feeling very much in line with the series' feature-length Christmas specials. It can be easy to get lost in the sea of characters, but nevertheless, this stacked cast manages to make the whole affair feel as fluid as possible. One of the greatest strengths of "A New Era," much like the previous film, is that you don't necessarily need to have seen the series in order to jump into what's going on. With any television to feature film adaptation, being familiar with how far these characters have come will add greater context to certain scenes, but the emotions of this stacked cast give you a great indicator of who they are and their role in the house. I suppose that's part of the charm of soap operas.
In addition to that, it also gives room for long-time cast members such as Kevin Doyle's Mr. Molesley to shine. The Crawley's former butler has always been one of the most wholesome and kind-hearted characters on the show, second only to the comforting Mrs. Hughes (Phyllis Logan), and getting to see him unleash a hidden talent for screenwriting falls in line with my favorite pastime associated with the series. I've always loved whenever "Downton Abbey" shows how the workers are more than their downstairs servitude to the Crawleys. Sophie McShera's Daisy, for example, has come a long way from the timid kitchen maid of Mrs. Patmore (Lesley Nicol) to a confident, jovial chef who's not averse to letting people know what she believes in.
But the biggest surprise is the new additions to the cast. Laura Haddock ("Da Vinci's Demons") sparkles as the glamorous diva Myrna Dalgleish. Dominic West ("The Affair") effortlessly plays the dashing Guy Dexter, a Douglas Fairbanks Sr. type who exudes his charisma throughout the manor, particularly with Thomas. It's Hugh Dancy ("Hannibal"), however, who's given the most opportunity to shine as Jack Barber, the film's director, as he builds a surprisingly sweet rapport with Lady Mary.
"Downton Abbey" has always been upheld by the impeccable Maggie Smith, who is as feisty as ever. The wit she brings to Violet's wisecracks remains sharp, and she is the emotional lynchpin of "A New Era," whose heartfelt conversations among the Crawley family, especially with her partner-in-crime Cousin Isobel (Penelope Wilton), serve as yet another reminder of the way this character can sneak up on you.
The luscious promise of A New Era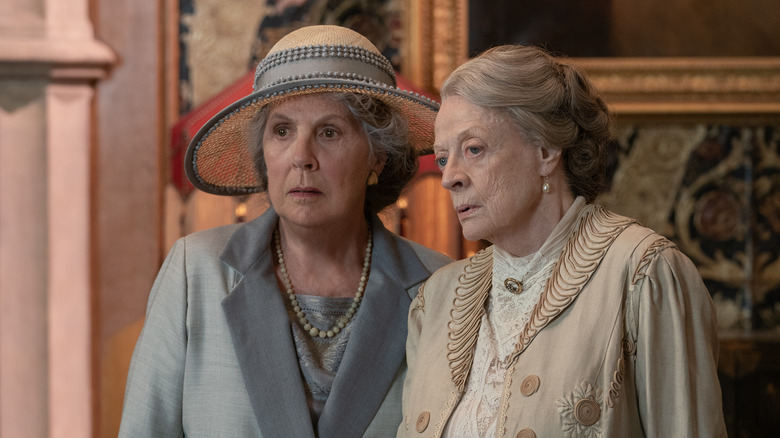 Focus Features
While the vacation portion at the French villa offers insight into the past of the eldest Crawley, it can get a little repetitive. The film shoot at Downton is infinitely more interesting considering the prominent transition period between silent film and the talkies, which transforms "A New Era" into a delightful "Singin' in the Rain"-type comedy of script rewrites, voice replacements, and learning to operate all of the new equipment associated with the momentous change. Even more so, it presents an opportunity for the estate's downstairs staff to get in on the fun.
Simon Curtis ("My Week With Marilyn") takes over directing duties from Michael Engler ("The Big C"), who directed a handful of episodes of the show, and does great work at capturing the signature look of the series. Where Engler made "Downton Abbey" feel like a grandiose event film, Curtis turns up the brightness ever so much and makes the whole affair feel like a warm vacation. It might also have to do with the swap in cinematographers from Ben Smithard ("The Father") to Andrew Dunn ("Gosford Park"), who unleashes a splash of color upon these beautiful locations. The bright lights of filmmaking, the bluest of waters, and the whitest of marble gleam off the screen. "Downton Abbey" has never looked better, allowing for a more open look at the beautiful locations — both old and new.
You always take a risk when you import a continuation built upon the considerable foundation of an entire series' worth of story, to the big screen, but the viability of "Downton Abbey" proves that adult dramas can be little blockbusters in their own right. "A New Era" is two hours of charming, breezy escapism that made me happy to see this ensemble learn to grow beyond the roles they've been given to play. Only time will tell if "Downton Abbey" continues this streak of progress, or further settle into its opulent creature comforts.
/Film Rating: 8 out of 10