The Daily Stream: Hannibal Puts A Terrifying Twist On Procedural TV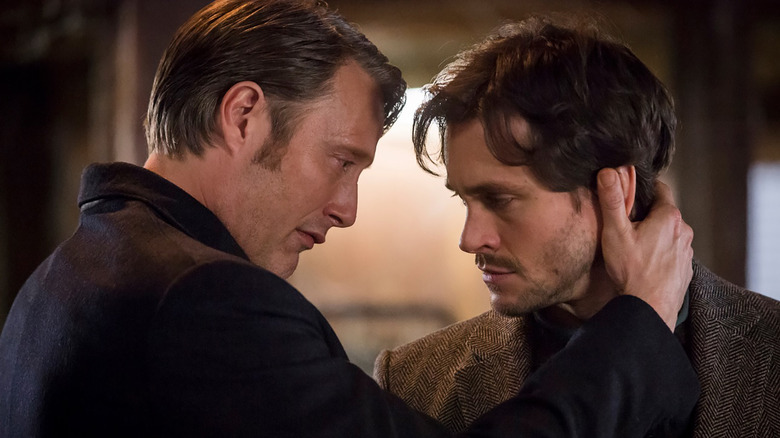 NBC
(Welcome to The Daily Stream, an ongoing series in which the /Film team shares what they've been watching, why it's worth checking out, and where you can stream it.)
The Series: "Hannibal" 
Where You Can Stream It: Hulu 

The Pitch: Before he battled wits with Clarice Starling and helped take down Buffalo Bill in "Silence of the Lambs," Hannibal Lecter (Mads Mikkelsen) was a renowned psychiatrist and FBI consultant. He teamed with FBI criminal profiling instructor Will Graham (Hugh Dancy), and together, the two chased down some of the country's most terrifying killers. The only problem? Hannibal himself is a prolific serial killer, and he's using his relationship with Graham and the FBI to try and keep himself from getting caught. He's also playing mind games with Will, whose incredible sense of empathy is a fascinating mirror to hold to Hannibal's own sociopathic tendencies. 
The first season of "Hannibal" is set up like a procedural crime series, with Hannibal and Will working with the FBI team, including Jack Crawford (Lawrence Fishburne), to track down and apprehend serial killers. As the series progresses, it moves away from the procedural format and becomes something else entirely: a brilliant and beautifully tragic love story between two men who are bound by spilled blood. Though the characters and many of the events in "Hannibal" are pulled from the books of Thomas Harris — including "Red Dragon," "Hannibal Rising," and "Hannibal" — the characters and timelines have been changed enough to become its own thing. "Hannibal" was canceled after three seasons, but at least creator Bryan Fuller was able to conclude the "Red Dragon" arc and give fans some closure.
Why It's Essential Viewing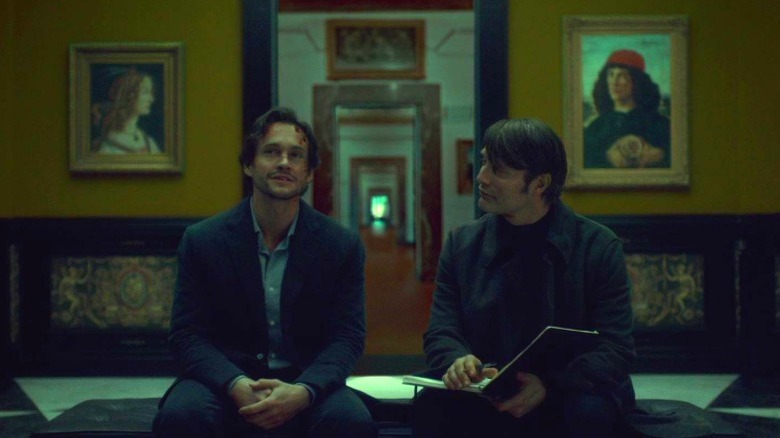 NBC
There are dozens of procedural crime dramas on TV at any given time, but "Hannibal" was something special. The first season carried all of the hallmarks of its procedural kin, including sassy pathologists (Scott Thompson and Aaron Abrams), murder-mystery twists, and problems with the media — especially tabloid reporter Freddie Lounds (Lara Jean Chorostecki). "Hannibal" sees our intrepid investigators tackle a number of cases, but toward the end of the first season, the cases stop being all that important. There are some fun crime scenes and mysteries in season 2 and 3, but the real draw is the twisted relationship between Hannibal and Will. It's like the classic "will they-won't they" of romantic comedies, except with these two we're wondering who's going to attempt to kill the other first. Their relationship is a complicated dance, a back-and-forth that includes manipulation, murder, lust, love, friendship, and bitter resentment. The cat-and-mouse games they play become labyrinthine as the show grows increasingly decadent. Every element about the series is carefully designed for both aesthetics and significance: this is a show that you can re-watch again and again and find new details every time. 
"Hannibal" is a feast for the senses. Not only is the writing magnificent and the acting superb, but the production design, costume design, cinematography, score, and makeup effects are all top-tier. The amount of attention that goes into small details like the food Hannibal serves and the sketches on his office desk is incredible, and gives the series untold depth. The series has a dedicated cult following that call themselves "Fannibals" for a reason: the show is one of the most beautifully crafted works in the history of television. It's emotionally complex and occasionally a little challenging due to its content (I'm looking at you, "Su-zakana"), but the payoff is well worth it.
Besides Will and Hannibal, the series follows a number of other complicated romances, including a lesbian couple who unite due to shared trauma and raise a child together, an older couple staring down imminent death, and more. The characters and their relationships are deeply interrogated, forcing the viewer to question the nature of love itself. What pushes these broken people together, and what could possibly break them apart? Despite being a series about a cannibal serial killer, the murders are never the main focus. Instead, they are used to show us insight into the mind of these two men, one who's all too human and one who's a monster. What's terrifying is just how much they have in common. 
"Hannibal" is a tense, taut drama with romance, chills, and thrills. Just don't put this one on during dinner.