'My Week With Marilyn' Review: An Entertaining Love Letter To Movies And Celebrity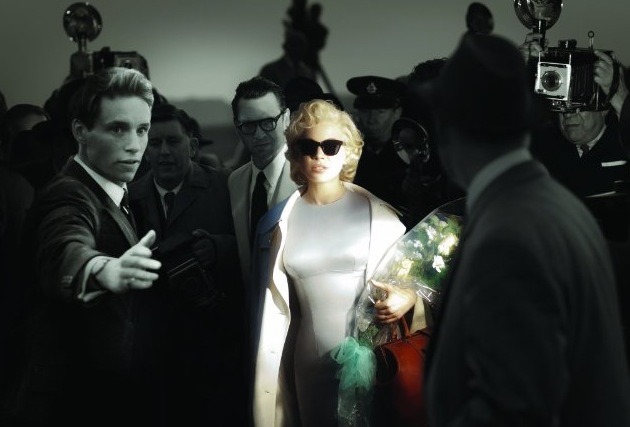 It's difficult to decide which aspect of My Week With Marilyn is its best asset. The film provides an insider look at movie history, gives interesting insight into legendary personalities, has magnificent performances and a wonderful score. Nope, it's none of those things. The best thing about My Week With Marilyn, Simon Curtis' delightful snapshot of Hollywood history, is how it gives audience the ultimate wish-fulfillment. We get to experience what it would be like to do something we've all dreamed of: spend a day with the most beautiful and famous person on the planet.
Scheduled for release November 23, it's based on the true diaries of a young man named Colin Clark (Eddie Redmayne) who talked his way into a job with Sir Laurence Olivier (Kenneth Branagh) and, while shooting the film The Prince and the Showgirl, developed a unique relationship with the most famous woman in the world: Marilyn Monroe (Michelle Williams).
My Week With Marilyn screened at the AFI Fest Presented by Audi and you can read more about it below.
In 1956, Marilyn Monroe traveled across the Atlantic to star opposite Laurence Olivier in a film he directed that was eventually called The Prince and the Showgirl. At the same time, a fresh-faced, privileged college graduate named Colin decided he wanted to get into the movie business and gets a job as Olivier's assistant. Like the rest of the world, he's enamored with Monroe and as filming went on, the two developed an intense friendship. Monroe was married to legendary playwright Arthur Miller (Dougray Scott) at the time so Clark and Monroe's intentions added even more tension to an already troubled production.
Curtis' film is a well-made, briskly paced love letter to movies and a rumination on celebrity. It explores what it feels like to be famous and to be in the presence of that fame. Though it ultimately settles on a pretty obvious message, the journey to get there is almost too fun for words. Williams' performance is a marvel. She's simultaneously cute and sexy while being confused and scared. Branagh commands the screen as usual and supporting performances by Judi Dench, Julia Ormond, Dominic Cooper, Emma Watson and Toby Jones all help to heighten the movie.
Anyone who loves movies, celebrity or has fantasized about being part of either will find much to like about My Week With Marilyn. It's not an incredibly deep or important film, but it's fantastic and fun none the less. You can't help but want to live in its world.
/Film Rating: 8 out of 10.