The 20 Best Downton Abbey Characters Ranked
ITV
With its heartfelt emotion and a dash of fairy tale whimsy, it's easy to see why "Downton Abbey" is one of the most beloved TV shows of all time. It has a little bit of something for everyone: drama, romance, stunning costumes, and quotable moments that fans continue to adore. However, while the series boasts masterful work from creator Julian Fellowes and the rest of the talented individuals behind the scenes, the best parts of "Downton Abbey" are its characters. They're the reason why we keep coming back for more.
Despite living in a largely forgotten era, each character on "Downton Abbey" feels relevant to modern viewers in their own way. It doesn't matter if they're lords and ladies, or the downstairs staff that keeps the Abbey in tiptop shape. Every person has a unique part to play in this beloved franchise. But which character is the most celebrated by the "Downton" fandom? That's a question that can only be answered with a detailed look at the best characters in the sprawling cast. So, slip into your best outfit, pour a cup of your favorite tea, and join us for a look at the "Downton Abbey" characters that fans still can't get enough of.
20. Martha Levinson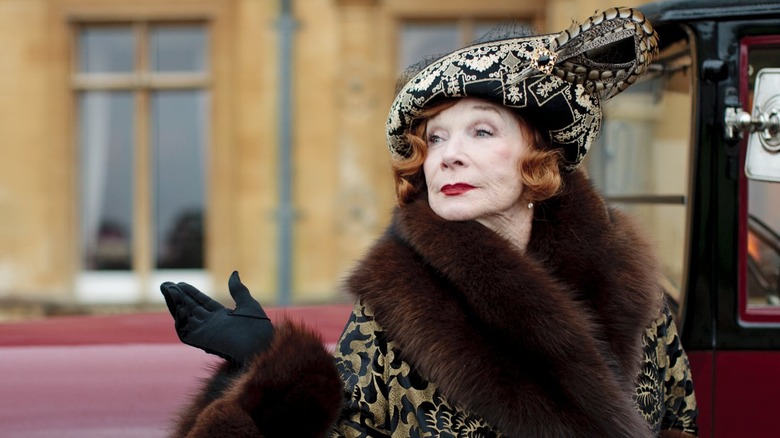 ITV
With her endless collection of incredible clothes and off-the-cuff remarks, Martha Levinson (Shirley MacLaine) is a spitfire who will never be tamed. The widow of Isidore Levinson and mother to Cora Crawley and Harold Levinson, Martha is unashamed of her ways and refuses to tone down her bold demeanor. Compared to her prim and proper European in-laws, Martha's freethinking American mindset and unfiltered thoughts are quite entertaining.
From telling Violet that she should let go of "history and tradition" to leading an unexpected sing-along at a party, Martha makes a lasting impression on anyone that comes her way. Some members of Martha's family might think that she's a harbinger of drama and chaos, but others adore her for her quick thinking, such as when she creates an indoor picnic at a moment's notice. But it's Martha's confidence that ultimately makes her not only a remarkable woman, but also a cherished character in the "Downton" franchise.
19. Robert Crawley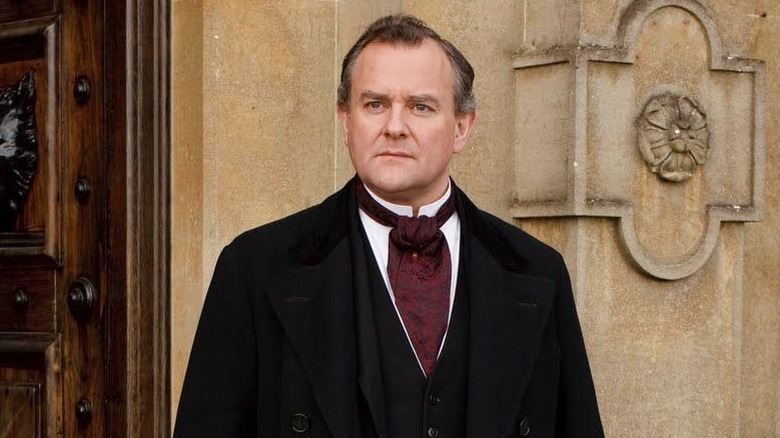 ITV
Remembered for his regal manner and fatherly energy, Robert Crawley is an odd character. Played by the charming Hugh Bonneville, Robert (also known as Lord Grantham) is often remembered more for his failures than his successes. Thanks to his poor handling of Cora's miscarriage, his petty attitude towards his daughters' life choices, and his terrible financial decisions, fans have not forgotten Robert's more problematic moments, although they shouldn't overlook his better ones, as well.
Given his mixed reputation, why should Robert be considered one of the best characters on the series? Simply, it's because Robert evolves emotionally. In a show full of despicable individuals who never apologize, seeing Robert take responsibility for his actions is refreshing. Look at how he handles Edith's baby, collaborates with Mary to care for the community, and insists on maintaining the health and wellbeing of his staff. Although Robert still has a lot more work to do, he should be acknowledged for these positive changes.
18. Isobel Grey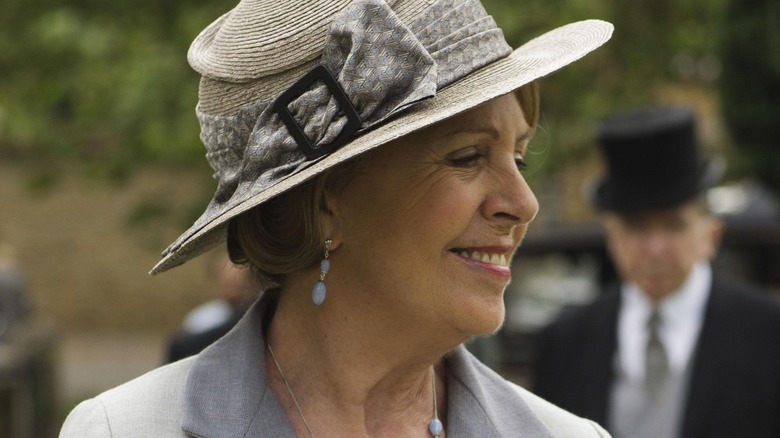 ITV
Known by casual fans as Matthew Crawley's mother, Isobel Grey (Penelope Wilton) is more than just a comforting background figure. A skilled nurse from a talented family, Isobel is a character who always has a surprise up her sleeve. She's known for being a career-focused woman who was ahead of her time, but she also values helping those in need. While many characters come to admire that quality, not everyone sees eye to eye with Isobel on the subject — Violet Crawley is one notable example. 
Yet, this difference in Isobel's moral compass is what makes her such a great addition to "Downton Abbey." She offers a new perspective on the rich members of the household, while also giving a voice to the underserved members of the community. She also tries to provide positive energy during dramatic moments, although her efforts sometimes end up a tad ridiculous. Through her ever-changing friendship with Violet Crawley, along with her interactions with Dr. Clarkson and Tom Branson, Isobel exudes charm and grace, even when under incredible pressure.
17. William Mason
The golden retriever of the Downton staff, William Mason (Thomas Howes) is fondly remembered as the wide-eyed, easy-going, piano-playing footman. Like Moseley, he faced quite a few trials, beginning with the passing of his mother and continuing with the torment Thomas Barrow put him through. But despite these challenges, William always found a way to come around in the end. His greatest strength was his loyalty to those he trusted, a quality that made many of Downton's residents admire him.
However, in season 2, William, like many of the characters, became involved in the war, leading to the most emotional arc of the character's short time on the show. With his drive to enlist and his unabashed love for the kitchen maid, Daisy, it's hard not to feel compassion for William. While his story ends on a much more tragic note than viewers had hoped, William's legacy is upheld not just by the characters of "Downton Abbey," but by the fandom as a whole.
16. Joseph Molesley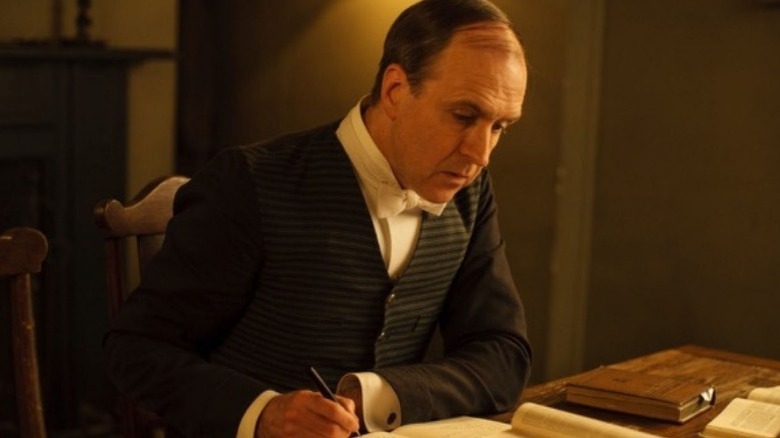 ITV
Known as an underdog with a heart of gold, Joseph Molesley (Kevin Doyle) is one of the more under-appreciated members of the "Downton Abbey" crew. Serving first as a butler and before becoming a teacher, Molesley faces some intimidating obstacles. Whether he's having his dream of being a valet constantly dashed, almost catching the Spanish flu, or not dyeing his hair quite right, Molesley truly knows how challenging life can be.
But it is Molesley's ability to triumph over these hurdles that makes him so endearing. That not only makes him a great teacher to his students, but also a fantastic friend to the Downton staff. From helping Daisy study for her exams to giving Miss Baxter the courage to face her own struggles, Joseph Molesley proves that you can achieve anything, even when the odds are stacked against you.
15. Edith Pelham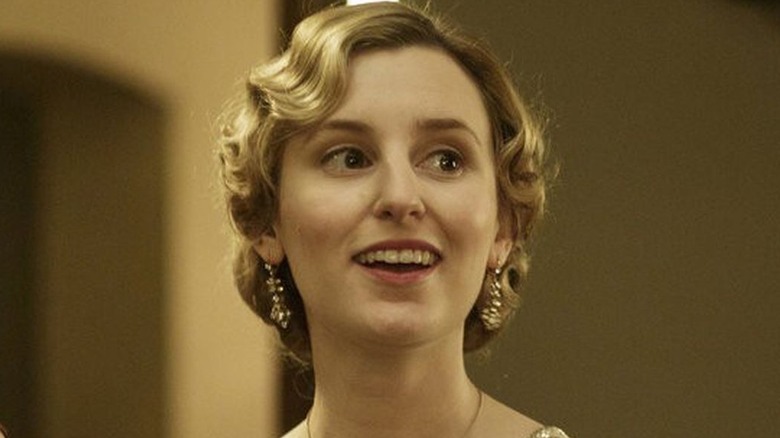 ITV
The middle child of the Crawley family, Edith Pelham (Laura Carmichael) has faced many trials throughout her "Downton Abbey" journey. From being left at the altar by a much older suitor to having to raise an unplanned child in secret, Edith often seems unlucky. However, Edith's jealousy and her constant rivalry with her sister, Mary, have resulted in some deplorable, life-altering altercations; there's a reason why many fans considered Edith to be one of the most annoying characters in television history.
But, as "Downton Abbey" progressed, viewers came to see Edith as more than the frustrating sister who faces endless misfortune. In fact, over the course of the show's run, Edith transforms into quite a refreshing and multifaceted character. She's not without her faults, but she does seem to change for the better when she stops feeling so sorry for herself, something reflected in her ever-changing career and her happy marriage to Herbert "Bertie" Pelham. While Edith will never be the most perfect Crawley to live at Downton, her emotional growth makes her a relatable and endearing protagonist.
14. Cora Crawley
Cora Crawley (Elizabeth McGovern) is as charming as a can could be. With her supreme hostess skills and down-to-earth manners, she's a fantastic wife to a husband who has a less-than-perfect track record. Regardless of Robert's questionable decisions, Cora is a master at keeping the Earl of Grantham in check, especially when he slips up during a public event or a crucial family moment. Who can forget the time when Dame Nellie Melba came to sing at their house, and Cora had to coach Robert through his ridiculous discomfort around the famous singer? Truly, Cora has the patience of a saint.
But this regal being truly shines when she is at her most vulnerable. Whether processing her various traumas or feeling unappreciated by her spouse, Cora can hit any curveball life throws her way. Her various arcs have tested both her moral strength and her most heartfelt emotions. Yet, despite these obstacles, Cora always knows how to keep her family (and her social life) together. When combined with her compassion towards her loved ones, Cora is both a friend anyone would want on their side and a role model to aspire to.
13. Daisy Mason
ITV
Introduced as the quirky scullery maid, Daisy Mason (Sophie McShera) has had quite the journey on "Downton Abbey." Like Matthew Crawley, she guides audiences through the show's world, but with a more grounded perspective. Although she's far from the most skilled individual on the staff, Daisy goes through quite the transformation during her time at Downton. From her wide-eyed encounters with Mrs. Patmore to her evolution into an accomplished sous-chef, Daisy's growth is one of the more fantastic aspects of the series.
While fans could argue that some of Daisy's choices, especially when it comes to her romantic life, are far from stellar, she has plenty of redeeming qualities, including her loyalty to Mrs. Patmore and her late husband William's father, Mr. Mason. In both of these friendships, Daisy shows that she is a woman who honors the past and her superiors. Sure, she's far from a perfect person, but she represents underdogs who just need a bit of support to succeed, something she accomplishes because of her hard work and the beautiful soul she has inside.
12. Lady Rose MacClare
A breath of fresh air from the moment she appears, Lady Rose MacClare (Lily James) is an underrated addition to the world of "Downton Abbey." In season 3, Rose makes quite an entrance with her amazing wardrobe, bubbly persona, and open mind. Though not as radical as her cousin, Sybil, Rose does dip her toes into the pond of rebellion from time to time. From romancing a jazz singer to going against her parent's wishes by converting to Judaism, Rose is a modern woman who stands up for what she believes in.
Though some fans might dismiss her as a replacement for Sybil, Rose is much more than that. She has an exquisite and effortless charm that lightens even the darkest places. Her unique aesthetic reflects the changing nature of youth culture, fashion, marriage, and everything in between. She knows what actual loss feels like, both romantic and otherwise. And, even when her family is threatening to abandon her, Rose risks everything for the ones she loves. Ultimately, Rose is an exceptional woman who serves as an example of how high-society traditions transform into modern ideals.
11. Tom Branson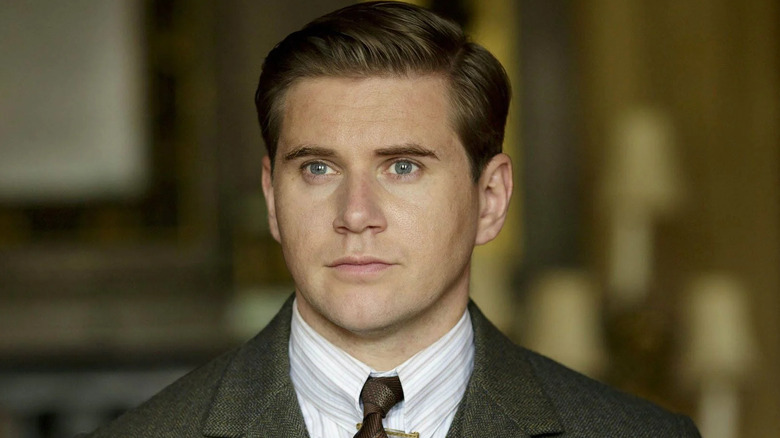 ITV
Known by many as the rebellious chauffeur, Tom Branson (Allen Leech) injected an exciting bit of drama into "Downton Abbey" when he debuted in season 1. An Irish-born socialist who Sybil describes as "frightfully full of himself," Tom has a passion for history that is at first praised by the Crawley household. But as his relationship with Sybil becomes more romantic, it is the drastic changes that Tom brings to the lives of Robert and his family that shift the course of "Downton" history.
Even with his chaotic energy, Branson eventually becomes one of the more mature characters in the "Downton Abbey" saga. The traumatic loss of Sybil and his growth as a young parent give Branson a down-to-earth perspective to a show that often focuses on its fairytale aesthetics. With his pride in his heritage and his devotion to important causes, it's nearly impossible not to love him. Both his heart and his ever-evolving mind make him a delight.
10. Sybil Branson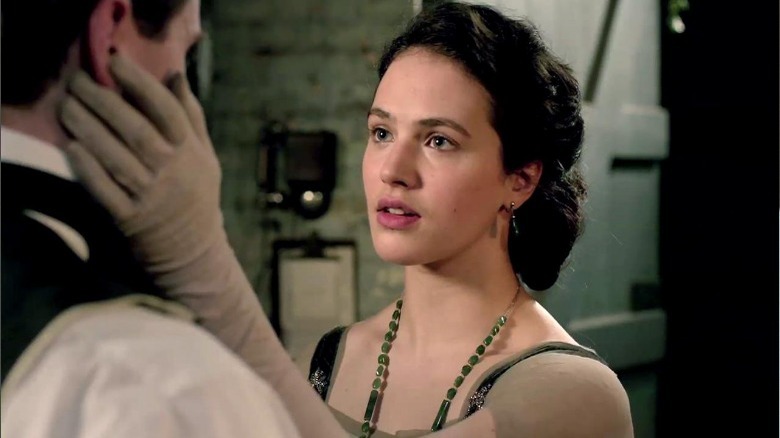 ITV
The youngest and most rebellious of the Crawley sisters, Sybil Branson (Jessica Brown Findlay) remains one of the most adored characters on "Downton Abbey." Not only did Sybil introduce harem pants to her high society family, but she also shifted traditions with her passion for politics. Even though most of her actions went against her family's wishes, Sybil always stuck to her gut. And yet, she still managed to shock her family by marrying the Irish chauffeur, Tom Branson, a decision that changed the entire Crawley's life forever.
It is that freethinking spirit that continues to make Sybil a fan favorite. From her stunning fashion sense to her beautiful heart, she's a character who is ahead of her time and continues to inspire viewers of all ages. And though her untimely death still stings, there's no denying the magic that Sybil injected into "Downton Abbey" as a whole. In many ways, she was the equivalent of a Disney princess, a remarkable heroine who left a gaping hole that the show struggled to fill.
9. Anna Bates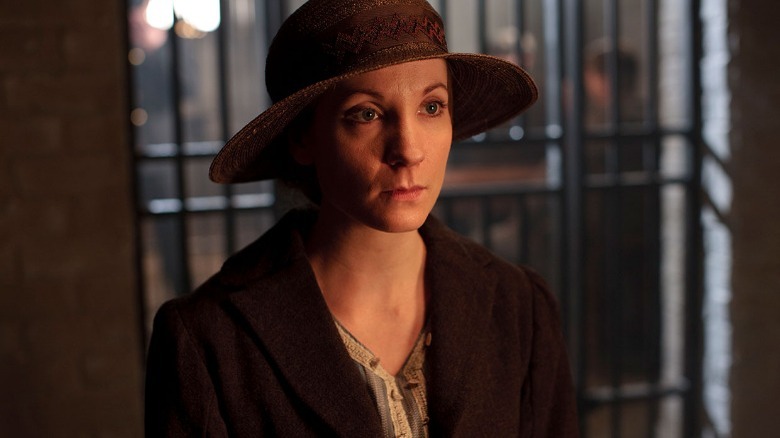 ITV
With her warm personality, Anna Bates (Joanne Froggatt) is among the most loyal and kind members of the Downton staff. Dishonest is a word not often found in Anna's moral vocabulary. Starting with her friendly relationship with Lady Mary, Anna established herself as being trustworthy almost to a fault, yet nothing compares with her pairing with the mysterious yet incredibly romantic Mr. John Bates.
When the two met, Anna found her soulmate, a person she was willing to do just about anything for. That being said, their bond is severely tested as the series progresses, as no pair goes through quite as much drama as Anna and John. However, Anna's strength and hope in spite of it all makes her an incredible character. No matter what mountain she has to climb, she always reaches the top with a smile on her face.
8. Beryl Patmore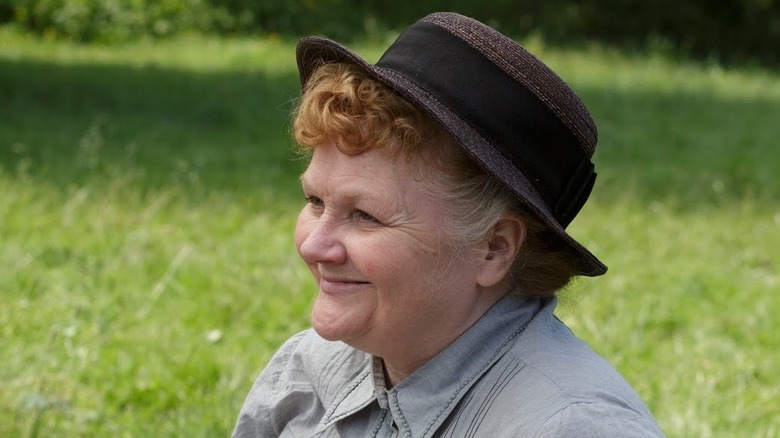 ITV
A beacon of love, life, and quick quips, Beryl Patmore (Lesley Nicol) is the epitome of the cozy cook found in British period dramas. A master in the kitchen, Mrs. Patmore is a woman who knows how to take charge. However, when modern technology begins to enter Downton, Beryl serves as a vessel for the cultural anxieties faced by the ever-changing service industry. This core aspect of Beryl's arc is what makes her one of the best characters in "Downton Abbey." Though the show takes place in the past, viewers should relate to the pressures of keeping up with an ever-evolving society, and the worries that changing norms can bring.
Similarly, almost everyone has a nurturing figure in their lives, although Beryl's benevolence isn't always as selfless as it seems. As little as Mrs. Patmore would want to admit it, the support she gives her friends (especially Daisy) is sometimes more a reflection of her stubborn ways than genuinely helpful advice. Yet, despite her flaws, it's hard not to adore Beryl for the love she wears on her sleeve.
7. Elsie Carson (aka Mrs. Hughes)
Elsie Carson (Phyllis Logan) is a delightful housekeeper who is known for her cuddly yet refined aura. Initially known to fans as Mrs. Hughes, this career woman knows how to get out of almost any situation. With her whimsical way with words and her comforting perspective on the world, Elsie can charm just about anyone — even the reserved man who eventually becomes her husband.
Elsie is never afraid to stand up for those who she loves. This comes up during the altercation between Mrs. Hughes and the valet, Mr. Green, a terrifying individual who sexually assaulted Elsie's beloved co-worker, Anna Bates. It is Elsie's devotion to her team and the Crawley family that makes her such a unique character. Not only is she a trusted co-worker and a fantastic housekeeper, but she's also the kind of friend anyone would be lucky to have.
6. Matthew Crawley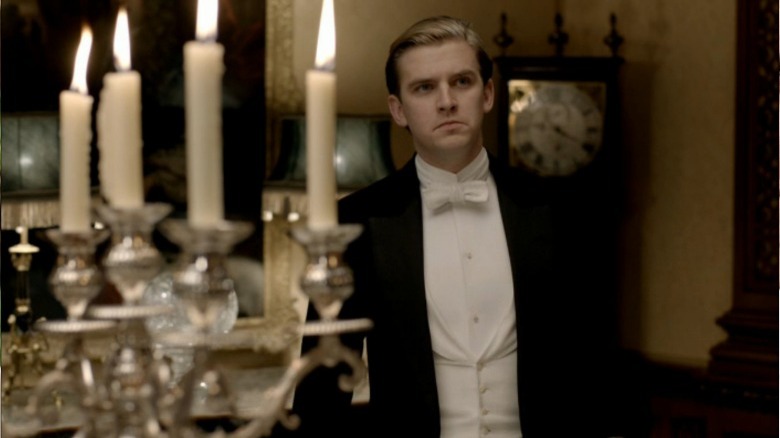 ITV
One of the most beloved characters in the franchise, Matthew Crawley (Dan Stevens) left a mark on the show and its fans that's lasted for years. Serving as an entry point into Downton's fantastical world, Matthew is an educated yet flawed everyman with the air of a fairytale prince. He's set to inherit the family dynasty, but that doesn't mean that he's without his human foibles. However, it was Matthew's relationship with Lady Mary that truly solidified him as a fan favorite. Not only did his story pay tribute to the most popular romantic heroes in pop culture, but Matthew's journey to become Mary's true love is the very definition of thrilling.
But not all fairytales have happy endings, as Matthew's final fate proved in spades. His traumatic death tore fans' hearts to shreds. And while some viewers could never return to the world of "Downton" after his passing, most of the audience still appreciates the impact that Matthew left on the series as a whole.
5. Thomas Barrow
With a chip on his shoulder right from the start, Thomas Barrow (Rob James-Collier) is one of the most complicated characters within "Downton Abbey." Remembered for his bullying in the first few seasons, it would be easy to give Thomas an unfavorable spot here. However, unlike Sarah O'Brien or Alex Green, Thomas goes through a satisfying emotional arc as the show continues. He doesn't have a spotless record, but he definitely redeems many of his bad choices over the course of the show's six seasons, as well as the spin-off films.
From his devotion to the younger members of the Downton household to saving Edith from a fire, Thomas has proven time and time again that, deep down, there is some good in him. Sure, some fans might argue that only "good" characters should be considered the best, but Thomas is a multifaceted individual who is a thrill to watch. He makes this list because he's far from perfect. Whether he's doing the right or the not-so-right thing, he's one of the most believable characters in the cast.
4. Lady Mary Crawley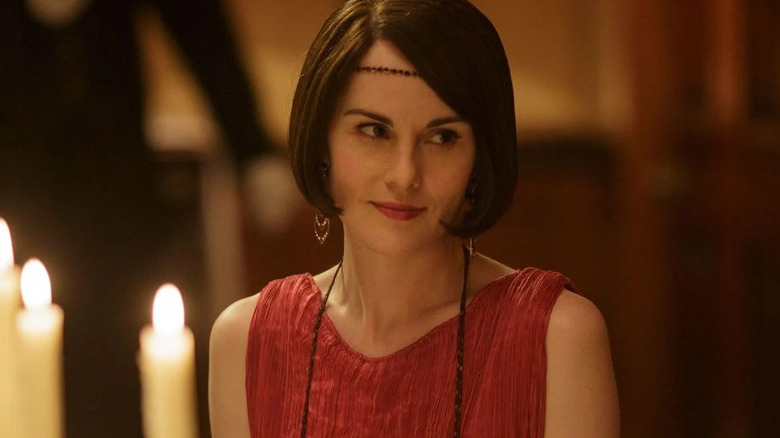 ITV
Stubborn and too posh for her own good, Lady Mary Crawley (Michelle Dockery) is one of the more dramatic members of the Downton family. Like everyone else, she's had her fair share of misfortunes, including having a dead man in her bed, losing her first husband in a car crash, and all of the romantic bumps along the road. Some fans think that Mary got what she deserved due to her terrible behavior towards Edith, but Mary learned from her mistakes, and her transformation from a selfish girl to a mature young woman is fascinating.
From her quest to gain respect from her father and the rest of high society to defeating scandal after scandal, Mary is a perfect example of a woman who defies all expectations to grow beyond her title. She is more than just a pretty, wealthy socialite — she's a believable and well-rounded individual.
3. John Bates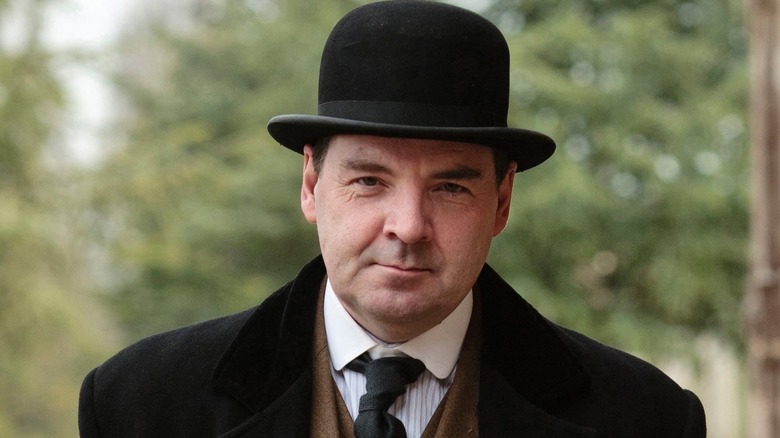 ITV
The first character viewers see as they enter the world of "Downton Abbey," John Bates (Brendan Coyle) is shrouded in mystery from the moment he sets foot on the property. A disabled veteran serving as the valet to the Earl, Bates is met with prejudice by the majority of the staff upon his arrival. Yet, as time goes on, Bates becomes one of the most treasured characters in the Downton household and the fandom at large. He is a good-hearted man trying to escape his troubled past, something that many viewers will relate to as the series progresses.
But the fans love Bates even more for his devotion to specific characters, especially Robert Crawley and Anna. Although his moral strength is tested numerous times, particularly by various figures from his past who return to ruin his life, Bates continually prevails, and eventually gets to live out the life he always wanted. This aspect of his character, along with the way he evokes tragic figures from other classics, makes Bates one of the best parts of the entire "Downton Abbey" story.
2. Charles Carson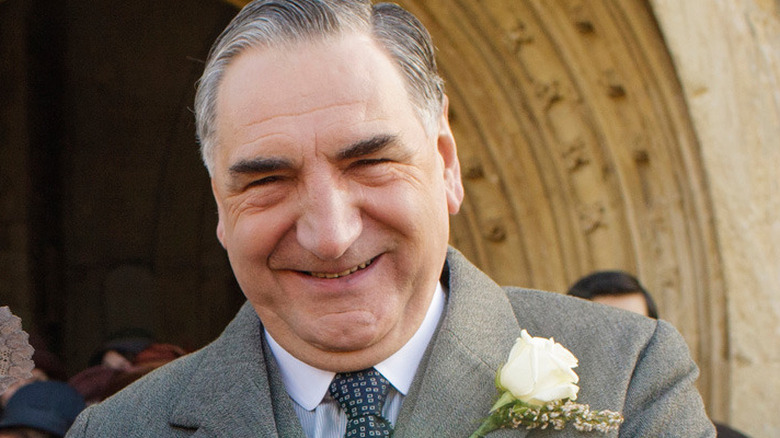 ITV
A man of professionalism and honor, Charles Carson (Jim Carter) is the glue that holds the Crawley family and their household staff together. Keeping Downton in working order, Carson is a no-nonsense boss who sees the good in people, even if he'd never admit it. Sure, he might not have the warmest approach when tackling sensitive subjects, but time and time again, Mr. Carson proves that his heart is always in the right place, especially when it comes to the various relationships he's fostered during his time at Downton.
From his fatherly relationship with Lady Mary to his vulnerable, romantic partnership with his future wife, Mrs. Hughes, Carson is an example of traditional chivalry tempered by a dash of old-fashioned emotion. But it's Mr. Carson's quirkier side that really made audiences fall in love with him. Even someone as polished as this experienced butler has a theatrical past, and though he's ashamed of his old self, it's almost impossible not to adore Mr. Carson, flaws and all.
1. Violet Crawley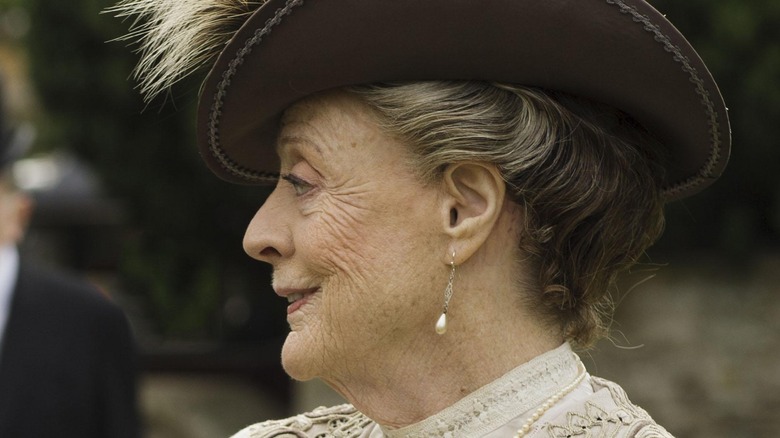 ITV
Filled with tradition and sass from head to toe, Violet Crawley, aka The Dowager (Dame Maggie Smith), is the secret sauce of the "Downton" franchise. Not only does she provide some of the funniest moments throughout the series, but she also stands as an example of the old guard that exists within the Crawley family. Fans could debate who is the most iconic and beloved character in the series. Yet, with her laser-sharp wit (especially when pitted against Isobel), it's hard to deny Violet that most distinguished of pop culture titles.
But at her core, the aspect that makes Violet the best amongst a cast of fantastic characters is her more down-to-earth moments. The scenes where she breaks away from her strict traditional values and sees her family members as complicated human beings. And when Violet lets her own guard down (like she does after seeing her old flame, Prince Igor Krugan), the vulnerability she has on display makes her even more enchanting to watch. Overall, The Dowager Countess is a magnificent creature that will continue to be admired throughout the ever-changing landscape of television history.