Downton Abbey: A New Era Teaser Trailer: Be Warned, The British Are Coming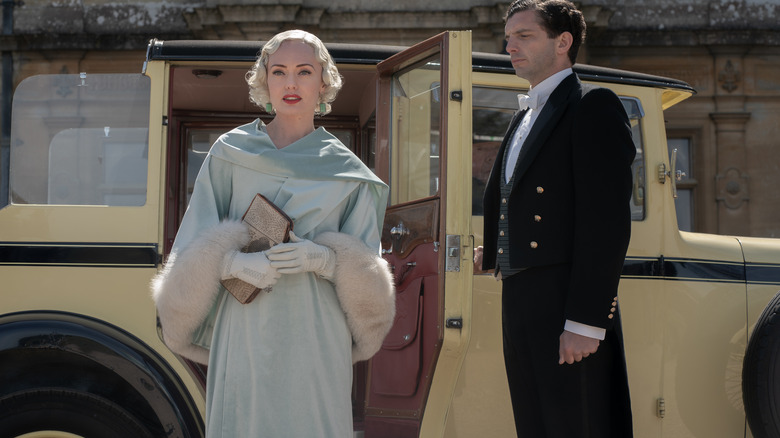 Focus Features
It's the grandest escape of the year and "Downton Abbey" enthusiasts are cordially invited. The hit British historical television series (which is a favorite of Jon Favreau's Happy Hogan, notably) lasted for six seasons — or series, as the Crawleys themselves would call it — between its debut in 2010 and its seeming conclusion in 2015. Of course, fans were delighted when the well-received 2019 "Downton Abbey" film revived the property and continued the story, with the Royals themselves descending upon the Crawley clan's Yorkshire-set country house. We've known that the sequel would be titled "Downton Abbey: A New Era" and that we could expect a release in March of 2022, but otherwise plot details have been kept largely under wraps. That said, our recent first look at the new sequel couldn't hide the fact that there will be wedding bells in the offing. This latest teaser trailer continues to play things close to the vest, but any new details at this point is sure to be a welcome sight. Check out the new footage below.
Downton Abbey: A New Era Teaser
Take away the five seconds of teaser for the actual teaser at the very beginning (is there anyone out there who actually likes this trend?) and the remaining 10 seconds of dead air at the end, and this already-brief minute and a half of footage suddenly becomes even shorter. But that's okay, isn't it? Light on plot as it is, teaser trailers are meant to merely establish the mood and get viewers on board — which are two things that longtime "Downton Abbey" fans hardly even need, at this point.
"Downton Abbey: A New Era" is directed by Simon Curtis ("My Week with Marilyn," "Goodbye Christopher Robin," "The Art of Racing in the Rain"), who steps in for Michael Engler ("Sex and the City," "30 Rock," "Unbreakable Kimmy Schmidt") after he helmed the 2019 film. Both movies were written by "Downton Abbey" creator Julian Fellowes ("Gosford Park," "From Time to Time," "The Tourist"), who returns after making such an indelible mark on the series and is bringing back most of the original cast, as well. "A New Era" stars Michelle Dockery as Lady Mary Talbot, the overseer of the estate and a major figure in the ensemble. Joining her are Hugh Bonneville as Robert Crawley, Laura Carmichael as Edith Pelham, Elizabeth McGovern as Cora Crawley, Allen Leech as Tom Branson and, last but not least, Maggie Smith as Violet Crawley.
Focus Features also released a new poster for the film, which you can see below. "Downton Abbey: A New Era" arrives with much fanfare to theaters on March 18, 2022.