Julian Fellowes Isn't Sure If Downton Abbey: A New Era Is The End Of The Series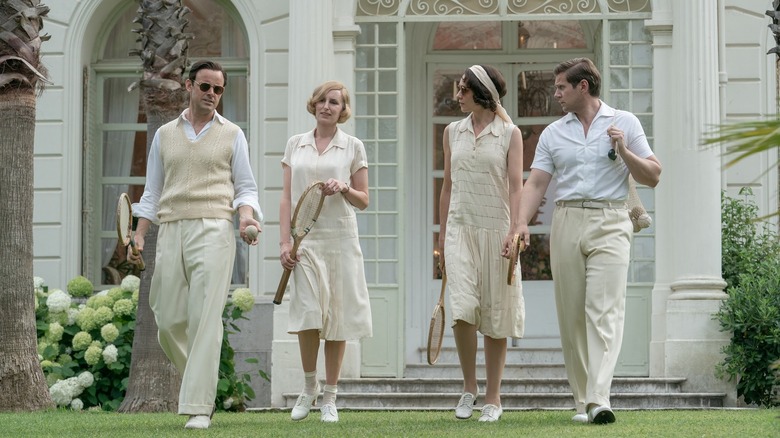 Focus Features
When your movie features a subtitle like "A New Era," I think it's safe to say that it opens the possibility of more "Downton Abbey" on the horizon. The second theatrical feature film from series creator Julian Fellowes ("The Gilded Age") and director Simon Curtis ("My Week With Marilyn") sees the aristocratic Crawleys scrambling after learning that the Dowager Countess (Maggie Smith) has inherited a villa in the south of France. I had thought it was a vibrant return to this world that gave some legacy characters closure, while introducing a new path for others.
While the series features its share of arcs, "Downton Abbey" doesn't exactly have a tangible endgame in sight, besides the inevitable collapse of the Crawley's opulent lifestyle. It was hinted at in the last scene of "Downton Abbey: The Motion Picture" with Ms. Hughes (Phyllis Logan) saying "we'll see," with the assertion that the Crawleys will still be running Downton in 100 years. With the promise of "A New Era," however, Downton's future seems open to anything. When asked by NPR about whether "Downton Abbey" would keep going, Fellowes seemed unsure for the moment.
"I'm not going to go on forever. So I think there would be a real difficulty getting "Downton" to go on forever. Whether it's come to an end or not, I couldn't tell you."
Major spoilers for "Downton Abbey: A New Era" ahead, so this is your WARNING.
Downton's new era appears up in the air
Focus Features
"Downton Abbey" scribe Fellowes has been steering the ship since its conception, so if anyone were to determine whether these characters will grace the screen again, it's him. Within the NPR interview, Fellowes seems to leave Downton's future in the hands of an evolving media landscape:
"You know, I mean, one of the other things is that during the lifetime of 'Downton,' the whole nature of showbiz, of how you make films, of how they're released, the platforms – all of this is different from what it was 15 years – I mean, quite different. Now, of course, people complain about it one way. But I think it also is constantly throwing up new opportunities, new chances, new ways of doing things. And, you know, I like that. I think that's interesting. And I like being part of it. So if 'Downton' is to be reborn in a different shape or size, then, you know, I hope I'm part of that."
This ensemble is the glue that keeps "Downton Abbey" running, and by the end, some characters who have been there since the beginning have had their stories wrapped up. Thomas Barrow (Rob James-Collier) is heading off to America to finally live out his best queer life with suave movie star Guy Dexter (Dominic West). Mr. Molesley (Kevin Doyle) is engaged to the love of his life Phyllis Baxter (Raquel Cassidy), in addition to becoming a full-time screenwriter. And most importantly, the Dowager Countess has passed away, leaving Lady Mary (Michelle Dockery) with the responsibility of being the Crawley matriarch. The series won't be the same without these characters, but it wouldn't be the first time this series has had to move forward without some of its principal players. 
"Downton Abbey: A New Era" is now streaming on Peacock.