What Kevin Doyle Found Fascinating About Filming Downton Abbey: A New Era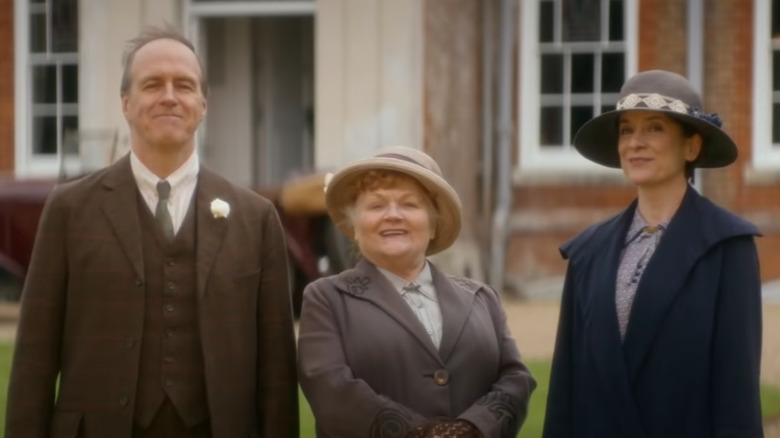 Focus Features
If I haven't made it clear in my other articles surrounding the release of "Downton Abbey: A New Era," then allow me to repeat myself in saying that Kevin Doyle's Mr. Molesley is my favorite character of the series, second only to Dame Maggie Smith's Dowager Countess. While most of the characters on "Downton Abbey" have their likable qualities, Mr. Molesley has consistently proved to be a huge source of the series' heart. He's a big goofball who may fumble over himself trying to impress the Crawleys, but that's what makes him so lovable. Mr. Molesley's admiration toward lady maid Phyllis Baxter (Raquel Cassidy) in the later seasons is a prime example of how much of a kindhearted gentleman he can be.
Doyle is inherently great at physical comedy when it comes to the character, whether he's devouring the dance floor like no one's watching (even though all eyes are undoubtedly on him) or realizing he's embarrassed himself. The moment from the first "Downton Abbey" film when it slowly dawns on him that he let Downton's big switcheroo downstairs slip to the royals will never not be funny. The character is always nice to see pop in, and with "A New Era," Mr. Molesley is given probably his most significant development in the series.
While half of the Crawley clan is away investigating the dowager countess' mysterious villa inheritance, Downton is overtaken by the magic of cinema, as director Jack Barber (Hugh Dancy) plans to shoot his romantic silent drama within the manor. There's just one problem. About a quarter through filming, production is shut down because the silent era is pretty much on its way out. The only way for things to move forward is to make the film a talkie, which piques the interest of Mr. Molesley.
The changing landscape of talking pictures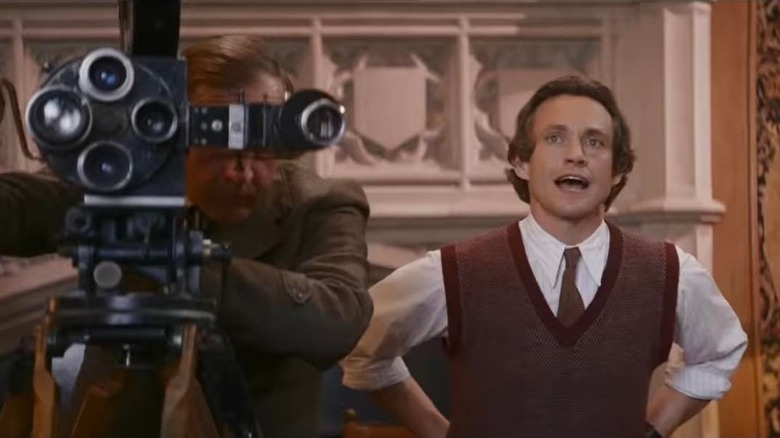 Focus Features
While speaking with Total Film, Kevin Doyle couldn't contain his excitement at how much he enjoyed the experience of revisiting the exciting era in film history:
"I hadn't realised how precarious the business was and how quickly it changed from the world of making silent movies to the need to change them into talkies ... There's a sequence in the script, certainly, where your characters, Michelle and Hugh, go to the cinema, and it was a silent film, right? There's an enormous, long queue to see the talkie. I hadn't realised that aspect of film history, so that was fascinating. Watching them doing the film within a film was just such a joy to watch, too, actually. Watching Dom and Laura 'doing the acting' was just so gloriously over the top."
It appears Doyle's enthusiasm certainly matches that of Mr. Molesley. He gets a lot to do here, opting to drum up a screenplay to match what's already been shot. I've never seen this character more enthused for anything. "Downton Abbey" is no stranger to covering historical events, and "A New Era" gets to have fun with it. The film kind of turns into a "Singin' in the Rain"-type comedy as the Downton crew scrambles to make the movie happen. 
The operatic performances of silent films now needed to back up its expressive actors with the voices to go with it, and unfortunately, some actors couldn't transfer over. "A New Era" isn't exactly the most detailed film history lesson, but for those that may not have known that silent films were presented with live orchestration, or that sound needed to be recorded through a record player, it's a neat presentation of a bygone era.
"Downton Abbey: A New Era" is currently in theaters nationwide.