Dame Maggie Smith Wasn't Exactly Thrilled With Her Downton Abbey Role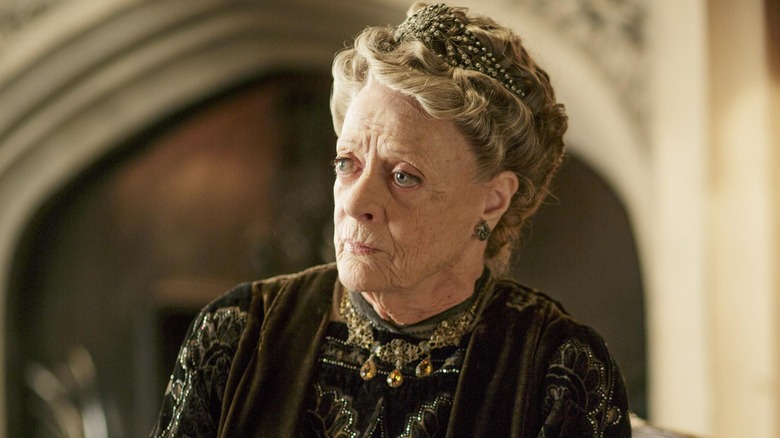 PBS
With "Downton Abbey: A New Era" set to open in theaters nationwide soon, fans of the British television series-turned-films are excited to see the tremendous ensemble back on the screen. When you have a cast this talented, people are likely to form attachments with some of their favorite characters, and in the world of "Downton Abbey," there's plenty to choose from. There's certainly a huge following for characters like Dan Stevens' Matthew Crawley or Jim Carter's Mr. Carson. I'm partial to the kindhearted Mr. Molesley, played by the ever-charming Kevin Doyle, but for my money, which Robert Crawley (Hugh Bonneville) would happily take from me, the greatest character to grace "Downton Abbey" is none other than the Dowager Countess herself, Violet Crawley (Maggie Smith).
Dame Maggie Smith has been with "Downton Abbey" from the very beginning in 2010, and continues to occupy a special place with the series. In fact, the events of "A New Era" are put into motion because of the Dowager's mysterious past. If I were series creator Julian Fellowes ("The Gilded Age"), I would want to use as much of Smith's natural charm as much as I could. One of the greatest things about her in this role is that the Dowager is often one of two things: the comedic relief, or the voice of reason.
Smith's dry wit is performed with the utmost sincerity, and she's not averse to letting the family know what she thinks of their problems. Whether she's on the losing side of a conversation or not, the Dowager will have no trouble finding the right words to make fun of you. The amount of compilations featuring her greatest moments on YouTube are a black hole you'll never find the end of. Whenever the Dowager Countess was in the same room as Cousin Isobel (Penelope Wilton), you knew you were in for a good banter back and forth. She is a legend unto herself, which makes it so strange that the "Harry Potter" actor doesn't exactly think highly of her work in "Downton Abbey."
Maggie Smith is understandably tired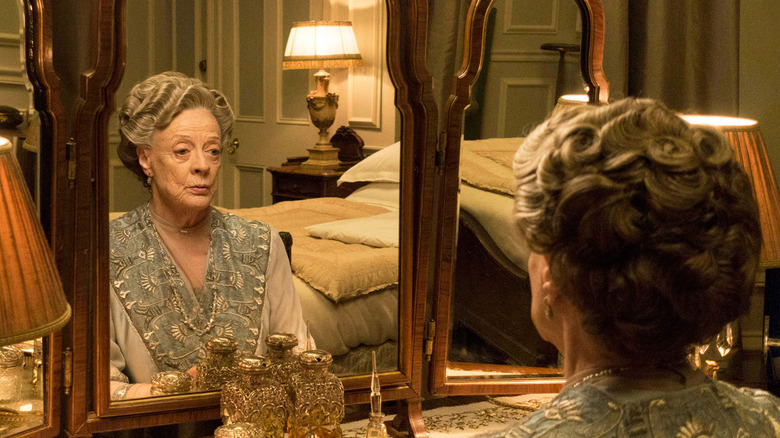 PBS
A report from Hello! magazine recounts how Smith told ES Magazine how she truly felt about the roles that graced her career in the past few decades:
"I am deeply grateful for the work in 'Potter' and indeed 'Downton' but it wasn't what you'd call satisfying. I didn't really feel I was acting in those things."
Smith has been in the industry for a good long while and even earned an Academy Award for Best Actress in "The Prime of Miss Jean Brodie." And yet, despite appearing in films since her screen debut in 1958 ("Nowhere to Go"), Smith's legacy is ultimately built upon the contemporary foundation of "Harry Potter" and "Downton Abbey."  Right around the time that rumors were swirling of what would be the first feature film, Smith hilariously had this to say to the British Film Institute about the Dowager's return: "I was firmly convinced it would start with the funeral. ... I could croak it and it would just start with the body." Speaking about how "Downton" changed her life:
"I led a perfectly normal life until 'Downton Abbey.' I'm not kidding. I'd go to theaters, I'd go to galleries, things like that on my own. And now I can't and that's awful. The Fulham Road's dodgy!"
It's like the Marvel Studios machine in a way. Once you sign up, who knows when you'll be able to pull out to do other things? Years later, even though the last "Downton Abbey" film ended with a heartfelt conversation between the Dowager and Lady Mary (Michelle Dockery) about her impending death, which you think would serve as a goodbye of sorts for the character, Fellowes somehow found a way to make her a huge part of "A New Era."
Let it be done with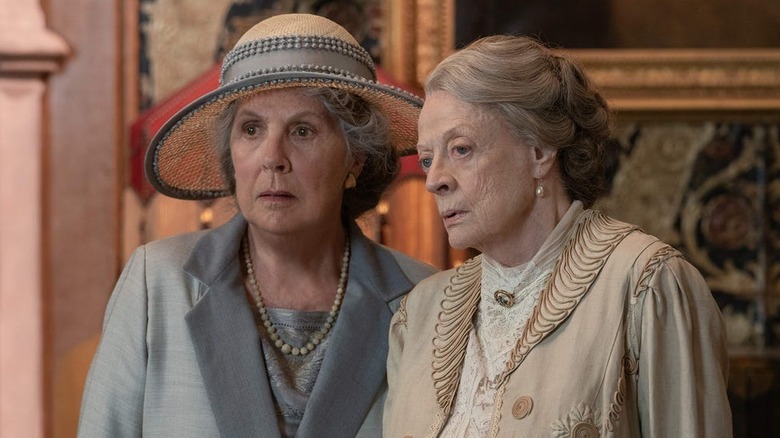 Focus Features
What makes all of this really funny to me is that Maggie Smith's bluntness about her "Downton Abbey" role is close to how the Dowager Countess would answer that kind of question, albeit in a different context. If you watch her appearance on "The Graham Norton Show," which took place right around the time "Downton Abbey" the television series was ending, you can see zero hesitation on her part when Graham asks her if she's glad it was coming to a close. Even after she hears the audience sound sad, she stands her ground and even provides a hilarious reason as to why:
"No, because honestly, she was about — by the time we're through — she must've been 110. So, I couldn't go on and on and on. I couldn't. It just didn't make sense."
I was an avid watcher of "Downton Abbey," and I'm glad that all she wants to do is rest. Smith thought she was done after 52 episodes, let alone two feature films she hadn't anticipated. It's like trying to leave a conversation at the party by slowing moving away from the other person, only for them to find something else they want to add, but you don't want to move out of looking rude. Regardless, Smith is wonderful in the upcoming "A New Era," and while it doesn't appear that she'll be enjoying the performance, I'm sure the fans of "Downton Abbey" will likely find her appearance an endearing and emotional one.
"Downton Abbey: A New Era" will be released in theaters nationwide on May 20th.