The Reason Dan Stevens Walked Away From Downton Abbey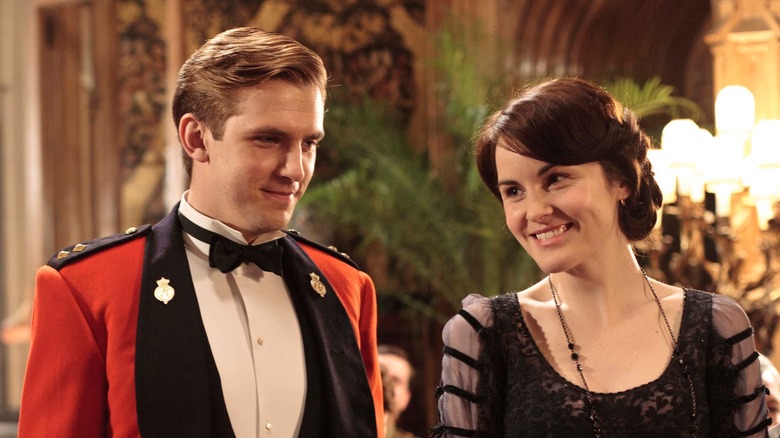 PBS
As "Downton Abbey: A New Era" fancies its way into theaters this month, fans of the hit British soap opera are bound to revisit the series prior to the new film. The posh and romanticized drama of aristocrats and their downstairs staff is known for many things, but its stellar cast of characters is perhaps its best asset. As with every fandom, everyone has their favorites. Maggie Smith's Dowager Countess is probably mine, as she knows how to wring a dry joke out of any situation. But then there's also the bumbling and courteous Mr. Molesley (Kevin Doyle), whose earnestness is as big as his heart. But for many, one character's popularity hasn't waned, despite exiting from the series over nearly a decade ago.
To some, Dan Stevens is the Beast in the dreadful "Beauty and the Beast" remake, and to others, he's a terrifying merchant of death in the cult hit "The Guest." But to the fans of "Downton Abbey," he's the dashing and handsome Matthew Crawley. In line to inherit the Downton estate, Matthew was propped up as a romantic interest to Lady Mary (Michelle Dockery) at the start of the series. Because soap operas are gonna soap opera, complications get in the way, delaying their inevitable pairing.
It wasn't until the Christmas special of season 2 that the two finally make the long-awaited decision, in which Matthew presents Lady Mary with an impromptu winter wonderland proposal out in the snow. The pair is married at the start of season 3, and by that year's Christmas special, they produce a healthy baby boy. For the first time in a long time, a bright future at Downton lies ahead — and then that devastating last minute happens. Needless to say, it sent loyal "Downton Abbey" viewers into a state of shock.
Crash and urn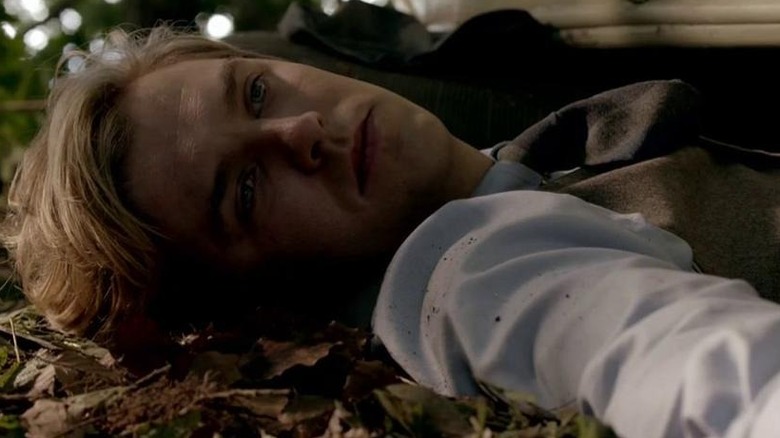 PBS
Having just laid his eyes on his newborn son, Matthew is seen driving in the countryside with the biggest smile on his face, his hair flowing through the wind. It all seems too good to be true, and that's because the series was about to throw a major curveball at its viewers. A truck appears from the other side of the road, and before you know it, Matthew is immediately killed in a sudden car wreck. A major death in any television show is bound to elicit a reaction, let alone a fan favorite, but this tragic moment is still felt to this day, according to Dan Stevens.
In an interview with The Australian, the "Legion" star broke his silence on Matthew's abrupt exit from the series. He mentioned that he didn't want to find himself typecast in the role and that this was the perfect time to drop out. Apparently so many viewers were in denial to the point that Stevens still has people asking him about his return to "Downton Abbey" all these years later:
"I left that show eight years ago now. Film executives — people who really should know better — say, 'Are you in the movie?' I'm like, 'Did you watch the show? Do you know how that ended?'"
According to series creator/writer Julian Fellowes ("The Gilded Age"), Stevens had no interest in wrapping things up with Matthew in a bow. He told The Express: 
"Dan would not stay — he was determined to go ... I tried to persuade him to come back just for one episode of the next series so we could give Matthew and Mary a happy ending, but he wanted to go off to America."
A new era for the series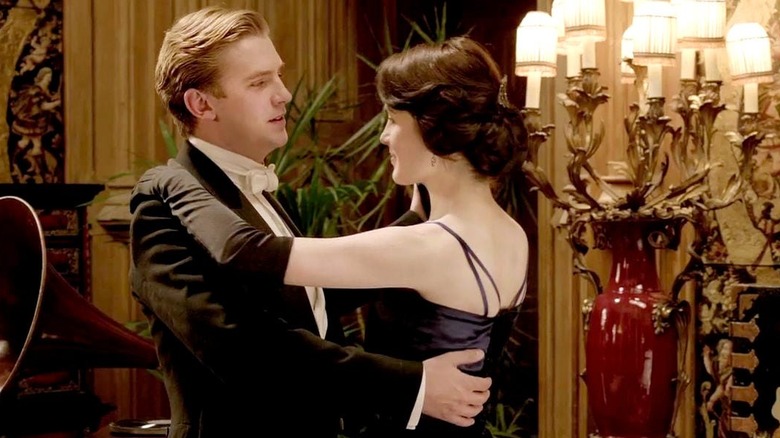 PBS
Not since the delayed death of Jessica Brown Findlay's Lady Sybil earlier in season 3 has a ripple effect been this strong throughout the series run, so taking Matthew out right afterward meant "Downton Abbey" had lost not one, but two of its most charming characters. Season 4 was a bit of a turning point for the series, as it had to address Matthew's absence, as well as Lady Mary's grief. Even Siobhan Finneran's scheming Miss O'Brien was gone without a trace. The series maintained itself well over the course of its remaining three seasons, but it hardly recaptured the same spark and energy of the show it once was with these characters.
With that said, "Downton Abbey" is still going strong without Stevens, as both feature films are delightful excuses to hang out with the characters again. Despite leaving in such hasty fashion, according to Us Magazine, thankfully Stevens holds no ill will toward the show, and that the parting was ultimately a personal choice he had to make for himself and his career:
"I'm incredibly grateful for everything that that role and that show gave me ... And also, you know, learning to put my faith in fortune, I guess, and following instinct, and following the advice of good people around me."
"Downton Abbey" is now streaming on Peacock and Amazon Prime.