Elizabeth McGovern Doesn't Think Her Downton Abbey Character Has Any Power Whatsoever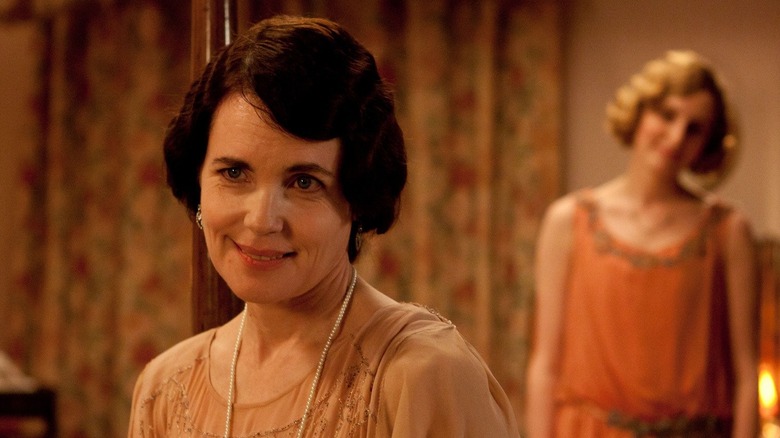 PBS
Between the sheer amount of near-scandals, committee disagreements, and countless strifes over who deserves whose inheritance, there's hardly a dull day at "Downton Abbey" when you're a member of the Crawley family. If there's one constant you can always find within the series, it's the aristocratic family desperately trying to hold onto the estate, while the constant evolution of the outside world signals their way of doing things is slowly on its way out.
The whole power distribution at Downton has been exchanged, altered, and reverted back to its original course over the course of the series, but the one player whose role in the estate seems pretty minimized in all this is that of Cora (Elizabeth McGovern). As an American dollar princess marrying into British nobility, Cora was granted the title of Countess of Grantham, standing alongside her husband, Robert Crawley (Hugh Bonneville), and that's about it. Her inherent wealth was shared in the Crawley name to keep Downton afloat ever since she joined the family.
Since only a male Crawley can inherit the estate, and the pair produced three daughters, the only thing keeping her tied to the interest of Downton throughout the series is their eldest daughter, Lady Mary (Michelle Dockery), marrying another Crawley. If you remember, after all, the catalyst for the series' central conflict involved the death of Downton's only heir by sheer inconvenience of being aboard the Titanic. And even when Mary eventually married Matthew (Dan Stevens), Cora's role in running Downton, which wasn't much, depended on how well she was able to rein in Robert's impulsive investment sensibilities. The lack of agency is a sentiment McGovern herself shares in playing the character.
Being a woman in the Crawley family sucks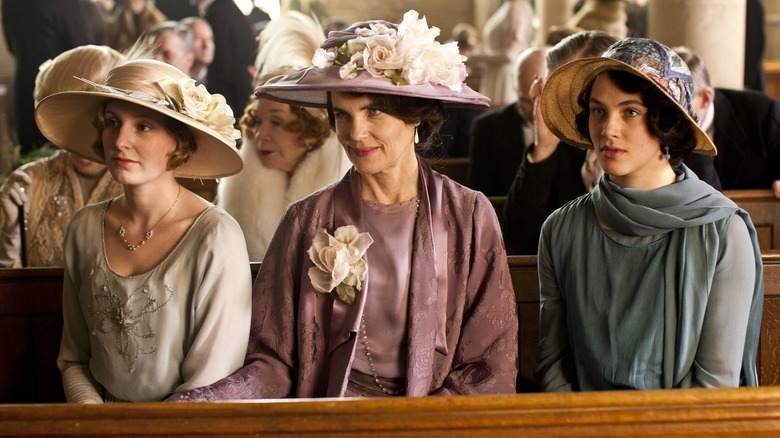 PBS
Cora has proven herself useful in "Downton Abbey," whether it's investing herself in the local hospital or attempting to keep the family together with the strongest of bandages, but frankly, her predicament is less than favorable, especially since Robert had originally married her for her money to keep Downton afloat. The hothead would practically be nothing without her, financially and emotionally. While speaking with Variety, McGovern reiterates the depths of inequality in her place among the Crawleys:
"She has no power even over their own money. It's quite straining that and it goes across generations — when Cora's children grow up and when Mary marries, Mary then completely takes over the running of her mother's house. Cora very graciously steps aside. It's a really interesting challenge for me, because it feels like I have absolutely no control or power, or really a role, in any way. Which is kind of a challenge to play. But it's very real."
While the Crawleys seemed to have stripped her of any meaningful role in the estate, there's nothing she wouldn't do for the family. Although it must be insanely difficult when you're married to someone like Robert. McGovern adds how her status inadvertently affects her daughters:
"I imagine today that if my two girls grew up and I was expected to step aside while they ran my own house, that would be a really serious adjustment for me. But it's also interesting how Edith has a whole storyline now that she's achieved this power, but still feels utterly powerless in her life. There's nothing she has any control over."
The women of Downton Abbey persevere in spite of its patriarchal constrictions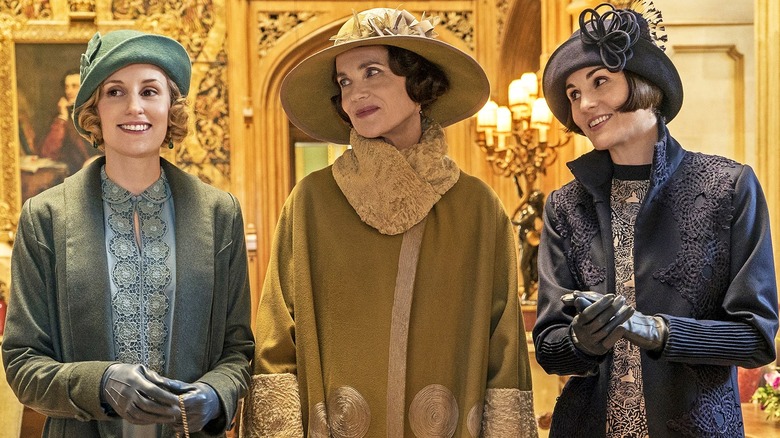 Focus Features
Where "Downton Abbey" shines is showing its women, both the Crawleys and their downstairs staff, trying to take control of their own lives as the times were inevitably changing. With that said, since the series is a fairly family-friendly melodrama, minus the affairs, sexual assaults, and that one time Robert became a blood geyser at the dinner table, it tends to skirt along the line of life being a worse scenario for everyone in actuality. But in the world of "Downton Abbey," things just kind of work themselves out. 
Edith Crawley (Laura Carmichael)  becomes a successful writer. Mary eventually helps to run the estate with Tom (Allen Leech) after Matthew leaves his inheritance to her in an impromptu will. No one would dare mess with the witty matriarch Violet Crawley (Maggie Smith). And although eclampsia took poor Sybil (Jessica Brown Findlay) far too young, her life up to that point had been one of fiery rebellion and wanting to help people, prompting her to become a nurse.
But despite the ways in which the women of "Downton Abbey" succeed on television, McGovern (via Vulture) seems to feel grateful to not be living through Cora's fate in reality:
"I always feel such a relief to step out of the period when we're done filming because it's like, God, I have a voice and have some control! Even though I'm just playing a part, I find that this feeling of being straight-jacketed is really palpable. In no way, even in my most sentimental moment, do I actually want to live in that period."
"Downton Abbey: A New Era" is currently in theaters.