Godzilla And The Titans Apple TV+ Series: Everything We Know So Far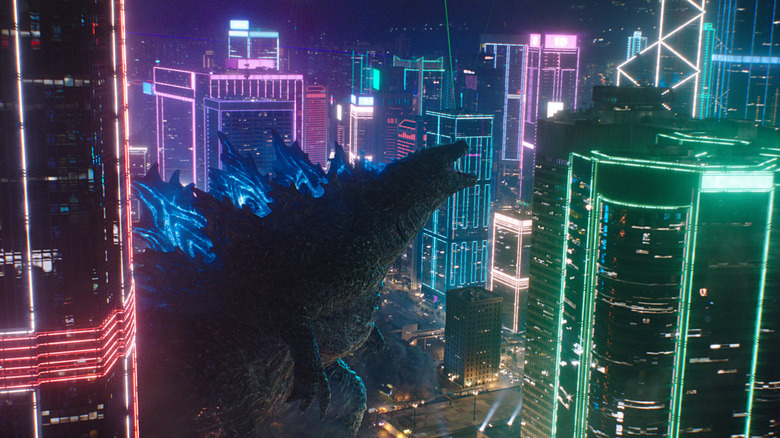 Warner Bros. Pictures
Are you really a shared universe if you don't have a streaming series? That appears to be the prevailing logic in Hollywood right now. The Marvel Cinematic Universe, DC Extended Universe, and "Star Wars" all have one or several streaming shows at this point, with many more on their way. Joining them is the MonsterVerse, which is currently four movies deep after "Godzilla" (2014), "Kong: Skull Island," "Godzilla: King of the Monsters," and "Godzilla vs. Kong" (with the sequel to the latter scheduled for 2024). Along with Netflix's "Skull Island" animated TV series, there's also a live-action Godzilla and Titans (note: this is not the finalized title yet, no official title has been announced) show moving forward at Apple TV+.
Given the Godzilla and Titans show will, for budget reasons, have to focus more on humans than Titans, does it seem a good idea? Maybe! "Godzilla vs. Kong" is, to quote /Film's Chris Evangelista in his review, "what this franchise has been building towards: a movie about monsters, not humans." It also showed why all those puny humans are actually really vital to this property: they provide a sense of scale and emotional stakes for the action. Otherwise, you just end up with two hours of CGI kaiju clobbering each other. It sounds great in theory, but in motion, it gets tedious faster than you'd think.
With all that in mind, here's everything we know about the "Godzilla and Titans" series so far.
What is Godzilla and the Titans about?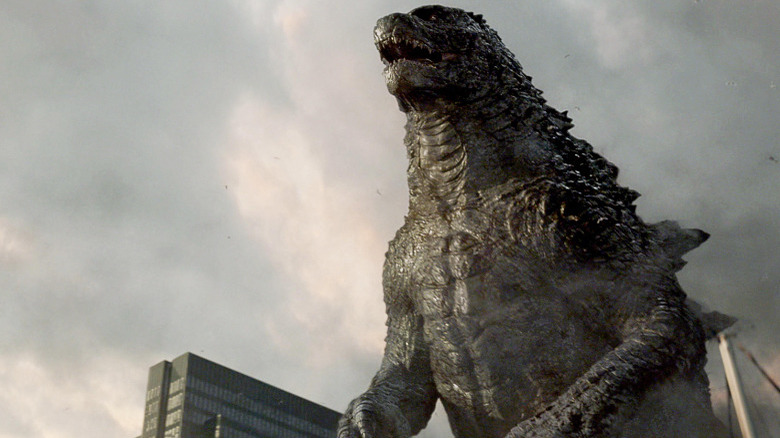 Warner Bros. Pictures
Here's the official logline for the Godzilla and Titans series:
Following the thunderous battle between Godzilla and the Titans that leveled San Francisco and the shocking new reality that monsters are real, the untitled Monsterverse series will explore one family's journey to uncover its buried secrets and a legacy linking them to the secret organization known as Monarch.
Judging by this, it seems the Godzilla and Titans show is set between "Godzilla" (2014) and "Godzilla: King of the Monsters," leaving the aftermath of "Godzilla vs. Kong" to be explored in the sequel. This kind of sequel-prequel (inter-quel?) franchise-building is closer to what "Star Wars" is doing with series like "Obi-Wan Kenobi" and "Andor" than the more sequential approach of the MCU and DCEU, which could be both a good and bad thing. The upside, of course, is that it offers an in-canon reason for why Godzilla and Kong aren't around (neither are unusually active at this point in the MonsterVerse timeline). At the least, it spares the show's cast from having to deliver, "Oh, darn it, you just missed Kong"-style exposition.
Who is working on Godzilla and the Titans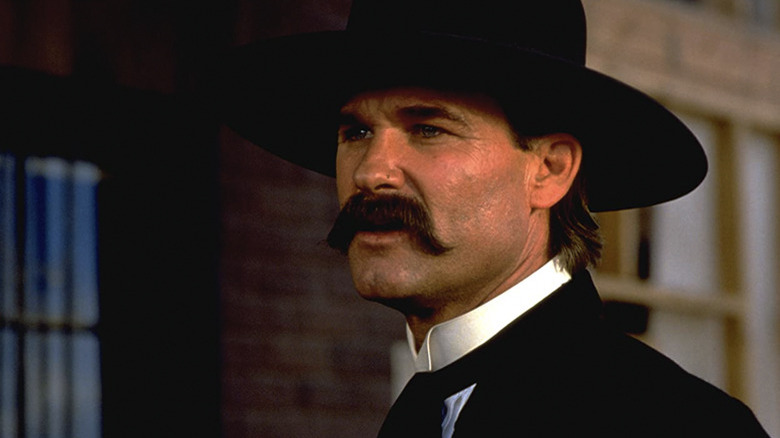 Buena Vista Pictures
Father and son Kurt Russell ("Tombstone") and Wyatt Russell ("The Falcon and The Winter Soldier") have joined the cast of the series in unknown roles. 
Apple TV+ has confirmed several cast members for the "Godzilla and Titans" series, along with some generic but still noteworthy details about their characters. The show's cast includes Anna Sawai ("Pachinko") as Cate, a former schoolteacher who "uncovers a family secret" after traveling to Japan to settle some family affairs. She'll be joined by fellow "Pachinko" performer Mari Yamamoto, who's playing an unknown role. Also starring is Kiersey Clemons ("Dope") as May, a roguish American ex-pat who "is always three steps ahead of everyone around her;" Joe Tippett ("The Morning Show") as Tim, "an office drone who dreams of secret agent adventure;" Elisa Lasowski ("Versailles") as Duvall, an "expert operative with unwavering confidence in herself," and a wry sense of humor; and newcomer Ren Watabe as Kentaro, a young man who embarks on a quest to "learn more about his revered yet mysterious father."
Co-creators Chris Black ("Star Trek: Enterprise") and Matt Fraction ("Hawkeye") are executive producing the "Godzilla and Titans" series, with Black also serving as showrunner. Matt Shakman will also serve as an executive producer on top of directing the show's first two episodes. His involvement is one of the most exciting things about the series so far, given his strong work behind the camera on the first two episodes of "The Great," as well as the entirety of "WandaVision." That ability to handle both character-driven material and VFX-heavy spectacle ought to serve Shakman well in his trip to the MonsterVerse.