Why Matt Fraction And David Aja's Hawkeye Is Essential Reading For Marvel Fans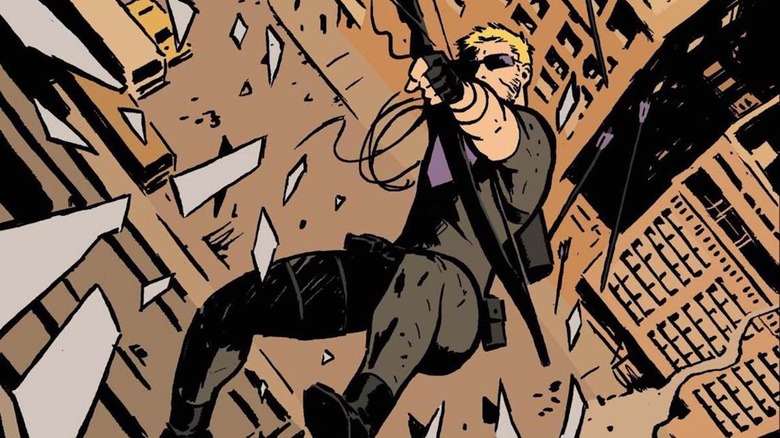 Marvel
We were recently treated to the first trailer for Marvel's "Hawkeye" series, which is coming to Disney+ later this year. It will give Jeremy Renner's Clint Barton the spotlight, while also introducing us to Hailee Steinfeld's Kate Bishop. Not to mention Lucky, AKA Pizza Dog. But it also may serve as a perfect time for Marvel fans to dive into the source material a bit. In particular, writer Matt Fraction and artist David Aja's seminal 2012 "Hawkeye" comic book series, which helped to redefine the character for modern audiences.
Hawkeye, Matt Fraction & David Aja's Gift to the Character of Clint Barton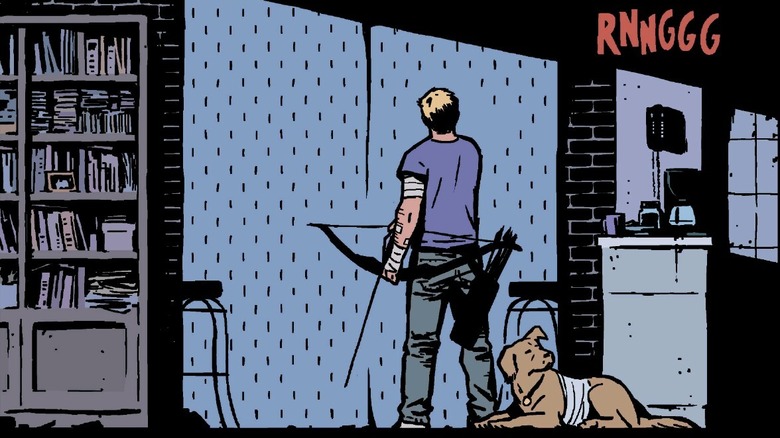 Marvel
The character of Hawkeye, aka Clint Barton, was not well known before "The Avengers" hit theaters in 2012. Yes, he had been a mainstay in the Marvel Comics world for decades but your average Joe on the street probably couldn't name the arrow-slinging hero. Save for a brief cameo in 2011's "Thor," "The Avengers" largely served as the character's introduction into mainstream pop culture.
Marvel opted to capitalize on that by releasing a brand new comic series from Fraction and Aja, timed around the release of the movie. Published in August of 2012, "Hawkeye" was a pretty radical departure from what had come before. I won't pretend to be an expert on all things Clint but I had read enough "Avengers" comics and team-up books to know this was different. Even the costume was making a statement that we were leaving old-school Hawkeye behind.
The basic concept of the book is that Clint is going it alone. He's staying in an apartment in New York City, away from his fellow members of the group we call Earth's Mightiest Heroes. It's street-level Hawkeye and largely ends up being a mission-of-the-week sort of thing. Not to say there aren't threads that carry through but this isn't akin to "Civil War" or anything like that. It's issue-to-issue comic book storytelling at its finest. It gives a previously sidelined character the spotlight. And man, do Fraction and Aja make the most of it. Style. Adventure. Humor. Fun. Lots of cameos. If you like comics, or superheroes on any level, this is it. There is a reason it is one of the most acclaimed comics of the last decade.
What's it like when a guy who has saved the world time and time again alongside Thor and Captain America has to worry about day-to-day life? What's it like when that guy has to worry about his neighbors having nowhere to live because their apartment building might be sold? What happens when he gets recruited by S.H.I.E.L.D. for a dangerous mission with nothing but his bundle of arrows to save him? Fraction and Aja offer entertaining answers to these questions and others.
For just a little context, here is the synopsis for Volume 1 of the series, "My Life As A Weapon:"
Fraction. Aja. Hawkeye. Kate Bishop. Cars. Guns. And videotape. The breakout star of this summer's blockbuster Avengers film, Clint Barton — a.k.a. the self-made hero Hawkeye — fights for justice...and good rooftop BBQs! And with ex-Young Avenger Kate Bishop by his side, he's out to get some downtime from being one of Earth's Mightiest Heroes! Matt Fraction and David Aja (IMMORTAL IRON FIST) reunite to tell the ongoing tales of the Arrow-Avenger. Barton and Bishop mean double the Hawkeye and double the trouble! Plus: Relive Kate's first meeting with Clint, as she learns wanting something can be miles away from actually earning it.
An Introduction to Kate Bishop and Lucky the Pizza Dog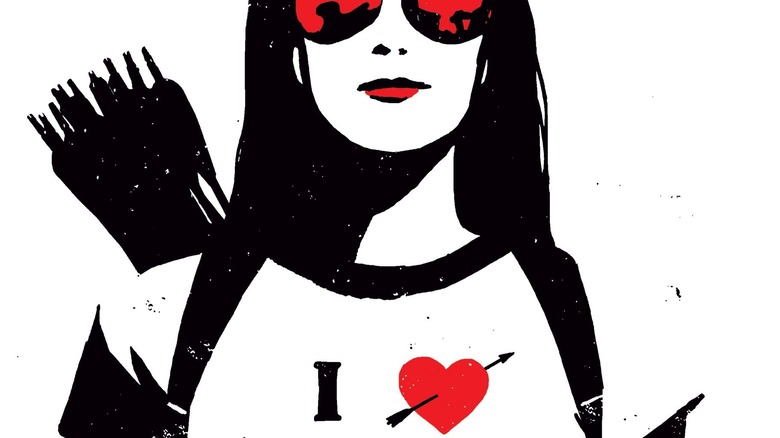 Marvel
Kate Bishop, a member of the Young Avengers and another character who has held the mantle off Hawkeye in the comics, is about to make her way into the MCU. The trailer for "Hawkeye" gave us a look at Hailee Steinfeld's take on the character. She is a major fan-favorite. While Kate didn't debut in the pages of "Hawkeye," she certainly gets the time to shine here alongside Clint. And it is within these pages that the version of the character many fans already know and love truly flourished. As such, this book might be considered essential reading for MCU fans right now.
Also, for those who like really good boys, this is the book where Lucky the Pizza Dog made his way into the Marvel universe. I have no doubt that the internet is going to be obsessed with this doggo once "Hawkeye" drops on Disney+. Why not get the jump on that obsession by seeing him in all of his comic book glory? Seriously, how can you resist this?
The Perfect Primer for Hawkeye on Disney+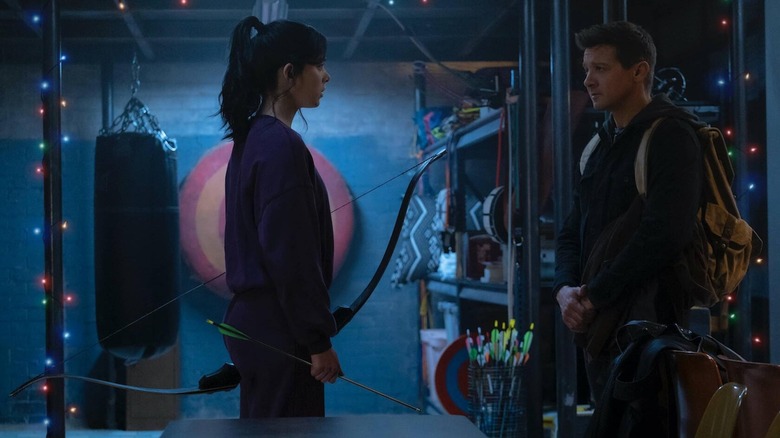 Marvel Studios
Marvel is currently keeping the plot of "Hawkeye" tightly under wraps for the most part right now. We know it takes place at Christmas. The villains are mysterious. The mission is mysterious. It's a big secret. But from the moment the show was officially announced, Marvel Comics fans took note of the choice of logo. It was ripped right from the pages of Fraction and Aja's run. Not to mention the inclusion of Kate teaming up with Clint, as well as Lucky, heavily signals this book is going to inspire the show. Even if it's a loose inspiration, this could serve as a great primer for the show. Plus, the book ran for just 22 issues. That is very digestible and could easily be finished before the show arrives in November.
Hawkeye, a Comic Book With (Almost) No Baggage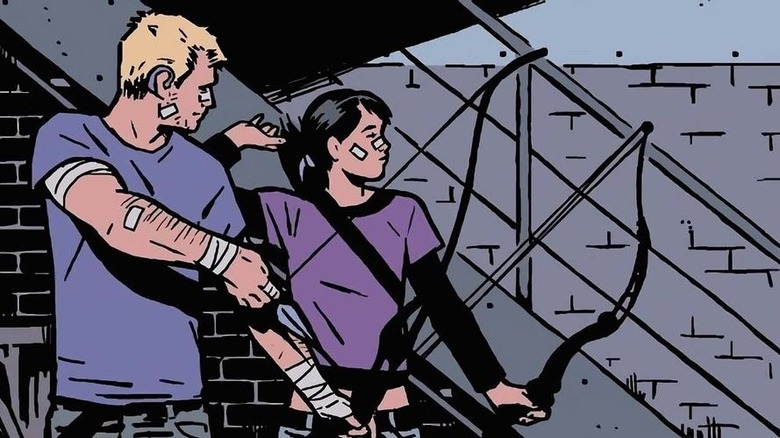 Marvel
I love comics. I really do. I discovered them in my youth but stopped for many years because I had enough things to be bullied about. But when I got back into reading them in my early 20s it was a bit intimidating at first. One of the problems with Marvel Comics, or DC Comics for that matter, is the decades of baggage that comes with the universes. Where do you start? What stories do you need to read in order to understand the story you want to read? It can be a lot.
"Hawkeye" was one of the books I picked up shortly after I got back into comics. What I found so refreshing, beyond the excellence contained within, is that it can be enjoyed on its own without much baggage. It's a pretty fantastic standalone story. Sure, we get cameos from other characters. The wider Marvel universe relationships and implications are there for those who want it. But nothing about this series makes the reader feel alienated.
In an age when comic book properties dominate the movie and TV landscape, it's important to recognize where this stuff comes from. Not only because these artists deserve recognition, but because fans of these movies and TV shows have thousands upon thousands of comics out there to expand the scope of that enjoyment. "Hawkeye" could be the perfect place to start.
"Hawkeye" is available in collected trade paperbacks, or through digital retailers.
Marvel's "Hawkeye" series debuts on Disney+ on November 24.