Pachinko Review: Soo Hugh's Stirring Prestige Series Streamlines A Singular Immigrant Saga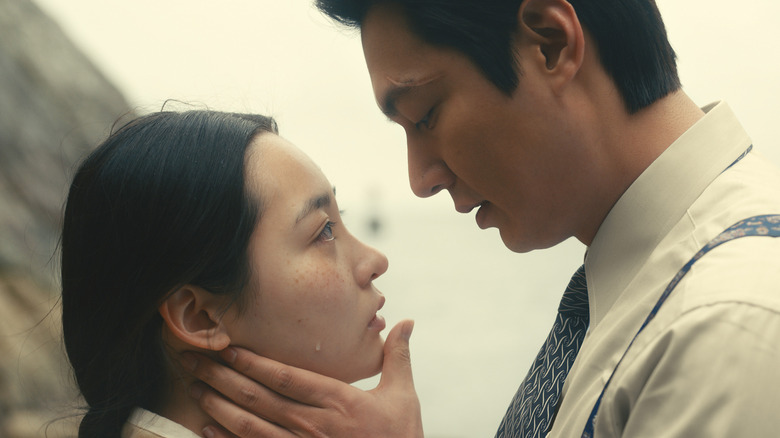 Apple TV+
"What family hasn't suffered? Tell me the truth, when old people talk of suffering, isn't it tiresome?" asks the Korean landowner (Park Hye-jin) in "Pachinko" with whom Solomon Baek (Jin Ha) is trying to cut a deal. She's a mother and a grandmother, and has been living in Japan all her life, having immigrated there from Korea as a young woman — but it's the '80s and her property is suddenly an extremely desirable spot for the real estate tycoons who have flocked to Tokyo in recent years. Solomon works for some of these tycoons, and is himself a grandson of a Korean immigrant who faced persecution and poverty to get their family to where they are today. He pauses, pondering her question while reining in his own eagerness to get this deal done. "Isn't that the point?" he responds. "To burden us?"
When we think of immigrant stories, the first thing that comes to mind is suffering. Immigrant tales are rarely happy stories, so often mired in prejudices, poverty, and bigotry. And yet through human resilience, we make it through, strengthened by the sacrifices our ancestors made but burdened by their losses. It's a minimizing way of describing an immigrant story, yes, but it's the way that many of us experience these immigrant tales — through some kind of filter: through stories told by our parents, our grandparents, or stories that play out on the screen.
An imperfect POV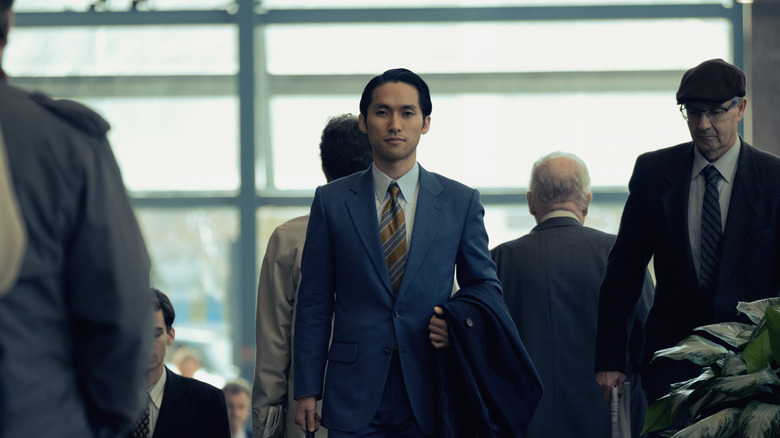 Apple TV+
"Pachinko," the new Apple TV+ series created by Soo Hugh ("The Terror") and directed by executive producers Kogonada and Justin Chon, applies another filter of sorts to the tremendous novel by Min Jin Lee. The series adapts Lee's novel of the same name, but dramatically changes its epic serial structure (which recalled the likes of Charles Dickens and other grand class-driven novels) and gives it a flashback-flashforward narrative, toggling back and forth between the lives of Sunja (Minha Kim as a young woman, "Minari" Oscar winner Yuh-Jung Youn as an old woman) and her grandson Solomon.
It's a jarring change for those who have read the books, but at first glance, it's a logical choice in the story's transition to the screen. It's easier, after all, for global audiences to relate to this young son-of-an-immigrant who is only just starting to understand the realities of what his grandmother went through. And it's easier for writer Hugh and directors Kogonada and Chon to use their own experiences as members of the Asian diaspora to give this story an even more intimate, personal feeling. 
But by adding this filter to the saga of Sunja and her family — a gorgeous, ravishing filter, but another one all the same — "Pachinko" loses sight of its central character, and loses the immediacy of its grandest emotions and its sharpest pains. We experience the suffering and its consequences, but not the everyday trudge through life, which can reveal much richer and more complicated textures to that immigrant tale that we're all so familiar with.
Back to the Motherland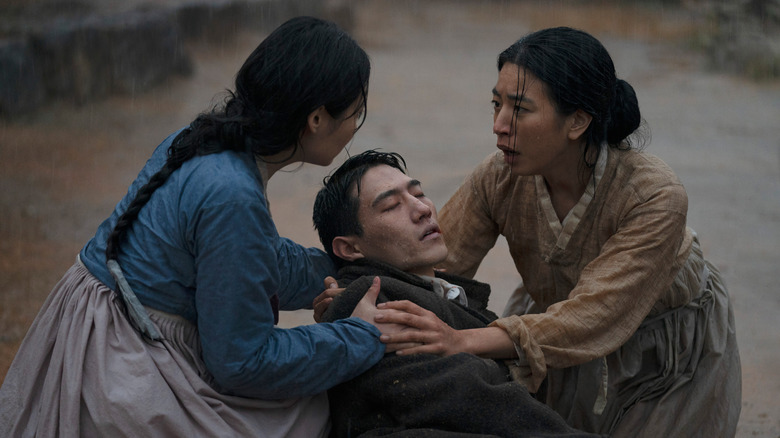 Apple TV+
"Pachinko" always seemed a strange title for Min Jin Lee's novel. The actual game of pachinko, an arcade gambling game that emerged in Japan in the 1920s, doesn't appear in the book until about a third of the way through, at which point it becomes yet another albatross around the Baek family's neck. But Min Jin Lee, who was originally set to executive produce the TV series but is no longer attached, has said that her novel was originally titled "Motherland" before she changed it to "Pachinko" upon recognizing that every Korean-Japanese person she interviewed for the book was somehow related to the pachinko business. "Pachinko is a game of chance and manipulation, and I was interested in this gambling business as a metaphor," Lee told the Chicago Review of Books.
The unpredictability of pachinko, its brief moments of triumph, and the often devastating consequences it could have on a person's life, made for the perfect recurring motif in "Pachinko" the novel, which often felt like a saga that could go any which way. But there's a feeling of predestination with "Pachinko" the series, on account of its flashback structure and our heavy focus on Solomon, the college-educated grandson of Sunja who returns to Japan after having studied and worked abroad in America. He's back to close a deal that his company has not been able to land, convinced that getting the elderly Korean woman to sell her land will get him his coveted promotion. But he doesn't expect to get so rudely rebuffed by the elderly woman, who reminds him of his grandmother in so many ways. His grandmother is sympathetic to his plight at first, but upon meeting the woman, a yearning for her homeland awakens in Sunja that she hadn't felt in a long time.
As we follow Solomon's (very sparse) story, the show flashes back to Sunja's youth (played as a child by Jeon Yu-na), living in the fishing village of Yeongdo in the 1910s and adored by her fisherman father and boarding house-owning mother (Jeong In-ji). But she grows up under the oppressive thumb of Japanese officials, who bully and attack the impoverished residents of the village. Except for Koh Hansu (former K-drama heartthrob Lee Min-Ho, relishing playing the sleaze), a well-to-do Korean man who works for the Japanese government and saves Sunja from attack. Sunja quickly falls in love and into bed with Hansu, but when she becomes pregnant, he refuses to marry her, leading her to marry sickly Korean minister Baek Isak (Steve Sang-Hyun Noh, fittingly fragile and noble), who takes her on his mission to Japan.
Empire of the Rising Sunja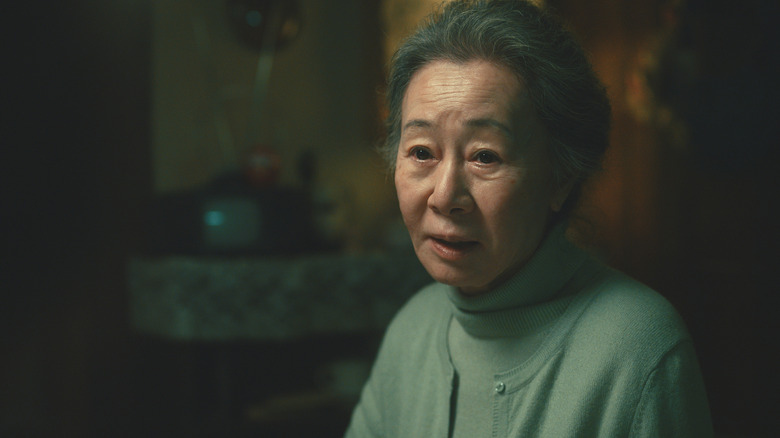 Apple TV+
In a lot of ways, the "Pachinko" series is a return to the Motherland. It's a return to Lee's original title and vision of her novel — one in which Korea looms large, in memory, in legacy, in the ideals it represented, in the burdens it became — and it's a metaphorical return of sorts for the creative team, who can use the series to explore their own immigrant angst.
Hugh, Kogonada, and Chon may relate more to Solomon, but it's with Sunja where the show's heart lies. Played with steely grace by Minha Kim as a young woman and with weathered, cracked wisdom by Yuh-Jung Youn, Sunja is still the anchor around which "Pachinko" revolves, if not nearly given as much shine as she has in the book. But in fairness, the show's '80s-heavy approach does give us even more of Yuh-Jung Youn's absolutely fantastic performance, so I can't complain.
For all my gripes about the show's structural and character shake-ups, there's no truer depiction of the second-generation immigrant experience than the "Pachinko" series. It gives us a fractured story in bits and pieces, but aren't all immigrant stories passed down to uncaring grandchildren little fractured? That's how we learn about our parents' darkest moments or our grandparents' greatest achievements — casually over lunch, or deep in our food coma post-dinner. And Hugh, Kogonada, and Chon's ponderous and breathtakingly beautiful vision of that classic immigrant tale is certainly much better than any half-told story I've heard over cocktails. It's a story told in pieces, but the pieces are more vibrant, earnest, and stirring than most any other show on TV today.
/Film Rating: 7 out of 10