The 15 Most Anticipated Movies And Shows Of April 2022, Ranked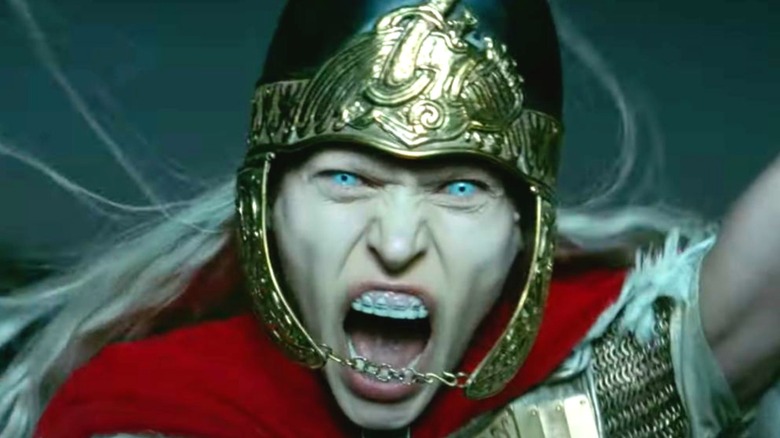 Neon
April's slate of film and TV releases isn't fooling around. 
The month ahead features new movies from iconic auteurs, Nicholas Cage going meta, and David Simon's return to HBO crime dramas set in Baltimore. Those projects alone should be cause for excitement. And yet, there's more. "Morbius" and its creative team seem to have zero chills in advance of its April Fools' Day release. Viola Davis is playing Michelle Obama. All in all, the fourth month of 2022 feels primed to offer meme-worthy messes and thrilling showcases for master craftspeople in equal measure, and it doesn't feel like an accident.
Art usually imitates life, but that changed when COVID-19 showed up. For two years, film and TV fans have had no choice but to watch productions filmed before the pandemic altered our daily routines. That all changes this month. Many of the films and shows dropping over the next few weeks were either filmed at the height of the pandemic or in its wake. We're no longer watching things delayed by COVID. April's offerings were shaped by it, and the resulting dialogue underpins many of the incredible offerings on display this month. With that in mind, here are the 15 most anticipated shows and movies of April 2022, ranked.
15. Shining Girls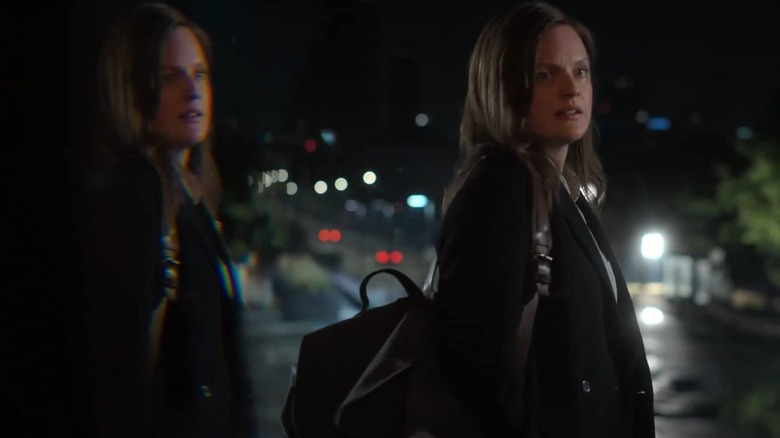 Apple TV+
You should be very excited about the new Apple TV+ series "Shining Girls." That's a bold claim, but let's lay out the facts: The Lauren Beukes novel it's based on is the sort of high-concept thriller that there aren't enough of, one that's ambitious and gritty in equal measure. (It features time travel, murder, and time-traveling murderers.) Bringing the story to the screen is the team of Silka Luisa and Michelle McLaren, the latter of whom is a two-time Emmy-winning director. She's helmed some of the century's most gut-wrenching television, so if you're not stoked to see the woman who helmed the classic "Breaking Bad" episode "One Minute" to make a feminist sci-fi crime saga, check your pulse.
If that's not enough, "Shining Girls" is the latest in a growing collection of thrillers starring Elizabeth Moss. As a performer with the emotional depth to endure untold horrors and the fortitude to survive them, Moss is the genre's ideal heroine. She is both every woman and extraordinary. Joining her is a crackerjack ensemble that includes the incandescent Phillipa Soo and the grand Jamie Bell, so "Shining Girls" doesn't lack for star power, high stakes, or big swings for the fences.
Excited yet?
14. Apollo 10 1/2: A Space Age Childhood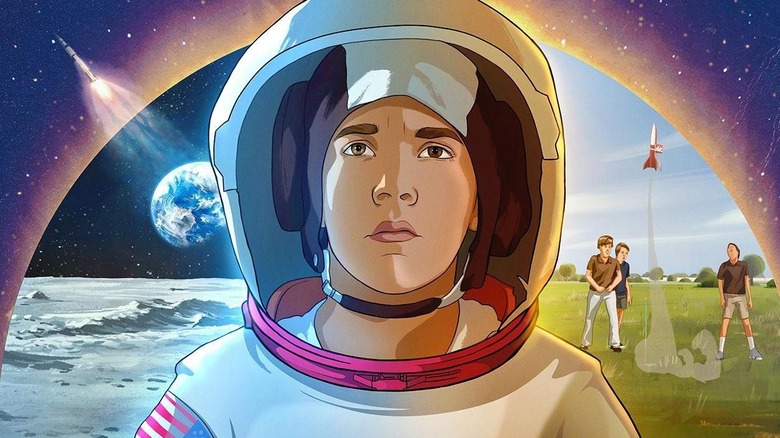 Netflix
Does a unified theory of Richard Linklater exist?
That's a serious question. Trying to explain the director's filmography is a labyrinthian task; once you've linked "Boyhood" and "Waking Life" under the heading of "experimental cinema," you still have to contend with the likes of "The Newton Boys" and "School of Rock." This April, Linklater will add another wrinkle to the fold in the form of "Apollo 10 1/2: A Space Age Childhood."
On paper, "Apollo 10 1/2" looks like Linklater's love letter to his Houston childhood, one spent in NASA's shadow. That means extended sequences of fantastical space travel rendered via animation, narration courtesy of Jack Black, and a tone that vacillates between wondrous and nostalgic. It all adds up to another surprise from an auteur who zigs the second fans expect him to zag. Maybe there is a unified theory of Linklater after all.
13. The Flight Attendant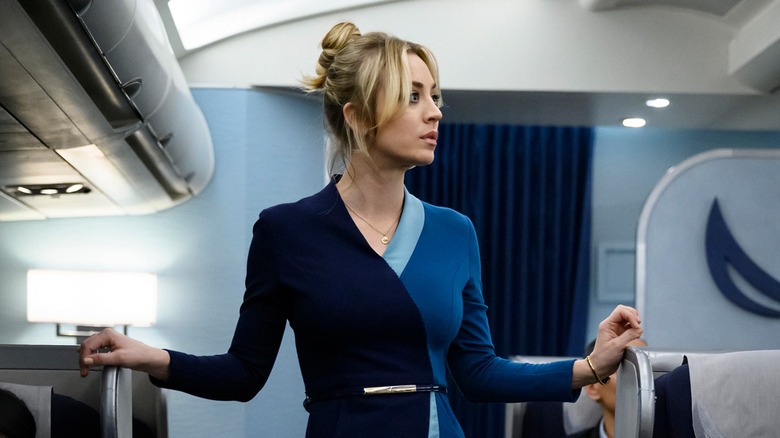 HBO Max
There's a fascinating new trend taking place on television that goes something like this: Produce a show as a limited series. Advertise that show as a limited series. Then, if the show does well, announce a second season ASAP. 
"Russian Doll" is coming back. "The White Lotus" is coming back. And, of course, "The Flight Attendant," based on a standalone novel by Chris A. Bohjalian, is coming back. Bohjalian has yet to write a sequel to the book, but that did not stop HBO Max from greenlighting season two of the series.
Seeing what sort of misadventures series creator Steve Yockey and his writing staff will devise for Kaley Cuoco's Cassandra Bowden is half the appeal of the forthcoming season. From the little we know, it appears that the people in charge aren't afraid of change. The show has relocated to Los Angeles. Cassandra is now sober. Her mom will show up, played by none other than Sharon Stone. All of this suggests that the show's second trip will be more than a spin on its initial offerings, meaning it should be more than worth making a reservation for "The Flight Attendant" on April 21.
12. We're All Going to the World's Fair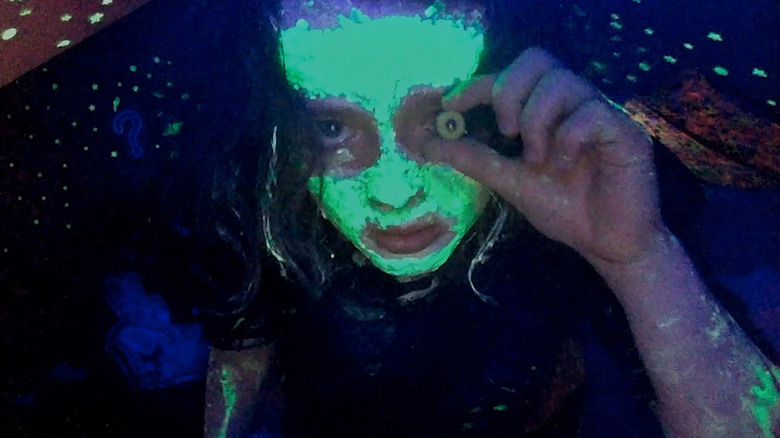 HBO Max
The horror genre is malleable. People with an aversion to scary movies might doubt this claim, but fans know that creators regularly cycle through a litany of things that scare us based on what's happening in the real world. 9/11 yielded a horde of zombie films. More recently, there has been a rush of stories concerning truth and identity, both online and otherwise. Horror reflects modern society's nightmares, and those fears are always evolving.
Given that, it's stunning that a movie like "We Are All Going to the World's Fair" hasn't popped up sooner. It's about the horrors of being young and online. It draws deeply from creepypastas, TikTok, and even MMORPGs.
None of that would matter if "We Are All Going to the World's Fair" wasn't an excellent film. But it is. The film has haunted me and many others since it hit the film festival circuit a little more than a year ago, and its April wide release will ensure that audiences across the country will learn what the World's Fair is and what they're deeply afraid of, too. Time for new nightmares.
11. The Bubble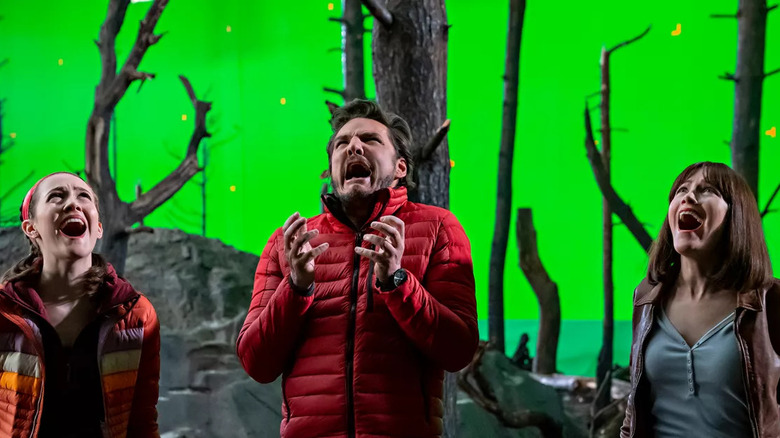 Netflix
When the pandemic kicked into high gear in March 2020, Hollywood shut down. Weeks later, it re-opened. "Songbird," a movie produced by Michael Bay and directed by Adam Mason, was conceived mere weeks into the shutdown and filmed just eight weeks later. It told the story of how COVID-19 became COVID-23 and ravaged a dystopian, quarantined Los Angeles. It was sincere, yet utterly distasteful. Most importantly, its existence begged this question: Was a film like "Songbird" worth risking peoples' lives to make?
That isn't what Judd Apatow's forthcoming comedy "The Bubble" is about, but it's hard not to think of "Songbird" when watching the trailer for "The Bubble." The latest film from the prolific comedy legend concerns a quarantined cast and crew who are trying to finish production on "Cliff Beasts 6," but it's really about the lunacy of the filmmakers and their ridiculous, ill-conceived efforts to make a blockbuster. Given that the cast is comprised of a murderer's row of comedic talent that includes Keegan Michael Key, Pedro Pascal, Maria Bakalova, and David Duchovny, it's hard not to be excited about that prospect. 
But COVID-19 continues to shape our lives, and that also makes "The Bubble" potentially quite cathartic. There's no telling where it will rank among the rest of either Apatow's work or 2022's already strong list of comedies, but it sounds like an idea we should be glad all involved saw through.
10. Gaslit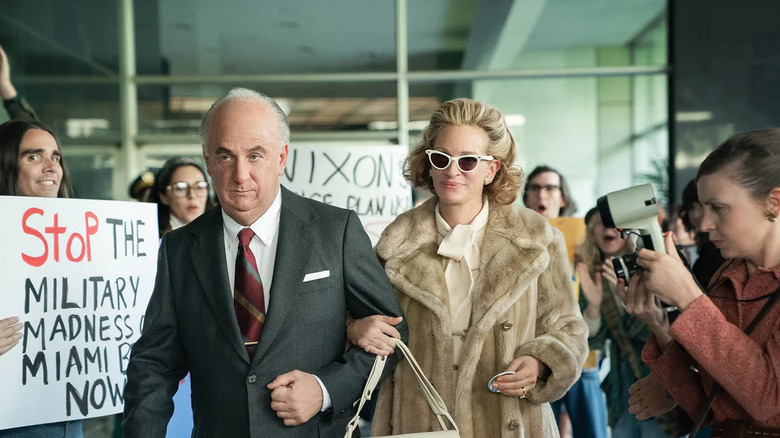 Starz
There is no such thing as a sure-fire bet. That said, I would wager all the money in my bank account that, in the '90s, no one would've imagined that Julia Roberts would appear on television. Roberts was one of the decade's most essential movie stars. She was talented, beautiful, and bankable. TV was the home of sitcoms and cop dramas; neither felt like Roberts' domain.
Times have changed.
Four years ago, Roberts starred in Prime Video's "Homecoming." It was arguably her best work of the 2010s. This month, she'll topline "Gaslit," a show from the same production company. Like "Homecoming," "Gaslit" is based on a podcast ("Slow Burn," the popular political show by Leon Neyfakh) about the Watergate scandal. That's a thrilling proposition. Few incidents in United States history were as strange or impactful as Watergate. 
And strange and impactful is producer Sam Esmail's speed. If "Gaslit" is as on-brand an offering from the "Mr. Robot" creator as it seems, the show should be a welcome homecoming for Roberts indeed.
9. Morbius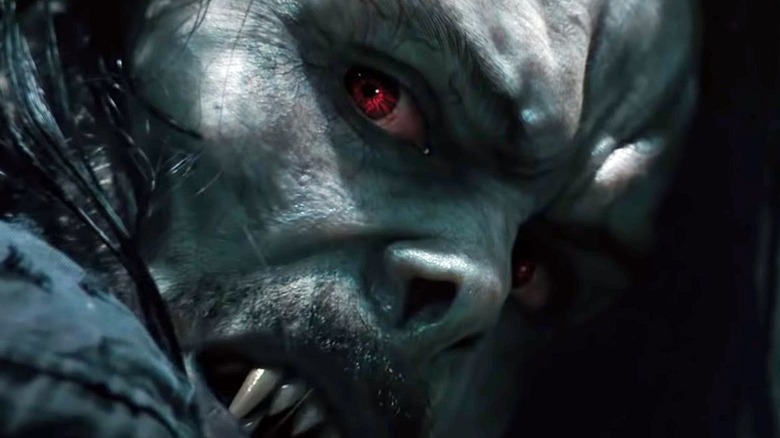 Sony Pictures
There is no more perfect release date for Jared Leto's "Morbius" than April Fools' Day. It's a movie that sounds like a "30 Rock" gag. Seriously. Sony Pictures decided to make their own Marvel Cinematic Universe featuring Venom and second-stringers like Madame Web and that skinny creep, Morbius the Living Vampire — and then they cast Jared Leto in the lead role.
In all sincerity, incredulity won't kill "Morbius." Against all odds, it appears that Sony and director Daniel Espinosa ("Safe House," "Life") have built a box-office powerhouse, stoking anticipation through an onslaught of continuity-teasing trailers and Leto's recent run of funhouse acting choices, such as the Wario-tinged theatrics of "House of Gucci." What's more, while the film doesn't necessarily look good, it looks increasingly fun, indebted to the b-movies of the '90s with preening villains like Matt Smith and tons of cheesy one-liners. Inexplicably, "Morbius" has earned the title of "event movie." Dread it. Run from it. On April 1, "Morbius" arrives all the same.
8. Tokyo Vice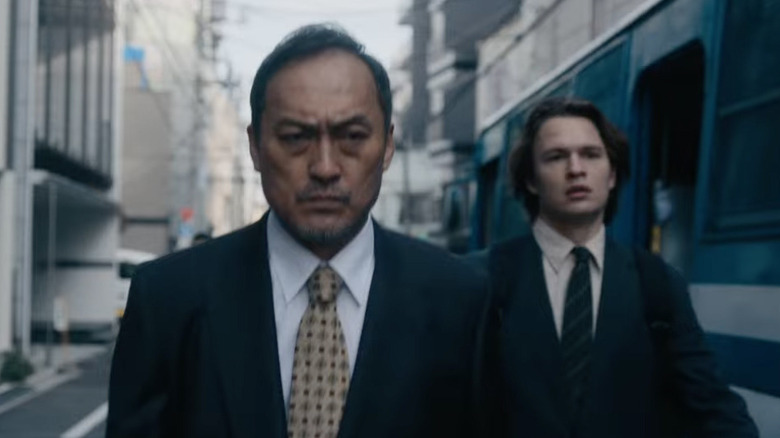 HBO Max
Michael Mann returns to television! There are many reasons to be excited about "Tokyo Vice," which premieres on HBO Max on April 7th, but Mann's involvement is the main draw. He is the singular voice behind the still-classic "Miami Vice," which shaped modern crime television. Anyone who enjoys the genre on any level should be waiting with bated breath to see what the creative ace has up his sleeve.
We have some clues where that's concerned. "Tokyo Vice" is adapted from a Jake Adelstein memoir of the same name, which details Adelstein's time reporting on the Yakuza in the '90s. "Vice" should tackle similar terrain. While Mann is only confirmed for the series pilot, "Shang-Chi" director Destin Daniel Cretton is a co-producer on the show, meaning there are plenty of people on the crew with action chops. And with Tony Award-winning scribe J.T. Rogers handling the writing duties, there's good reason to believe the show will be a feast for both the head and the drama-loving heart.
7. The First Lady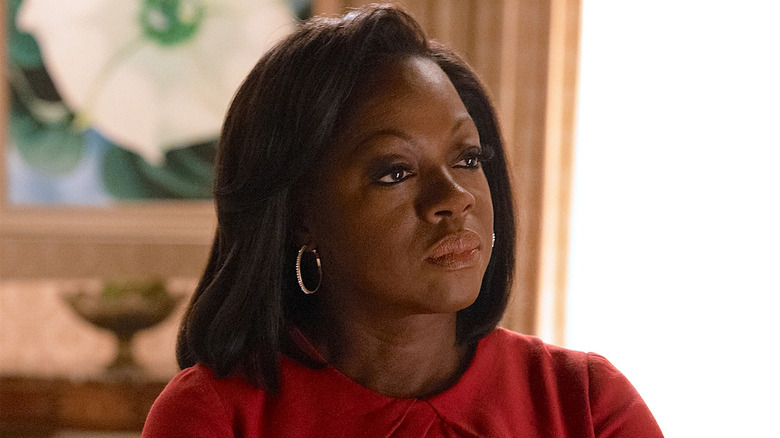 Showtime
Casting Viola Davis as Michele Obama feels inevitable. This is a good thing. The first African-American first lady became a trailblazing icon during the late '00s and early '10s. Davis is an acting institution who broke through in 2008's "Doubt," and has been nominated for four Oscars since then, winning one. The two became powerhouses in parallel to one another. Their paths should meet. In Showtime's "The First Lady," they do.
Here's the thing, though: "The First Lady" isn't just about Michelle Obama. Yes, seeing Davis play Obama is the main attraction, but Showtime is pitching the series as a "revelatory reframing of American leadership through the lens of the First Ladies." That's intriguing. It also boasts Michelle Pfeiffer as Betty Ford and Gillian Anderson as Eleanor Roosevelt, which is thrilling because seeing those two women in anything is cause for celebration. Lastly, Susanne Bier is one of the project's directors, and her resume boasts smash hits ("Bird Box") and indie classics ("After The Wedding") alike. If "The First Lady" can blend provocative incisiveness with pop entertainment, it won't seem inevitable. It will feel genuinely new.
6. Ambulance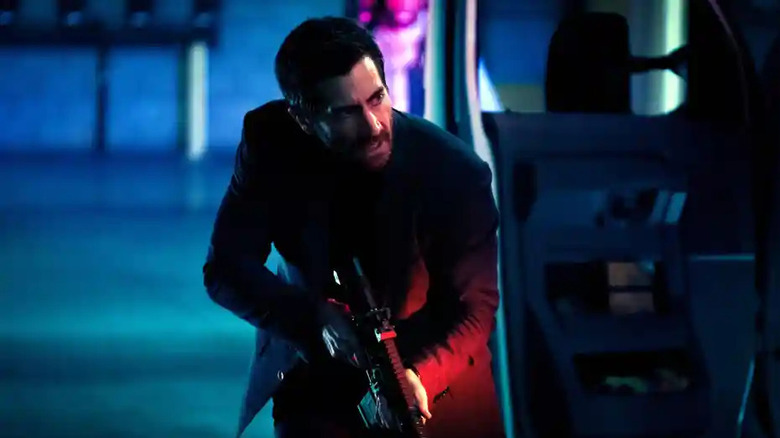 Universal Pictures
If you take a drink every time a character in "Ambulance" references a movie directed by Michael Bay, you'll get tipsy. If you down a shot whenever stuffed animals are run over or wounded, you'll get wasted. What does that have to do with two brothers who steal $32 million and drive an EMT vehicle across Los Angeles while chased by the LAPD? More than you might think.
Michael Bay's "Ambulance" is unhinged. It's the closest that Bay will ever come to making "Dog Day Afternoon" without abandoning his inherent Michael Bay-ness. The film features ambitious camerawork and an unwavering sophomoric streak. It's also filled with strangely subtle grace notes. It is a visceral work of cinema that will grab the throats of anyone who sees it in a theater. 
There's no world in which "Ambulance" can be denied, and its locomotive power ensures that it will bowl audiences over like few other films coming out this month. Just don't turn it into a drinking game. Trust us.
5. Russian Doll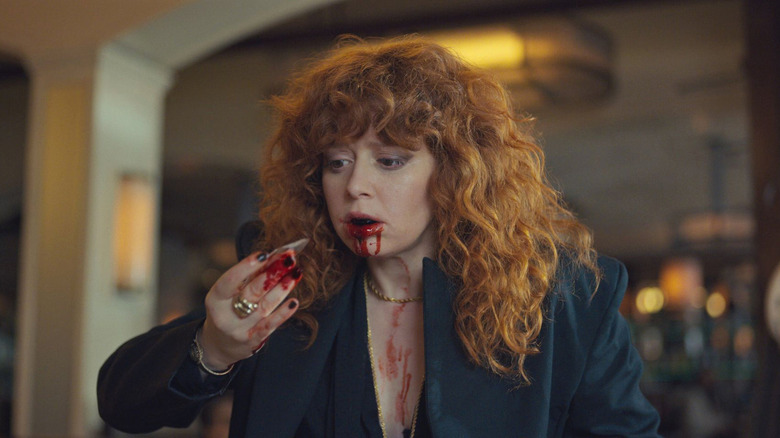 Netflix
"Russian Doll" only gets better as time passes, which is really on-point considering its premise. The story of a video game developer named Nadia (Natasha Lyonne) who gets caught in a mysterious time loop in which she perishes every night, "Russian Doll" was a hit when it debuted in 2019. Then, the pandemic happened. Every day felt like a time loop that we could not get out of. As someone living in New York during the worst of it, I can attest that "Russian Doll" took on an eerie resonance when I rewatched it in April 2020.
I also questioned whether the show needed a second season, but based on the cryptic first look that Netflix has given us of the latest episodes, it appears that it does. What information can be gleaned from the teaser is scarce, but it looks like we're in store for more time loops, a menacing version of Charlie Barnett's character, Alan, and a stellar performance by comedic wunderkind Annie Murphy. If season 2 of "Russian Doll" can deliver the goods on April 20, expect it to age just as gracefully as its predecessor.
4. The Unbearable Weight of Massive Talent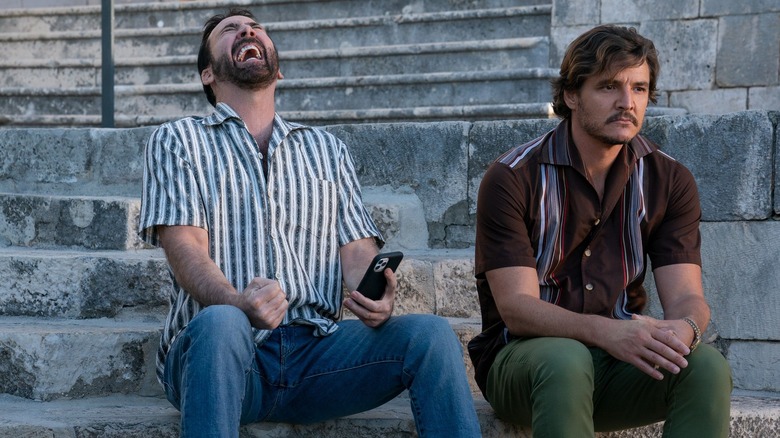 Lionsgate
Nicholas Cage is having a resurgence. The actor's career has had more ups and downs than you can shake a stick at. He has been a prestige film darling. He has been a meme. He has made video-on-demand films to settle unfathomable debts, some of which actually reminded the public that Cage has always been an incredible actor. As no less than Ethan Hawke once said on Reddit, "[Cage is] the only actor since Marlon Brando that's actually done anything new with the art of acting; he's successfully taken us away from an obsession with naturalism into a kind of presentation style of acting that I imagine was popular with the old troubadours."
Hawke's theory will be tested by April's "The Unbearable Weight of Massive Talent," a film in which Nic Cage both plays himself and a de-aged version of himself named Nick Cage. Why the "k" has been added to that character's name is just one of its many mysteries. In the movie, a cash-strapped Cage agrees to appear at the party of a billionaire super-fan (Pedro Pascal). Somehow, the film makes room for Cage, Neil Patrick Harris as Cage's agent, and director David Gordon Green as himself. What does it all mean? We'll find out on April 12.
3. We Own This City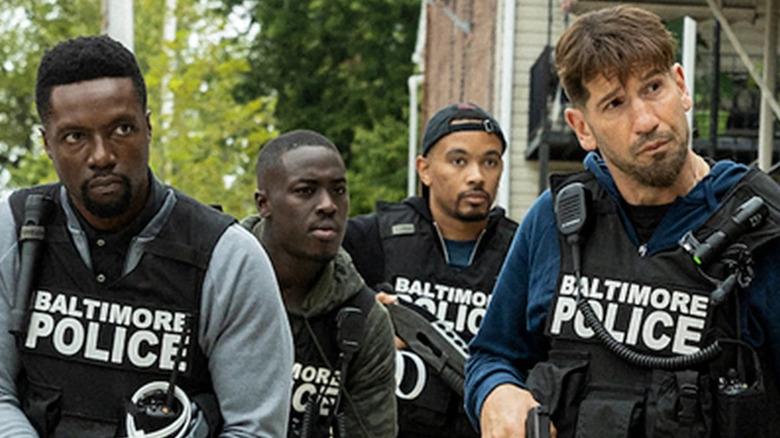 HBO Max
Few creators are more inexorably linked to a city than David Simon. Simon created "The Wire," and if you don't know what that is, there's a chance you're new to prestige television. The HBO crime saga ran for five golden seasons, searing its indelible portrait of Baltimore and the war on drugs into viewers' minds. It was more than a show. It was a sociological portrait of a major American city. To watch "The Wire" is to take a census of the metropolis it's set in, as well as the country at large. The show is one of the all-time greats.
Does that mean "We Own This City," which marks Simon's return to Baltimore, must meet the standards of its monumental predecessor'? Not necessarily. The six-episode miniseries is its own beast. What's tantalizing, though, is the possibility that it might. There's a serious chance that "We Own This City" might be an instant classic. Simon's last miniseries, "The Plot Against America," proves that he hasn't lost a step, and his return to the fertile ground of Baltimore doesn't suggest he'll stumble.
2. The Northman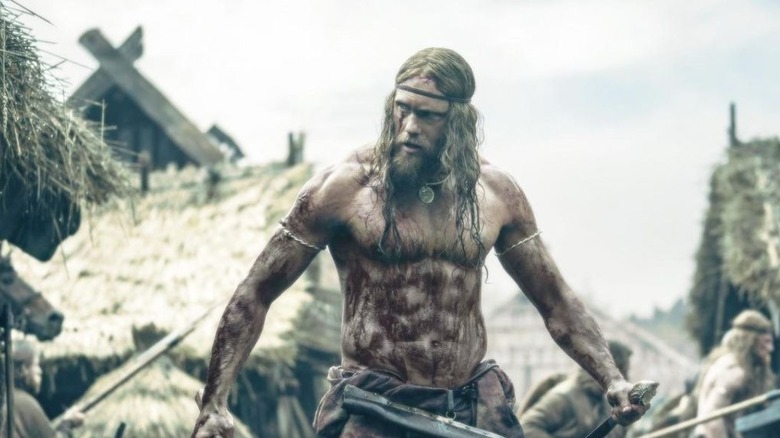 Neon
A few years ago, Martin Scorsese compared superhero movies to roller coasters; the internet imploded. The discourse that resulted in the wake of that statement was loud and pointless. The legendary director wasn't implying that Marvel's movies lack value, but rather that the voice of the brand towers over that of the films' directors. Marty was pining for entertainment with a singular heartbeat. They still exist, he was saying, and you should seek them out.
For example: Robert Eggers' "The Northman." If the first looks are any indication, Eggers and famous Icelandic poet and novelist Sjón have made a nasty and mythic tale as heavy on audience-pleasing action as artistic flourishes. It's the story of a boy whose father, the king (Ethan Hawke), is murdered. That boy goes into exile and grows into a muscle-rich man (Alexander Skarsgard) who eventually returns home seeking vengeance. That's a template for all manner of chaotic, thrilling violence. The trailer promises battles on horseback, a veritable hurricane of spears, and swordfights set against walls of flame. Add in the talents of Anya Taylor-Joy, Willem Dafoe, Nicole Kidman, and Bjork, and you have a star-packed cast that rivals any Avengers or Justice League lineup.
Will audiences beyond the indie film faithful find their way to "The Norseman"? That's a separate question. What appears inarguable is that Eggers' epic will do Scorsese proud, and that makes it worth anticipating. Film fans, assemble.
1. Better Call Saul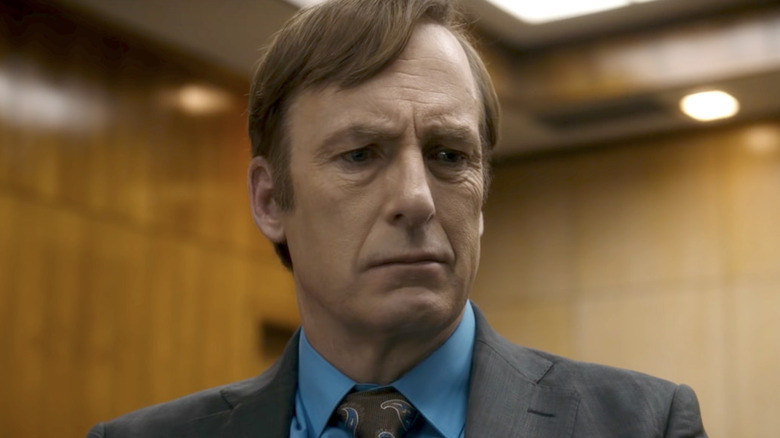 AMC
When previewing the final season of "Better Call Saul" it's tempting to write "Protect Kim Wexler at all costs!" and leave it at that. That's a reflection of how indelible the characters in Vince Gilligan's crime saga are. "Saul" has transcended its spin-off origins, becoming a thrilling and thoughtful work of art in its own right. While few would suggest watching it without catching up on "Breaking Bad" first, it's getting hard to fault those who might. "Better Call Saul" is essential television, full-stop.
It appears as though the show is going to finish strong, even though beloved characters seem destined to fall. Knowing that Bob Odenkirk suffered a heart attack on the set during production only infuses the program's life or death stakes with actual gravitas.
"Better Call Saul" has made us care about each of its lowlifes' lives, from Kim to Saul to Nacho. When the program reaches its end, it will be a kind of death, no matter who survives. Protecting Kim Wexler at all costs is impossible. One way or another, we'll have to let her — and everyone else — go, but seeing how that happens might mean witnessing a masterwork come to its conclusion. Hey, there are worse ways to say goodbye.