Russian Doll Season 2 Teaser Finally Announces Release Date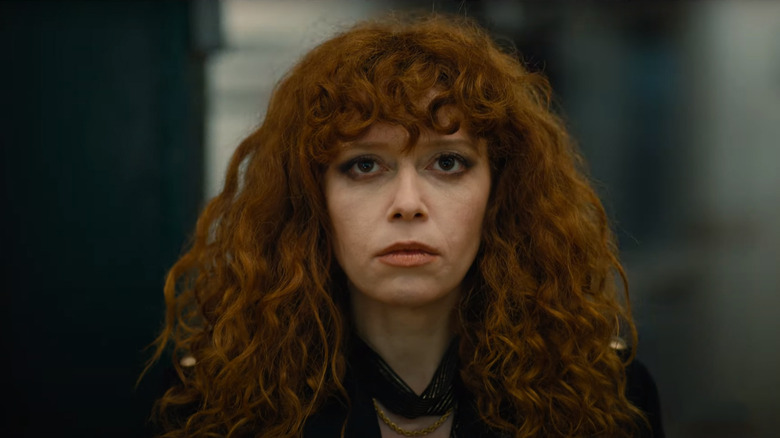 Netflix
Fans of Netflix's "Russian Doll" who have felt like they're stuck in a time loop of their own while waiting for the second season should worry no longer: season 2 officially has a release date. The second season of the acclaimed series will follow Nadia (Natasha Lyonne) and Alan (Charlie Barnett) four years after they escaped their own hellish "Groundhog Day" only to discover that time isn't done terrorizing them. Netflix shared the release date with a quick trailer that gives fans just a taste of the timey-wimey weirdness to come.
Let's do the time warp again!
"Russian Doll" season 2 will premiere all seven of its 30 minute episodes on Wednesday, April 20, 2022. The series won Emmy awards for Lead Actress in a Comedy Series and Outstanding Comedy Series in 2019, drawing in fans with its twists on time-travel, "Groundhog Day"-style death loops, and dark and dry sense of humor. "Russian Doll" is Lyonne's baby, as she not only stars but is showrunner and executive produces alongside Alex Buono, Amy Poehler, Leslye Headland, Lilly Burns, Tony Hernandez, Dave Becky, Kate Arenda, Regina Corrado, and Allison Silverman. 
The first season of the acclaimed series ended with Nadia and Alan escaping a time loop that forced them to die and then relive the same day repeatedly, a metaphor for trauma that was both apt and entertaining. Fans might have felt like they were in a time loop themselves as the series went on hiatus for more than three years, in part due to the pandemic, but now we're finally going to get to see what happens next (and before, potentially) for Nadia and Alan. 
Here's the official season 2 synopsis: 
Set four years after Nadia (Natasha Lyonne) and Alan (Charlie Barnett) escaped mortality's time loop together, season two of Russian Doll will continue to explore existential thematics through an often humorous and sci-fi lens. Discovering a fate even worse than endless death, this season finds Nadia and Alan delving deeper into their pasts through an unexpected time portal located in one of Manhattan's most notorious locations. At first they experience this as an ever-expanding, era-spanning, intergenerational adventure but they soon discover this extraordinary event might be more than they bargained for and, together, must search for a way out.
The upcoming season will introduce a few new characters, including ones played by "Schitt's Creek" alum Annie Murphy and "District 9" star Sharlto Copley. It looks like the unexpected time portal might be in the Manhattan subway, but we'll have to wait until April to know for sure. Check out "Russian Doll" season 2 when all seven episodes drop on April 20, 2022.