The 16 Best Oscar Isaac Movies Ranked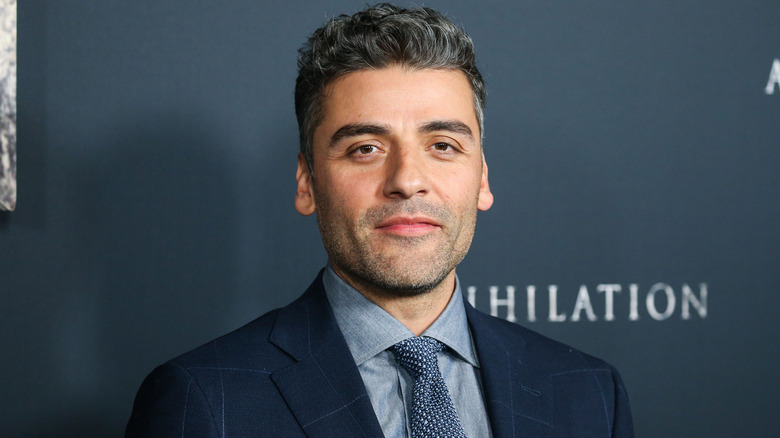 Jim Smeal/Shutterstock
Oscar Isaac is one of the most exciting stars of our generation. His brooding good looks are the subject of many thirst tweets and he delivers swoon-worthy red carpet moments. But more than that, he is a versatile character actor with a magnetic on-screen presence. His New Hollywood era style intensity is reminiscent of a young Al Pacino or Robert De Niro. 
From a ska/punk bandleader to a Julliard-trained actor, Oscar Isaac quickly rose to stardom in his portrayal of a beleaguered folk singer in "Inside Llewyn Davis" after years of supporting parts. This ranking of Oscar Isaac's best movies shows the diversity of his roles. He brings a thoughtful complexity to all of his characters — even if they're flying in outer space.  
Isaac's filmography maintains a healthy balance of franchise material and more intimate, smaller films ranging from emotionally coiled dramas to daring science fiction adventures. His Cuban, Guatemalan, and French background allow him to play roles with a wide range of ethnicities and nationalities. With the anticipation for "Moon Knight"'s release on March 30, 2022, now is the perfect time to rank Oscar Isaac's best films.
16. Mojave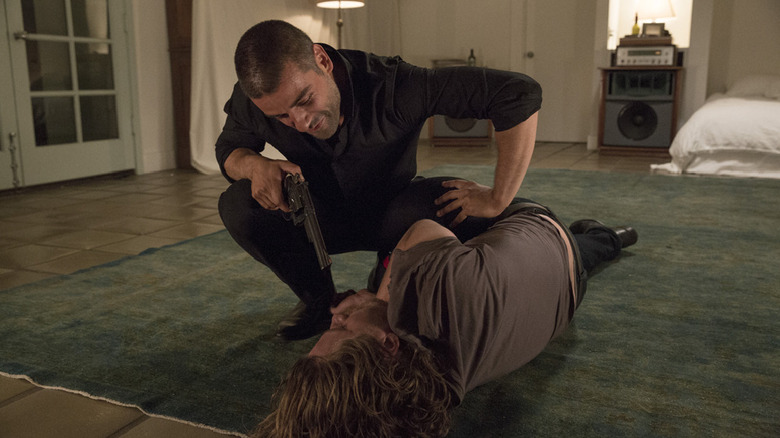 A24
William Monahan's "Mojave" is a bizarre but compelling satire on the shallowness of Hollywood with occasional moments of mind-numbing tediousness. It follows a suicidal actor named Tom (Garrett Hedlund) who travels to the desert to find himself. He ends up crossing paths with a mysterious, homicidal drifter with a snaggletooth who speaks in a strange Southern drawl (Oscar Isaac). The ominous wanderer repeatedly calls Tom "brother" and quotes the Bible or "Hamlet." ("Hamlet" is one of Isaac's favorite Shakespeare plays and he gave a phenomenal performance in The Public Theatre's 2017 production). 
Isaac makes the peculiar thriller worth seeing. He radiates a sinister and volatile energy, and his existential conversations with are Tom engaging. You can tell that Isaac is having a blast playing this over-the-top, nefarious vagrant. If that doesn't intrigue you enough, there's also a silly moment where Isaac wears a pink speedo and carries an adorable puppy. 
15. In Secret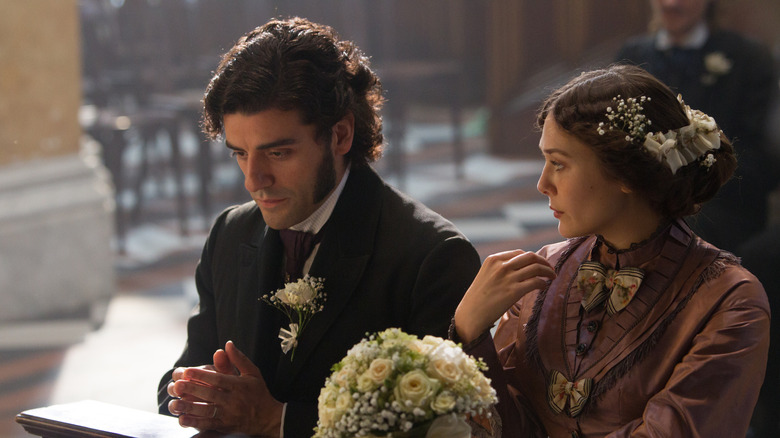 Roadside Attractions
Director Charlie Stratton saturates "In Secret" in drab-looking green and gray colors that only worsen the claustrophobic framing, but none of this prevents Oscar Isaac and Elizabeth Olsen from sizzling the screen in this tragic tale of forbidden love. Isaac's enigmatic allure fits the role of Laurent LeClaire, an artist who piques the interest of Thérèse — a bored housewife trapped in a passionless marriage with her sickly, mild-mannered cousin Camille (Tom Felton). The repressed Thérèse yearns for sexual satisfaction and the roguish Laurent is up to the task. 
Unlike Camille, described as a "foppish, greasy-haired wimpy mama's boy oozing Oedipal tendencies" by Behind the Lens, Laurent is strong and self-assured, and his artistic talents appeal to Thérèse's untapped imagination. Their love scenes are erotic, often occurring right under the nose of Thérèse's husband and mother-in-law (Jessica Lange). As it becomes harder to hide their trysts from Thérèse's family (in one mischievous scene, Laurent hides under Thérèse's skirts and pleasures her while she feigns sickness), the couple devises a villainous plan to kill them. 
Although "In Secret" is visually unappealing, it's still a titillating watch and a fine showcase for Isaac's period acting skills. He oozes sex appeal and perfectly captures Laurent's impish nature. You completely understand why Thérèse falls so hard for him. 
14. The Promise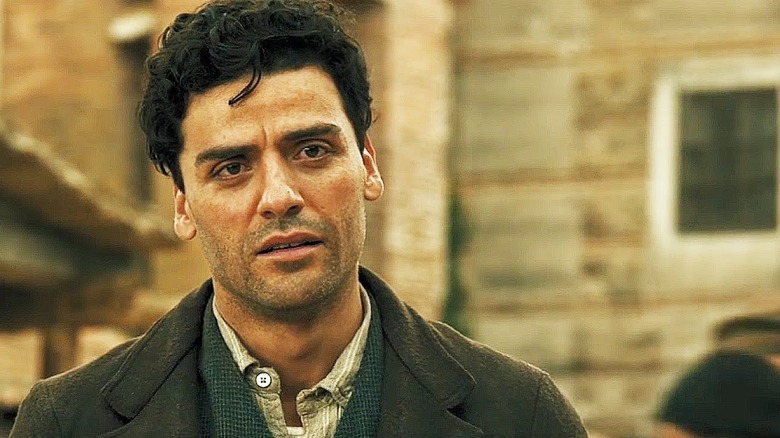 Open Road Films
"The Promise" feels like a sweeping epic from the Classic Hollywood era, something in the vein of "Lawrence of Arabia" or "Casablanca." It uses the often overlooked historical event of the Armenian genocide as the backdrop of an old-fashioned romance. An interesting fact about the production history of this film is that the entire $100 million budget was donated by billionaire mogul, Armenian-American Kirk Kerkorian, who sadly did not live to see the finished product. Writer and director Terry George (known for "Hotel Rwanda") expands on a screenplay by Robin Swicord to create the story of Mikael Boghosian (Oscar Isaac), a medical student attending school with a dowry from an arranged marriage. 
While in Constantinople, he meets a beautiful dance instructor Ana (Charlotte Le Bon). They bond over their Armenian heritage, sparking a romantic love triangle between Mikael and Ana's boyfriend Chris (Christian Bale), an American journalist. But Mikael and Ana's connection has difficulty surviving the chaotic beginnings of World War I. In Isaac's moving portrayal of Mikael, his earnest innocence is destroyed by the devastating atrocities of the Armenian genocide. Isaac's anguished reaction is haunting in a shocking scene where Mikael witnesses how far the enemies will go to destroy his people.
Elevated by strong performances, "The Promise" is a highly affecting melodrama that sheds light on an incredibly important time period where over 1 million lives were senselessly taken. Isaac's participation in the film demonstrates his dedication to spotlighting injustice, which we see in other instances mentioned in this ranking. 
13. The Nativity Story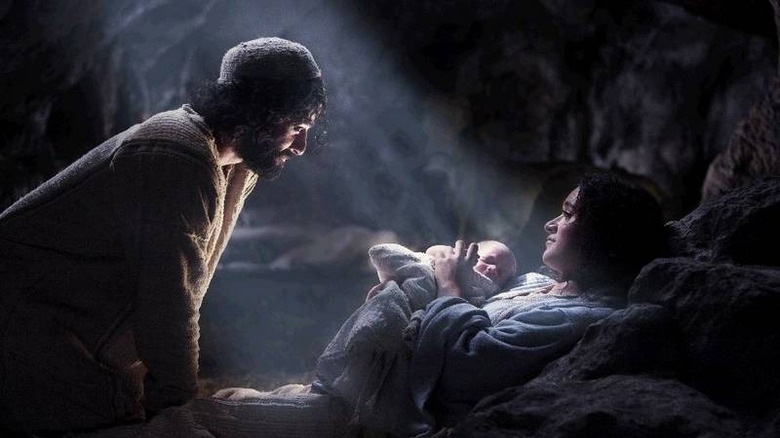 New Line Cinema
Before "Twilight," Catherine Hardwicke took a more Biblical turn with "The Nativity Story," a thoughtful depiction of Jesus Christs' birth that does not appeal only to the religious crowd. Hardwicke paints Joseph and Mary as everyday figures wrestling with the enormous responsibility of raising a child of God and the savior of mankind. Keisha Castle-Hughes is quietly determined in her role as the devout Mary, and Isaac plays her future husband Joseph, A.K.A. "Hot Joseph." 
What's so fascinating about this film is how it touches on the humanity of these Biblical characters. Hardwicke strips away the mythology behind their stories to get to the core of their internal conflicts. Joseph is an ordinary and caring young man who grapples with the idea that his beloved Mary is truly chosen by God. Isaac conveys the tug of war between Joseph's uncertainties and dedication towards Mary with the same thoughtfulness that he brings to all of his roles. His involvement in "The Nativity Story" likely pleased his evangelical Christian family. 
12. Operation Finale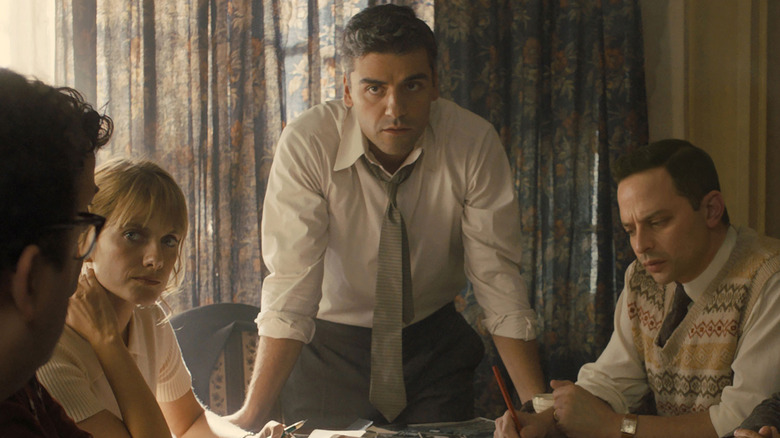 Metro-Goldwyn-Mayer (MGM)
Chris Weitz's period drama "Operation Finale" takes place in 1960, shortly after war criminal Adolf Eichmann's hidden whereabouts were discovered. Nicknamed "the architect of the final solution," Eichmann (played by Ben Kingsley) was instrumental in helping the Nazis claim the lives of millions. Oscar Isaac plays Peter Malkin, the sure-footed head of a secret agent team tasked with the risky operation of capturing Eichmann. As Malkin, Isaac wields a convincing bravado and sardonic humor that masks his haunted past. 
Malkin's verbal sparring with Eichmann is the highlight of "Operation Finale" thanks to the skillful lead actors. You can see the wheels turning in Malkin's head as he tries different tactics with the warlord to get him to open up: trading banter, empathizing with him, or revealing secrets. When Malkin reveals the painful memories of those he lost in the Holocaust, Eichmann callously twists them "to push the self-assured spy to his emotional breaking point." (via Screen Queens). 
Weitz ramps up the tension as the band of agents try to sustain their mission. "Operation Finale" works as both a spy thriller and absorbing character study of two men on the opposite sides of history. 
11. Triple Frontier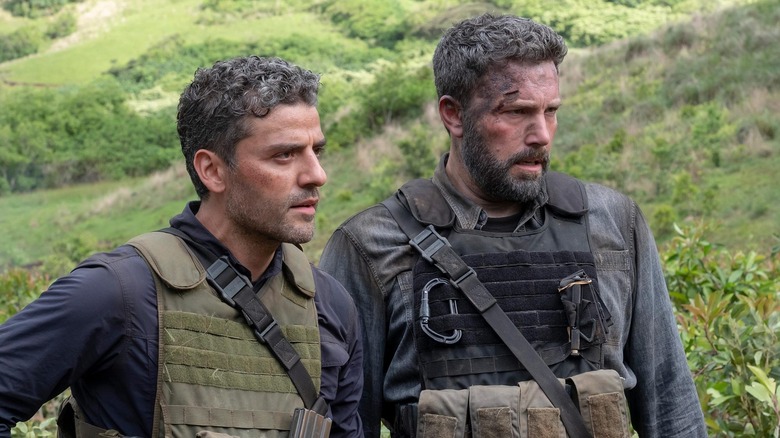 Netflix
"Triple Frontier" is a solid and entertaining action flick that relies on the power of its ensemble cast. Oscar Isaac, Ben Affleck, Charlie Hunnam, Garrett Hedlund, and Pedro Pascal play a group of friends and former special forces operatives retired to quiet suburban lives. Isaac plays Santiago "Pope" Garcia who convinces the team to reunite and take what they are rightfully owed for serving their country by going on a rogue mission to take down a South American drug lord. 
This kind of "one last job" story has been told before, but director J.C. Chandor gives the film more dimension in its melancholy depiction of greed. The ensemble has an interesting dynamic where they are not just stereotypical action heroes but flawed men overcome by selfishness. It's nice to see Isaac in a more physical role, especially against such gorgeous scenery. "Triple Frontier" has a macho energy and all the beats of a typical heist movie, but the cast has a special, nuanced relationship. 
10. Balibo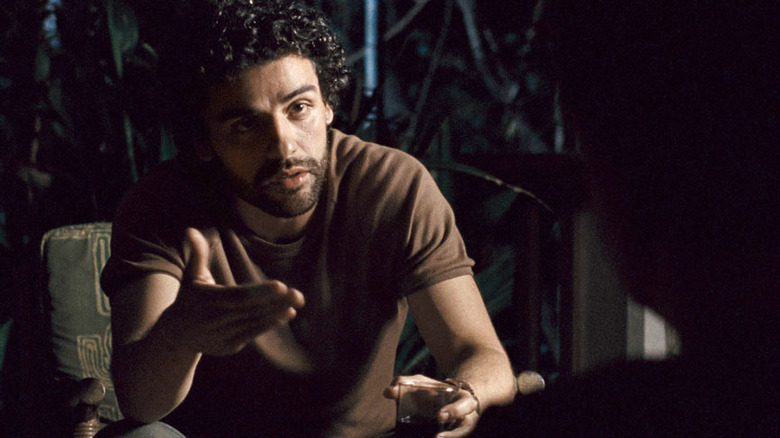 ITN Distribution
Before Oscar Isaac was more widely known, he appeared in the gritty 2009 Australian political drama "Balibo." Much like "The Promise," it sheds light on an important historical injustice. The film follows the story of the Balibo Five, a group of journalists who were captured and killed before the Indonesian invasion of East Timor of 1975. Anthony LaPaglia plays reporter Roger East investigating their deaths. Oscar Isaac stars alongside him as a young and passionate José Ramos-Horta, future Nobel Peace Prize winner and second President of East Timor. 
Isaac and LaPaglia's chemistry and opposing motivations motivate the impactful film; while East is determined to uncover the mystery behind his colleagues' disappearance,  Romas-Horta is more cynical about pursuing the truth. "Balibo" shows how Oscar Isaac sinks his teeth into the unique dynamic his characters share with their scene partner, and this serves the film well. 
"Balibo" was especially important to Australian audiences. Director Robert Connolly does not shy away from probing the controversial themes of racism and media ethics in this devastating story. 
9. The Star Wars Sequel Trilogy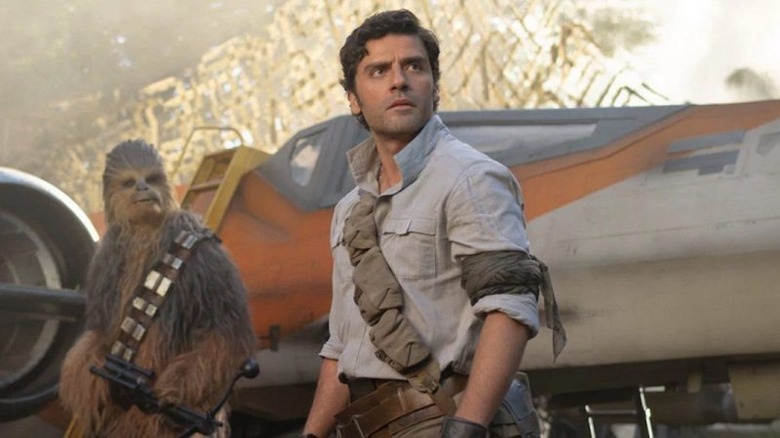 Disney
Isaac's participation in "Star Wars" cemented his status as a bonafide Hollywood star. As Poe Dameron, Isaac brings his trademark dry humor to the role of the cocksure fighter pilot. In many ways, he echoes Harrison Ford's roguish charm as Han Solo. Isaac clearly has fun with the heroic role and shares chemistry with everyone around him, like his adorable droid buddy BB-8, but especially Finn — a former Stormtrooper played by John Boyega. Their affectionate interactions sparked a rabid fan interest in having them become a couple which — unfortunately — Disney supposedly wasn't ready for. 
"The Force Awakens" is a rousing introduction to the sequel trilogy. The controversial "The Last Jedi" subverted all "Star Wars" rules and expectations in the most fascinating way. However, it received an incredibly divisive reaction that led Disney to make safe and incongruous choices for the final installment, "The Rise of Skywalker."  
The final film was unsatisfying for Isaac as an actor. He spent his career avoiding being racially typecast, but then writers Chris Terrio and J. J. Abrams made a completely random and out-of-character choice to turn Poe Dameron into an ex-spice runner (the "Star Wars" equivalent of drugs), fulfilling Latinx criminal stereotypes. This is very disappointing, especially after Disney squelched the possibility of an LGBTQ relationship between Poe and Finn. Although the final film of the sequel trilogy is middling, the other titles are exhilarating additions to the "Star Wars" universe. 
8. Dune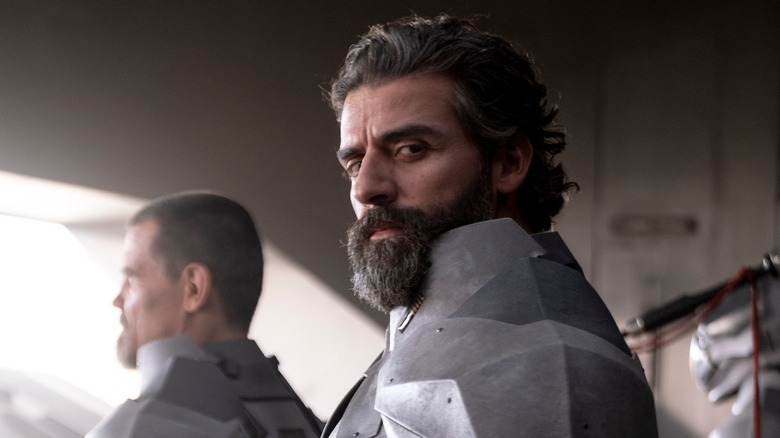 Warner Bros.
On the flip side of the action-packed "Star Wars" is Denis Villeneuve's meditative "Dune," part intimate human drama and part science fiction epic with imperialistic themes. Villeneuve fills every inch of the screen with carefully-crafted visuals that are breathtaking in scope. 
The mythical space opera centers on a prince (Timothee Chalamet) who must protect the Spice, a valuable element that makes space travel possible. His noble father, Duke Leto Atreides (Oscar Isaac), rules the planet Caladan and is gifted the planet Arrakis. He must deal with its indigenous people, the Fremen, because their home is the only place the Spice can be mined. But the Duke's stewardship over this precious asset leads to a deadly conspiracy. 
It's rare to see Isaac in such a stately, paternal role; he dominates the screen with an authoritative yet compassionate presence. His long beard adds to the Duke's sense of elder wisdom. Throughout his career, Isaac uses the versatility of his hair to shapeshift into his character. He gives a measured performance as the wise, responsible commander and it works well against Chalamet's brooding in this awe-inspiring spectacle. 
7. The Two Faces of January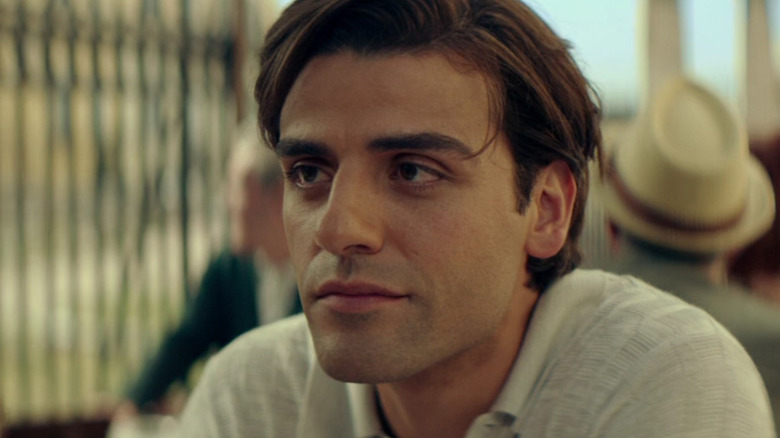 Magnolia Pictures
Oscar Isaac turns up his natural charm in the captivating psychological thriller "The Two Faces of January." He plays a shifty American tourist guide named Rydal, a former law student who spends his time scamming or sleeping with tourists. He befriends Chester and Colette (Viggo Mortensen and Kirsten Dunst), a wealthy vacationing couple in Greece. Their idyllic continental excursion turns deadly when Rydal must help Chester cover up a crime and make a getaway. 
Isaac exudes a slick, intelligent confidence that The Philadelphia Inquirer describes as "predatory in an almost harmless kind of way." His flirty magnetism threatens Chester, a swaggering alpha male, and they start playing lethal power games with one another. The film unfolds into an enthralling cat-and-mouse chase as they must avoid getting caught by the law. Set behind stunning European landscapes, "The Two Faces of January" smolders with hidden secrets and tense danger.
6. Annihilation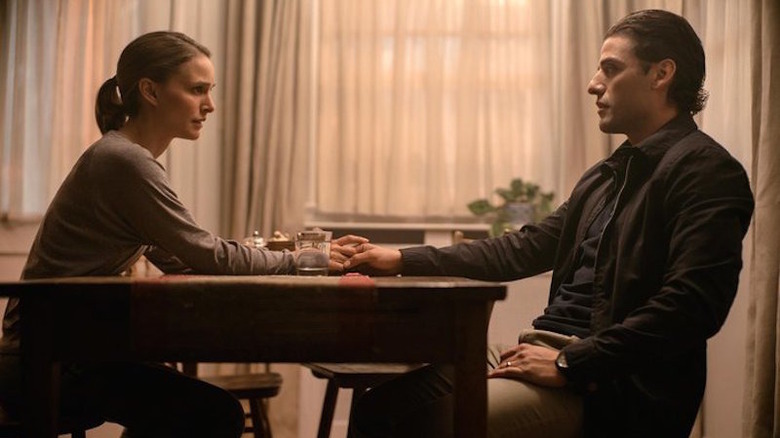 Paramount Pictures
Alex Garland delivers a science fiction masterpiece with "Annihilation." Natalie Portman stars as Lena, a biologist who embarks on a dangerous mission to Area X — a terrifying paradise surrounded by a strange "shimmer" where her military spouse went missing and was presumed dead. "Annihilation" boasts an all-female leading cast, with the exception of Oscar Isaac as Lena's husband, Kane. 
One day, Kane mysteriously manifests in her home — or does he? Isaac uses his quiet yet lethal stare to keep the audience guessing whether Kane is traumatized or someone else entirely. Flashbacks illustrate his character outside the trauma of the Shimmer; we see Kane's strained relationship with Lena, his sentimentality rubbing up against her pragmatism. Isaac does a great job of tracking Kane's different selves: his past domestic happiness, his harrowing mental breakdown in the Shimmer, and the hollow shell that returns to Lena. 
"Annihilation" is a psychedelic marvel with skin-crawling moments of horror that asks grim existential questions about humanity's self-destructiveness.
5. Drive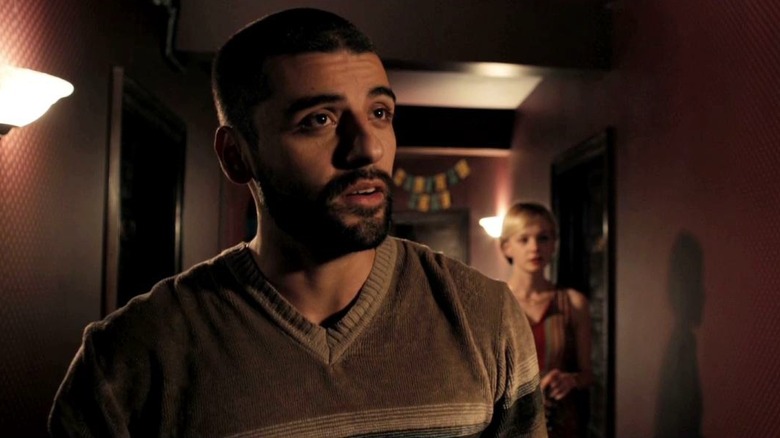 FilmDistrict
Although Oscar Isaac's role in the stylish "Drive" is small, he worked closely with writer and director Nicolas Winding Refn so that his depiction of a Latino character was dynamic and would leave a positive impact. From the beginning of his career, Isaac vowed not to accept roles that were racial cliches. He told the Los Angeles Times, "Often you were auditioning for the same type of role, which was very often a stereotype of what a Latin person was supposed to be. I've seen some changing and some shifting and that's good. But obviously, there's still a long way to go." 
Isaac plays Standard, an ex-convict recently released from prison who proposes a $1 million heist idea to his neighbor — a tight-lipped, enigmatic Hollywood stuntman and getaway driver (Ryan Gosling) — who formed a bond with his wife Irene and son while he was incarcerated. Isaac initially rejected the role; "I just felt that the character was a cliché and, you know, he was just written as this gangster, this thug that was horrible to his family, lived a life of crime, and then you just wanted him to die so the white people could get together," he said on the podcast Dinner Party Download. In order to convince Isaac to play the part, Refn worked with him to flesh it out. Isaac elaborates on the changes they made: 
"So what Nic Refn said to me, he's like, 'All right. If it could be anything, what would it be?' And so we sat for about four hours and we decided to make him a tragic character. Maybe someone who made a couple bad decisions, but actually loved his family and was trying to do the right thing, but gets caught up in violence. And it actually makes it more dramatically interesting – there's more conflict there."
Although you are fully invested in the Driver's infatuation with his wife, "Drive" never villainizes Standard. Refn's collaboration with Oscar Isaac elevates his neon-flared noir. It's a visceral, high-adrenaline work that leaves a lasting impression.
4. A Most Violent Year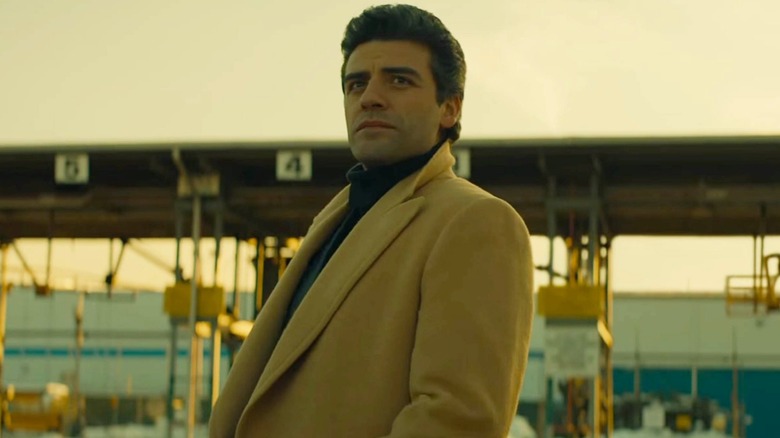 A24
Wearing a regal camel hair coat, Oscar Isaac channels Al Pacino in J.C. Chandor's 1980s anti-gangster drama "A Most Violent Year." It's a somber mood piece that feels like a bygone of the New Hollywood era yet still manages to be unique in exciting ways. "A Most Violent Year" centers on immigrant Abel Morales, an oil baron who runs a heat oil company inherited from his corrupt father-in-law. He tries to secure a land deal to sustain his business while dodging an investigation from the D.A. 
Much like Michael Corleone in "The Godfather," Abel is quiet and observant, and he struggles to remain straight and narrow — avoiding the temptation to engage in the mobster activities of his peers. Isaac conveys the psychological torment of Abel's moral quandary with a steady tension. Jessica Chastain, his former Juilliard classmate, plays Abel's hard-nosed wife and business partner who chides him for not adapting to the mean streets of New York City. They share a sizzling chemistry that is also seen in the phenomenal limited series "Scenes from a Marriage."
"A Most Violent Year" is a hypnotic slow burn held together by Oscar Isaac and Jessica Chastain's fierce, "Macbeth"-esque relationship. Bradford Young's gloomy yet beautiful cinematography portends the film's themes of violence, darkness, and shady dealings that poison the American Dream.
3. The Card Counter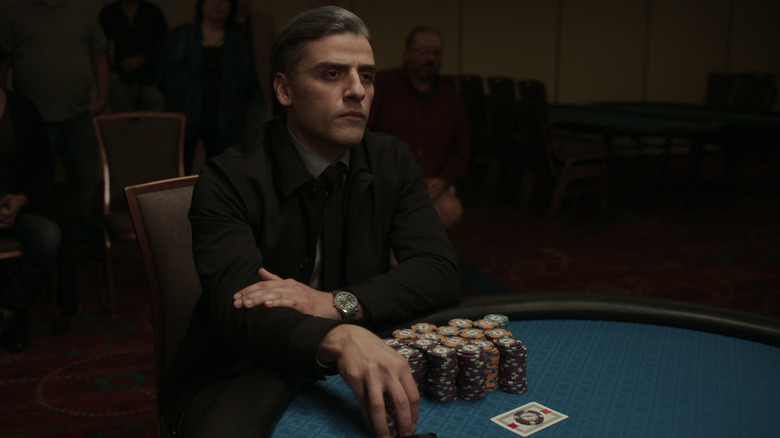 Focus Features
From the legendary Paul Schrader, Oscar Isaac is mesmeric in "The Card Counter," an austere companion piece to "First Reformed" and "Taxi Driver." His methodical, taciturn character William "Bill" Tell is another one of "God's lonely men." Bill is an Iraq veteran with traumatic memories that still haunt him. He is detached from everyone and everything, save for the card games that he wins just enough to live comfortably. With an eerily still demeanor, he covers the furniture in his hotel rooms with white sheets to calm his disturbed mind, finding peace in their blandness. There's a rage that simmers under his glacial surface, waiting to erupt in a moment of shocking violence when he meets someone from his past. 
In his review for Slashfilm, Chris Evangelista praises Oscar Isaac's performance: "He's quiet, and his eyes are dark, and deep, and haunting. And haunted ... he brings a disarmingly handsome intensity to the role." In a monologue where Bill recalls the torture that went on during his military service, Oscar Isaac floors you with his urgency. His accomplished performance stands shoulder to shoulder with Ethan Hawke and Robert De Niro in yet another gripping morality tale from Schrader that asks hard questions about America's insidious patriotism. 
2. Ex Machina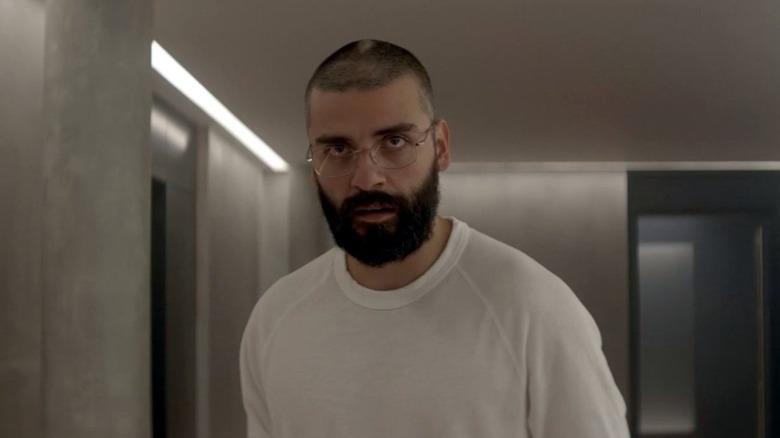 A24
Oscar Isaac's first collaboration with Alex Garland is one of the most engrossing science fiction films of the twenty-first century. The Sydney Modern Herald calls it "a film of creepy modernity and prescience, as 'Metropolis' was in its time." Isaac plays a multibillionaire supergenius named Nathan who builds an A.I. named Ava. He recruits one of his young programmers (Domhnall Gleason) from his tech company to evaluate its human qualities. 
Nathan is one of the most insidious characters Isaac has ever played, a cocky egomaniac who disguises himself as a laid back, New Age hippie. Isaac deftly conveys the insincerity that permeates all of Nathan's interactions with Caleb. He is subtly menacing, especially when you consider his domineering relationships with his servant Kyoko and Ava — mere objects in his misogynistic games. The former child prodigy believes he's a Promethean god in control of everyone around him.
One of the most well-known scenes in "Ex Machina" is when Nathan and Kyoko perform a synchronized disco routine set to Oliver Cheatham's "Get Down Saturday Night" complete with nightclub lighting. Screen Queens describes it as "a jarring and off-kilter moment that both rattles and delights the audience, and seems to come out of nowhere," demonstrating how Nathan is dangerously calculating and reckless at the same time. Building up to a pulse-pounding ending, "Ex Machina" is an intelligent examination of gender dynamics and human consciousness. 
1. Inside Llewyn Davis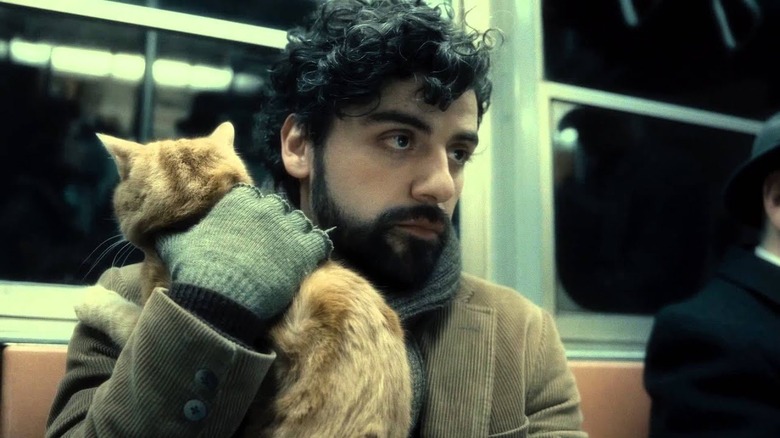 CBS Films
The Coen Brothers' "Inside Llewyn Davis" was a star-making turn for Oscar Isaac. It's a role that he was born to play, combining his innate musical talent, dark humor, and intensity. After losing his best friend and musical partner, 1960s folk singer Llewyn Davis undergoes an identity crisis and searches for his life's meaning as both an artist and young man. 
The circular and repetitive narrative expresses Llewyn's purgatorial stasis. Lost in a sea of musical dreams that the world wants him to give up on, Llewyn couch-hops in between gigs at The Gaslight Cafe in the Greenwich Village and gets another girl pregnant with a child he is not equipped to raise. He masks his depression with a kind of bitter humor about his lack of success and loathes those who have achieved it. Oscar Isaac's layered performance telegraphs the wellspring of grief that lies beneath his orneriness. The title of his album "Inside Llewyn Davis" is ironic because he refuses to be vulnerable with anyone — even his audience. 
The cinematography is appropriately shadowy, evoking the melancholy state of Llewyn's mind. Through his defeated expressions and body language, Oscar Isaac readily communicates the Sisyphean weariness that weighs down his character. Even though he's an arrogant loser who constantly gets in his own way and does the wrong thing, we still manage to empathize with him. The classic folk songs are achingly poignant and make Isaac's smooth voice shine. He gives an entrancing performance that will go down in cinema history as one of his defining roles. Both darkly funny and elegiac, "Inside Llewyn Davis," strikes a chord in its painfully honest portrayal of art under capitalism, missed chances, and cruel twists of fate.