The Best Ryan Gosling Movies Ranked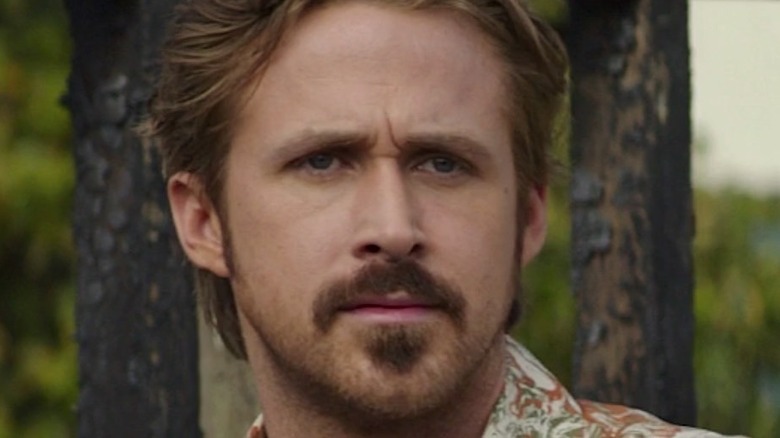 Warner Bros.
Ryan Gosling is one of the best actors working today, and among the most selective. Although he gained popularity as a heartthrob in "The Notebook," Gosling proved fairly early on that he wasn't interested in cheesy Hollywood romances. Gosling delved deep into independent cinema and worked alongside some of the best emerging directors; many of his films are now considered modern classics.
Gosling earned his first Academy Award nomination for "Half Nelson," and he's become a frequent awards contender ever since. However, Gosling also tends to pursue passion projects, and launched his directorial career with the horror-fantasy film "Lost River" in 2014. He's quite versatile; Gosling can do wacky physical comedy, simmer as brooding criminals, play romantic leads, and bring to life historical figures.
Gosling is also a novelty among his contemporary actors, as he's stayed free of committing to any long term series; his only sequel role to date was in the standalone sci-fi epic "Blade Runner 2049." That may change soon, as he'll next appear alongside Chris Evans in the Netflix action thriller "The Gray Man" from the Russo Brothers. The highly-anticipated adaptation of Mark Greaney's espionage novel will be Netflix's most expensive film to date, and was pitched as the streaming service's next big franchise.
A look at Gosling's filmography is a snapshot into some of the best films of the past two decades, so selecting his top performances is no easy task, and some beloved favorites were left off. Here are the best Ryan Gosling movies, ranked.
12. The Ides of March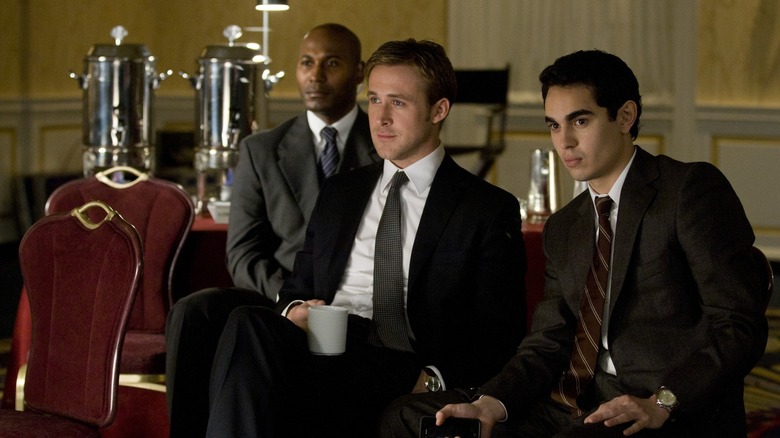 Sony Pictures
"The Ides of March" is a gripping dissection of modern political campaigns. The George Clooney-directed film explores how idealism fades in politics, and how backstabbing strategists disrupt the plans of idealistic candidates.
The Presidential Election process is shown through the eyes of junior campaign manager Stephen Meyers (Gosling), who enthusiastically supports Pennsylvania Governor Mike Morris (Clooney) in his bid for the Democratic primary. Meyers's unflinching dedication contrasts with Morris' head manager, Paul Zara (Philip Seymour Hoffman), who remains cynical about Morris' virtues. A brilliant strategist and an expert in advertising, Meyers is courted by rival campaign manager Tom Duffy (Paul Giamatti). Duffy backs Morris' primary opponent, Arkansas Senator Ted Pullman (Michael Mantell).
Meyers's optimism wanes as he learns lurid personal details about Morris and begins to question his intentions. Meyers also begins a relationship with Morris' personal assistant Molly (Evan Rachel Wood), and her shocking death creates a media circus that puts extra pressure on the campaign. The tension grows as the debates begin and Morris closes in on a victory; Meyers has a tight window to make a decision that could impact the entire nation. Gosling does a great job showing Meyers' building anxiety, as he learns he cannot even trust his mentor, Zara. While "The Ides of March" is very realistic and has authentically heated exchanges, Gosling's empathetic performance makes it emotionally challenging as well.
11. Half Nelson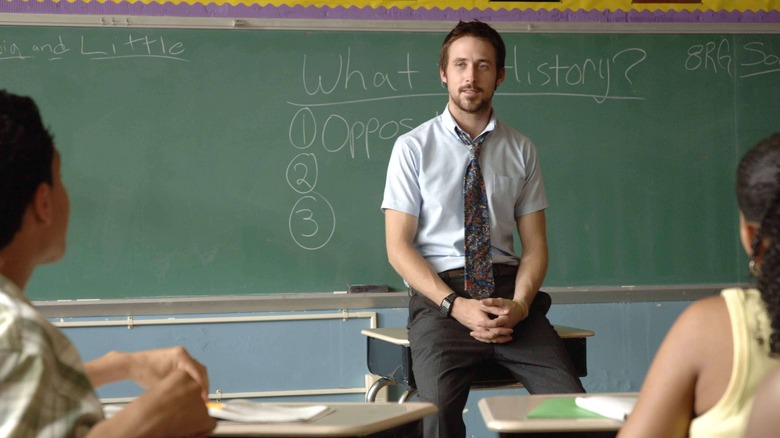 THINKfilm
Gosling received his first Academy Award nomination for Best Actor for this devastating examination of the public education system. In "Half Nelson," aspiring medical student Dan Dunne (Gosling) works as a history teacher at a poor Brooklyn middle school, and his untraditional approach to teaching engages students who otherwise are unable to pay attention. The children genuinely love Dunne and look forward to his classes; Dunne forms a particularly close bond with his student Drey (Shareeka Epps). Drey's home life is dangerous — her brother Frank (Anthony Mackie) is a drug smuggler — so she finds refuge at school.
Unfortunately, Dunne is also addicted to cocaine. Drey catches him snorting and offers to hide his secret, hoping her teacher will be able to shake his addiction and not lose his job. Dunne's drug habit gets worse, disrupting his career just as he faces pressure from the school district for deviating from the standard curriculum. It's heartbreaking to watch Dunne's students gradually lose interest as his passion fades. Gosling captures the struggles of an addict with authenticity — Dunne is scared to ask for help, fearing that he'll lose his job.
10. Lars and the Real Girl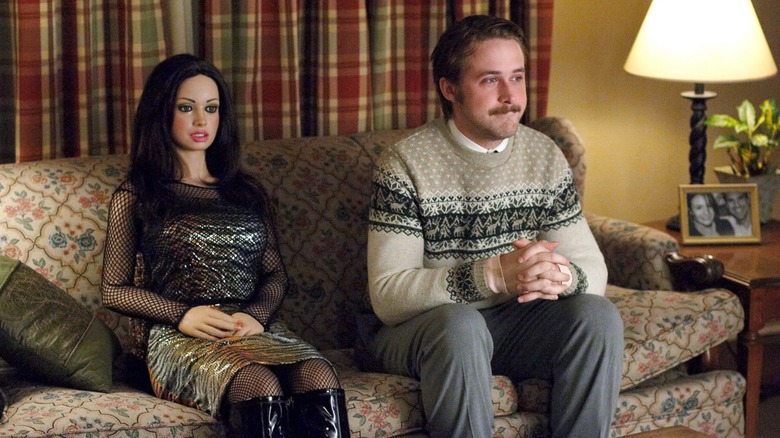 MGM
"Lars and the Real Girl" is an unusual yet heartwarming comedy that features one of Gosling's best comedic performances. Frightened by relationships and awkward in social situations, Lars Lindstrom (Gosling) lives in isolation. Lars had a traumatic childhood — his mother died and his father despised him. As Lars' brother Gus (Paul Schneider) prepares to have a child of his with his wife Karin (Emily Mortimer), he reluctantly decides to invite Lars to stay with them. The situation becomes awkward when Lars claims to have formed a relationship with a girl named Bianca, who is really a life-sized sex doll.
Lars treats Bianca like a real person, and insists on having an actual relationship with her. While Gus is disgusted, Karin is sympathetic and believes that, if they indulge Lars, he'll be able to cope with his trauma. However, Lars only continues to live in delusion. The film isn't particularly raunchy; in fact, it's surprisingly sweet. Lars is a charming character, and Gosling makes the unusual romance endearing. Watching Lars grow closer to his brother is heartwarming; "Lars and the Real Girl" is a film that balances physical humor with genuine emotion to great effect.
9. Blue Valentine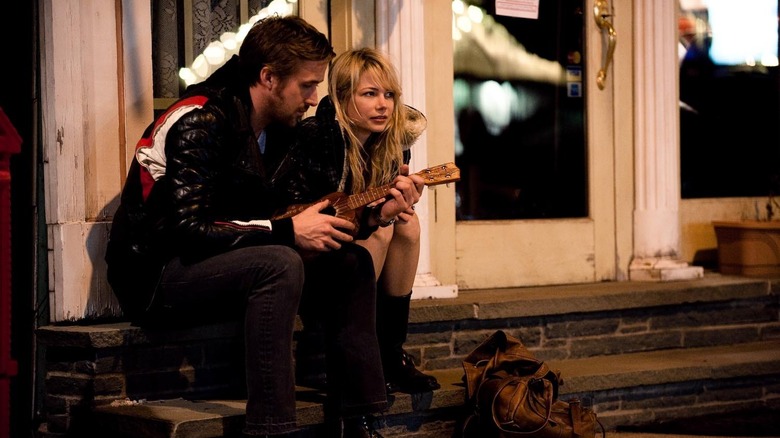 The Weinstein Company
"Blue Valentine" is one of the most heartbreaking romantic movies ever made. A bleak study of a failing relationship, Derek Cianfrance's moving film follows high school dropout Dean (Gosling) and medical student Cindy (Michelle Williams) as they fall in love, drift apart, and struggle to raise their daughter Faith (Frances "Frankie" Pereira). The film is told in a nonlinear fashion, with moments of the couple's early flirtations contrasted with their violent bickering.
The characters are both flawed, and Gosling makes Dean's continuous screw ups both maddening and tragic. Although Dean loves Cindy, he's highly irresponsible. Dean reassures Cindy that he is overjoyed by her unexpected pregnancy, forcing them into an early marriage, but while Cindy was initially charmed by Dean's quirkiness, the marriage is unsustainable.
The final moments are absolutely devastating, as Dean realizes he must leave Faith as he's not prepared to be a father. Williams deservedly received an Academy Award nomination for Best Actress, and it's unfortunate that Gosling was not recognized for Best Actor.
8. Only God Forgives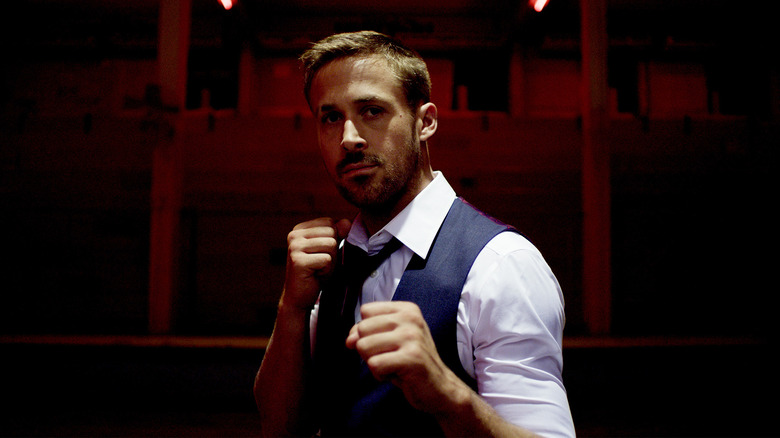 Scanbox Entertainment
Gosling's second collaboration with Nicolas Winding Refn is a divisive film. The violent crime thriller was booed when it debuted at the Cannes Film Festival and earned conflicting reviews, with some critics considering it a masterpiece and others disregarding it as exploitative and pointless. While it's easy to dismiss "Only God Forgives" for its excessive violence, slow pace, and arthouse flourishes, the film is a profound meditation on crime itself. It explores how a never-ending cycle of revenge is never satisfying, a feeling solidified by the movie's inconclusive ending.
Julian (Gosling) leads an underground boxing ring in Bangkok with his brother Billy (Tom Burke). Billy is hunted by the police after he murders a teenage prostitute, and is later killed by the ruthless Lieutenant Chang (Vithaya Pansringarm). Billy's death prompts his mother Crystal (Kristin Scott Thomas) to command her younger son to seek revenge. Gosling intentionally keeps us from learning too much about Julian's emotional state, but he is physically intimidating in the movie's hand-to-hand combat sequences.
"Only God Forgives" is highly metaphorical, with characters that serve mainly as vessels for Refn to reflect on archetypes and the banality of evil. Gosling fulfills the task perfectly, playing a character who has more thematic value than emotional depth.
7. The Place Beyond The Pines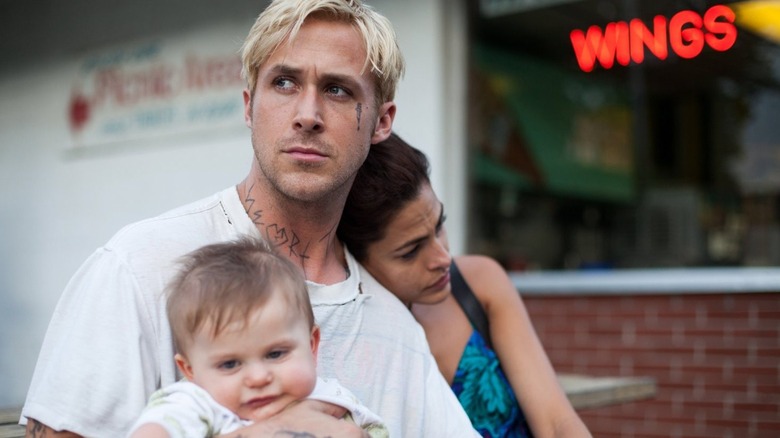 Focus Features
"The Place Beyond The Pines" takes an unusual approach to its narrative, telling a linear generational story that pushes each act in a shocking new direction. Gosling is integral to kicking the story off. He stars as motorcycle stuntman Luke Glanton, who begins robbing banks in order to support his wife Romina (Eva Mendes). An excellent driver, Glanton finds an excitement in the heists that's lacking in his difficult relationship; while he and Romina were once deeply in love, they've drifted apart, and must reunite to support their child. Given that Gosling and Mendes are married in real life, the romantic scenes feel very authentic.
Glanton's crimes spark an investigation by rookie detective Avery Cross (Bradley Cooper), the rare noble cop in the corrupt local police force. Although they're unaware of each other's identities, Cooper and Gosling develop an engaging rivalry throughout the exciting action sequences. Gosling also has great chemistry with Ben Mendelsohn, who plays Glanton's fellow criminal Robin, a character who empathizes with Glanton's struggles but fears for his safety. Glanton's insistence that they  keep hitting local banks even amid the ongoing police investigation creates a lot of tension between the two.
"The Place Beyond The Pines" meditates on how some decisions can forever change the course of a family's future. The scenes in which Glanton drives alone, scored by a simple piano concerto, are absolutely beautiful.
6. Drive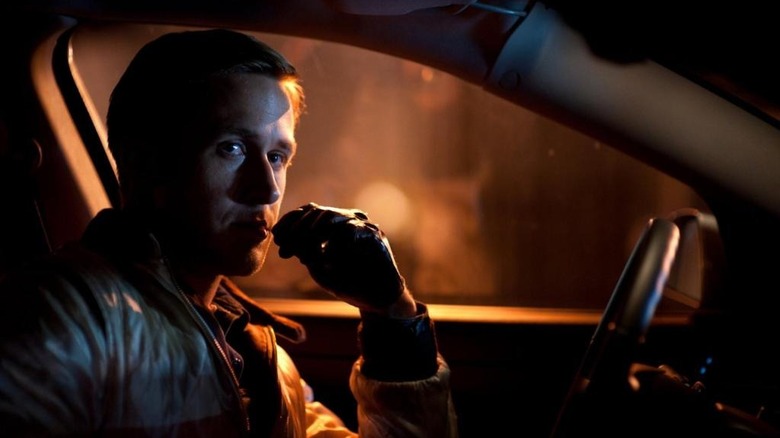 FilmDistrict
Gosling's first collaboration with director Nicholas Winding Refn has become a neo-noir favorite. The stylized crime thriller follows a getaway driver (Gosling) who operates as a Hollywood stuntman while serving the violent gangster Bernie Rose (Albert Brooks). The unnamed driver seeks to escape his dangerous profession after striking up a romance with his new neighbor Irene (Carey Mulligan), and becomes a father figure to her son. However, the return of the boy's actual father, the ex-con Standard (Oscar Isaac), forces the driver into another dangerous series of heists.
Gosling is near-silent throughout, calmly working alongside hardened criminals without sharing any personal details. Through subtle physical mannerisms alone, Gosling conveys his attraction to Irene and his desire to protect her. The driver is surprisingly sensitive, and Gosling does a great job at showing his struggle to reel in his violent impulses. The romance between Gosling and Mulligan is ironically sweet, and gives the driver a motivation to survive the hectic action sequences.
Refn has cited Clint Eastwood's nameless drifter from Sergio Leone's "The Man With No Name" trilogy as an influence on the driver, and Gosling captures the same stoicism. However, he's not a cold character and gives the western-inspired film an empathetic romanticism.
5. La La Land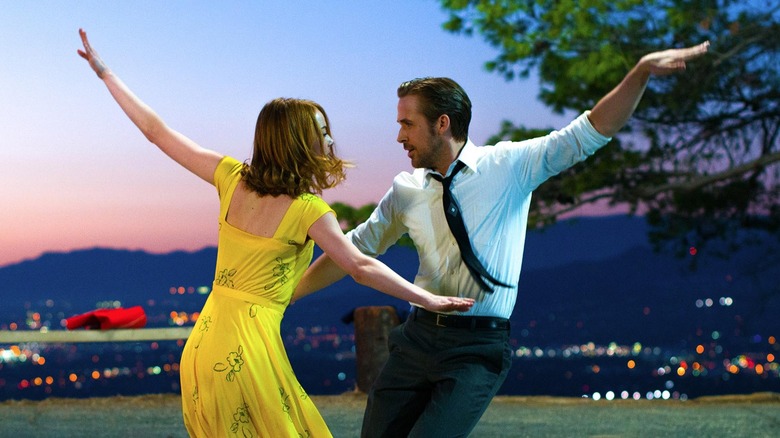 Lionsgate
"La La Land" is a modern musical that revels in its nostalgia for the genre's classics while also acknowledging that times have changed. Damien Chazelle's spectacle is filled with meticulously crafted musical numbers and gorgeous visual details, but the story is centered on the romance between jazz pianist Sebastian Wilder (Gosling) and aspiring actress Mia Dolan (Emma Stone). Wilder is an old-fashioned performer who doesn't like modern music, and Dolan is wide-eyed and always looks to the future. Although they are able to spend fleeting moments together, it's a doomed relationship from the start.
"La La Land" was Gosling's third collaboration with Stone, following "Crazy Stupid Love" and "Gangster Squad," and the two have fantastic chemistry. Mia teases Sebastian, as she despises jazz, but grows to appreciate his passion as he joins a band with former colleague Keith (John Legend). Gosling adds his signature snarky humor to the film as Sebastian navigates awkward situations, such as when he's scolded by local club owner Bill (J.K. Simmons).
Gosling is fantastic in the musical numbers and flexible during the tap dancing sequences. He's also a great singer, and makes the Academy-Award winning song "City of Stars" a memorable recurring theme. "La La Land" ends with the promise of a brighter future stolen from the characters, an irony considering that, for a few brief moments, it had won Best Picture.
4. First Man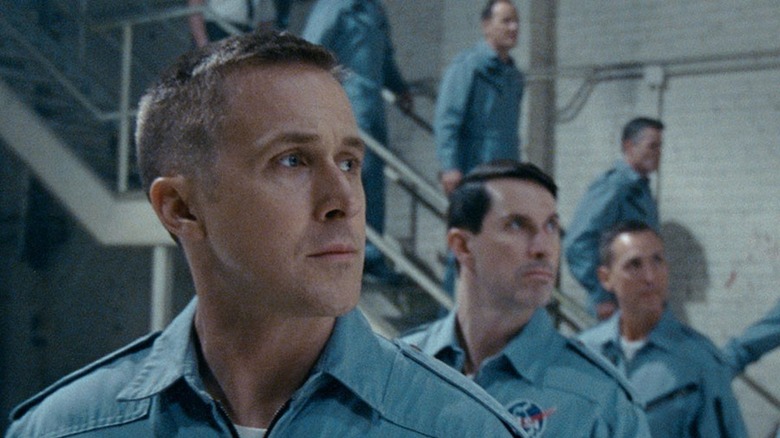 Universal Pictures
"First Man" tells the story of the ambitious Apollo 11 moon landing through the eyes of Neil Armstrong (Gosling), but the film focuses less on spectacle and more on Armstrong's inner turmoil. Armstrong suffered the loss of his young daughter during his early training, and throughout the preparation for the lunar launch he saw several colleagues die due to the hazardous technology. The mission puts immense strain on Armstrong's family, and his wife Janet (Claire Foy) fears that his death will affect their two young children.
Gosling delivers a masterful, subdued performance. Armstrong is shy and has trouble expressing his emotions, but is also highly intelligent and a leader within NASA. The tragedies that have occurred make Armstrong fearful of forming close relationships, and Gosling conveys his heartbreak through subtle movements. Despite his steely persona, Gosling also shows Armstrong's fears throughout the training process, as he's using potentially deadly machinery in highly dangerous situations.
"First Man" won the Academy Award for Best Visual Effects, and the fluid incorporation of archival footage and CGI perfectly captures the era. The gorgeous score from "La La Land" composer Justin Hurwitz gives the film a grand, sweeping quality that compliments Gosling's quiet performance. It is unfortunate that "First Man" underperformed financially and was surrounded by silly controversies; the film is not a political statement, but an insightful look at how one of the greatest achievements in human history allowed a father to process his grief.
3. The Big Short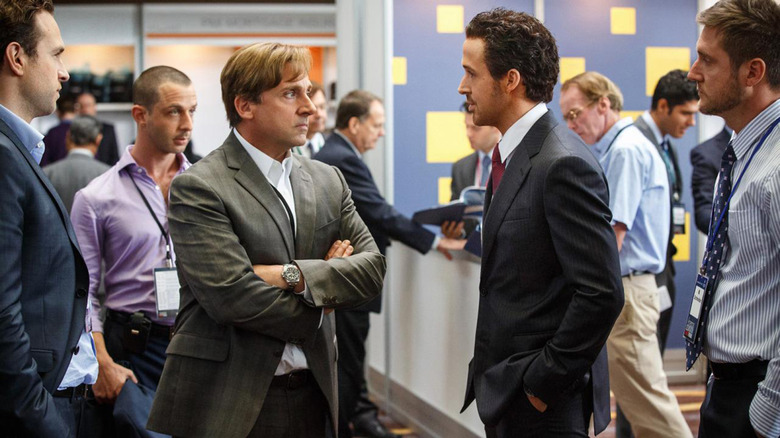 Paramount Pictures
Although he's frequently cast as the lead, "The Big Short" proves that Gosling is equally as effective in a supporting role. "The Big Short" depicts the events preceding the 2008 financial crisis, following key investors and analysts who learned about the impending disaster. Steve Carrell stars as the perpetually angry trading fund manager Mark Baum, Christian Bale appears as the socially awkward hedge fund analyst Michael Burry, and Brad Pitt co-stars as the cautious, retired trader Ben Rickert. Gosling's character, an upbeat salesman named Jared Vennett, first appears as the film's narrator, and later shows up to introduce Baum to the impending collapse.
"The Big Short" is full of complex financial terminology, but utilizes fourth-wall breaking, celebrity cameos, news footage, and untraditional music choices to explain the intricate issues. While often hilarious, "The Big Short" is also infuriating. Gosling is integral to setting this tone. In the opening scene, he's launching into a rapid fire, joke-filled explanation of Burry's plans to short the housing market, but then solemnly reflects on the impact it will have on civilians.
Gosling shares most of his scenes with Carrell, and they have great comedic chemistry. Baum is skeptical of Vennett's confidence, but is impressed by his insights and reluctantly allies with him for key investigations. Baum is often unable to control his anger, and Vennett's attempts to rein him in are frequently hilarious.
2. Blade Runner 2049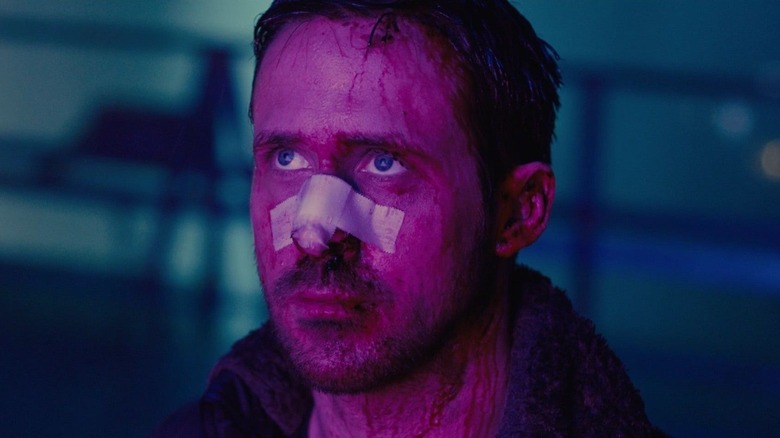 Warner Brothers
Expectations for "Blade Runner 2049" were high. The original "Blade Runner" is among the most beloved sci-fi films of all-time, and fans were eager to see the return of Harrison Ford's Rick Deckard. This put pressure on Gosling, who had to carry on Deckard's legacy as the new protagonist, Agent K. Gosling delivered a performance on par with Ford's, and holds his own when the two share scenes together.
30 years after the events of the original film, the Los Angeles Police Department continues to track down androids who live past their designated expiration date. The replicant blade runner K is tasked with assassinating the farmer Sapper Morton (Dave Bautista), who informs him that a replicant woman has given birth to a child. When K's supervisor, Lieutenant Joshi (Robin Wright), realizes that this infant could spark a replicant uprising, she orders K to investigate the child's birth. With clues from the Tyrell Corporation archives, K realizes that the savior may be the offspring of Deckard himself.
The heart of "Blade Runner 2049" is K's suspicion that Deckard is his father, and the realization that he's not is absolutely heartbreaking. Gosling does a great job at making the cold (literally robotic) character empathetic, as he searches for moments of intimacy with his holographic girlfriend Joi (Ana de Armas). "Blade Runner 2049" is a worthy sequel, and even more emotional than its predecessor thanks to Gosling's sensitive turn.
1. The Nice Guys
Warner Brothers
One of the best modern action-comedies, "The Nice Guys" unfortunately underperformed at the box office. Writer-director Shane Black knows a thing or two about crafting a memorable buddy cop duo, having written the "Lethal Weapon" series and directed "Kiss Kiss Bang Bang."
In this raunchy '70s noir, Holland Taylor (Ryan Gosling) is a down-on-his-luck detective and alcoholic. Still reeling from his wife's tragic death, Holland struggles to connect with his teenage daughter Hollie (Angourie Rice), who basically runs the house. After hitting a dead end in his pursuit of a murdered adult film star, Holland has a violent run-in with the investigator Jackson Healy (Russell Crowe). The two reluctantly team up, with Hollie's help, to crack a conspiracy that involves local politicians, lurid film productions, and big business.
Compared to the tough and intimidating Healy, Holland is wild and eccentric. Gosling is consistently injured, and struggles to match his partner's physical abilities — he tends to get drunk during all of their missions. Although Gosling's physical comedy rivals the best of Buster Keaton and Charlie Chaplin, he makes Holland a fully fleshed-out character who's proud of his daughter. While not overly sentimental, Rice and Gosling's characters bond in moments when they uncover clues together. It's a shame that "The Nice Guys" franchise didn't come to fruition; it would've been fun to see this trio return.