Is This The Craziest Oscar Moment In Our Lifetimes? [Updated]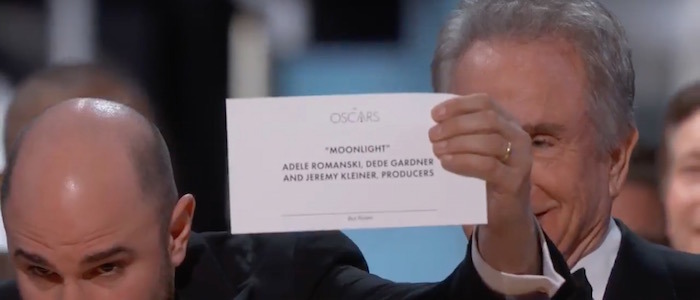 UPDATE: PwC has issued a statement about this whole ordeal, which we have added to the original post below.
The answer to that question proposed in the headline is yes, we did just witness the craziest Oscar moment in our lifetimes. It goes beyond that, though. The question we should really be asking is "Is this the craziest Oscar moment of all time?" And the answer to that question is also...yes.
The final moments of the 89th Annual Academy Awards will forever be a footnote of gonzo trivia stored in the minds of movie fans all over the world. It was the time that the wrong movie was announced for Best Picture, only for everyone to learn the truth in the middle of an acceptance speech. It was an embarrassing and nightmarish moment, handled with surprising dignity by all involved. Even though millions of people saw it happen, it's still hard to believe.
Watch the entire moment here:
Biggest #Oscars mix up of all time? Watch the full play-by-play: pic.twitter.com/RT2zGiR798

— The Hollywood Reporter (@THR) February 27, 2017
Here's what you need to know: it was the end of a particularly tedious Oscar ceremony and things had gone mostly as expected. While it wasn't the juggernaut everyone was expecting, the musical romance La La Land was still cleaning up the bulk of the awards, taking home six statuettes (including Best Director and Best Actress). Moonlight, on the other hand, was more of a low-key winner, snagging Best Adapted Screenplay and Best Supporting Actor. Everyone knew that Best Picture was La La Land's to lose, so it was not surprising at all when it was announced as the winner.
But things seemed...weird. Hollywood legends Warren Beatty and Faye Dunaway were on stage to present the award and at first, it looked like he was just hamming it up. He opened the envelope and stared at the result. At first, it looked like he was trolling the crowd, something only a seasoned pro like Beatty could get away with. Dunaway called him out for milking the moment, so he showed her the envelope. She glanced at the result and announced that the winner was La La Land.
Cue the big applause. Cue the standing ovation. The La La Land team took the stage and the producers began to make their speeches. And they were good ones too – impassioned, full of calls for diversity and tribute to creativity. And then it happened: someone slammed the brakes and everyone quickly learned that a mistake had been made and that Moonlight was the actual Best Picture winner of the year. For everyone who made Moonlight, it was a moment of celebration. For everyone on stage for La La Land, it was a crushing, humiliating blow.
Now, cue those mixed emotions. Cue the Moonlight team celebrating. Cue the La La Land team standing awkwardly on stage, waiting to hand their statuettes to the proper winners. Cue Warren Beatty explaining that the envelope he opened read "Emma Stone – La La Land" (hence his confusion), which means that someone behind the scenes made a mistake, not anyone onstage.
Warren Beatty seems to be opening an envelope that says 'Actress in a Leading Role'. He must have been handed the wrong one somehow. Yikes. pic.twitter.com/Rma4wp80aX

— Neil Patrick Harris (@ActuallyNPH) February 27, 2017
And here's the most important cue of all: the producers of La La Land, Beatty, and host Jimmy Kimmel all stood their ground, handled the moment with grace, and handed the awards to the proper winners. Even Kimmel's (let's be honest, pretty rotten) jokes represent someone trying to absorb the crushing blow for everyone around him. It's a difficult scene to watch, but if ever need to witness a group of people rolling with the harshest punch ever thrown at a live awards ceremony...here you go.
So how did this happen? Despite urban legends about the wrong people accidentally winning Academy Awards (namely Marissa Tomei for her work in My Cousin Vinny), the Oscar tabulation process is pretty intense and has built-in fail-safes. Tonight, we witnessed them: moments after victory, the tabulators stepped in and rectified the situation, as they have said they would do in the past.
But still doesn't explain how this happened. How did Warren Beatty end up with an envelope containing Emma Stone's victory announcement? According to this profile on Martha Ruiz and Brian Cullinan, the third-party PricewaterhouseCooper partners charged with overseeing the counting of Oscar votes, there are two sets of envelopes.
I guess Warren and Leo came from opposite sides https://t.co/wOcicSEg5C pic.twitter.com/EUEf1nO2gi

— Ev (@ev) February 27, 2017
Here's a quote from Ruiz:
We also have two sets of ballots – Brian will have one complete set and I'll have another. The envelopes are kept locked up in an undisclosed location.
So let's not go blaming Emma Stone or Warren Beatty or Faye Dunaway – someone behind the scenes may have mixed up one of the doubles, leading to one of the most astonishing misunderstandings in pop culture history. At least, that's the story that makes the most sense for now.
Stone seems to be taking all of this fairly well:
Emma Stone backstage: "I was also holding my Best Actress card at that time ... I don't know what happened." #Oscars pic.twitter.com/FS11XVo11y

— The Hollywood Reporter (@THR) February 27, 2017
Meanwhile, Moonlight director Barry Jenkins just seems beside himself:
OK and now here's Barry Jenkins' reaction backstage: pic.twitter.com/0hYotOVzAI

— Marc (@MarcSnetiker) February 27, 2017
So there you go. Moonlight was named Best Picture at the 2017 Academy Awards. Congratulations to all involved – your movie is a masterpiece. As for La La Land...better luck in the future, guys.
We'll continue to update this story as it develops.
UPDATE: PwC has issued the following statement, seeming confirming that the confusion stemmed from the alternate Best Actress envelope being inexplicably handed to Warren Beatty:
We sincerely apologize to Moonlight, La La Land, Warren Beatty, Faye Dunaway, and Oscar viewers for the error that was made during the award announcement for Best Picture. The presenters had mistakenly been given the wrong category envelope and when discovered, was immediately corrected. We are currently investigating how this could have happened, and deeply regret that this occurred.
We appreciate the grace with which the nominees, the Academy, ABC, and Jimmy Kimmel handled the situation.