'The Promise' Trailer: Does Charlotte Le Bon Love Christian Bale Or Oscar Isaac More?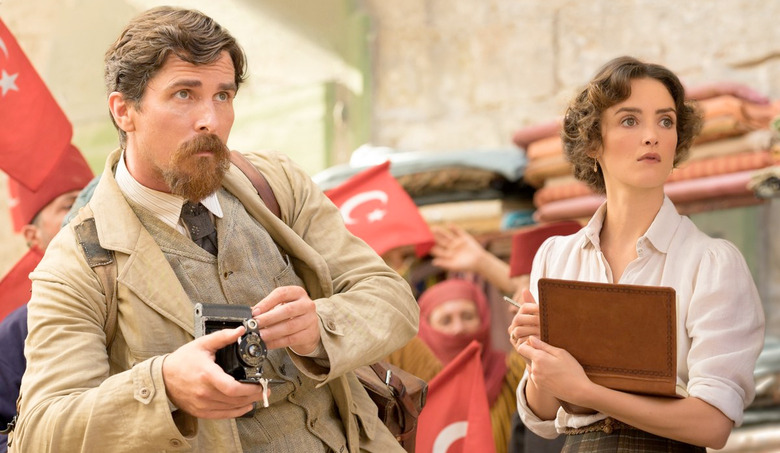 Even though a triangle is one of the strongest geometric shapes, a love triangle makes things far less stable. It certainly doesn't help matters any in Terry George's new film The Promise.
A young woman named Ana (Charlotte Le Bon of The Walk) strikes up a close relationship with a medical students (Oscar Isaac) while she's still in a relationship with an American photojournalist (Christian Bale), all while war breaks out around them in the middle of the Ottoman Empire. It makes for some complicated romantic drama, but it may not turn out to be as important as helping the people around them get to safety in the middle of the turmoil surrounding them.
Watch The Promise trailer after the jump.
This looks like fairly standard romantic war drama fare, not unlike films such as The English Patient or Cold Mountain. If this were the fall, I would say that the movie was trying to go for awards, but since it's coming out in April, that doesn't give us much confidence that this packs as much punch as an awards contender should.
At the very least, the cast might elevate this to being worth watching. Oscar Isaac never disappoints, unless he's giving little to work with, as in the case of X-Men: Apocalypse. And you know Christian Bale is always going to bring his A-game to any movie he chooses to do. Meanwhile, Charlotte Le Bon is a fantastic French Canadian actress, and it's clear why Isaac and Bale are having trouble letting the other win her heart.
For cinephiles out there, it might be director Terry George that draws you in. He's crafted powerful drama inspired by true stories before with Hotel Rwanda and In the Name of the Father, as well as Hart's War starring Bruce Willis. I'm not sure this will pack the same punch since it seems rather derivative, but I don't necessarily want to brush it off yet either. We'll find out how it really is this spring, though reviews out of the Toronto International Film Festival were not particularly kind.
If you'd like to see more, watch the first trailer for The Promise right here.
Empires fall, love survives. When Michael (Oscar Isaac), a brilliant medical student, meets Ana (Charlotte Le Bon), their shared Armenian heritage sparks an attraction that explodes into a romantic rivalry between Michael and Ana's boyfriend Chris (Christian Bale), a famous American photojournalist dedicated to exposing political truth. As the Ottoman Empire crumbles into war-torn chaos, their conflicting passions must be deferred while they join forces to get their people to safety and survive themselves.
The Promise arrives in theaters on April 21.