The 15 Best Natalie Portman Movies Ranked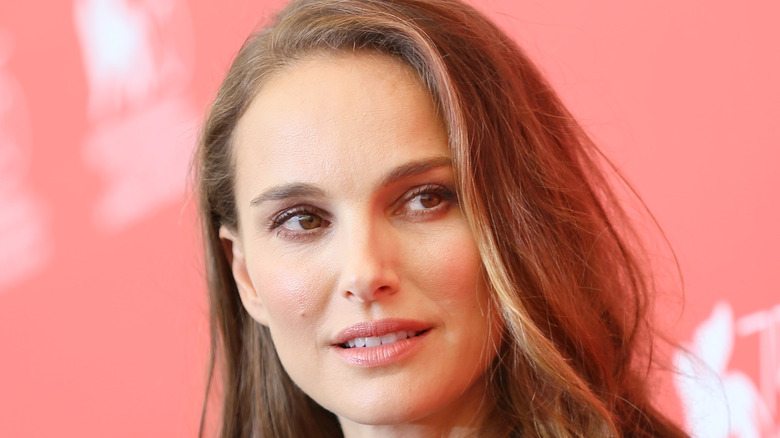 Denis Makarenko/Shutterstock
Natalie Portman is one of the finest Oscar-winning actresses working today, that rare case of a famous celebrity who continues to choose experimental film projects in addition to mainstream Hollywood fare. In between major franchises like "Star Wars" and the Marvel Cinematic Universe, Portman has helped spotlight many arthouse, independent, and genre projects that might not have gained as much attention if it wasn't for her involvement. She's gained notoriety for her passionate support for female filmmakers, and it's inspirational to see someone of her caliber working towards positive change within the industry.
Portman has been a major Hollywood presence for over 25 years, always reinventing herself. She's even been able to reinvent some of her past roles such as the Marvel Cinematic Universe project "Thor: Love and Thunder," in which her character Jane Foster takes on the mantle of Thor herself. Here are the 15 greatest Natalie Portman movies, ranked.
15. Thor (2011)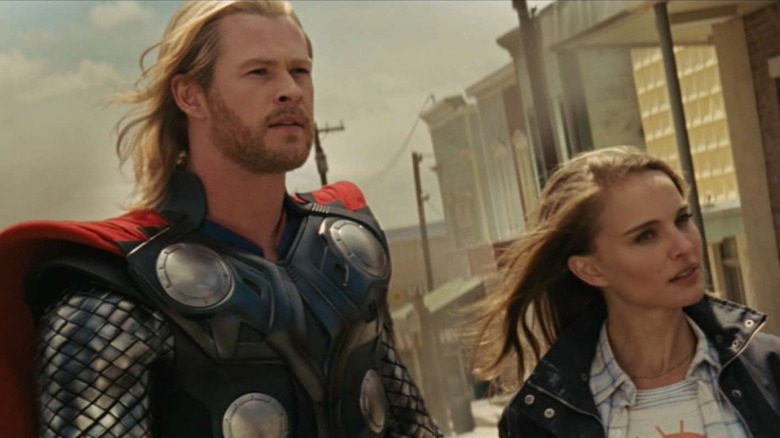 Marvel Studios
Compared to the epic scale that the Marvel Cinematic Universe has reached in its later phases, the first "Thor" film is relatively small in scale. Director Kenneth Branagh tackled Marvel's powerful God of Thunder by stripping him of his hammer and signature powers. Banished from the Kingdom of Asgard, Thor is forced to live on Earth in order to reassess his values. It helped humanize a character that could have felt emotionally unreachable, and a lot of that empathy comes from Natalie Portman's character Jane Foster.
Jane is a scientist who researches anomalies within the galactic map, and she's fascinated by the outer space visitor that appears in the middle of the desert. Jane has a real passion for practical studies, and seeing her scientific approach to the mysticism of Thor was an interesting twist. Love interests in superhero movies can often feel one-note, but Jane is an active character who engages in the plot.
14. Song to Song (2017)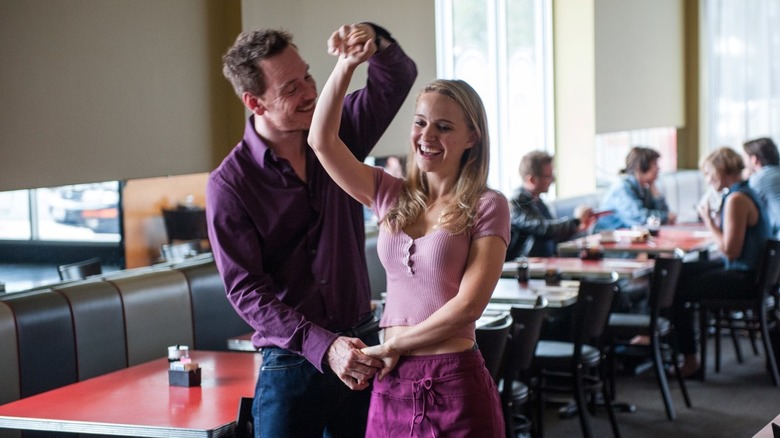 Broad Green Pictures
Terrence Malick's 2017 romantic odyssey "Song to Song" features a murderer's row of the best actors working today, with Natalie Portman appearing alongside Cate Blanchette, Michael Fassbender, Ryan Gosling, and Rooney Mara. The film centers around love triangles set within the Austin music scene, and the eventual series of heartbreaks, hiccups, and moments of joy that occur during realistic relationships. Portman plays one of the more sincere and sensitive characters, and her storyline is particularly touching.
She appears as Rhonda, a schoolteacher who isn't directly associated with the record industry. She is charmed by the passionate performer Cook (Fassbender), and they begin an illustrious romance. She is swept away when he buys her a house, and they soon marry. However, Cook's indulgences soon dampen their initial passions. He is constantly on edge because of his drug use, and he has affairs with other women, all while Rhonda copes with being an outsider to the local celebrity scene.
13. Garden State (2004)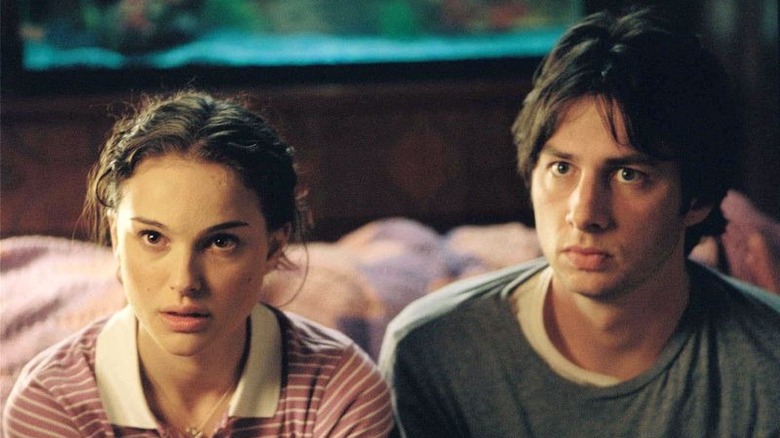 Fox Searchlight
Zach Braff's 2004 directorial debut, "Garden State," continues to generate widespread discussion, being ripe for analysis and criticism. It is an early example of a Hollywood star creating a smaller, personal project that is semi-autobiographical and has an idiosyncratic sense of humor. Unfortunately, many have labeled Natalie Portman's character as a "Manic Pixie Dream Girl," including that moniker's creator Nathan Rabin. Although the film has its issues, Portman is truly wonderful in it, as she embraces Braff's wacky slice-of-life relatable comedy.
The film centers around the actor Andrew Largeman (Braff), who returns to his hometown in New Jersey after the death of his mother. During a medical appointment, he has a chance encounter with the energetic Samantha (Portman). Braff is a talented comic performer, but less accustomed to more serious work, but Portman's high-spirited energy elevates Braff's performance, and they have strong chemistry.
12. Knight of Cups (2015)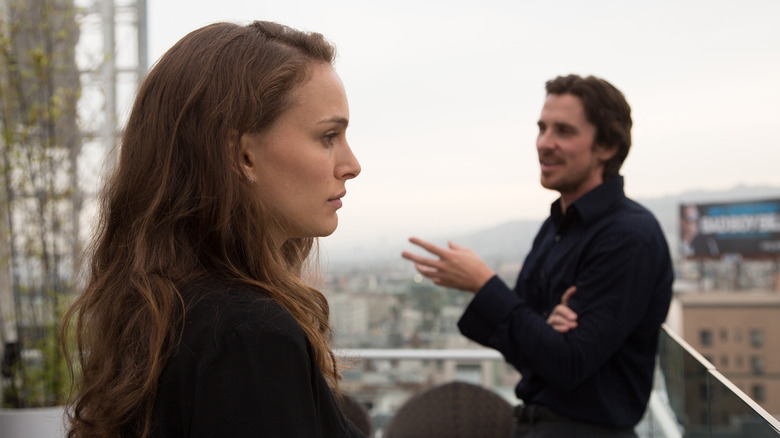 Broad Green Pictures
Terrence Malick is a director known for making bold filmmaking choices, and "Knight of Cups" is one of his most divisive projects. Malick infamously shot the film with little story notes planned ahead of time and made significant changes in the editing room that cut down many of the actors' roles. It's certainly a challenge to be a standout amidst the strange shooting situation, but Natalie Portman has one of the most important parts of the film. In a story that centers around indulgence, she is genuinely heartfelt.
The film is divided into a series of eight segments that focus on the life of screenwriter Rick (Christian Bale) as he lavishes in extravagant indulgences in the wake of his brother's death. The eight sections are indicated with a tarot card, and Portman's role as the married woman Elizabeth comes in the "Death" segment. She has an emotional role as Rick considers the potential of fatherhood.
11. Mars Attacks! (1996)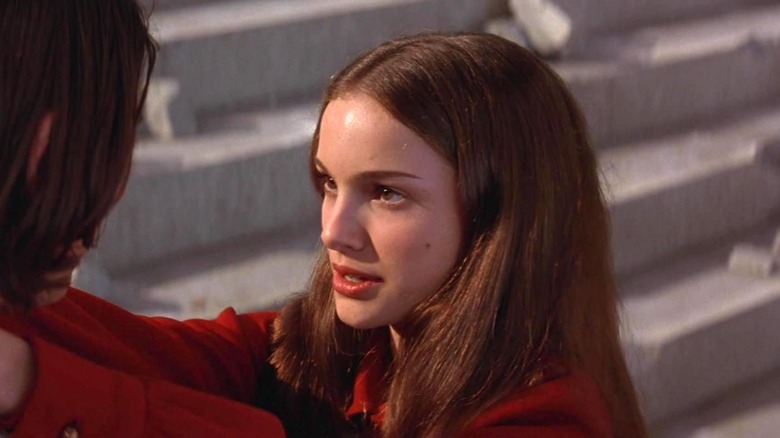 Warner Bros. Pictures
Natalie Portman is renowned for her ability to deliver emotionally devastating moments as a dramatic actress, but she's often not given enough credit for her comedic sensibilities. Portman would go on to star in a few romantic comedies like "No Strings Attached" later in her career, but her sense of humor was apparent even within her early work. She's absolutely hilarious in Tim Burton's wild 1996 disaster film parody "Mars Attacks!," based on the Topps trading card series. 
The film centers around an invasion of Earth by vicious Martians that take advantage of mankind's utter incompetence. Among the biggest idiots on the planet is President James Dale (Jack Nicholson), and Portman appears as his daughter Taffy, who has grown bored by politics and has to fend for herself during the attack. Although Taffy is spoiled and incredibly wealthy, Portman is still able to make her a likable character.
10. Heat (1995)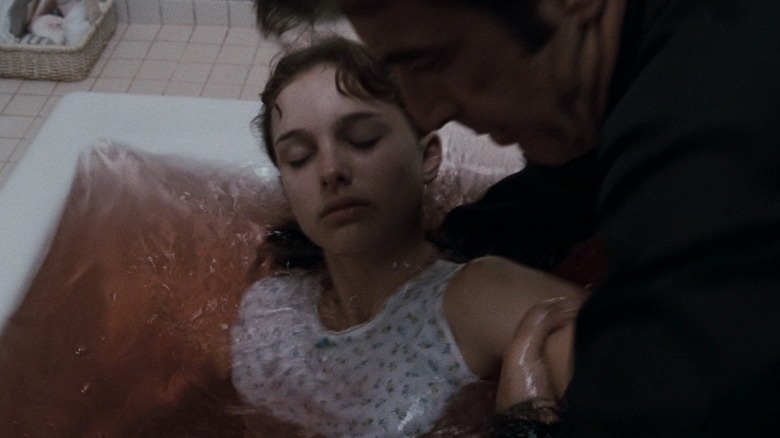 Warner Bros. Pictures
Michael Mann's 1995 crime thriller "Heat" perfectly showcases the complex relationship between LAPD Lieutenant Vincent Hanna (Al Pacino) and serial bank robber Neil McCauley (Robert De Niro). Not only does Vincent have to deal with the stress of his obsession with finding Neil, but he must also deal with a messy home life. Vincent has a challenging relationship with his third wife Justine (Diane Venora) and his stepdaughter Lauren (Natalie Portman). A then-teenaged Portman, in only her second feature role, delivers a powerful supporting performance where she is able to hold her own alongside Pacino.
Lauren is dealing with mental health issues that she's unable to express, and rarely communicates with her father. It's a tension that is prolonged throughout the film and becomes a pivotal part of the climax. Amidst the most desperate hour of Vincent's pursuit of Neil, he learns that Lauren has attempted suicide and must rush her to the hospital.
9. Cold Mountain (2003)
Miramax
One of the signs of a great actor is someone who can deliver memorable performances regardless of how much screen time they have. Natalie Portman is often credited above the title thanks to her frequent starring roles, so when she took on a smaller role in the 2003 Civil War epic "Cold Mountain" it came as a bit of a surprise. However, in only a few extended scenes, Portman delivered memorable work that ranks among the film's strongest moments.
"Cold Mountain" is centered around the carpenter William Inman (Jude Law), who is forced to enlist in the Confederate Army and leave both his home in Charleston, South Carolina as well as his lover Ada Monroe (Nicole Kidman). After Inman is left for dead in battle he ventures on the long journey home, and during his travels comes across the meager widow Sara (Portman). Sara lives within a dangerous community but takes William in nonetheless. He's forced to protect her from soldiers that attempt to assault her and kidnap her son Ethan.
8. Brothers (2009)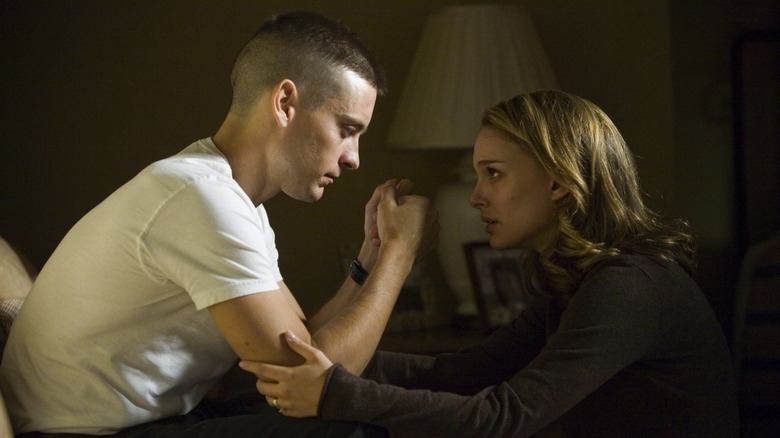 Lionsgate
Post-war films frequently tackle the lives of soldiers reeling from the effects of post-traumatic stress disorder. Jim Sheridan's 2009 film "Brothers" captures the emotionally complex material of characters trying to adapt to normal life in the wake of combat. Natalie Portman is put in a particularly vulnerable position and treats the weighty material with the respect it deserves.
Captain Sam Cahill (Tobey Maguire) is a beloved figure within his community, but his wife Grace (Portman) and their two children worry about his safety when he's dispatched overseas to Afghanistan. Sam manages his irresponsible brother Tommy (Jake Gyllenhaal), and Grace is forced to look out for him when Sam is far away. When Sam is reported deceased, Grace is devastated. Consequently, she and Tommy cope together and grow closer. They have brief flirtations, but ultimately decide not to pursue a relationship. However, Sam's death was a false report, and he returns home a changed man. He's haunted by his violent experiences and takes it out on Grace by accusing her of infidelity.
7. Annihilation (2018)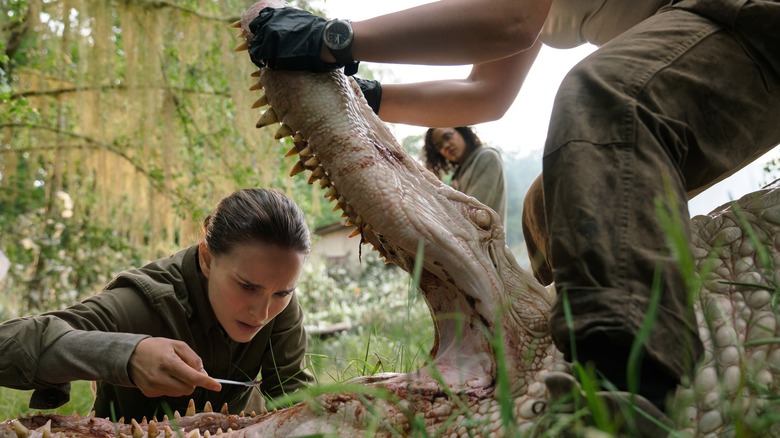 Paramount Pictures
Although Natalie Portman has had many box office successes over her career, many viewers still remember her as Padme Amidala in the "Star Wars" prequel films. The romance between Padme and Anakin never worked, and it was unfortunate that Portman's talents were wasted, especially since seeing her in a science fiction project is exciting. Thankfully, Portman was able to star in a new sci-fi classic that gave her a much more interesting role with Alex Garland's 2018 film "Annihilation."
Portman stars as Lena, a biologist researcher whose husband Kane (Oscar Isaac) disappears into a mysterious energy field known as "The Shimmer." Lena is given the chance to rescue him when she's recruited by the government psychologist Dr. Ventress (Jennifer Jason Leigh). Lena joins Ventress and her team composed of paramedic Anya Thorensen (Gina Rodriguez), physicist Josie Radek (Tessa Thompson), and creature specialist Cassie Sheppard (Tuva Novotny) in their exploration of "The Shimmer." Within the enigmatic "Area X" they experience monstrous creatures and frightening visions that haunt each woman with demons of their past.
6. Vox Lux (2018)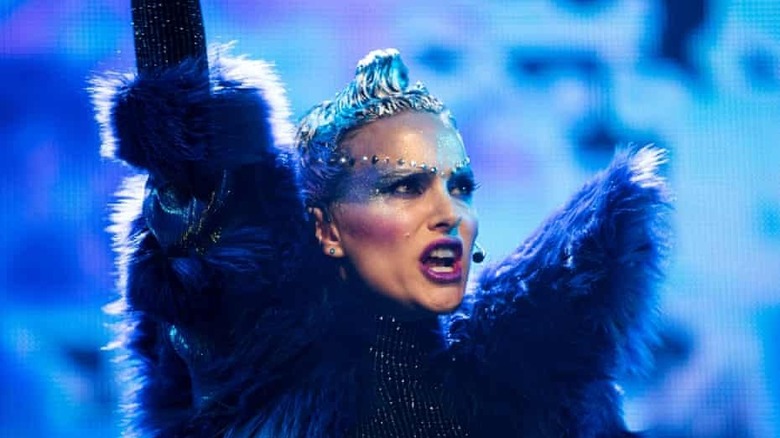 Neon
Natalie Portman has certainly delivered some eccentric performances in the past, but her role in "Vox Lux" as the pop star Celeste was a transformation unlike anything she had ever done. It's an outrageous depiction of stardom and would have risked being a borderline caricature if Portman didn't do such a great job exploring Celeste's childhood trauma and how it manifests into her adulthood.
A young Celeste (Raffey Cassidy) is a survivor of a devastating school shooting, shown in graphic detail. In her grief during the aftermath, Celeste and her sister write a song called "Wrapped Up" that they sing at a memorial candlelight service held by the community. The song was only intended to be a method of healing, but it gains popularity in their small circles and attracts the attention of a major music manager (Jude Law). Celeste soon becomes a pop sensation and sheds her youthful innocence, with Portman playing the older character once she's become a controversial music icon. Virtually removed from reality and extremely temperamental, Celeste struggles to connect with her own daughter Albertine (also Cassidy). She's reminded of her youthful experience when a new mass tragedy breaks headlines the day of a pivotal performance.
5. Black Swan (2010)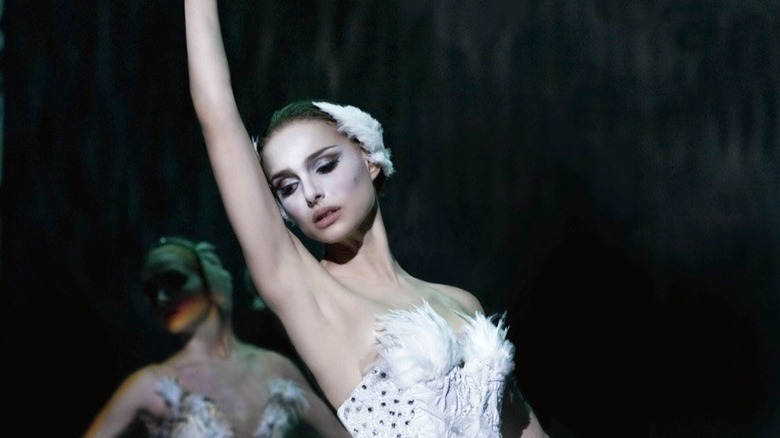 Fox Searchlight
Natalie Portman finally won the Academy Award for best actress for her performance in Darren Aronofsky's brilliant 2010 psychological thriller "Black Swan," a role that required her to play two conflicting sides of the same character and do extremely physically challenging dance sequences. Occasionally actors will win a "career Oscar," in which they'll be rewarded not for their individual performance but as a representation of their overall filmography. There are also instances in which the immense challenge of a role, such as a physical transformation and difficult stunt work, can also result in the award. While Portman already had an extensive career to this point, "Black Swan" was such a challenge that her win arguably came completely on the basis of merit.
Portman's character Nina Sayers is a shy dancer at the New York Ballet Academy who auditions for the lead role in "Swan Lake," her dream part. Nina rarely does anything other than practice due to the demands of her domineering mother Erica (Barbara Hershey), but she's introduced to the New York social circles by her fellow classmate Lily (Mila Kunis). When she lands the role, Nina is a natural fit for the purely innocent White Swan but must challenge her own psychology to play the seductive Black Swan. She's drawn into a complicated relationship with the conductor Thomas Leroy (Vincent Cassel).
4. Léon: The Professional (1994)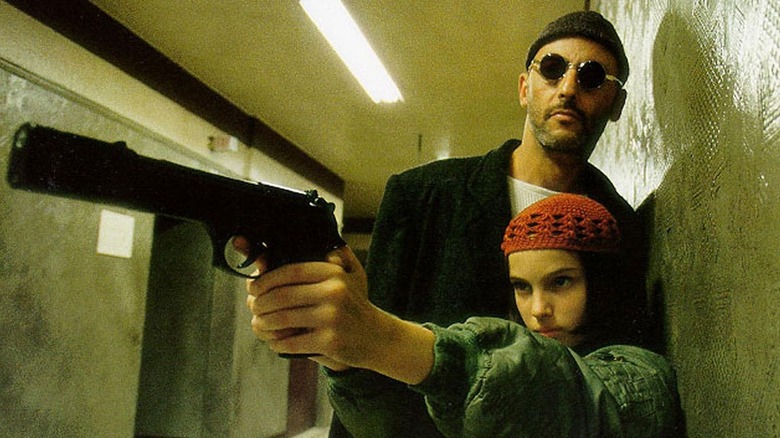 Gaumont
Child performances are often judged on a sliding scale. A younger performer who lacks experience can't be expected to immediately have an awareness of the dramatic stakes of the story and work at the same caliber as their co-stars. Natalie Portman didn't need these excuses when she delivered her breakout performance in Luc Besson's hyper-violent 1994 action classic "Léon: The Professional." Placing a child within the center of an action film was a risky choice on Besson's part. Action films that attempt to become heartfelt by putting a child in harm's way can come off as extremely unrealistic or superficially melodramatic, but Portman didn't detract from the exciting set pieces at all.
Portman stars as Mathilda Lando, a young girl who is left orphaned when her entire family is massacred by the corrupt cop Norman Stansfield (Gary Oldman), a frightening vision of the Drug Enforcement Agency that ranks among Oldman's most horrifying performances. Stansfield comes into conflict with the assassin Léon (Jean Reno), who ends up befriending Mathilda and protecting her briefly. Léon didn't intend to become Mathilda's long-term guardian, and surprisingly both characters realize they have much more in common than they first expected. Léon develops into a strange sort of father figure to Mathilda as he trains her to be his assistant and get revenge on Stansfield.
3. V for Vendetta (2005)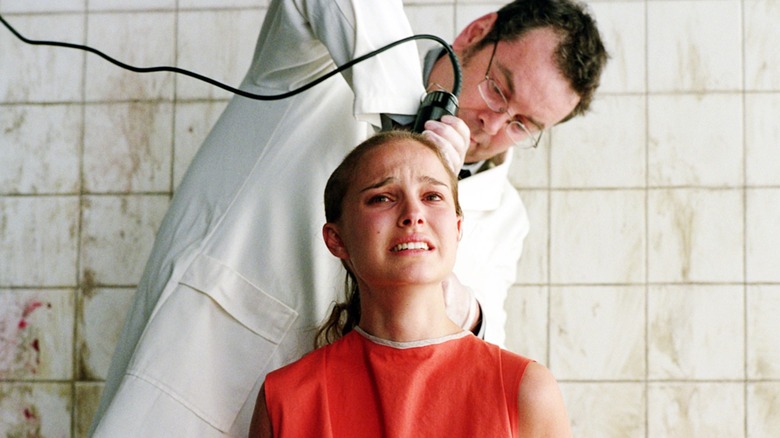 Warner Bros. Pictures
Natalie Portman has never been shy about her politics during press cycles for her film projects, and many of her films have spotlighted critical issues through direct recreations of historical events. Ironically, one of her most blatantly political films came from within the comic book genre, as James McTeigue's 2005 adaptation of Alan Moore's graphic novel "V for Vendetta" explores a dystopian militaristic future version of England. The charged story centers around themes of anti-authoritarianism, social discrimination, media dominance, and the necessity of rebellion through public protest. Although McTeigue is credited as the director, the film was produced by the Wachowski sisters and is influenced by their unique stylistic impulses. Portman has a critical role as Evey Hammond, a victim that becomes a victor.
Hammond is a timid British woman who works as a secretary within the BTN broadcast program. The entire media within the nation is directly controlled by the neo-fascist government under High Chancellor Adam Sutler (John Hurt), who rules with an iron fist and a militaristic police force, silencing anyone who dares to disagree with his conservative values. Evey despises Sutler but is helpless to do anything about it until she is saved from a streetside assault by an enigmatic vigilante known only as "V" (Hugo Weaving). V teaches Evey to defend herself and take on his mantle, and Portman shows her remarkable transition as she gains confidence.
2. Closer (2004)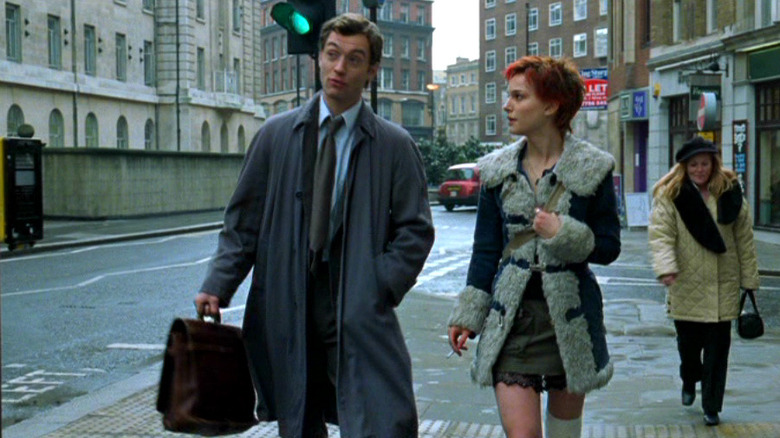 Columbia Pictures
There's an intimacy to stage performances that is harder to capture on film, but it's something the late Mike Nichols prioritized throughout his career. He adapted Patrick Marber's acclaimed play "Closer" into the 2004 film of the same name, with the lurid story centered around two intersecting couples and the power games between all four of them. It features showcase moments for all four stars.
Set in modern-day London, "Closer" follows a chance encounter between the writer Daniel Woolf (Jude Law) and the mysterious woman Alice Ayres (Natalie Portman), who he meets through a friendly streetside conversation. It becomes the basis for Daniel's new novel, and during his publicity tour he's interviewed by the photographer Anna Cameron (Julia Roberts), with whom he becomes romantically involved. Dan is also using a false identity to deceive the dermatologist Larry Gray (Clive Owen) into a fake online relationship. Soon the four strangers have their lives forever tied together as they begin to romance, cheat, and deceive each other. All of the performances are stellar, but Portman is truly the wildcard of the group. Her youth gives her spirited energy that excites the other men but takes them by surprise as she constantly changes her mind and toys with them.
1. Jackie (2016)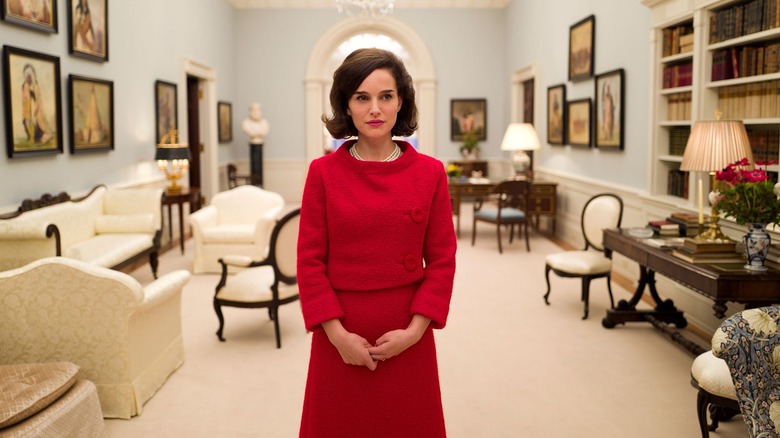 Fox Searchlight
Even for some of the best performers in the industry, there are certain roles you can only play at a certain point in your career once you've reached a level of maturity. Few recent cinematic performances have been quite as challenging as the role of Jackie Kennedy in Pablo Larraín's 2016 biographical film "Jackie." Not only does it follow the former First Lady of the United States, someone whose voice and characterization was widely covered by the mainstream media, but it presented Kennedy in a very fragile emotional state in the aftermath of her husband's assassination. It's one thing to play a famous historical figure where the audience is likely familiar with their characteristics, but another to paint them in a sympathetic light as a grieving widow, struggling mother, and unsuspecting pinpoint for the nation's grief. 
Natalie Portman fulfilled these high demands and delivered one of her most powerful performances. Larraín draws parallels between the Kennedys and Arthurian legend, with Portman capturing the essence of heartbroken princess Guinevere watching the glory of Camelot fade away. The story is brilliantly framed around her reclusive conversations with a journalist (Billy Crudup), who gains insight into her state of mind. Portman still leaves some of these emotions ambiguous.