'Knight Of Cups' Trailer: Diplo Remixes Terrence Malick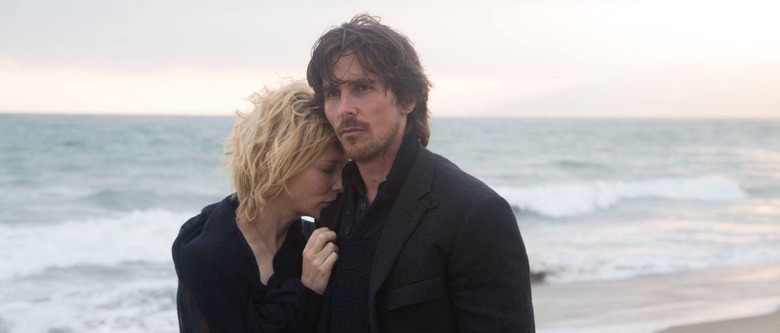 Between all the post-Oscars discussion and all the superhero movie hype, it can be easy to forget about some of the smaller, quieter films headed our way in the coming weeks. Like Knight of Cups, Terrence Malick's latest tone poem featuring an all-star cast and tons of great scenery. Only this time, Malick turns his eye away from the country and toward the big city. Oh, and he gets an assist by Diplo, who provides the music for the latest Knight of Cups trailer.
Christian Bale stars as a successful Hollywood screenwriter (Christian Bale) looks at all the glitzy parties and beautiful women in his life and despairs at the meaninglessness of it all. Natalie Portman, Cate Blanchett, and Wes Bentley play a few of the key figures who flit in and out of his life. Watch the new Knight of Cups trailer after the jump. 
Malick's Knight of Cups premiered at Berlin over a year ago to very mixed reviews, which is just as we'd expect from a latter-day Malick movie. The basic plot of the movie — creative type moves to Hollywood, finds it to be a beautiful pit of soul-sucking despair — has been done to death, but perhaps Malick's found a fresh angle to mine from it. If nothing else, though, this will probably be one of the most gorgeously shot existential crises in cinematic history.
Knight of Cups gets a limited release starting March 4 (that's this weekend) from Broad Green Pictures. Isabel Lucas, Teresa Palmer, Freida Pinto, Imogen Poots, Antonio Banderas, and Brian Dennehy also star.
Knight of Cups follows writer Rick (Christian Bale, The Fighter, American Hustle) on an odyssey through the playgrounds of Los Angeles and Las Vegas as he undertakes a search for love and self. Even as he moves through a desire-laden landscape of mansions, resorts, beaches and clubs, Rick grapples over complicated relationships with his brother (Wes Bentley) and father (Brian Dennehy). His quest to break the spell of his disenchantment takes him on a series of adventures with six alluring women: rebellious Della (Imogen Poots); his physician ex-wife, Nancy (Cate Blanchett); a serene model Helen (Freida Pinto); a woman he wronged in the past Elizabeth (Natalie Portman); a spirited, playful stripper Karen (Teresa Palmer); and an innocent Isabel (Isabel Lucas), who helps him see a way forward.
Rick moves in a daze through a strange and overwhelming dreamscape — but can he wake up to the beauty, humanity and rhythms of life around him? The deeper he searches, the more the journey becomes his destination.
The 7th film from director Terrence Malick (The Thin Red Line, Tree of Life), Knight of Cups (the title refers to the Tarot card depicting a romantic adventurer guided by his emotions) offers both a vision of modern life and an intensely personal experience of memory, family, and love. Knight of Cups is produced by Nicolas Gonda, Sarah Green and Ken Kao. Prominent crew includes cinematographer Emmanuel Lubezki (Gravity, Birdman), production designer Jack Fisk, costume designer Jacqueline West, and composer Hanan Townshend (To The Wonder). The film's ensemble cast also includes Antonio Banderas, Cherry Jones and Armin Mueller-Stahl.