'In Secret' Trailer: Elizabeth Olsen Marries Her Cousin And Hooks Up With A Family Friend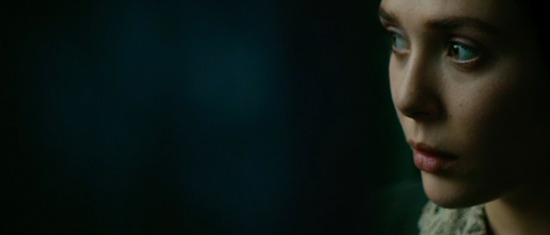 In her onscreen appearances this year, Elizabeth Olsen is sleeping with all the wrong people. Look no further than Oldboy for concrete proof, but if you want more, there's the period drama In Secret, based on Émile Zola's novel Thérèse Raquin.
Olsen plays Thérèse, trapped in an arranged marriage to her dunderheaded and frail cousin (Tom Felton), and who finds herself burning a candle — maybe a bonfire, really — for the dashing and worldy artist friend (Oscar Isaac) who enters her family orbit. The appeal here is, in part, based on the cast; Olsen is reliably great in most roles (she's even good in Oldboy, though he work is not rewarded), and Oscar Isaac seems perfectly cast in the role of the potential paramour.
And there's the tone, commanded by director Charlie Stratton (episodes of Everwood and Revenge), which builds mysteries and plot twists on a foundation of Victorian repression, with Olsen's luminous face guiding us through the shadows. Check out a trailer below.
Warning, if you like your trailers totally spoiler-free, this is definitely not the one for you, as it seems to give away some big notes. (Based, presumably, on the idea that the audience is familiar with the novel/story already.)
In Secret will have a limited opening on February 21 2014. Apple has the trailer in HD.
Based on Émile Zola's scandalous novel, Thérèse Raquin, Charlie Stratton's In Secret is a tale of obsessive love, adultery and revenge set in the lower depths of 1860s Paris. Therese, a sexually repressed beautiful young woman, is trapped into a loveless marriage to her sickly cousin, Camille, by her domineering aunt, Madame Raquin. Therese spends her days confined behind the counter of a small shop and her evenings watching Madame play dominos with an eclectic group. After she meets her husband's alluring childhood friend, Laurent, she embarks on an illicit affair that leads to tragic consequences.