'Lawrence Of Arabia' Trailer: David Lean's Masterpiece Gets 4K Restoration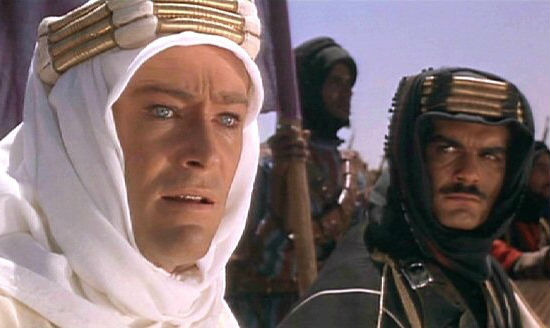 For years, I avoided seeing David Lean's Lawrence of Arabia for one simple reason: I didn't want to watch it on VHS. A film of this scope and majesty was simply too big for that format (figuratively and literally –  it took up two tapes) so I decided to wait for the optimal experience. Then it happened. 70mm screening at the Ziegfeld in New York City. So I went and marveled at what's unquestionably not only one of the best films of all time, but most beautiful as well. Lean's work is an absolute revelation on the big screen.
2012 is the fiftieth anniversary of Lawrence of Arabia and not only did it get a mini 3D version in Ridley Scott's Prometheus, it'll be re-released in 4K digital projection on October 4th before a new Blu-ray release this holiday season. After the jump, check out the trailer for the re-release.
Thanks to Empire (via First Showing) for the trailer.
The October 4 re-release is likely just a one night only thing so keep an eye on major theaters in major cities and the Blu-ray release is scheduled for November 13. However, the Empire article says the presentation will have an overture and intermission though, a truly huge movie going experience.
As for the restoration itself, here's a quote from Grover Crisp, a film preservation expert at Sony via Indiewire:
We wanted to return this film to as pristine a condition as possible to honor its anniversary release. The original negative was seriously damaged in a number of ways, some problems dating from the original release and some accumulated over the years. Until now, we did not have the tools available to address these issues. We think fans of the film will be as amazed as we are at the detail and resolution in the imagery captured by cinematographer Freddie Young to compliment David Lean's immaculate direction.
I'll definiitely be revisiting this one. Have you ever seen it on the big screen?