Renfield: Everything We Know About The Vampire Action Movie With Nicholas Hoult And Nicolas Cage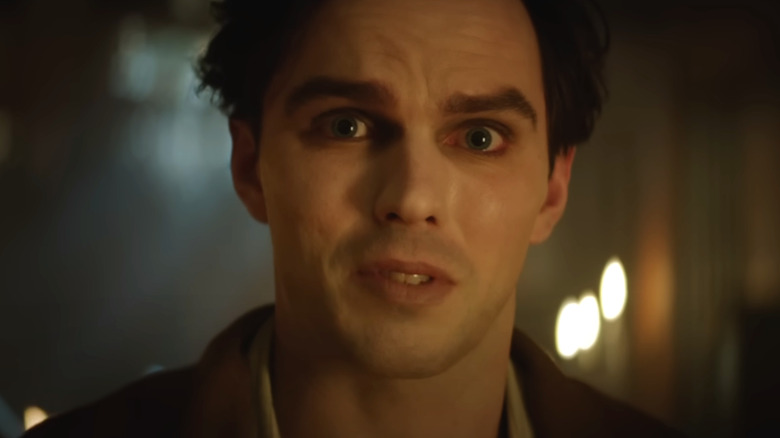 Universal Pictures
Watch out, "Dracula, Dead and Loving It," there's a new Dracula comedy headed our way... well, sorta. We're getting a movie about Renfield.
Just who is Renfield? Well, in a literal (and literary) sense, he's Dracula's disciple, but in a figurative (and filmgoing) sense, we're all Renfield, anyone who worships a bit at the altar of movie stardom or art and celebrity in general. Bram Stoker, the author of "Dracula," envisioned his book character, R.M. Renfield, as an asylum inmate and zoophagous acolyte to the O.G. vampire. He's the proto-familiar, a human servant of the undead, who consumes creatures like spiders and even birds in the hopes of absorbing their life force.
Every piece of news about "Renfield" has made it even more exciting, from the premise to casting announcements, and we've collected it all here in one handy guide to everything there is to know about the upcoming film so far. Now make like a good familiar and get to reading! 
What is Renfield about?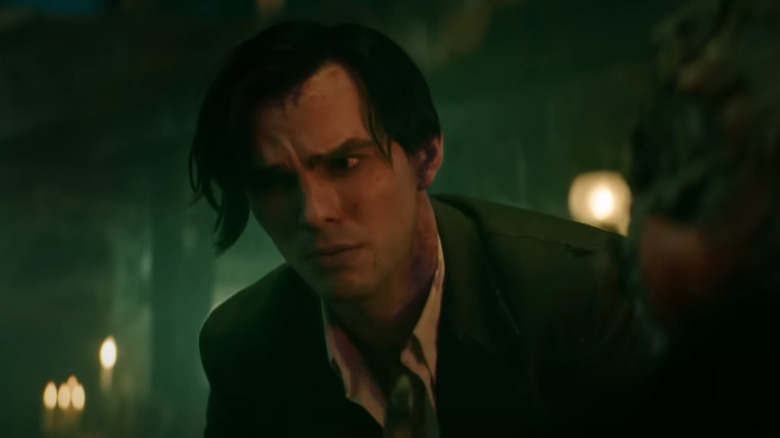 Universal Pictures
"Renfield," according to director Chris McKay, is the story of Dracula (Nicolas freaking Cage) told "through the lens of Dracula as a sh***y boss," which sounds sort of like the relationship between Nandor and Guillermo on "What We Do in the Shadows." What is it with vampires treating their familiars so poorly? Mckay also described the movie as "going far away from what you would typically think of a Dracula movie," which is kind of exciting. There are dozens of Dracula movies, so why not do something totally different? Vampire stories with a heavy splash of comedy are almost always awesome, and the wacky workplace action comedy vibes that "Renfield" gives off so far are a lot of fun.
Renfield, as always, eats bugs in order to get some extra pep in his step, and it looks like that will give the character (played by "The Great" star Nicholas Hoult) the ability to do some serious butt-kicking. He appears to team up with a support group of some kind and a police officer ("The Farewell" star Awkwafina) in the trailer for the film, but other plot details are still kept locked up tighter than a coffin at noon. 
When and how to watch Renfield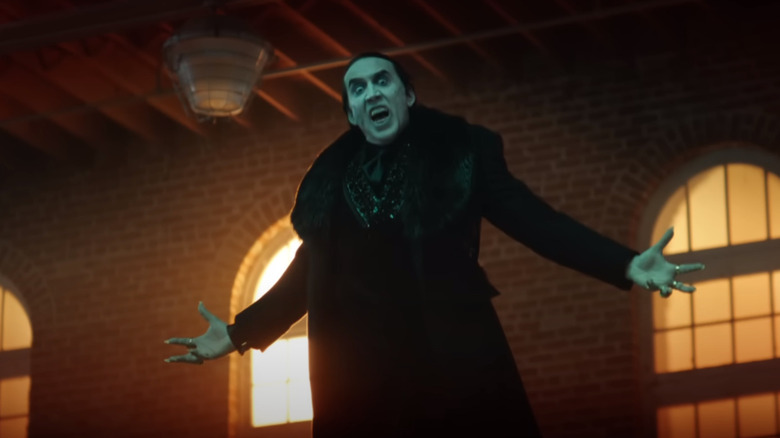 Universal Pictures
Thankfully, we won't have to wait centuries to get a peek at Nicolas Cage and Nicholas Hoult having the world's worst working relationship, because "Renfield" is set to fly into theaters on April 14, 2023. There's no telling when exactly it'll be available on home video or streaming, but Universal is banking big on Cage's appeal and the movie will probably be theatrical only for as long as possible to get that sweet, sweet box office cash. It also looks like the kind of flick that's best experienced with a group of popcorn-munching fellow film enthusiasts on the biggest screen possible, so hopefully people have plenty of time to enjoy it!
What we know about the Renfield cast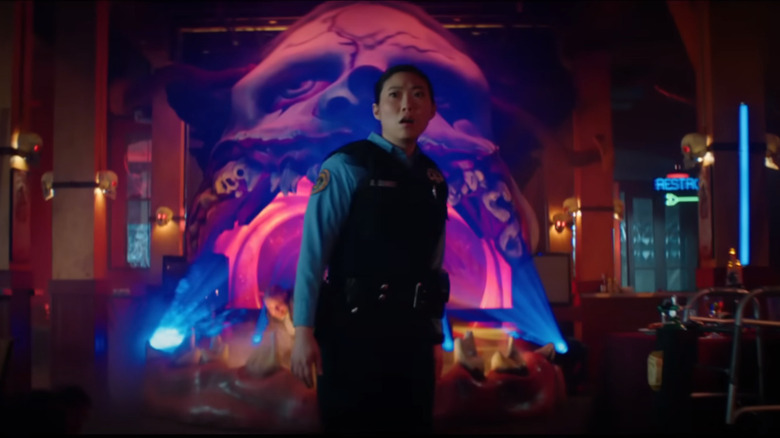 Universal Pictures
The cast of "Renfield" is fangtastic, with "The Menu" star Nicholas Hoult in the title role and Nicolas Cage as his eternal employer. Awkwafina will play Renfield's love interest, a police officer, which could cause some real problems given Renfield's need to feed his boss and the legal problems therein. "The Expanse" star Shohreh Aghdashloo will play "Ella," a character with a big personality who happens to be one of the city's most notorious crime lords. (The city is likely New Orleans, where the film was shot.) Also acting the part of a criminal is "Parks and Recreation" star Ben Schwartz, who will be playing a mobster. "Ghostbusters" star Bess Rous will play a member of Renfield's support group for people in toxic relationships, which probably isn't totally prepared to handle a case like poor Renfield's. 
Cage has revealed that he's not in the movie for a lot of screentime, but his performance sounds so gloriously bonkers (and based on Gabriel from "Malignant") that even a few seconds of that kind of greatness will make the movie an all-time great. Cage played a very different kind of vampire in the bizarre and darkly brilliant "Vampire's Kiss," but it'll be a blast to see him get to go whole hog as the most famous vampire of all time. 
What we know about the Renfield crew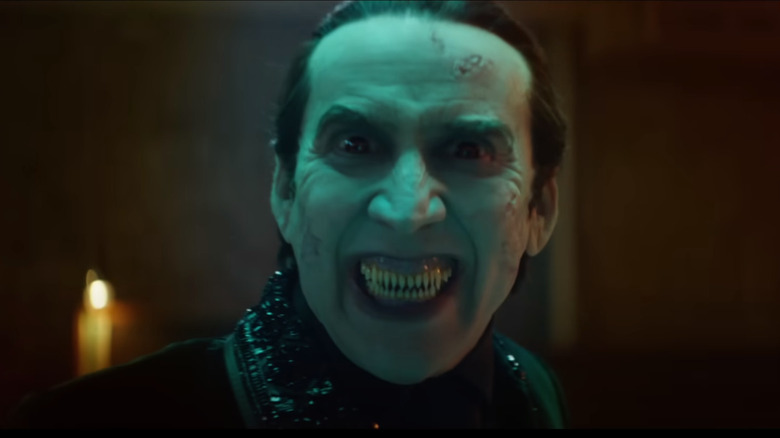 Universal Pictures
The idea for "Renfield" was conceived by Robert Kirkman (the guy who created the comics "The Walking Dead" and "Invincible"), with "Rick & Morty" writer Ryan Ridley penning the screenplay. (So if there's not enough Cage, we can blame both of them!) 
Chris McKay ("The LEGO Batman Movie," "Moral Orel," and "Robot Chicken") is the director of this tale of Dracula's personal assistant, and his dark brand of humor should translate over here quite nicely.
What is Renfield rated?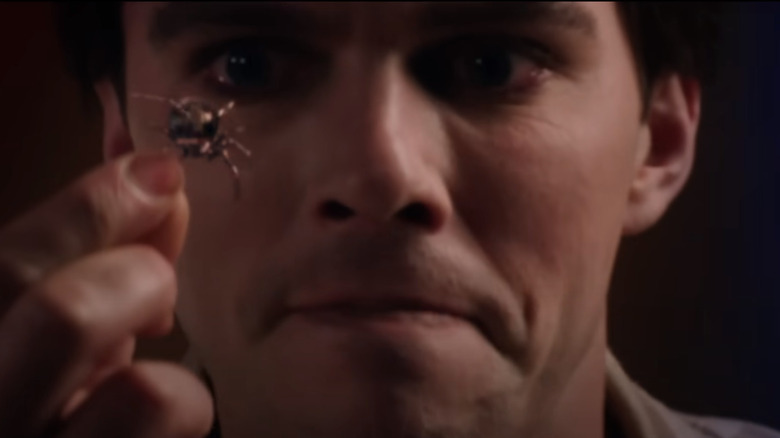 Universal Pictures
Good news, gore fans! "Renfield" has officially been given an "R" rating from the Motion Picture Association (MPA) for "bloody violence, some gore, language throughout and some drug use." The trailer features a lot of action that could be really fun with some splatter, so it's great to hear that "Renfield" will be appropriately bloody for a vampire flick.
Watch the Renfield trailer
Here's the official synopsis for "Renfield":
"The film centers on Renfield (Hoult), who has grown sick and tired of his centuries as Dracula's (Cage) lackey. The henchman finds a new lease on life and maybe even redemption when he falls for feisty, perennially angry traffic cop Rebecca Quincy (Awkwafina)."