The Best Action Movies Of 2022, Ranked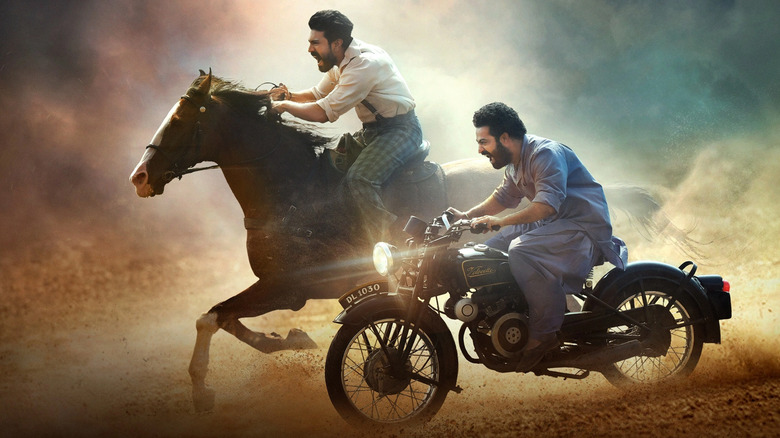 Variance Films
It's been a rough couple of years at the movies, but if 2022 proved anything, it's that capital-C Cinema still stands a chance. The blockbuster came back in a major way this year — and not just for the tried-and-true Marvel Cinematic Universe. 2022 was, for better or worse, the year of the spectacle: big budgets, big effects and even bigger risk. It made for a surprisingly great year for action, especially the films that pushed the limits of the genre or even evoked some good old-fashioned nostalgia.
It's not an easy thing, picking favorites — but with the end of the year upon us, now's as good a time as any to reflect on the greatest additions to the genre in 2022. Whether these 15 films broke big or cruised under the radar, whether they relied on technical achievements or dipped into low humor now and again, they still managed to raise our pulses in their own special way.
15. Day Shift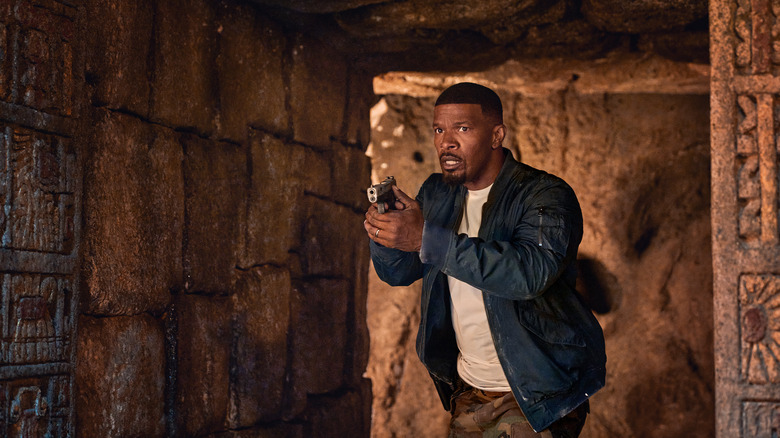 Cr. Parrish Lewis/Netflix © 2022
Genre-mixing is certainly nothing new, especially not from the likes of Netflix. But the streamer's partnership with Jamie Foxx has spawned a fair amount of fresh, fun mashups in recent years, and slasher-comedy "Day Shift" is no exception. J.J. Perry's directorial debut is a gory, giddy romp through the San Fernando Valley — and while it may sink a little beneath some underbaked vampiric world-building, its intricate action is just enough to keep the film afloat.
In "Day Shift," Foxx is Bud, a straight-shooting hunter who sells vamp teeth on the black market. He's also a divorced single dad struggling to provide for his precocious, adorable daughter. His quest to get back in with the vampire hunting union — and start making real cash off his kills — pairs him up with Dave Franco's Seth, a conflict-averse paper pusher with absolutely zero field experience. Their odd-couple dynamic has some fun moments, but the real magic happens whenever there's a bloodsucker around.
Perry's history as a stuntman and martial artist is the saving grace of "Day Shift." The action is immaculately staged and shot with audiences in mind — and Perry's contortionist vampires are incredibly fun to watch. Obviously it's not perfect, but for a dose of unorthodox, turn-your-brain-off fun, there are certainly worse ways to pass the time.
14. Ambulance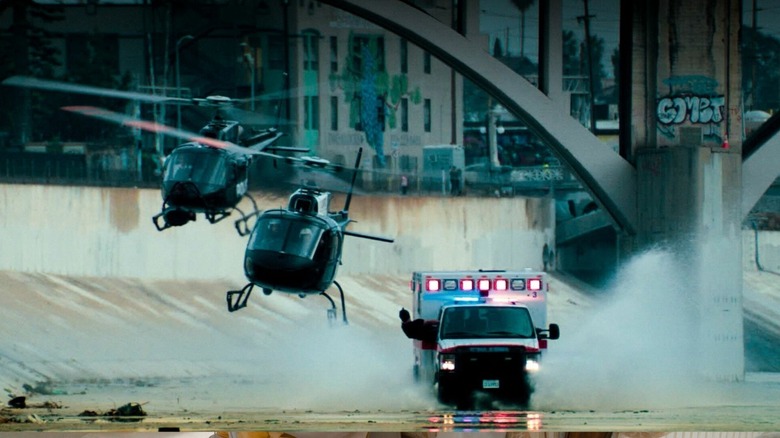 Universal Pictures
Like it or not, this conversation wouldn't be complete without mentioning Michael Bay's latest drone-mounted spectacle. There's something so mind-bogglingly manic about "Ambulance," which might be Bay's most insane brainchild this side of "Pain & Gain." Chalk it up to that bonkers camerawork, the swerving expository sequences it created, or Jake Gyllenhaal's hilarious scenery chewing — it's all reason enough to tune in if you haven't already.
Bay's latest follows Will (Yahya Abdul-Mateen II), a desperate man who turns to his brother Danny (Gyllenhaal) to get out of some serious financial straits. Danny is a career criminal, and while Will is on the straight and narrow, he's willing to do what it takes to pay off his wife's exorbitant medical bills. Danny enlists Will in what should be a standard bank robbery — but when it goes sideways, the brothers hijack an ambulance, effectively taking a wounded cop (Jackson White) and a paramedic (Eiza Gonzalez) hostage in the process.
"Ambulance" is essentially three action films walloped into one bombastic extravaganza. There's the heist, the long car chase, and a number of shoot-outs and detours littering Will and Danny's getaway path. It's a lot, of course. But at least the main players are unreasonably hot (both figuratively and literally: you know Bay loves a sweaty protagonist), the explosions are big, and those drones just worked so hard. If you don't come away from "Ambulance" with a case of vertigo, you might actually have a bit of fun.
13. Violent Night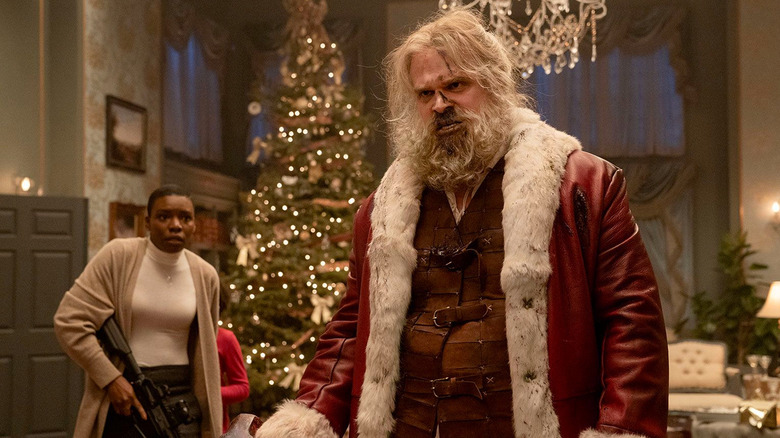 Universal Pictures
For as long as a film like "Die Hard" exists, there will probably always be a debate about its status as a Christmas film. For some, it's a no-brainer: it takes place on Christmas, so why shouldn't it be? For others, that's simply not enough. Is there enough Christmas spirit in "Die Hard"? Does the "essence" of Christmas shine through? Perhaps if Bruce Willis' John McClane was replaced with Santa Claus himself, we'd have an uncontested Christmas classic on our hands. That's at least what director Tommy Wirkola and screenwriters Pat Casey and Josh Miller seem to think, because now there is "Violent Night," a film that finally asks what would happen if the Lil' Saint Nick encountered a group of mercenaries on Christmas Eve.
"Violent Night" doesn't stop with the allusions to "Die Hard," though: The film takes a page from the most famous Christmas flicks around, resulting in the kind of amalgamation that only David Harbour could effectively hold together. As Santa, Harbour brings his trademark vulnerability (and a bit of that ferocity) to the guy we all recognize as holly and jolly. The holiday hijinks, irreverent laughs and blood-soaked brawls make for an interesting Christmas cocktail — and paired with a particularly grisly homage to "Home Alone," among other films, "Violent Night" might be just the kind of holiday thriller that the canon's been missing.
12. Bullet Train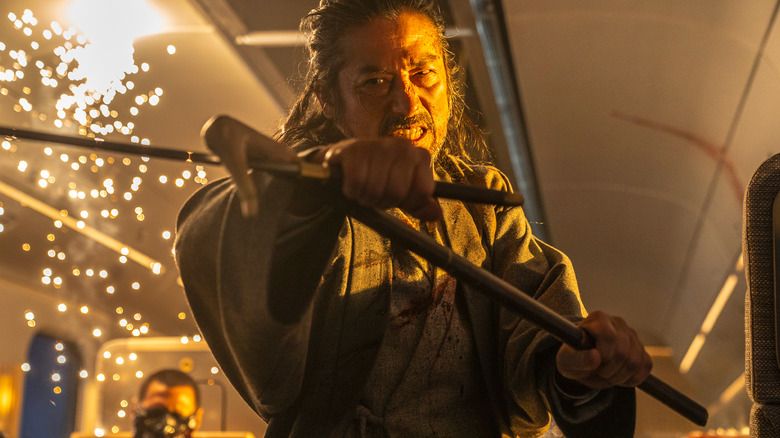 Sony Pictures
Action films on the whole have been completely transformed by Hollywood's growing taste for frivolity. Not everybody may like Ryan Reynolds as a performer, but it seems like everybody's trying to recreate the quippy, facetious heroes that he helped popularize. Of course, it's not all Reynolds' fault, but it's not hard to watch a film like "Bullet Train" and imagine him where Brad Pitt stands. Is that a bad thing? It depends on who you ask — but at least to this writer, it hurts this particular film more than it helps.
Fortunately, "Bullet Train" is about more than just one smarmy blond everyman. Pitt's unlucky assassin, Ladybug, is but one of many assassins whose paths cross on a train from Tokyo to Kyoto — and each is more colorful and more deadly than the last. The fun comes in fits and starts, thanks to the stellar chemistry between Brian Tyree Henry and Aaron Taylor Johnson (where's their spin-off?!), and Joey King, Andrew Koji, and Hiroyuki Sanada do some major heavy lifting as well. There's a lot to like in David Leitch's latest; a competent cast and some close quarters combat will always be a recipe for fun. If only the film as a whole wasn't so bogged down in its own self-interest.
11. Saloum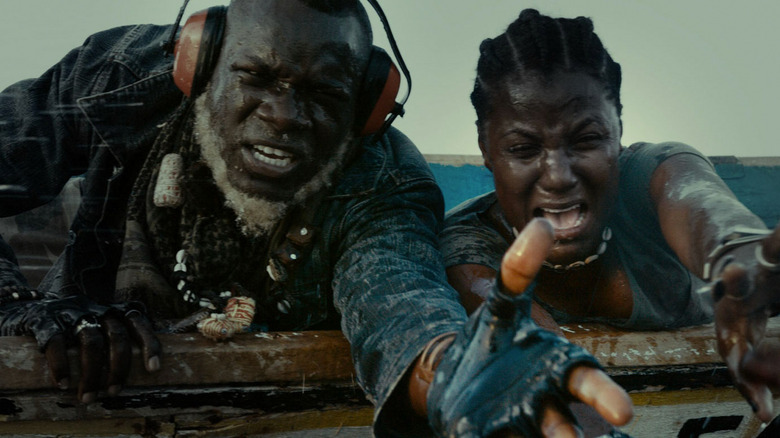 Lacme Studios
Jean Luc Herbulot's Senegalese crime caper is one great example of spectacle subverted. It's not easy to pin "Saloum" neatly into one genre or another, as it borrows from so many: the gritty western, the paranormal scope of horror, and pulpy, off-beat action. What begins with the 2003 coup d'état in Guinea-Bissau quickly spirals into a revenge tale that teems with secrets and superstitions. Three mercenaries, the Bangui Hyenas, are fleeing to Dakar with a suitcase loaded with gold — but when their getaway plane is scuttled in their escape, they're forced to hide out in a village near the Saloum Delta in Senegal. From there, our anti-heroes must face off with their demons, metaphorical or otherwise, if they want to make it home with their loot ... and naturally, it's not gonna be easy.
At just 80 minutes, "Saloum" is a brief and brilliant effort overflowing with style, charisma, and a healthy dose of terror. Despite its brief runtime, there's always something around the corner — and while Herbulot's ambitions may overrun the film in some areas, it's still well worth a watch, and well-deserving of a place on this list.
10. The Princess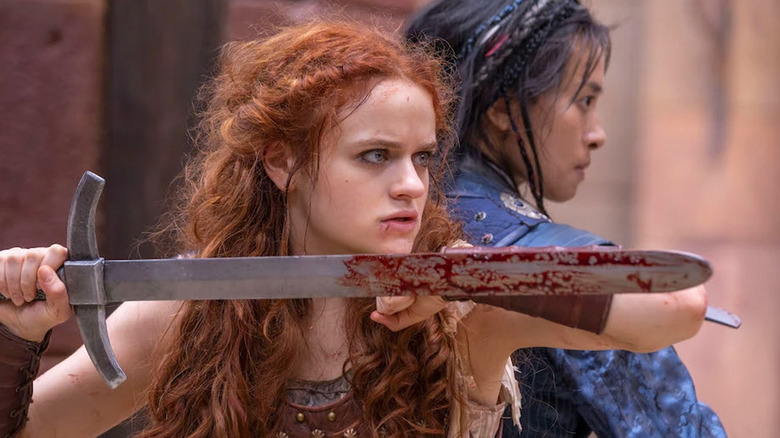 Hulu
Before Disney's uncontested reign, fairytales were always notoriously bleak affairs. Blood, guts, and toxic masculinity were part and parcel of life for princesses — though, naturally, that kind of thing doesn't always get butts into seats. That is, until "The Princess," a medieval mash-up that's equal parts "Rapunzel" and "The Raid."
Instead of a group of cops fighting their way to the top floor of a high-rise, "The Princess" follows our titular heroine (Joey King) who must fight her way down from a tower to save her kingdom from the nobleman (Dominic Cooper) who imprisoned her. As she trades blows (and barbs) with a revolving door of misogynistic soldiers, King more than proves her chops as an action heroine for the ages. "The Princess" also boasts some of the best action of the year, full-stop: No two set pieces are alike, and all are brilliantly executed, thanks to director Le-Van Kiet and the rest of his committed cast. Sure, the feminist prose lacks a bit of subtlety — but do you really want subtlety in a film like this? No, you want to watch Joey King beat the crap out of a seven-foot-tall knight in impenetrable bronze armor. And you should be allowed to want that.
9. Black Panther: Wakanda Forever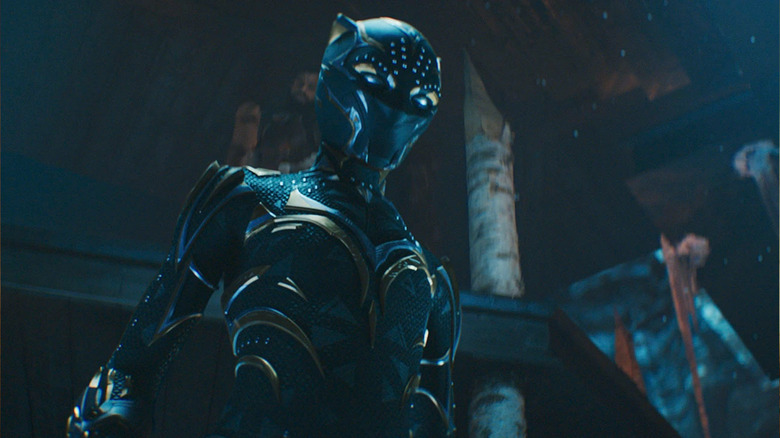 Marvel Studios
It's been four long years since Ryan Coogler's "Black Panther" first became a global phenomenon — and even longer since Chadwick Boseman was first introduced as the titular hero. As King T'Challa, Boseman was the definition of aspirational. His role literally made the world a better place, effectively proving (and not for the first time) that diversity wins big with critics and audiences alike. The actor's death in 2020 shocked the world in turn, and left a massive hole in Marvel's Cinematic Universe. Would Wakanda find a way to move on, especially with the sequel already underway?
Coogler and co. answer that question, and so many more, in "Black Panther: Wakanda Forever." Cast and crew rallied through grief, injury, and hardship to create an evocative farewell to Boseman — and to ensure the world he helped build wouldn't crumble in his absence. "Wakanda Forever" stumbles a little under the curse of the Marvel formula, but it's far and away one of the stronger releases in Phase 4, buoyed by the conviction of its cast and the introduction of a fantastic new anti-hero.
Tenoch Huerta's Namor is a standout in "Wakanda Forever," as are returning players Winston Duke, Danai Gurira, and Angela Bassett. Given the real-life circumstances that informed the sequel, "Wakanda Forever" is a total triumph. A figure like Boseman can never, ever be replaced — but there's no shortage of heroes in the world of Wakanda, and it's a comfort to know that his legacy lives on in them.
8. The Roundup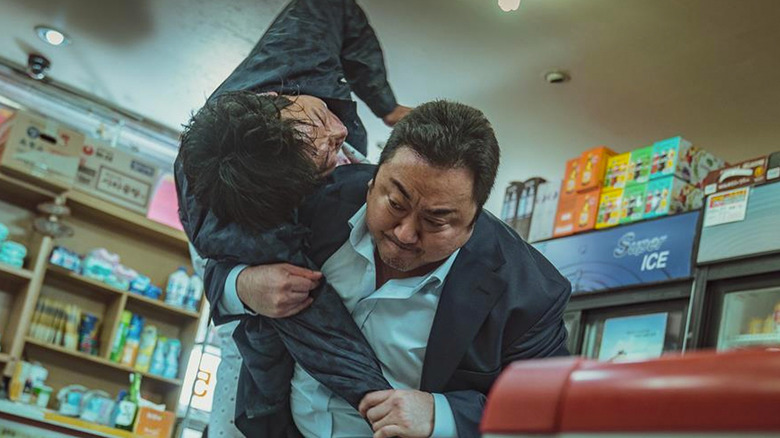 ABO Entertainment
In 2021, Ma Dong-seok (aka Don Lee) stole the show as Gilgamesh in "Eternals." For many audiences, it was their first exposure to the actor, and the gateway to the dozens of incredible films that Ma headlined in South Korea. There, Ma has made a name for himself as a bruiser with a heart of gold, turning in memorable performances in films like "The Gangster, the Cop and the Devil" and "The Outlaws." In the latter, Ma rose to fame as "beast cop" Ma Seok-do — and it's a role that he reprises in this year's "The Roundup."
"The Outlaws" was a notable hit in 2017, perfectly marrying Ma's brute fighting style with his sense of play, and "The Roundup" doubles down on those strengths for an equally enjoyable sequel. Detective Ma is tasked with tracking down a machete-wielding serial killer (Sukku Son) in Vietnam. The stakes are appropriately high, and there's plenty of expertly choreographed, ham-fisted action to go around. But Ma never loses sight of the gag — or the fact that, most of the time, his hero's lack of a bedside manner is the gag — and it lends an effortless sense of fun to a film that lives and dies on its tone.
It's not easy to balance action and comedy, or to make physical comedy work. That all of these elements are blended together so flawlessly is a testament to Ma, his director Lee Sang-yong, and his supporting cast. It'd be easy to think of the actor as a newcomer, given his recent crossover in "Eternals." But, as "The Roundup" brazenly confirms: Ma's been around, and he's got more than one hit under his belt to prove it.
7. Athena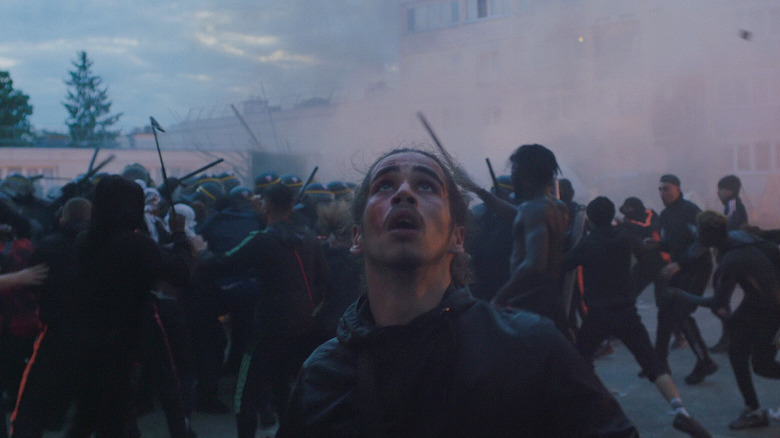 Netflix
It's no coincidence that the titular banlieue in Romain Gavras' "Athena" shares a name with the goddess of warfare. As the scene for a protest that spirals into an all-out civil war, Athena feels at once like post-modern battlefield and the stage for a Greek tragedy. While modern filmmaking marvels pulsate throughout the film, "Athena" invokes classicism in every frame. Gavras seems to be saying that violence is timeless, corruption is inevitable, oppression is cyclical — though his script (co-written with Ladj Ly and Elias Belkeddar) don't do quite enough to flesh out those ideas.
The story of "Athena" is a painfully familiar one: If you love "La Haine," Ly's own "Les Miserables," or are even vaguely aware of their real-world influences, you'll recognize the stakes of the story instantly. "Athena" might be counting on that familiarity to carry audiences through its broad narrative strokes, to get us to instantly connect with the young boy who was recently killed by the police, and the three brothers — each on opposite sides of the law — he leaves behind. There is Abdel (Dali Benssalah), a decorated soldier desperate to keep the peace. And then there's Karim (Sami Slimane), whose penchant for Molotov cocktails turns the cold war with the cops into something much more difficult to ignore.
There's been a lot of chatter about the film's opening scene: Karim's assault on a police precinct, backed by hundreds of boys from Athena, is executed in one flawless, "continuous" shot — and yeah, it's exactly as breathtaking as everyone says it is. "Athena" plays loosely with the one-take conceit, making for some brilliant sensory experiences, and some of the best action of the year.
6. Prey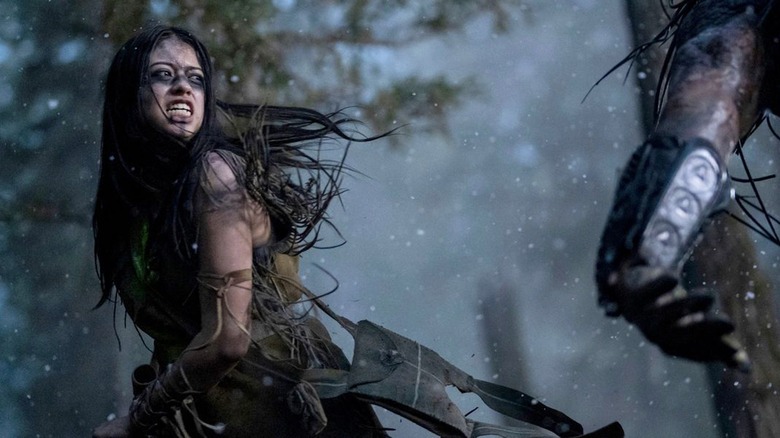 Hulu
So many action flicks this year were successful because they managed to blend parts of old franchises with new, revolutionary themes. With "Prey," director Dan Trachtenberg and screenwriter Patrick Aison did just that. "Prey" peels back the high-tech conceit of its predecessors to explore the primal themes at the center of the "Predator" films. It was certainly a gamble for a franchise that's had more misses than hits in recent years — but it's a gamble that paid off pretty brilliantly. By dropping a primitive alien predator smack in the midst of the Comanche Nation in the 1700s, "Prey" elevates a traditional cat-and-mouse premise with a bit of timely resonance — but it doesn't skimp on the brutality that so many have come to expect from a "Predator" film, either.
That said, "Prey" subverts that brutality in a lot of clever ways, deftly addressing themes of sexism, colonialism and — of course — nature's hierarchy. So much of this hinges on Amber Midthunder's performance as Naru. Through her eyes, and through her struggles, "Prey" is able to explore so many intersections of existence for marginalized women, warriors or otherwise. I know that's probably a deeper reading than many would give to an action-horror movie of this caliber, but "Prey" absolutely earns it. The best horror often serves as a vehicle to unpack intangible issues, and this brawling, brutal prequel definitely belongs in the conversation.
5. The Northman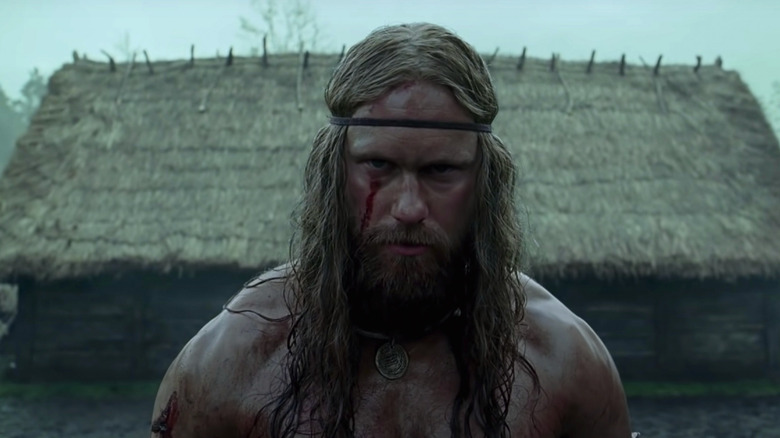 Universal Pictures
We love a riff on Shakespeare — the spookier the better, honestly. And while the fable that inspires "The Northman" is actually the same that inspired "Hamlet," it's hard not to watch the film without the Bard on the brain. Still, director Robert Eggers has been building towards his bloody viking masterpiece for quite some time, and it shows. What could have been a by-the-numbers revenge fable becomes an ice cold, black hearted berserker in Eggers' competent hands. "The Northman" chills you to the bone, and it tells an authentic tale about the Viking Age in the process.
As the exiled prince Amleth, Alexander Skarsgård steps into the role he was pretty much born to play. Amleth's quest for vengeance against his uncle (Charles Bang) — who murdered his dad, married his mom and usurped his kingdom — is a long and winding path, littered with bloody detours, spurned on by ghouls and strengthened by a bit of black magic. It's an interesting exploration between archaic, masculine vessels of war and the subversive, feminine power of nature and witchcraft. The two themes marry well in Eggers' film (thanks in part to performances from Björk and Anya Taylor Joy, both spectacular), and the action that punctuates throughout is also appropriately bleak.
4. Everything Everywhere All At Once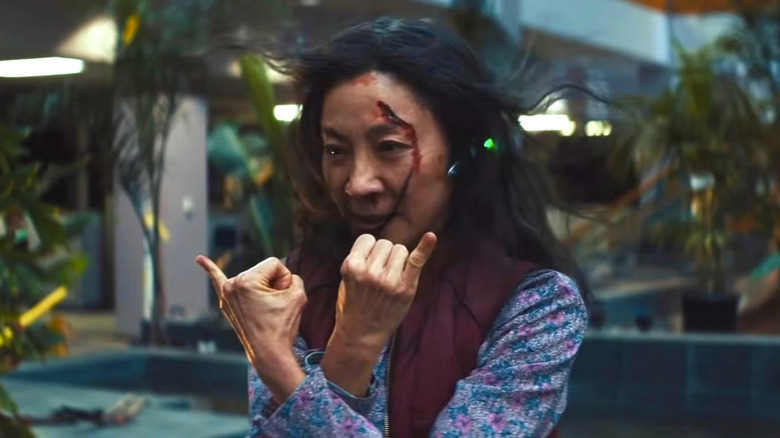 A24
What exactly is there to say about "Everything Everywhere All At Once" that hasn't already been declared across the universe? The film is one of the many that redefined spectacle, draping a nihilistic existential crisis across the back of a truly manic, maximalist cosmic odyssey. At the center of this truly bonkers film is Michelle Yeoh, a certified icon of action who's never fully gotten her due in present day. The film serves as the catalyst to her renaissance, and a defining moment for her co-stars as well. It's packed with heart, optimism and care — but all that earnestness also has to contend with some latent lowbrow humor, courtesy of the directing duo Daniels. And it also has to carry a bevy of stream-of-conscious fight scenes, action that moves like jazz, effortlessly confirming that Yeoh herself still has it ... heck, that she never left.
As the title suggests, it's doing a lot. But Daniel Kwan and Daniel Scheinert are more than up to the task — and though "Everything Everywhere" was originally designed as a vehicle for Jackie Chan, it's impossible to imagine anyone other than Yeoh holding this movie down. Not only does she take the dizzying combat in stride, but she reaffirms her impeccable comedic chops, her dramatic prowess, and her innate watchability in one fell swoop. A film like this is a twinkling anomaly in any reality — and it's a privilege that it landed in our lifetime.
3. The Woman King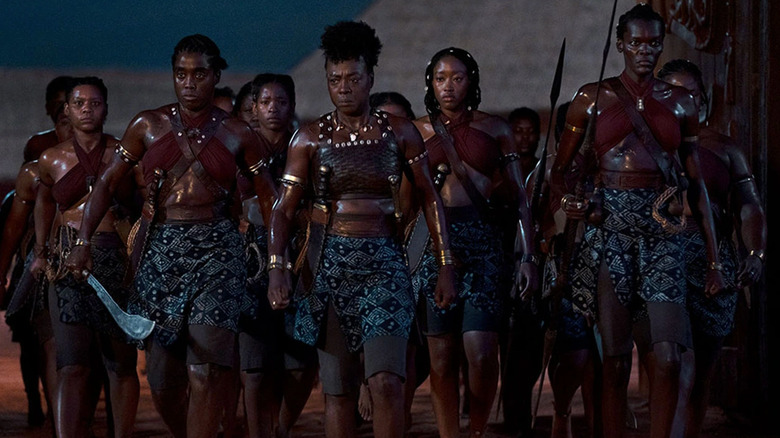 Sony Pictures
While any film's fate is in flux at the box office, it can be especially hellish for the mid-budget underdogs going up against established franchises. Standalone projects don't find their audiences like they used to, even historical epics with certified stars at their helm. That's what makes "The Woman King" such an incredible surprise: Other than the fact that it's the first action film directed by a Black woman, starring a Black woman over 50, and featuring almost and entirely Black cast, it's managed to evoke the energy of the films that formerly dominated at the movies ... and match their success in kind.
Gina Prince-Bythewood's latest sleeves an utterly radical concept into a fairly traditional (and white guy-dominated) genre. "The Woman King" tells the untold tale of the Agojie, an all-female army that served the West African kingdom of Dahomey between the 17th and 19th centuries. It's been compared to the likes of "Braveheart" and "Gladiator," as much for Viola Davis' North Star performance as for its quasi-true story and crowd-pleasing combat.
Prince-Bythewood has already displayed her knack for crafting action in Netflix adaptation "The Old Guard," but "The Woman King" lets the director — and her impeccable cast — play on a much more impressive scale. The battles are blistering, the stakes are high, and the protagonists are easy to root for. It's a master class for a post-Marvel age, and another example of all the good that can come from giving Black female action stars some spotlight.
2. Top Gun: Maverick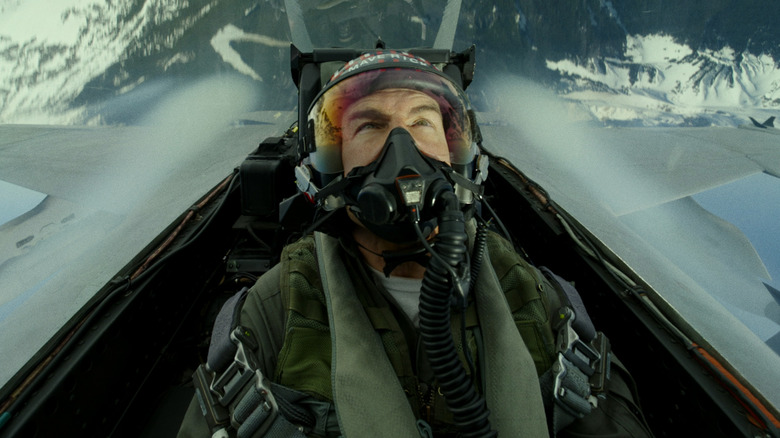 Paramount Pictures
Full disclosure: I saw "Top Gun: Maverick" in theaters about five times. I did not expect to enjoy the movie with the fanatic fervor that I did — I actively try to steer away from films that are so clearly military propaganda, but when it's Tom Cruise going zoom-zoom in a fast plane, do you really have a choice in the matter?
Cruise's reckless, tenured naval aviator isn't the only unstoppable force in "Maverick." The next-gen cast of actors that flank him are just as compelling — and they manage to hold their own in a story that's part homage, part redux, every step of the way.
Not unlike the beach volleyball scene that made the first "Top Gun" a paragon of the thirst-watch, "Maverick" recognizes that a little objectification can be good sometimes. But "Maverick" is also chock full of heart, angst and intensity, and so much of that plays out in the skies. The arial combat in the sequel is unlike anything ever attempted on film, thanks to Cruise's obsession with capturing his stunts himself — and asking the same of his supporting cast. "Maverick" was one of the first post-COVID films to reinvigorate the box office in a major way, to justify taking a trek back to theaters. Given the scale of the action that plays out in the film, it makes sense that you'd want to see it on the biggest screen possible. Obviously, I wasn't the only one going back for second helpings.
1. RRR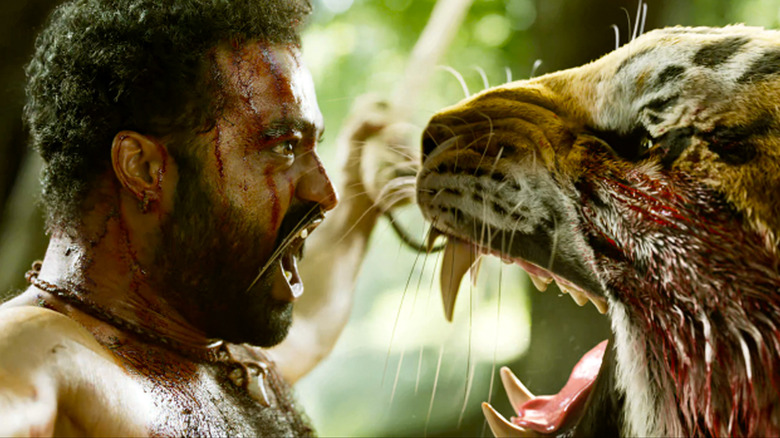 Variance Films
Honestly, could it have been anything else? Could any film this year top the superhuman feats, the anticolonialist message, the intense brotherhood running rampant through "RRR"? S. S. Rajamouli's revolutionary juggernaut is officially the most expensive film ever made in India — and given the scope of the film, it doesn't seem as though a single penny was wasted.
"RRR" is a near-incomprehensible flex for the Tollywood film industry. The Telugu-language adventure follows the story of two Indian revolutionaries who really existed — on different sides of the same conflict — and hypothesizes what life would have been like if they were BFFs with an impenetrable bond. What Alluri Sitarama Raju (Ram Charan) and Komaram Bheem (N.T. Rama Rao Jr.) accomplish in the film's 3-hour runtime, together and apart, is nothing short of Herculean. To call their feats "jawdropping" feels like a gross undersell of the film's accomplishments, because there is just so much working for "RRR," too much to covey in one sitting.
It's a spectacle on the grandest scale, an ultimate exercise in myth-making, one entirely set apart from the endless slog of franchise fare we've been subject to stateside. It may be too late to process this masterpiece on the largest screen available, but the film is a welcome experience on just about every level regardless.