It Took Viola Davis Six Years To Get The Woman King Made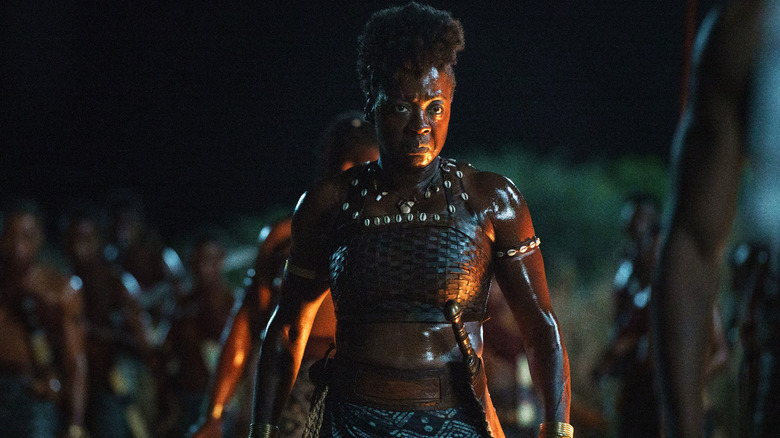 Sony Pictures
Robert Eggers' "The Northman" isn't the only historical epic charging into theaters in 2022. There's also "The Woman King," a film about the West African Kingdom of Dahomey (which existed for more than 300 years, starting in the 17th century) that has "Love & Basketball" and "The Old Guard" director Gina Prince-Bythewood calling the shots. Viola Davis stars as Nanisca, the leader of Dahomey's all-women military regiment under the watchful eye of King Ghezo (himself played by John Boyega).
Sony and TriStar Pictures acquired the rights to "The Woman King" at the top of March 2018, two weeks after Marvel Studios' "Black Panther" had taken the global box office by storm. That wasn't a coincidence, either. As part of a profile on Davis by The New York Times, Prince-Bythewood cited Ryan Coogler's Marvel Cinematic Universe tentpole as the movie that "absolutely paved the way for people to see the possibility of ['The Woman King']."
The connections between "The Woman King" and "Black Panther" run even deeper than that. Dahomey's all-women military unit, which were known as the Mino but dubbed "Dahomey Amazons" by Western outsiders who compared them to the Amazons of Greek mythology, partly inspired the Dora Milaje in "Black Panther" and Marvel's comic books before it. "Black Panther" star Lupita Nyong'o was even attached to co-star in "The Woman King" at one point prior to stepping down for unknown reasons. (In all likelihood, though, it was probably due to a scheduling conflict with "Black Panther: Wakanda Forever.")
Colorism rears its head again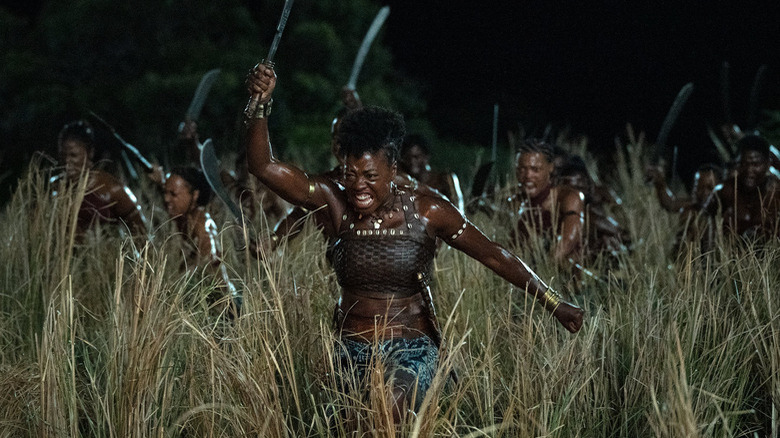 Sony Pictures
For Davis, her journey to getting "The Woman King" made goes back as far as six years, well before "Black Panther" arrived on the scene. Sadly, it's no mystery why a movie featuring a cast primarily composed of Black women took so long to happen, either. As much as things have gradually begun to improve on the representation front in Hollywood (particularly when it comes to race and gender), they've still got a very long way to go.
More than that, the film industry continues to have a big problem with colorism. "Encanto" star John Leguizamo recently spoke about this very issue, admitting that he "stayed out of the sun" for much of his career to maintain his light-skinned complexion. As he and other artists are all-too-aware, actors of color with darker skin still struggle to find work, even in projects that otherwise aspire to celebrate individuals from marginalized communities. It's especially bad when it comes to darker-skinned Black women, as Davis knows from her own decades of experience working on films and TV shows.
The New York Times commented on this in its profile, noting that "The Woman King" seeks to correct this trend by casting actors "from across the diaspora, Black Americans and South Africans and Brits and Jamaicans and West Africans." Davis added:
"'The Woman King' reflected all of the things that the world told me were limiting: Black women with crinkly, curly hair who were darker than a paper bag, who were warriors."
"The Woman King" opens in theaters on September 16, 2022.