The Northman Trailer: Robert Eggers Promises Brutal Karmic Vengeance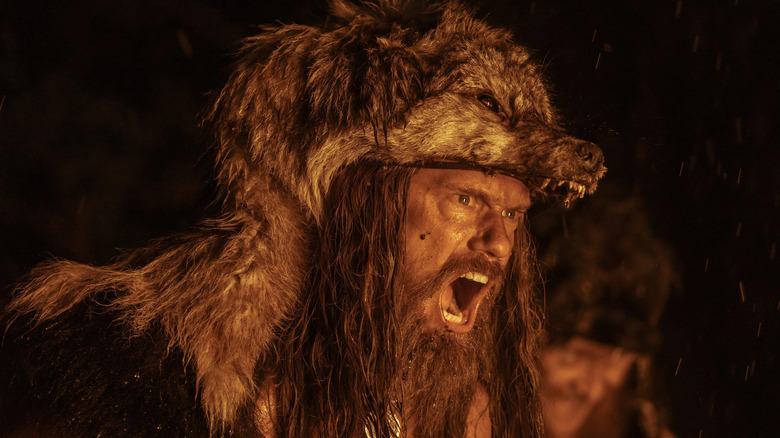 Focus Features
Prepare yourself: there's a new trailer for "The Northman" in our midst. The upcoming viking revenge epic will be in theaters before we know it, but now we have some new footage to marinate on. 
The new trailer takes us on lead actor Alexander Skarsgård's journey to enact revenge on those who have wronged him. There are several enticing fight sequences, an eerie but tone-setting voiceover, and some intense chanting that will probably remind you of writer-director Robert Eggers' first feature film, "The Witch." We also get a solid glimpse of Eggers' all-star cast, including Nicole Kidman, Anya Taylor-Joy, Ethan Hawke, and Willem Dafoe. Singer Björk does not make an appearance in this trailer, but we do know she has a stellar part in the revenge tale.
Just for good measure, /Film's own Max Evry is also quoted in the trailer, calling the film  "a stone-cold masterpiece," which is high praise. You can see for yourself in the trailer below.
The larger-than-life world of The Northman
Eggers has been working on this large-scale project since the early days of the pandemic, when the sheer size of this film made him unsure of how to proceed as normal in the midst of a Hollywood shut-down. He told IndieWire back in April 2020:
"There's many locations in the film, so we were constantly going on scouts to find places or reassess places that we have found and we're building sets there. We're designing all these worlds, building these villages, we're making thousands of costumes and props, training the horses the things they'll need to do, designing the shots of the films. There's a lot more storyboarding. Generally I only storyboard the scenes that have visual effects or animals and stunts, things where all the departments need to be on the same page for it to work out. But this movie there is rarely a scene that isn't on a boat or doesn't have a lot of extras. We're storyboarding most of the film, which is taking a lot of time and we're continuing to do that now on this hiatus."
The filmmaker added that this approach was quite different to how he handled his work on both "The Witch" and "The Lighthouse," Eggers' second feature. "The scale is so huge and there are so many more locations and things that I couldn't do everything or know every prop myself," he told the outlet. "That's been a challenge with the new movie."
Now, it's time to see if he pulled it off. Spoiler alert: it looks like he nailed it.
"The Northman" arrives in theaters on April 22, 2022.